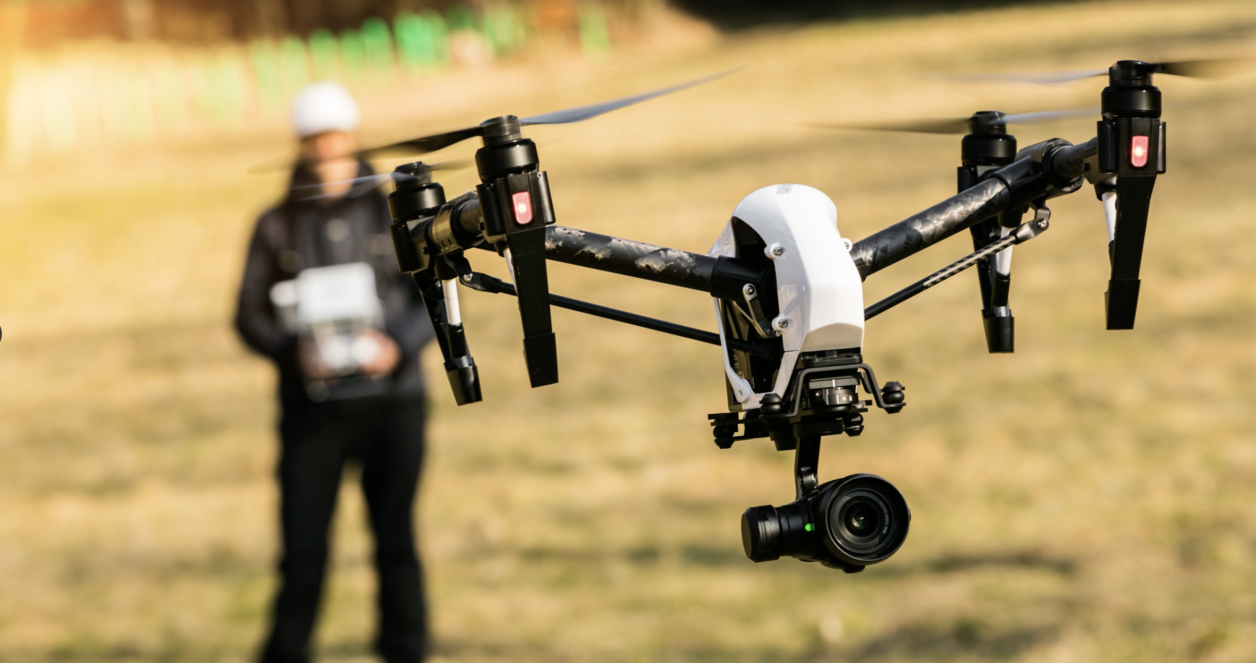 Drone Laws
FAA Drone Rules Explained
All drone pilots in the United States must follow the Federal Aviation Administration's official FAA drone rules. Experienced drone pilots are likely familiar with most of these rules, but new drone pilots may be unaware of some of the regulations governing drone operations.
Here, you'll find most of the FAA's regulations surrounding drone operation in the United States. It's worth noting that many of these rules apply worldwide as well.
FAA Drone Rules:
400 Foot Maximum Altitude
All civilian drone pilots may fly unmanned craft at or below 400 feet above the ground. Commercial pilots with Part 107 drone certification may account for terrain and structures like tall buildings or radio towers while in flight. However, hobbyists must remain 400 feet or lower above the general landscape at all times. Read more about the 400-foot rule here.

Keep Your Drone Within Sight
FAA drone rules require drone pilots to keep their drones within eyesight at all times while flying outside. An exception to this rule allows a spotter to keep the drone within sight as long as the spotter is within the pilot's hearing distance.
Register Your Drone
The FAA drone rule governing whether or not drone pilots must register their drones has seesawed throughout the past decade, but it's a safe bet that if it's not required when you're reading this, it will be again in the future. If your drone's total take-off weight is under 0.55 lbs, you are not required to register the drone if being used for recreational uses only.  If you plan on using your .55 lbs or less drone for commercial purposes, it must be registered regardless of weight.
Avoid Controlled Airspace
FAA drone rules prohibit drone pilots from flying uncrewed aircraft within any controlled airspace. Restricted airspace includes airports, military installations, and certain commercial operations. Downloading an airspace app like SkyGrid, Airmap, or B4UFly can help you avoid prohibited areas. You may also use the apps to request special permission to fly through controlled airspace.
Respect Personal Space
One of the most enforced FAA drone rules prohibits flying drones above people not involved in your flight operation. The FAA considers safety its number one goal, and flying over people may present a safety risk. You may fly over yourself, your spotter, and anyone directly involved in flight operations. All flight crew personnel should know the specific plan for the drone's flight from take-off to landing. Avoid flying your drone above anyone not in the know.
Do Not Fly Above Or Near Emergency Situations
Stay clear of all emergency areas and situations. Flying a drone near critical situations may interfere with emergency personnel's ability to respond to the problem effectively. Emergencies to avoid include forest fires, vehicle collisions, medical emergencies, and any other critical situation.
Professional Sporting Events Are Off-Limits For Your Drone
FAA drone rules implement temporary flight restrictions for all air traffic above and around professional sporting events unless the pilot has been granted a special waiver from the FAA. Private drone pilots may apply for a waiver, but the odds are slim for obtaining one.
Do Not Fly Impaired Or While Consuming Controlled Substances
FAA drone rules prohibit drug and alcohol use while operating a drone. Drone pilots must adhere to stricter regulations than licensed drivers operating a vehicle on the road. FAA regulations require drone pilots' blood alcohol level (BAL) to be under 0.04%.
Commercial pilots operating under a Part 107 license who fly with a BAL above 0.04% will immediately lose their drone certification if caught. As with operating a road vehicle, commercial drone pilots who refuse a breathalyzer are considered above the legal limit and will lose their license immediately.
FAA Drone Rules For Commercial Pilots
Commercial pilots, meaning people who receive any form of compensation from flying a drone, must possess a commercial drone license and adhere to Part 107 FAA drone rules.
Drone pilots who will make any significant amount of money from a flight, including any YouTube revenue, must be Part 107 certified. This rule applies to private parties, independent contractors, and employees providing aerial photography or videography for any company, sole proprietor, or industry employer,
The FAA drone rules are in place to ensure everyone's safety and privacy during a drone flight. Accidents may happen, but you will most likely enjoy a safe flight and continue to fly your drone hassle-free if you follow these regulations.
To learn more about FAA drone rules or find out how to obtain drone certification, visit DARTdrones.com.
About the Author
Mike is an instrument-rated pilot and a self-described transportation enthusiast and weather geek. As a former light rail instructor for Harris County Metro, Mike trained new operators to safely operate trains on Metro's new rail extensions in the city of Houston. Mike returned to Austin and discovered Drone photography. Taking his new hobby to the next level by combining his aviation, rail trainer, and industrial sales experience, Mike Joined DARTdrones to share his passion for aviation with student drone pilots to help them become safe, competent and confident drone pilots.
DARTdrones is the nation's leader in drone training, program development and consultation, offering online and in-person courses in 40+ cities across the United States. DARTdrones takes pride in their comprehensive curriculum, developed by a former US Navy Helicopter pilot, as well as their 40+ flight instructors who are all manned and unmanned aircraft pilots. Visit us online at www.dartdrones.com, call 800-264-3907 or email the DARTdrones Team at [email protected] to learn more.