Expert Drone Training With
True Aviators
We offer courses dedicated to the highest quality UAV training nationwide.
View Courses
Dedicated to
Comprehensive Drone Education
Are you interested in becoming a professional drone operator? Our nationally recognized programs consist of professional curriculum offered online and in-person by our expert flight instructors.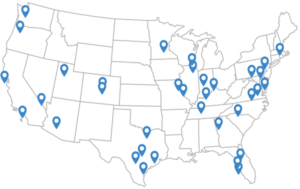 Drones 101: A Guide to Drones for Beginners
Our Drones 101 course, a one hour online video based class, will teach you the basics and get you launched into the drone industry!
GET STARTED WITH DRONES 101 TODAY
We have trained

2935

drone pilots just like you
"I just passed the Part 107 test! Thanks to DARTdrones for the courses, materials, and email follow-ups to my questions! Nobody could possibly succeed at this test on their own. DARTdrones did an incredible job in getting me prepped for the test. "
"I received an 85% and passed!! The online test prep was very useful. I would recommend the DARTdrones online Ground School to anyone who is looking to pass their UAG."
"Thanks to the help from Abby and her gang, I passed my Part 107 exam a week after taking their online course. I can't thank them enough. I continue to recommend DARTdrones to all my customers. "
"[The Airman Knowledge Test] was harder than expected! No messing around. DARTdrones helped prepare me with a great foundation! Must know your stuff in order to pass!"
"I had an unbelievable experience. Learned so much more. Went in expecting to just get a brief introduction, and left informed and confident in what I learned. Great hands on instruction."
"As a pilot and someone who works in video production, every drone operator needs to take this training. Both the content of the class and experience of other operators in the class will only help you keep sharp and want to explore more. If you think you know everything already, you're head"
"I gained insight as to the safety procedures necessary to conduct and offer services to the public within the changing legal landscape. "
"I like to think the DARTdrone experience offers many possibilities where a strong hobby interest can transform into a more robust future. The potential seem endless."
"The FAA regulations presented were very informative and understanding them will help me make a decision on how best to establish my drone business."
"DARTdrones training was a great jumpstart to drone piloting. It gave me the confidence to know that I could fly drones competently because I did it right there, under the guidance of a professional pilot. And starting off a new venture the right way learning from professionals is a smart t"
"All three courses were very informational and the instructor, Rick Guardino, was awesome! I learned a whole lot about the drone industry and what to do to fly a drone commercially for business. Thank you so much, DARTDrones!"
Our Expert Flight Instructors Are True Aviators
St. Claire Williams
Sniper Team Lead for Atlanta Police
Sergio Gemoets
Private Pilot and Photographer
Roger Hall
Retired Firefighter
Bob Warfel
Commercial and ATP Rated Pilot
Nick Davis
R.C. and Manned Aircraft Pilot
Mark Garza
United States Navy Veteran
Mark Fronrath
Chief Pilot of CharlotteUAV
Larry Cross
U.S. Air Force Instructor and Pilot
Ryan Walker
Marine Combat Instructor and Pilot
Kevin Coughlin
Pulitzer Prize Photojournalist
Juan Jimenez
Multi-Engine Instrument Rated Pilot
Josh Haddad
Helicopter Pilot and CFI
Jimmy Burkhart
Helicopter Pilot and CFI
Colin Romberger
Embry Riddle Masters in UAS
Chris Grazioso
FEMA Search and Rescue Team
Christina Martinez
CFII and Commercial Pilot
Chris Bailey
Army Blackhawk Pilot
Bob Wess
Commercial Pilot and CFI
Keith Phillips
Blackhawk Helicopter Pilot and FAA CFII
Robert Patterson
CFI and Mission Pilot for Civil Air Patrol
Robert Beck
Experimental Aircraft Pilot and Engineer
Tod Strickland
Navy Nuclear Weapons Technician
Kent Chivers
Navy Veteran
Craig Trammell
CFI / CFII & ATP Rated Aviator
Becky Hagner
Former Military Pilot
Richard Wright
U.S Army & Tennessee National Guard
Michael Bush
CFI & Lifelong Educator
Michael Martin
Avid drone photographer
Joel Martin
Commercial Certification
Rick Mills
U.S. Military Academy Professor
Michael Uleski
Sergeant Daytona Beach Police
Paul Matheson
Commercial Helicopter Pilot
Eduardo Voloch
Army National Guard Signal Officer
Jason Miller
Instrument Rated Pilot
Frank Burch
United Airlines Commercial Pilot
Kevin Gillespie
Pilot & Entrepreneur
Sean Pagliari
Private Pilot and Patent Holder
Jack McIntosh
Private Pilot and Business Owner
Randy Eary
Aviation Enthusiast & Private Pilot
Karl Schwab
Software and Systems Engineer
Alex Abatie
sUAS Photographer & Design Director
Jerry White
Airline Pilot & Business Owner
Heather Hasper
AAAE's UAS Committee member
Have Any Questions?
Give Us A Call
Reach out to our helpful customer service representatives with any questions you may have or fill out the contact form below and we will be back in touch!