Manage Training Progress.
Drive Pilot Performance.
Maximize Scalability.
The only software to accelerate sUAS pilot success.
Request a Demo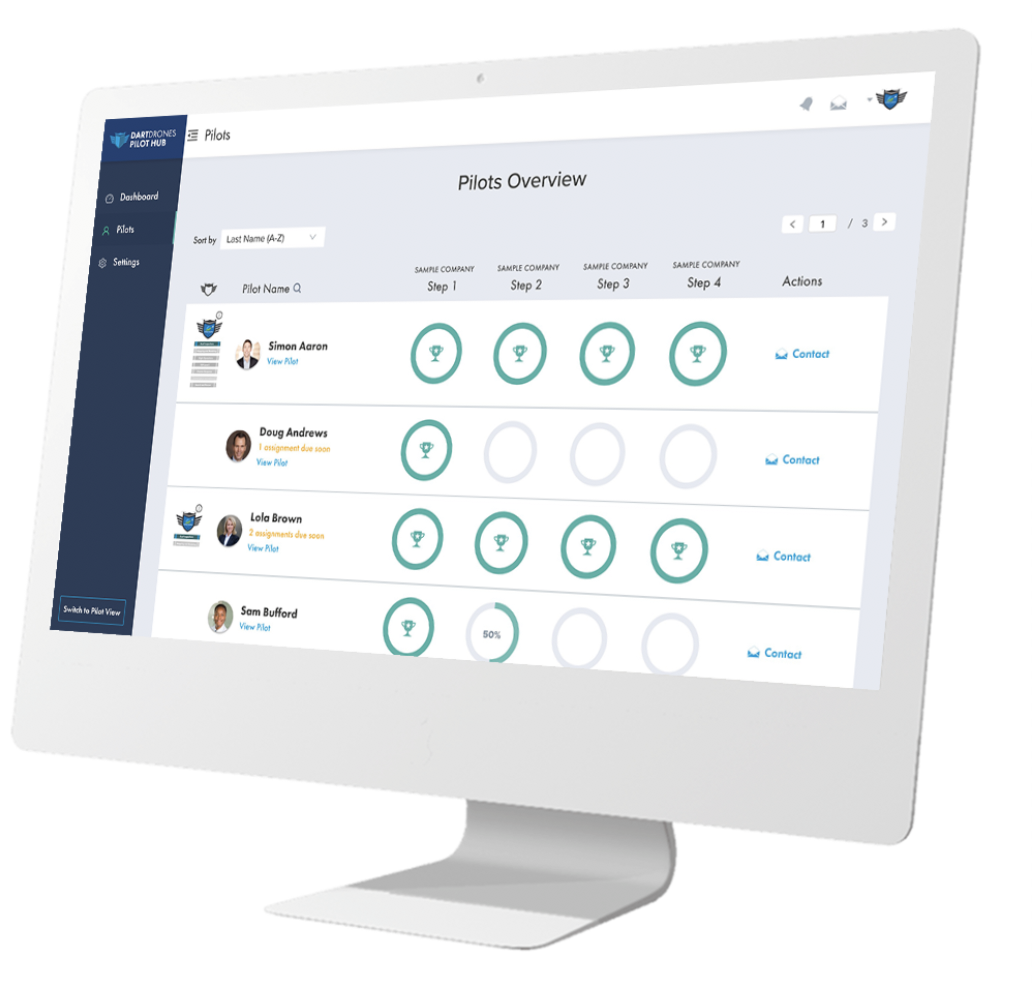 Solving the Most Difficult Problems for UAS Program Managers
Eliminate Inconsistent Training

Ensure all pilots receive consistent training customized to your team's unique needs.

Monitor Pilot Qualifications In Real Time

Easily identify the best pilot on your team for each job.

Ensure Compliance on Internal Policies and External Regulations

Maintain and track communication with your team about policy updates and regulation changes.

Easily Vet Perspective Pilots

Decrease pilot attrition with pilot vetting and a step-by-step training program.
The PilotHub is an end-to-end software solution for UAS program managers to track, train, and unify their pilot team.
Why UAS Program Managers Love the PilotHub
Step-by-Step Training

Smoothly progress pilots through a tailored training path designed by our team of experts.

Manager Portal

Monitor pilots' progress through every step.

Pilot Qualifications

Easily identify the most qualified pilots for each job.

Announcements

Make announcements to the team and track opens.

Assignments

Easily update team training by adding new tracked assignments.

Resources

Access hundreds of hours of webinars, e-books, and videos.

Quizzes

Ensure pilot understanding by implementing graded knowledge checks.

Messaging

Stay in touch with the team on one central platform.
Request Demo
Why Train with DARTdrones?
45

Flight Instructors

40+

Cities Nationwide

11,000+

UAS Instruction Hours

10,500+

Pilots Trained!
"The PilotHub gives managers easy access to the tools they need to develop and maintain a successful team of drone pilots."
"The PilotHub was designed based on the needs of UAS program managers across many different industries. Coordinating a large team of drone pilots gets extremely complicated. The PilotHub simplifies the role of sUAS program managers."
"The PilotHub provides UAS program managers with the tools necessary to make sure their pilots are fully prepared for the flight operations they are assigned to perform; a factor that has been the cause of many unfortunate and costly incidents."