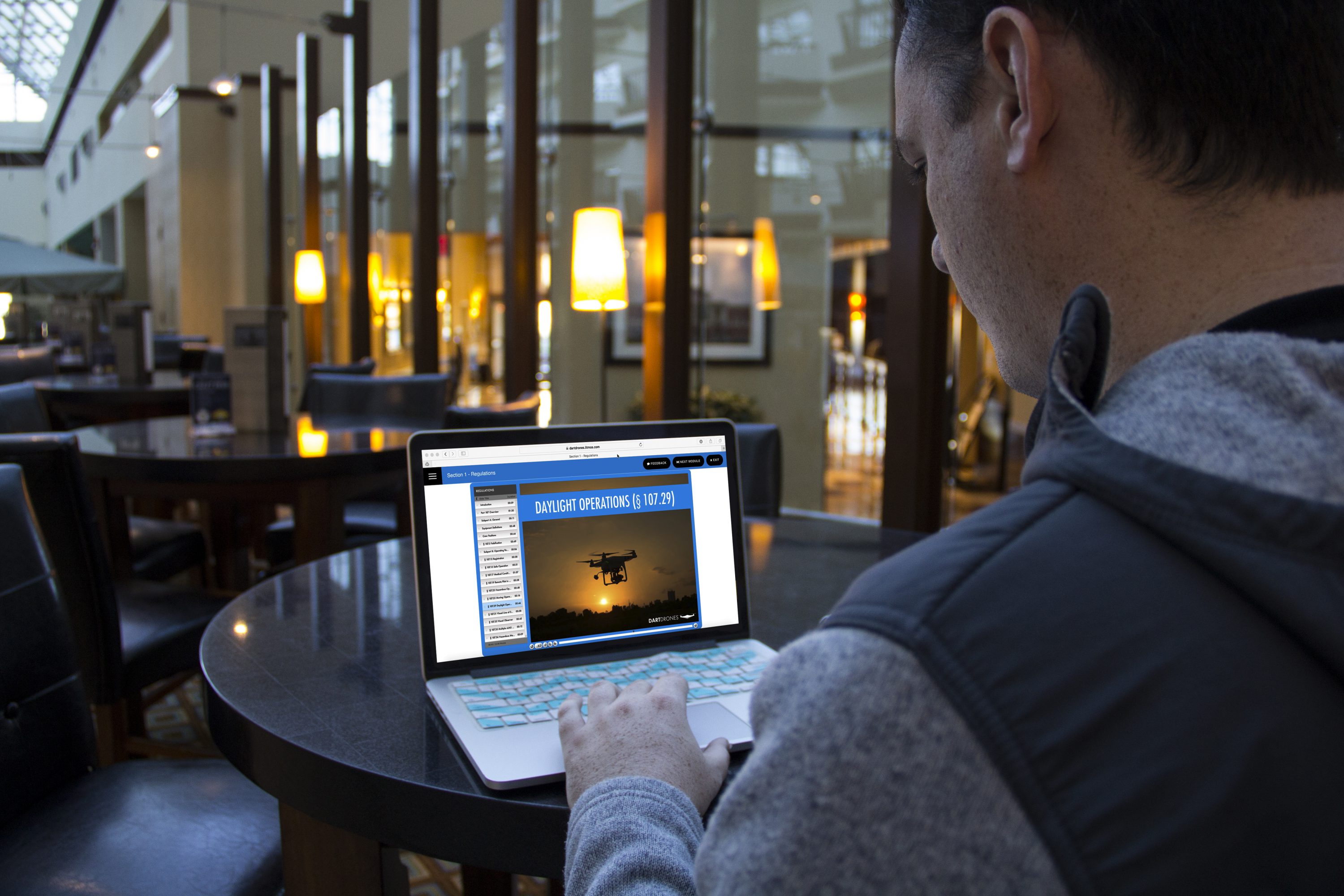 FAA Part 107 Drone Pilot License
What is on the FAA Drone Test?
You're ready to join the big leagues and go commercial! Before you take the leap and sit for your Part 107 test, it's a good idea to know what is actually on the FAA drone exam.
Getting ready to take your FAA Part 107 Drone Test? You'll be asked to answer questions covering 12 different topics for the commercial drone certification.
But you don't have to go it alone.
With a 99% pass rate, DARTdrones will provide the guidance and education you will need to pass the test on the first try. Let's take a look at the topics that will be covered on the FAA Part 107 drone test.
1) Small unmanned aircraft systems regulations
are crucial to understand because you'll be sharing airspace with manned aircraft, as well as potentially flying around people and infrastructure. These drone regulations are the epicenter of safe and competent drone operation.
2) The National Airspace System
will test your knowledge of aviation basics and airspace classifications.
3) The Drone Flight Restrictions
portion of the Part 107 exam will assess your understanding of the restrictions imposed upon drone flight in certain areas. It's important to be versed in and respect these restrictions as they directly relate to safety, as well as accountable pilot behavior.
4) Aeronautical Chart Interpretation
is a big one. It can be an intimidating subject, but the DARTdrones FAA test prep course will walk you through the airspaces, symbols, and acronyms, and before you know it you'll be a master in art of interpreting airspace symbology.
5) Airport Operations
and airport classifications are the epicenter of your flight plan.  Towered. Non-towered. Seaplane. Heliport. Knowledge of right-of-way and traffic patterns is emphasized as well.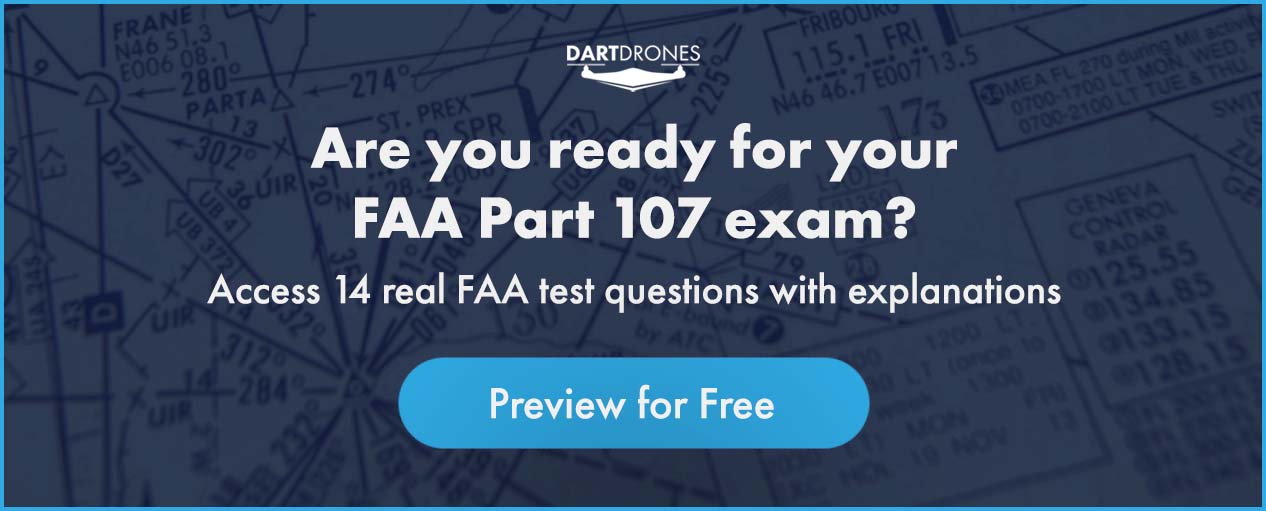 6) Radio Communications
may seem like another language at first glance, but it is a priority to be aware of manned flight operations in your area. By monitoring radio frequencies, you can communicate your flight plan and ensure procedural compliance.
7) Aviation Weather
is front and center to safe drone flight. Take your time on this topic. Weather is dynamic, uncontrollable, and plays a huge part in whether you will fly or call it off. You'll need to know stages of weather systems, how to read cloud formations, and you can really geek out on deciphering METARs.
8) Maintenance and Preflight Procedures
detail just how beneficial it is to keep a flight log, and the importance of conducting pre- and post-flight checks of your drone. This topic covers the intricacies of these procedures.
9) Crew Resource Management and Aeronautical Decision Making
responsibilities fall to the Pilot in Command, as well as awareness and judgement, and effective use of resources in the decision-making process.
10) Small UAS Loading and Performance
will establish your understanding of aerodynamics, aircraft balance and stability, and performance.
11) Hazards to Flight and Emergency Procedures
prepare you to handle emergencies  from flocks of birds to loss of GPS. There is the possibility of experiencing an emergency when flying a drone, and this subject will assess your comprehension of what do to when an unforeseen incident occurs in controlled airspaces.
12) Aviation Physiology
describes that while a drone pilot won't be experiencing any G-forces, there are things to consider such as adequate sleep, managing stress, and limiting alcohol consumption before flying. Headspace and focus are central factors.
Conclusion
The FAA Part 107 drone certification is essential if you're looking to take your flying, and your business to the next level. Check out DARTdrones Part 107 test prep study guide for in-depth information on how to study for the exam.
Happy flying.
About the Author
Roger became interested in drone aviation soon after retiring from a 25-year career in the fire service. During his tenure as a firefighter with the Nashua, NH Fire Rescue, he serves as a member of the Hazmat & dive rescue teams. he is a sport pilot and Certified Level 1 Thermographer who enjoys flying weight shift control aircraft. Roger splits his time living in Naples, FL & Wells, ME; he enjoys training public service departments & assisting them with the implementation of UAS into their organizations as well as using drones to film at live events.
DARTdrones is the nation's leader in drone training, program development and consultation, offering online and in-person courses in 40+ cities across the United States. DARTdrones takes pride in their comprehensive curriculum, developed by a former US Navy Helicopter pilot, as well as their 40+ flight instructors who are all manned and unmanned aircraft pilots. Visit us online at www.dartdrones.com, call 800-264-3907 or email the DARTdrones Team at [email protected] to learn more.