FAA Part 107 Drone Pilot License
Ask DARTdrones: Everything You Need to Know About Part 107
With the drone industry growing rapidly over the past year – you have probably heard a thing or two about the Part 107 Pilot Certificate. But what exactly is Part 107? Where can you take it? How long should you study for it? If these are a few of the questions you have – look no further! We are answering all FAQ's about the Part 107 Remote Pilot Certificate.
What is a Part 107 Pilot Certification?
The Federal Aviation Administration (FAA) launched the first drone pilot certification in the United States on August 29, 2016. Officially known as the "Part 107 Remote Pilot Certificate", this new certification gave average civilians the opportunity to take a federal exam, and if successfully passed, would classify them as a legally licensed commercial drone pilot.
The Part 107 exam is a remote pilot certification with a small UAS rating intended for use by certified drone pilots getting paid to fly their drones. Part 107 refers to the rules that the FAA has come up with to integrate the use of drones into the National Airspace System (NAS). These drone rules, and others pertaining to use of the NAS, are published in the Federal Aviation Regulations Aeronautical Information Manual (FAR AIM) or Chapter 14 of the Code of Federal Regulations (14 CFR) under Part 107. Similar to how a commercial pilot's license allows aviators to get paid to fly manned aircraft for a living, Part 107 allows a person to get paid for flying a drone. The main purpose is to ensure that a commercial drone pilot is familiar with and safely abides by the established drone rules.

Do I need to take the Part 107 exam to fly for fun?
No. You only need to take the Part 107 test if you are flying a drone commercially (flying to make money). For recreational flying you must instead take The Recreational UAS Safety Test (TRUST), a free online test offered by the FAA through approved test administrators. You must also ensure that the drone you are flying is under 55 pounds and that you follow the safety guidelines published by the FAA.
How hard is the exam?
The Part 107 certification is very detail-oriented and requires a lot of knowledge in many different areas of aviation. Aviation weather, chart study, and airspace are 3 sections that many people say are the hardest of the exam.
How long should I study?
We suggest 15 – 20 hours of studying.
How long is the exam?
The drone certification exam has 60 multiple choice questions and requires a passing score of 70% or higher. The test material is broken down into 12 areas ranging from applicable regulations to maintenance and preflight inspection procedures.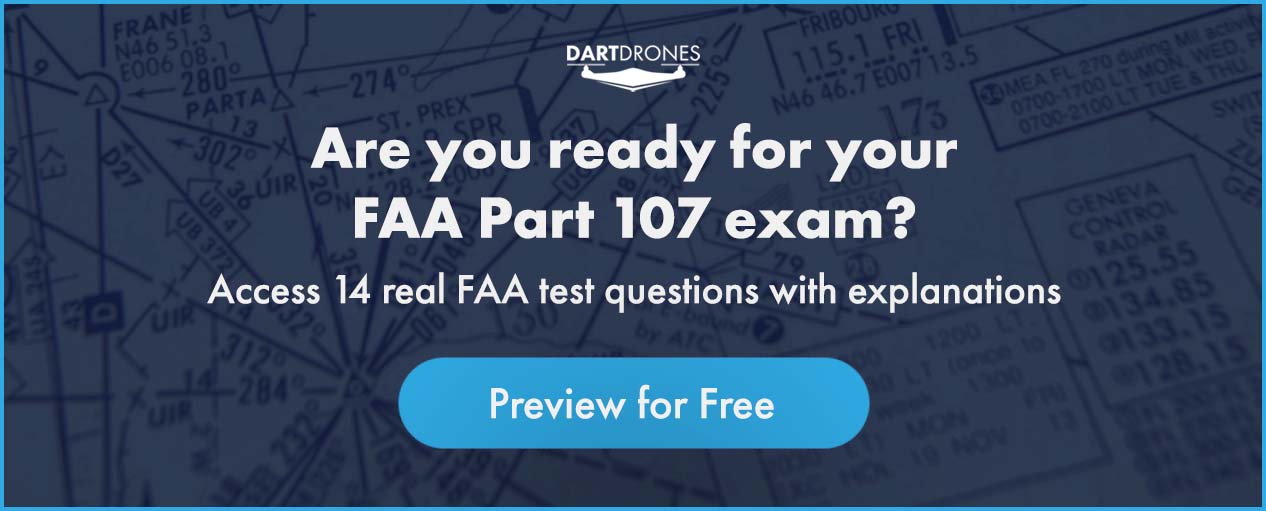 What is the process?
DARTdrones' Part 107 test prep course
Our course consists of 14 lessons taught by one of our expert drone pilots, all of whom are also FAA certificated manned aircraft pilots. All students receive 340 FAA practice test questions, a 50-page printed study guide, 6-month access to online prep course, and full access to our Chief Pilot for questions.
How much are the test prep courses?
Our in-person Part 107 test prep course is $670; online Part 107 course is $250.
How much does the FAA Part 107 exam cost?
The exam cost can range from $140 to $175. If you fail the exam you have to pay the fee again to take it, which is why it's so important to study and know the material.
How old do you have to be?
Have to be at least 14 years old to take the FAA exam, but wait until your 16th birthday to fly a commercial drone.
How often do I have to renew my Part 107 certification?
You must take a free online re-certification course and test every 2 years to keep your certification current.
I live outside of the US, can I still take the exam?
Yes, non US residents can take the exam. However, they must verify that they can comply with the FAA identification requirements in order to do so.
Can I take the exam with disabilities?
You must be able to read, speak, write, and understand English (exceptions may be made if the person is unable to meet one of these requirements for a medical reason, such as hearing impairment). If you have disabilities such as hearing and vision impairment, you can request approval through the FAA for special accommodations.
I'm a manned pilot – do I need my part 107?
Part 61 pilot certificate holders who have completed a flight review within the past 24 months may elect to take an online training course focusing on UAS-specific areas of knowledge instead of the aeronautical knowledge test. The online training for current pilot certificate holders is available at www.faasafety.gov.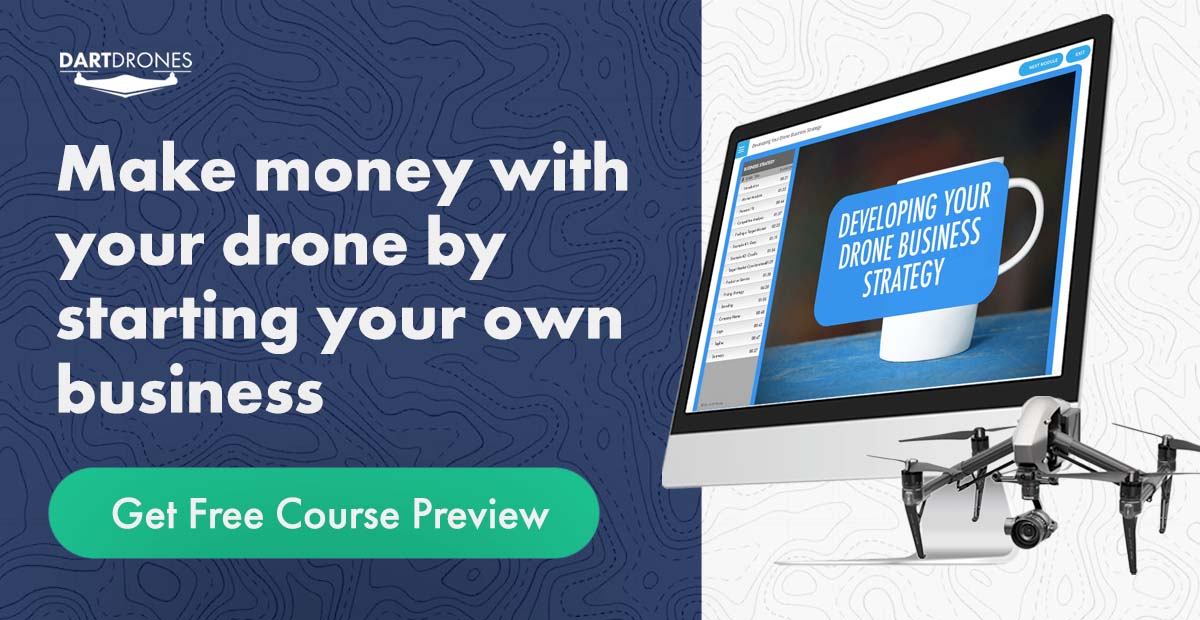 Learn more!
Have more questions about the Part 107 certificate or drone flight training? We are here to help! Visit us at www.dartdrones.com or call 800.264.3907 to learn more information.