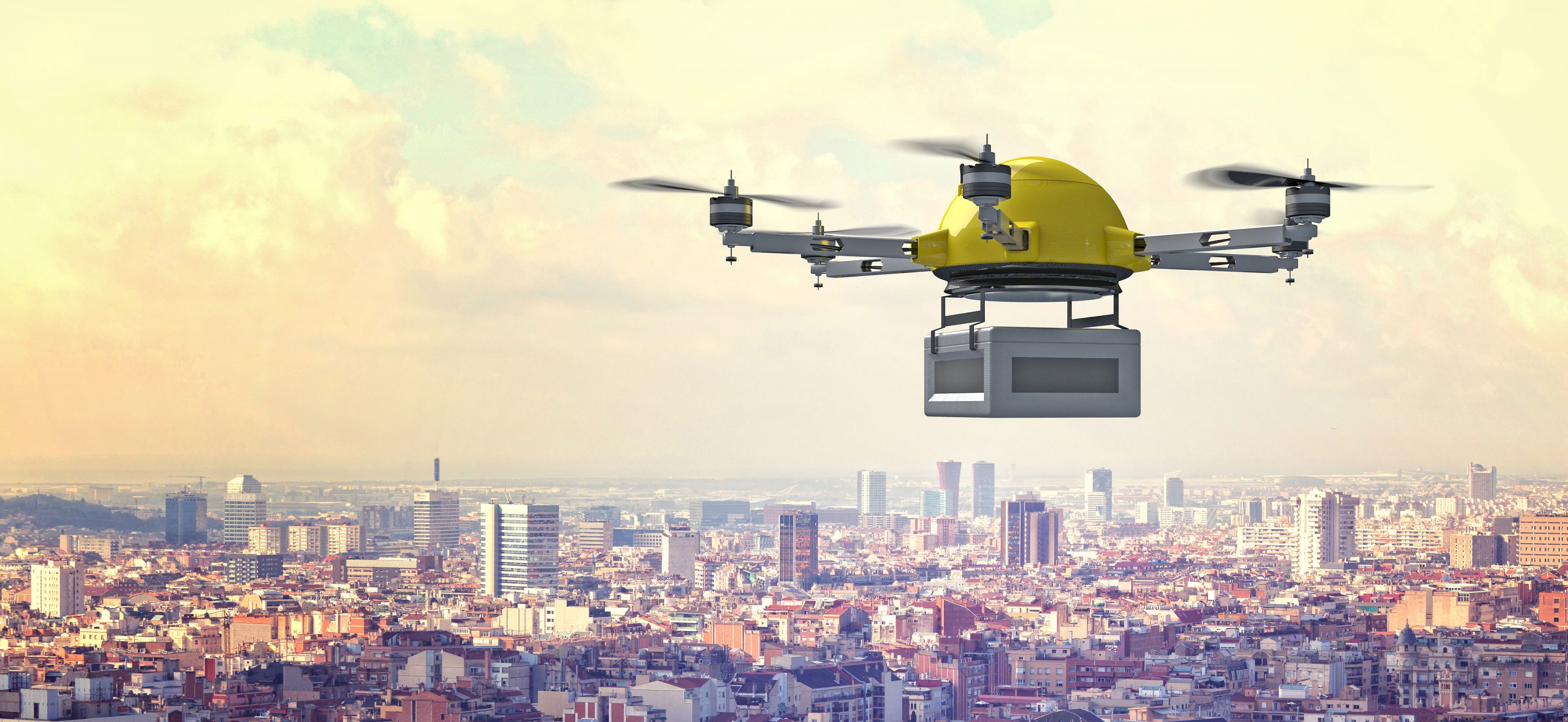 Drones for Business
Drone Business Essentials: How to Become a Drone Entrepreneur
It's NEITHER bird NOR plane – it's your burrito!  Or it could be.
Now is a great time to start your drone business. Aeronautical experts, including the U.S. Federal Aviation Administration (FAA), predict that the drone, or Small Unmanned Aircraft Systems (sUAS) market, is primed for entrepreneurial growth on all fronts.
Drone Business Opportunities
A recent report by international research firm MarketsandMarkets suggests that the global sUAS market will be worth $21.23 billion (USD) by 2022.  The Association for Unmanned Vehicle Systems International estimates that commercial drone integration will generate more than 100,000 new jobs and $82 billion dollars for the U.S. economy by 2025.  BI Intelligence predicts that the potential for the drone market will grow by 19.1% CAGR and top $12 billion by 2021.
FAA Part 107 Opens the Door to Drone Commercialization
The FAA opened the door to drone commercialization August 31, 2016 with its Part 107 rules permitting commercial uses for drones.   Intrepid entrepreneurs are hurtling the threshold, buying drones and designing drone business models to monetize their aerial investments.  The new FAA Part 107 certification process is much easier and faster than ever. Anyone over the age of 16 can take a test at an FAA-approved facility and pass a background check to qualify for a remote pilot certificate.
At a glance, the new FAA Part 107 rules state:
the person flying the drone must be able to see it with the naked eye and can fly it only during the day. You can request a waiver from the FAA for night flying
sUAS vehicles cannot pass over people who are not directly involved in what you're doing
You cannot fly the drone higher than 400 feet.
Drones can carry packages as long as the combined weight of the drone and the payload is less than 55 pounds.
You can find the complete FAA Part 107 rules here.
So What is a Drone Entrepreneur?
As a drone entrepreneur you face the same issues as any other tech-based business may: creating a product or service to solve a challenge, do something faster or cheaper, or improve a behavior of some kind.  Customer service, reliability, legitimacy, brand identity are the currencies of your drone business.  But you want to change the ways people do things, and have done things, for a very long time.  Why does my burrito, for example, have to be delivered by a drone when having a delivery guy works just fine?  Unless you convince people your way is better (faster, cheaper, et al), you cannot exist.  So, market your industry, market yourself, market your company, market your service … and market your industry again.
Cost-effective and Faster and Cleaner and ….
Truly understand where you are historically as a sUAS entrepreneur!  Drones stand on the cusp of a new age of industry and commerce.  But you're fortunate.  You didn't' have to invent the wheel; you just have to monetize it (credit to our hobbyist brothers and sisters for laying the groundwork all these years).
Drone Business Ideas:
Public Safety and Service

: Police and fire personnel can use drones for rescue operations and surveillance.

Media & Commercial Photography

: Photographers and video producers are experimenting with ways to get better shots with drones.  There's even been some experimentation with video at NFL games.  And realtors can use drones to take jaw-dropping aerial shots of properties for sale.

Agriculture

: Farmers now incorporate the use of drones for crop management and monitoring crop growth.

Internet

:

Facebook

is experimenting with ways that drones could provide internet service to the most remote parts of the world.

Delivery of Goods

: Drones may one day takeover the role of delivery drivers by transporting products to customers.
Let's Consider "Delivery of Goods."  
Like commercial trucking did to railway commerce, our long-accepted ideas about commercial transportation are about to be revolutionized.  And entrepreneurs are leading the charge.  Think about how our current practices of delivering food, prescriptions, magazines, or even construction supplies can be revolutionized by drones:  reduction in shipping costs, faster service, environmentally cleaner, immediacy of dispatch – at 1/10th the operating cost of an airplane or helicopter and with very low risk of injury.  
Compared to other industries, drones offer great ROI.  According to the trucking industry, the average annual cost of operating one commercial truck is $180,000 (USD) – $1.38 per mile on the road.  And those figures don't include the cost of purchasing or leasing a truck.  How many drones can you purchase for $180k?  Low operating costs and unlimited potential: it's win and win big – now and in the future.  
Relative to other industries, there is not a lot of marketing collateral to help people understand the commercial drone field, so you'll have to create it.  Websites are an absolute must for any emerging industry, particularly one that is tech based.  Cold calling, email and content marketing, and even lateral partnerships and collaboration with other entrepreneurs are some ways to build your company.  Really, anything you can do to get your name known when first setting up your drone business will pay HUGE dividends toward your long-term solvency.  Your website will become your storefront; your company slogan – a flag.  So legitimize your services online, noting your credentials and training.  Educate the consumer about the industry and create content to help visitors comprehend.  Without a large name behind you, like Google or Amazon, the public will question your legitimacy… until you prove otherwise.  
Obstacles and Challenges for the Drone Entrepreneur
Perhaps the biggest single obstacle you will face is obtaining the skills and tools needed to start your drone business.
Drone Insurance
Besides the FAA Part 107 certification, consider purchasing drone insurance for your sUAS business.  It will help legitimize and protect you.  But, drone insurance alone is insufficient.  You can still be fined or sued for improper drone operation and suffer irreparable damage to your company's reputation.  Proper drone flight training is a fundamental and wise investment. 
Drone Pilot Training
There's more to being a successful drone entrepreneur than just taking the FAA Part 107 test. Flight training and instruction will ensure the safety of your customers and the integrity of your equipment.
DARTdrones is the national leader in drone pilot training, consultation, and expert support for drone pilots and offers classes throughout the country and online curricula to help you become a professional drone operator.  DARTdrones can even help you prepare to take the Part 107 test.
Presumed Property Rights
Just as the drone industry is ascending, its reputation is being damaged by irresponsible and improperly trained drone operators clashing with property owners.  The issue of property rights coinciding with sUAS operator rights is a hot topic right now.  Legislators are debating property rights and whether a property owner has claim to the airspace directly overhead.  Forty six states in the U.S. alone have weighed 156 different drone bills in 2015.  It's an issue we never anticipated.  Can you realistically claim rights to the airspace thousands of feet above your property?  Low airspace flight is another matter.  Low-flying objects are easily observable and can be intrusive or sometimes threatening.  And what happens if your drone accidentally crashes into someone else's property?  
FAA Part 107 & Commerce Laws: Can We Have Some of Your New Money?
Will we need to redefine the "national airspace" given the new sUAS commercialization rules?  Historically, aviation regulations have been a matter for the federal government.  Congress has the authority to regulate all aircraft design, manufacture, repair, and operations under the Commerce Clause of the U.S. Constitution.   However, drones can land right on your front door.  So, who calls the shots and for what quantity of airspace?  Where do the powers of Congress end and state authority begin?  It's literally "up in the air."  
Source: Outside the Beltway – Feb. 14, 2013
FAA Part 107 limits your operation to Class G airspace – or the airspace below 14,500 feet.  Class G is thus far completely uncontrolled.  And you will need special permission if you want to fly in any controlled airspace (Classes B, C, D, or E).  But "uncontrolled" doesn't mean "lawless."  States can create their own rules, including no fly or no drone zones, and use police to enforce those policies.  What could happen to drone delivery services if Central Park was designated a no-fly zone?  Perhaps yielding to public fears, some states have already begun restricting drones flying at low levels and short distances.  
Commerce laws and drone flight may become further complicated as entrepreneurs and large companies – such as Domino's Pizza, Google, and Amazon – seek to monetize what was principally a hobbyist's world.  For example, how is interstate commerce applied if a drone company flies a drone over a multi-state mountain range to deliver asthma inhalers to a trapped hiker?   Even with the current Part 107 line-of-sight limits, it will take time and countless meetings to work all that out.  But the discourse is well underway.  
Drone Entrepreneurs – Stay Informed
Do your best to be aware of evolving low-fly commerce issues as the FAA, Congress, states, and municipalities debate rules and regulations governing commercial drone usage.  You should constantly learn and monitor drone laws in your area.  Remember, you are part of an emerging industry that will no doubt be subjected to additional regulations in the future.  Legitimate drone business operators should always operate within legal bounds.