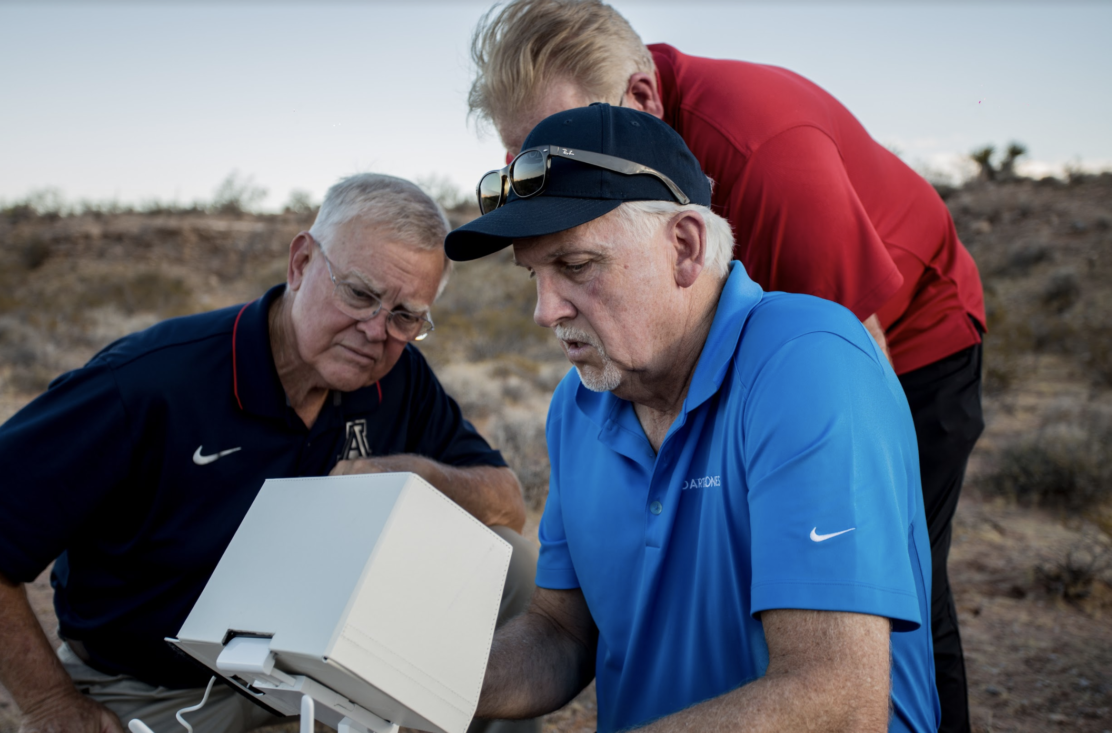 Drones for Business
What Do I Learn In A Drone Class?
Flying drones is an art and a science, and safe drone piloting takes more training than many novices think. A proper drone class teaches everything from how to operate a drone craft smoothly to best safety practices and official rules and regulations.
Whatever your drone piloting goals are, DARTdrones drone training can give you the skills to fly drones confidently. Customizable drone classes offer hands-on instruction for commercial pilots, hobbyists, government agencies, public safety workers, and anyone else interested in becoming a safe and effective drone pilot.
Basic Drone Class
In our Basic Flight Training Course, expert instructors provide both in-person and online training covering standard operating procedures, program software, emergency response, and systems management.
Get to know your drone inside and out and develop your functional skills through scenario-based exercises and mission-specific drone training. Test your knowledge through pilot assessments and lesson reviews. Hone your piloting skills and learn how you can use your drone to start a side gig or embark on a new career.
Here are some of the ways taking a drone class can benefit current or future drone pilots:
Protect your equipment
You've put a good deal of money into your drone equipment, and you want to protect your investment. Our expert teachers provide detailed step-by-step instructions on how to fly safely and effectively so you can confidently fly your drone without risking damage to your craft.
Understand your drone's operating system
Today's drones use advanced technology for a wide range of uses. Learning to use this technology can be intimidating for new users, and many novice drone pilots don't know how to take advantage of all of a drone's features. Our drone class teaches students how to use intelligent navigation modes for advanced drone operation.
Be prepared in case of emergency
Accidents happen, but you can reduce the risk of damage or injury resulting from a malfunction, operator error, or circumstances outside your control by learning how to respond correctly in an emergency. Our drone class helps you prepare by presenting various emergency scenarios and letting you practice real-time responses with your personal drone equipment.
Develop a side gig or embark on a new career
Did you know skilled drone pilots can use their equipment and experience to make good money? Whether you'd like to develop a side gig for extra income or you're thinking about embarking on a new career path, you can use the skills you learn in drone class for a wide range of industries, including:
Photography and videography
Surveying and mapping
Agriculture management and planning
City development
Building inspections
Emergency services
Military contracting
And much more

What You'll Learn In Drone Class
Drone basics
Discover the various system platforms and their components so you can choose the best systems for you. Get to know the primary drone types, how to set up and update your drone's operating system, and learn how to navigate your flight display like a pro.
Real-time navigation
In our drone class, you'll prepare for your first flight with a complete flight walk-through. You'll learn how to calibrate a drone compass, use in-flight stick commands, how to log your flights, and which flight modes to use so you can confidently launch and land your drone safely and smoothly.
Rules and regulations
Federal and municipal rules regarding drone flight, like maximum altitude, are in place to ensure pilots' safety and security of both unmanned and manned aircrafts, military airspace, and innocent bystanders on the ground. Breaking these rules can lead to severe consequences, including potential injury, fines, and jail time. Drone class covers these rules and regulations and how to adhere to them while flying your drone.
Advanced Training
Take your drone piloting skills to the next level with the DARTdrones Top Level Remote Pilot Certification course. Certified TOP Operators are the most competent commercial pilots in their industry, recognized for professionalism, competence, reliability, and commitment to safety and ongoing training.
As one of the developers of the Trusted Operator Program™, DARTdrones provides a targeted, comprehensive path for all aspiring drone pilots. Our expert team of 40+ instructors are professional pilots with a combined 12,000+ hours of drone pilot training and experience.
Call or email DARTdrones today to learn more about how our drone classes can take your piloting skills to the next level.
About the Author
Mike is an instrument-rated pilot and a self-described transportation enthusiast and weather geek. As a former light rail instructor for Harris County Metro, Mike trained new operators to safely operate trains on Metro's new rail extensions in the city of Houston. Mike returned to Austin and discovered Drone photography. Taking his new hobby to the next level by combining his aviation, rait trainer, and industrial sales experience, Mike Joined DARTdrones to share his passion for aviation with student drone pilots to help them become safe, competent and confident drone pilots.
DARTdrones is the nation's leader in drone training, program development and consultation, offering online and in-person courses in 40+ cities across the United States. DARTdrones takes pride in their comprehensive curriculum, developed by a former US Navy Helicopter pilot, as well as their 40+ flight instructors who are all manned and unmanned aircraft pilots. Visit us online at www.dartdrones.com, call 800-264-3907 or email the DARTdrones Team at [email protected] to learn more.