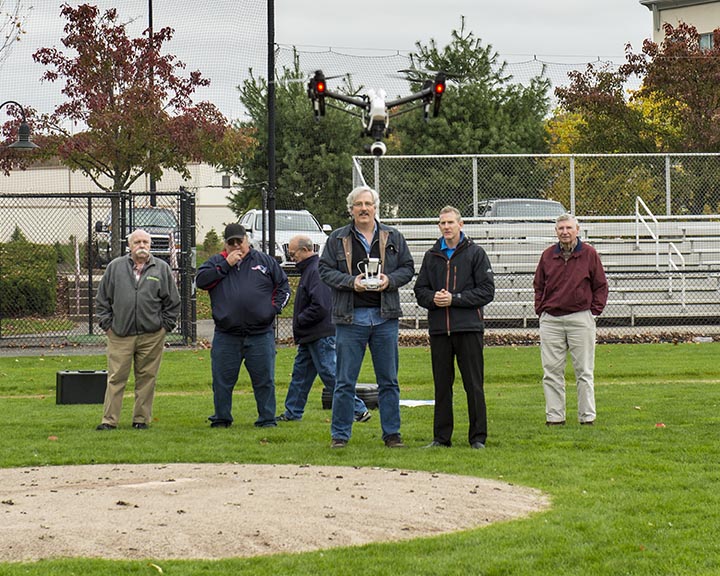 Public Safety
Drone Pilot Training: Manchester Emergency Management UAV Training for Commercial Drone Use
In early November, DARTdrones Drone Pilot Training School hosted a private UAV training course for Manchester, Connecticut Emergency Management. The group consisted of 24 students who were a combination of police, fire fighters, and emergency management professionals. The town of Manchester was looking to implement sUAS for commercial drone use into their daily emergency management operations. The group opted for a private 2-day UAV training where we brought in 3 of our expert drone pilot training instructors to train all 24 students on FAA drone regulations and how to fly a drone. We are thrilled to have trained this group, who is one of DARTdrones 25+ public safety groups trained in the state of CT!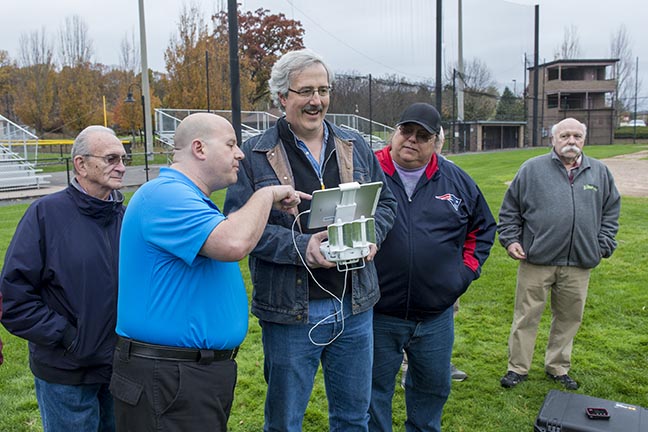 Manchester's UAV Training for Commercial Drone Use
During the 2-day drone pilot training, students had both hands-on and classroom training to cover all necessary material for FAA drone regulations, commercial drone use, and flying drone for emergency management purposes. For any commercial drone use, especially public safety and mission specific flights, it's crucial to obtain proper drone pilot training. As departments scale their UAV operations and bring on additional pilots, it's important to have a standardized training model to ensure all UAV pilots are on the same page, are able to conduct the same flight missions, and that everyone is on the same knowledge and training level. For Manchester's group, the 2-day UAV training covered the following:
In-Person Part 107 Test Prep Course
This UAV training course teaches students all FAA drone regulations and how to take and pass the Part 107 exam for commercial drone use. The knowledge needed to pass this exam can be overwhelming at times, which is why our drone pilot training school designed a comprehensive Part 107 test prep course to make sure students have a complete understanding of the FAA drone regulations as well as the steps to taking the exam and receiving a Part 107 certificate. Within this UAV training course, our instructors cover the below topics: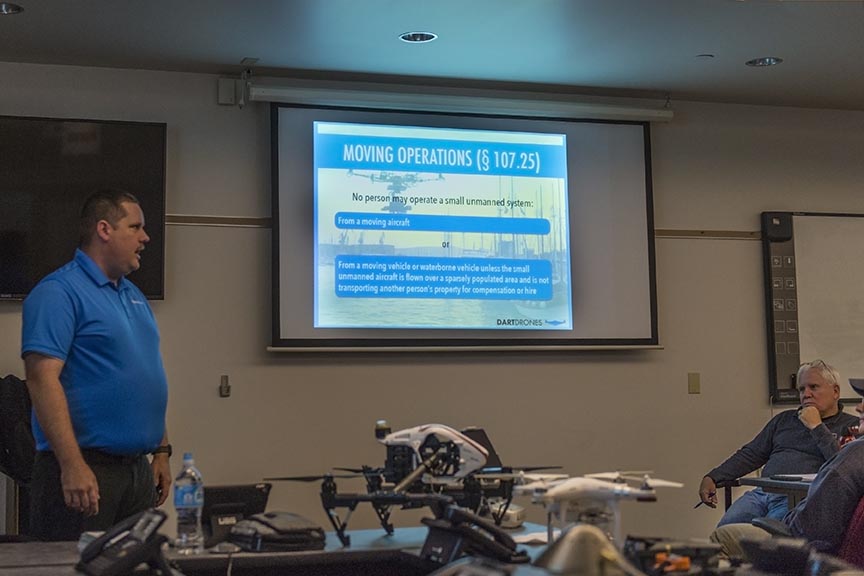 FAA drone regulations under Part 107
Airspace classifications
Flight restrictions
Chart study
Airport operations
Radio communications
Aviation weather
Maintenance
Preflight procedures
Crew resource management
Aeronautical decision making
sUAS loading and performance
Hazards to fly
Emergency procedures
Physiology for drone pilots under FAA drone regulations
Preparing for the Part 107 exam
Hands-On Drone Pilot Training
Our full-day drone pilot training course covers all of the knowledge and skills for flying under FAA drone regulations. Our flight instructors cover essential information for commercial drone use through a combination of classroom training and hands-on flight sessions. The students at the Manchester training covered the below UAV training curriculum:
Commercial drone use cases – what you can do with a sUAS
The drone basics – platforms and components
System set up – connecting and updating your drone
The DJI Go App
Preparing for your first flight
Advanced sUAS settings
Mission specific settings
Emergency situations and procedures
Autonomous flight
Tips and resources

What Was the Outcome of Manchester's UAV Training?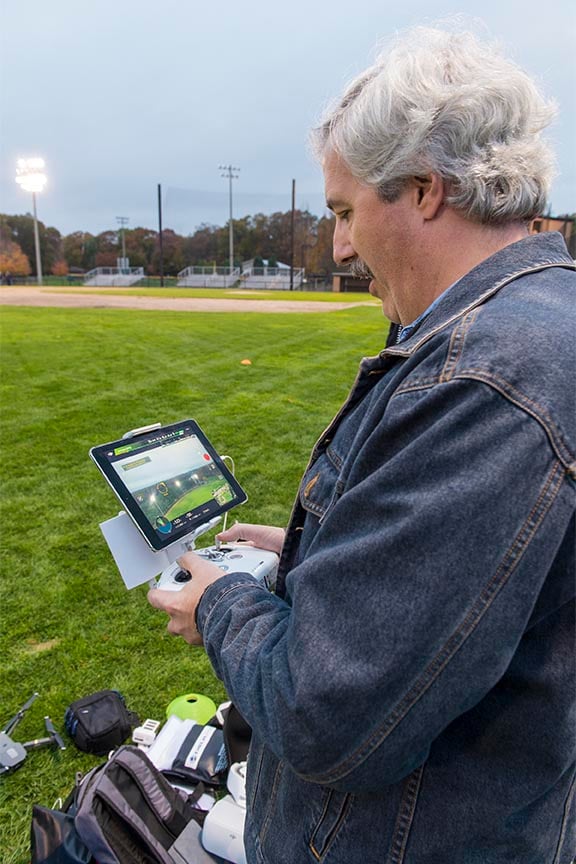 With Manchester being at the beginning stages of incorporating sUAS into their daily emergency management operations, our instructors gave them a good base of what sUAS can be used for within those settings. Their goal is to use the UAV training for any purpose where it would provide a resource to an incident or situation, whether it be disaster recovery, search and rescue, suspect pursuit, etc. Our team of instructors were able to use their real-life sUAS experience to provide the students with the knowledge they would need to perform those specific emergency management flights.
Donald Janelle, Deputy Director of Manchester Emergency Management said, "I want to express my sincere gratitude for providing this valuable training – it was one of the top 3 or 4 classes I have ever attended in my 40+ years in the emergency service arena! It was worth every cent!"
The group of 24 students definitely benefited from opting for a private training. They were all in different segments of public safety (police, fire, emergency management) and had great knowledge and operational foundation for their segments, which allowed them to work together to share ideas and different mission specific tactics. For this large group, we used multiple instructors to train everyone. However, private trainings are all different and each training is truly customized to fit the needs of the particular group. We are able to break up groups into different training sessions, design a custom training program, train small groups that get a lot of one on one time with our instructor, and much more.
Donald Janelle stated that the group was very impressed with the DARTdrones flight instructors and that Manchester will be attending more advanced training in the future, specifically Night Flight UAV training!

Drone Pilot Training Instructors
Mike Uleski
Mike is an active Sergeant with a public safety department in Florida, where he is cross trained as a law enforcement officer, firefighter, and EMT. He has extensive aviation expertise with a degree in Aeronautical Sciences from Embry-Riddle, a commercial pilot certificate with single-engine, multi-engine and instrument ratings, and 17 years of experience building and flying remote controlled aircraft. Mike also serves as our Chief Public Safety Flight Instructor.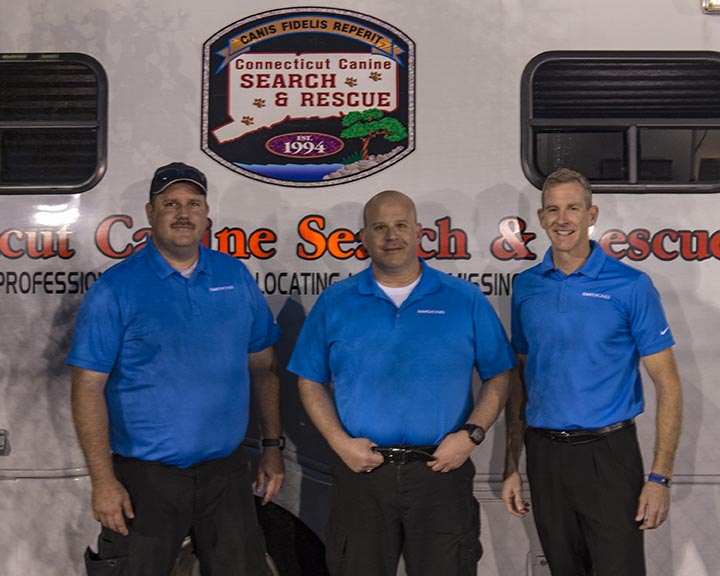 Michael Bush
Michael's interest in aviation began back in 1985 while stationed in Germany. While spending a considerable amount of time in helicopters as a passenger, he quickly became fascinated with aviation. Although several years passed, he eventually had the opportunity to obtain his Commercial Helicopter Certificate, Instrument Rating, and Certified Flight Instructor. Most of his career was spent in the field of education, until four years ago when he was offered a position as the Director of Operations for a flight school. Recently, his interest expended to unmanned aircraft systems. He believes the future of aviation will be re-shaped as we know it and that this is a new and excited time to become involved is sUAS.
Chris Grazioso
Chris is from Abington, Massachusetts and for the past 28 years, has worked in the EMS field focusing on EMS Special Operations and Emergency Management. He is also a member of a FEMA Urban Search and Rescue team and started using drone technology in their operations. Currently, they can be used for real-time damage assessments and infrastructure inspections; GIS, mapping, and pictrometry; or just provide an eye in the sky for command staff on the ground.
Chris has been interested in aviation his entire life and received his pilots license in 2010. He flies with family and friends all over New England. He's also made 2 cross country trips, flying with a friend from Boston to Florida and Boston to Alaska in a Piper Warrior!
DARTdrones UAV Training School
DARTdrones is a nationwide drone pilot training school who has trained 7,000+ pilots in FAA drone regulations, Part 107 test prep, hands-on drone flight training, aerial mapping and aerial inspections advanced workshops, as well as customized drone pilot training for groups like Manchester Emergency Management. Join our team of elite instructors in 40+ cities across the nation. For more information on customized private UAV training, call us at 800-264-3907 or visit www.dartdrones.com. We look forward to helping you and your department launch a successful sUAS program!
SaveSave
SaveSave