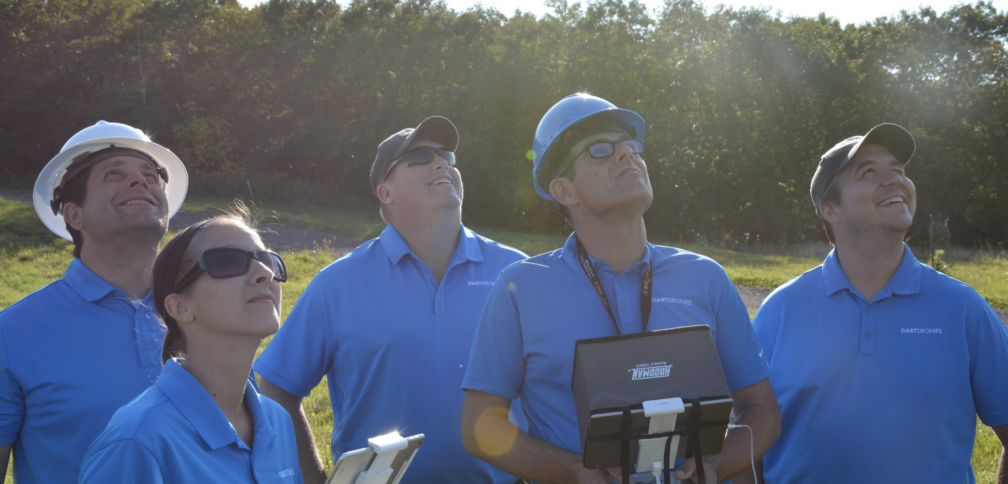 Drone Industry
Two Year Part 107 Anniversary and Mapping Out the Possibilities of the Future
Most aviation enthusiasts, manned aircraft pilots, and small Unmanned Aircraft System (sUAS) industry followers will remember August 29th, 2016 when the Federal Aviation Administration put the new Part 107 rules into effect. In the August 2016 press release, FAA Administrator Michael Huerta states, "The FAA's role is to set a flexible framework of safety without impeding innovation. With these rules, we have created an environment in which emerging technology can be rapidly introduced while protecting the safety of the world's busiest, most complex airspace."
Now, we're two years into a more regulated industry where we've seen this "flexible framework" allow operational transformations across numerous industries. We've seen hundreds of proposed legal bills, changing requirements and guidelines, combined with continuous innovation and emerging commercial use cases. So, what are the major components that have happened over the past two years and what can unmanned aircraft pilots expect for the future?
What the Drone Industry Has Accomplished Since 2016
As we approach the 2 year anniversary of Part 107 sUAS operations, the FAA has announced that over 100,000 Remote Pilot Certificates have been issued to qualifying individuals. This is the single fasted growth rate that has ever been seen for an FAA Airman Certificate type, and says a lot about where the industry currently is, and where it is going.
Bill McNeil, a Contributing Editor at Direction's Magazine, shared with DARTdrones a study he conducted on Part 107 Certificate holders. McNeil geocoded and then thematically color-coded the database of Part 107 certificate holders that the FAA released on June 1st, 2018. McNeil's study provides us with a comprehensive look at where Part 107 certificate holders are located by state and by county.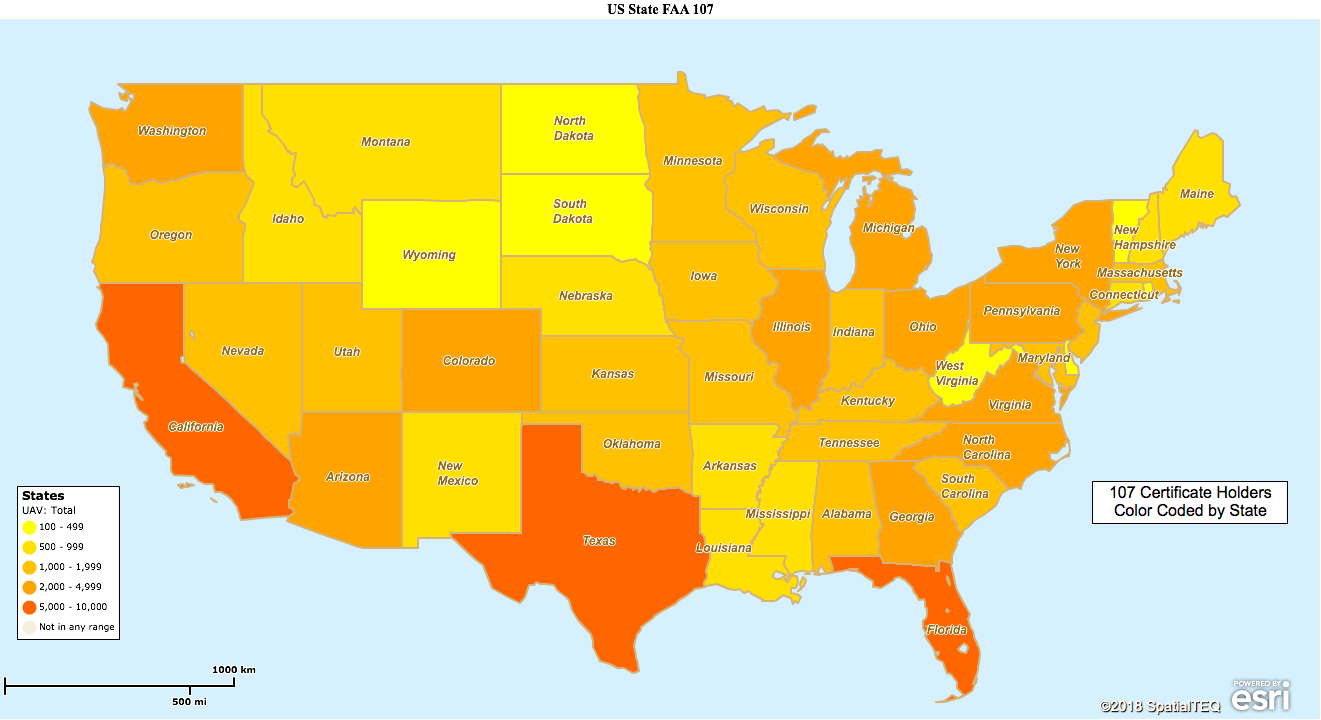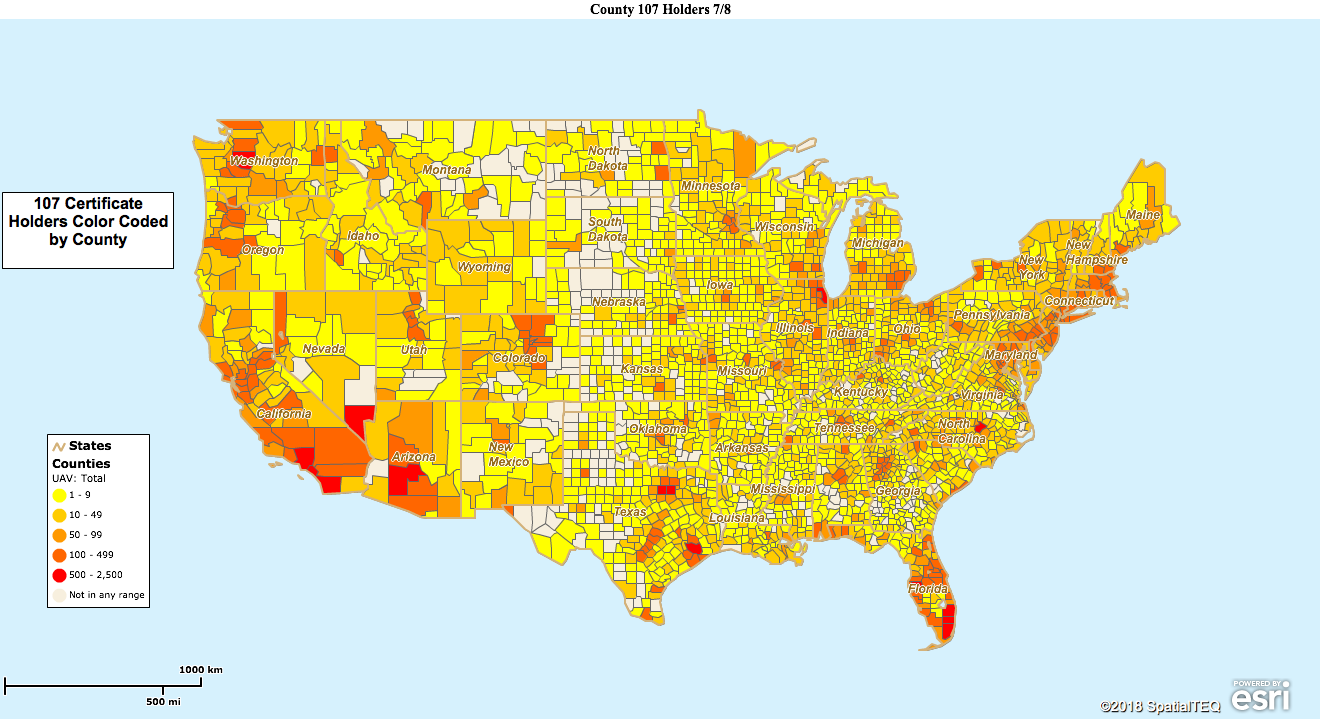 Along with these findings, McNeil also conducted research on the Part 107 waivers the FAA has granted. Through his research, McNeil found that although the San Francisco Bay Area may be the US epicenter for UAV work, Southern California appears to have the highest concentration of commercial work. While the exact details of how the evolution of commercial and official UAS flights in the United States will continue is unclear, we do know a few things that are starting to give us a better picture of the future.
In 2012, the FAA's "Federal Modernization and Reform Act" that was submitted to Congress indicated that the FAA planned to work towards full integration of our National Airspace System (NAS) for UAS by 2025. We are almost halfway to that deadline and most experts agree that the Part 107 regulations are merely a "starting point" with many more developments to come. More recently, the DOT sUAS Pilot Program that was announced and implemented in 2017 was designed to "speed up" the sUAS integration process by providing the DOT and FAA with data from wider scale, authorized operations that go beyond the scope of Part 107 so that they can best determine how to make operations involving things like Beyond Visual Line of Sight (BVLOS), flight over non-participants, high altitude flights, and routine flights in areas of controlled airspace, accessible through the creation of permanent regulations.
To date, the FAA has nearly completed the roll out of the Low Altitude Authorization and Notification Capability (LAANC) framework that allows Remote Pilot Certificate holders to obtain instant authorization for sUAS flights in many areas of controlled airspace. In addition to this important development, the FAA is also finalizing ongoing efforts to officially transition from a radar based air traffic control system, to a satellite (GPS) based system in 2020. In fact, virtually all manned aircraft are required to have new equipment installed to facilitate this change by 2020, otherwise they will no longer be certified as "airworthy." This new GPS based system will allow even small unmanned aircraft to integrate a piece of technology known as an ADS-B transmitter so that both ATC and other manned aircraft will know the location of the sUAS at all times. If an ADS-B transceiver is installed, the remote pilot will also be able to see the location of other manned aircraft via a flight display at their ground control station. Many believe this planned switch in 2020 is a key component for new regulations that will allow for standardized BVLOS operations with UAS.
At DARTdrones, we have seen the benefits of these changes and are anxiously preparing for the future. Our clients have already begun moving from the "Test Crew" phase to scaling their internal sUAS operations for nationwide system use. The release of LAANC has been a big part of that, and the results of their initial feasibility and impact studies have conclusively shown the benefits of sUAS in terms of cost savings, safety improvements, and overall operational efficiency.
Tyler Dobbs, Government Affairs & Public Relations Representative at Academy of Model Aeronautics states, "This Part 107 anniversary is an important reminder of how far the UAS industry has come, as well as how rapidly this technology is growing. Part 107 is an opportunity for recreational UAS operators, many of which are AMA members, to turn their hobby into a profession and fly commercially. We are proud to partner with DARTdrones to educate pilots about the two legal ways to fly safely, a goal which AMA shares. We look forward to the future and to discovering the new ways that technology can be used to improve our lives."
This Part 107 anniversary also marks the first round of Part 107 Recurrent Knowledge Testing.
What Does the Future Look Like?
One of the first questions new students in a DARTdrones Training Course usually ask is "so what's going to happen with drones in the next few years?" While the the answer to this question may vary slightly depending on which of our drone training flight instructor's you ask, and our own individual areas of interest or specialty within the UAS industry, a few common themes always tend to emerge in the subsequent conversation.
First, we all agree that unmanned aircraft systems, or "drones" if you prefer, are not simply a passing fad that will eventually join other examples of formerly hyped and now defunct technology like LaserDiscs or Palm Pilots. The ability to virtually instantaneously collect high definition aerial imagery or other data in a given area has proven immensely valuable to individuals, corporations, and public safety agencies alike, and the number of Remote Pilot Certificates issued by the FAA is a testament to that fact.
What we can expect in the coming years, beyond the general continued adoption of UAS seems to be coming down to the needs of larger companies that are influencing governmental action on the topic. For example, many energy companies have expressed interest in using unmanned aircraft to conduct routine inspections of long stretches of power lines, pipelines and other linear infrastructure, leading many to believe that more pathways for BVLOS operations can be expected in the coming months and years. In addition, the use of sUAS in populated areas had caused challenges related to rules prohibiting flight over "non-participants" or members of the general public. The FAA has been supporting and closely following testing efforts to determine the risk posed by sUAS of various weights, as well as the effectiveness of emergency recovery systems necessary to ensure safety in these environments.
Another desire of many current and potential UAS users is the ability to conduct completely autonomous flight operations in virtually any flight environment. The reality of attaining this goal will be based on both technology advancements and regulatory developments, but we have already seen tremendous improvements in proximity sensor technology and the artificial intelligence (AI) capabilities of onboard flight computers and command and control software utilized in unmanned aircraft systems. While the ability to deal with every eventuality associated with the chaotic real-world is still not possible with your average currently manufactured sUAS, certain high priced, custom systems have demonstrated an ability to operate with full autonomy in very complex and dynamic environments.
It is no doubt that as we continue down the path towards full integration of our skies to unmanned aircraft, many new benefits associated with UAS and industry will be unlocked. Although it may be hard to imagine, with multi-billion dollar companies like Amazon and Google influencing new regulatory and system development efforts, there will come a day when your next online order is transported to its destination along a specially designated airway by a completely autonomous unmanned aircraft. You may even soon be able to request a ride share from a company like Uber and hop into a self-flying air taxi that will whisk you to your destination in record time, high above the congested streets and highways below. Regardless of the speed at which these Sci-Fi promises may occur, one thing is for certain – the future of UAS is very bright indeed.
The Success of DARTdrones Part 107 Alumni
On this Part 107 anniversary, DARTdrones reflects on their thousands of successful Part 107 students and their accomplishments in the drone industry.
Art Aldrich | A few years back, Art became curious about the drone industry, saw what was possible, and was very excited. Art took DARTdrones In-Person Part 107 Test Prep back in 2016, and currently flies for his own video production business, Drone201. Art stated that the Part 107 Test Prep course helped with his certification which enabled him to perform commercial work.
---
Cheri Gagné | Cheri was a manned aircraft student pilot training for her private pilot certification. She was interested in adding drones to her knowledge base and went looking online for a school that could not only teach her the ground school portion, but also provided hands-on flying. Cheri wanted something more than just an online course. Cheri states, "DARTdrones was one of the first schools to come up in my search that fit the bill. I love that the instructors are manned aircraft pilots, in addition to being drone pilots and very knowledgeable about aviation in general. Being with like-minded people made all the difference."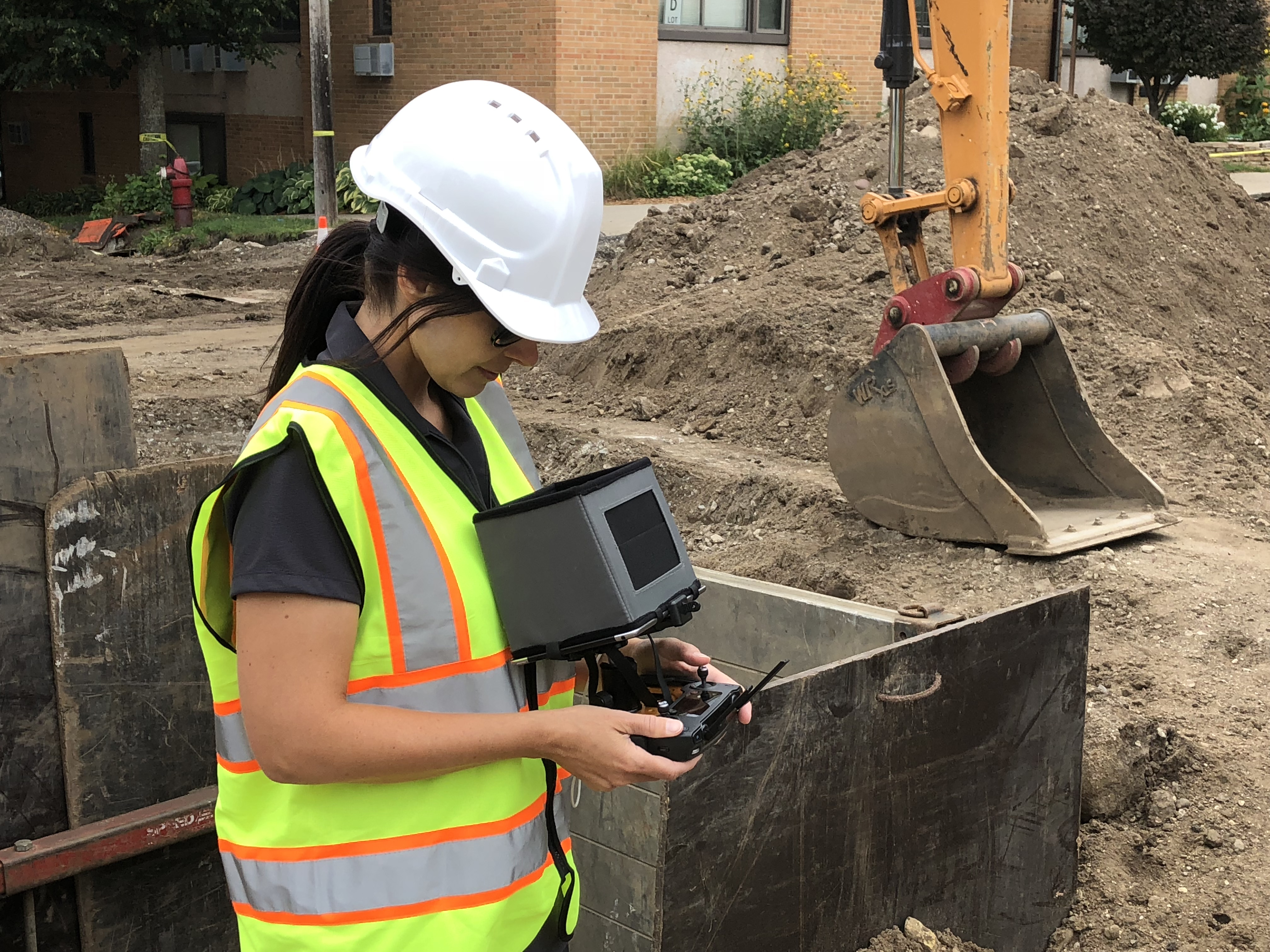 Cheri currently flies commercially and has been for a little under two years. She started her own drone services company called The Fly Girls, Inc. that specializes in aerial photography, videography, roof and home inspections, construction, special events, marketing, search and rescue, training and more. Cheri hopes to expand her business to include mapping, modeling and thermal imaging.
Regarding Cheri's approach to training, she states, "Taking the two-day training with DARTdrones has been life-changing for me. I passed my Part 107 test and soon after began flying commercially. Having that certification has opened many doors for me and made me a confident drone pilot. My instructor was very knowledgeable, supportive and instrumental in making all of this happen. I wake up each morning doing a job I absolutely love. I'm coming up on my
Part 107 renewal
and will look to DARTdrones to help me pass that once again. I'm also looking into expanding my knowledge base with mapping and modeling and will look to DARTdrones to help me with that down the road."
---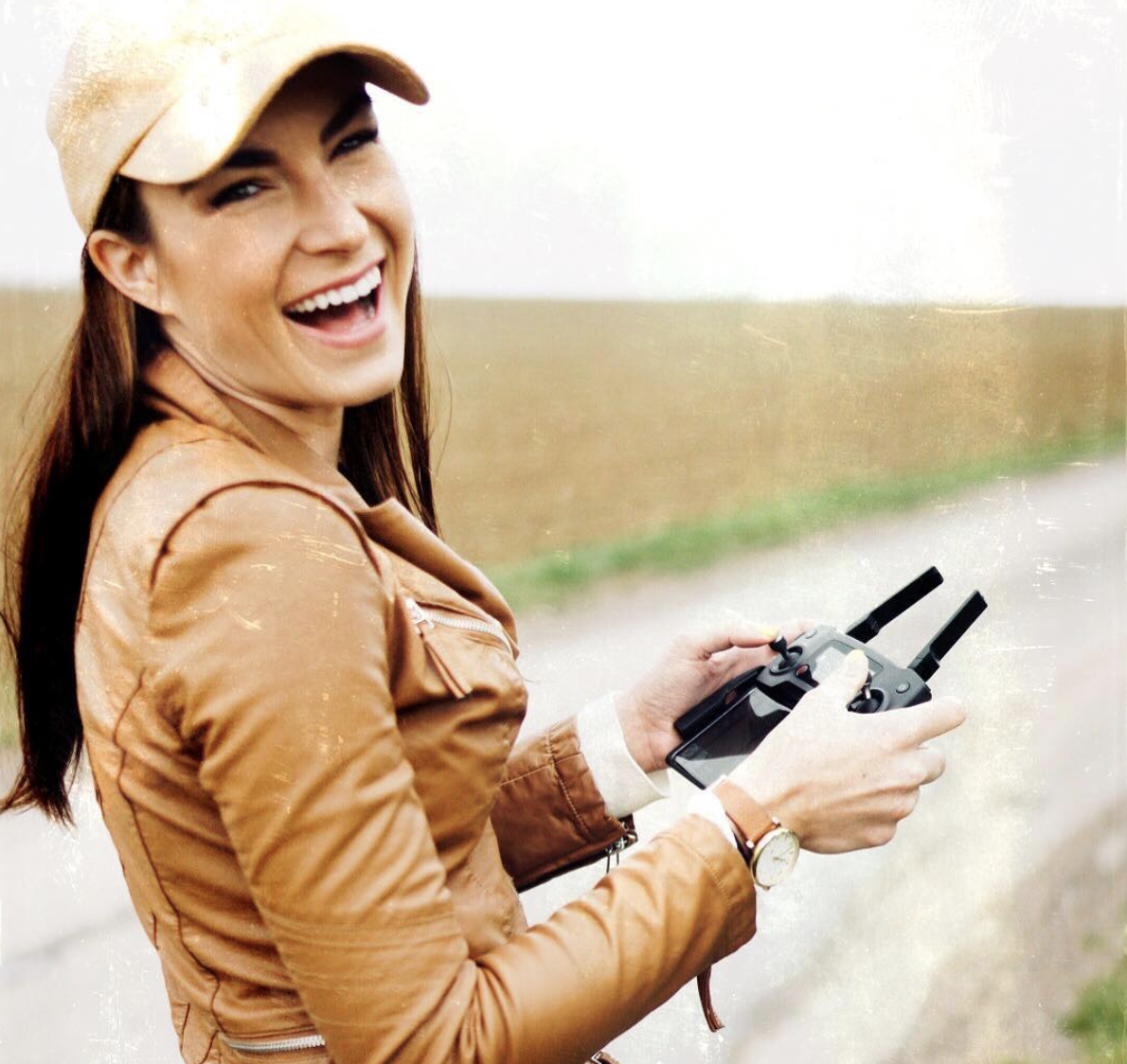 Elyse Cosgrove | Elyse attended DARTdrones Hands-On Drone Pilot Training and In-Person Part 107 Test Prep in 2018. As the owner of a photography/videography company, Elysees Eye Productions, LLC, Elyse was interested in utilizing drones to support her business as well as storytelling. With utilizing an aerial perspective, Cosgrove plans on helping our government and other supporting businesses create powerful imagery that can create change.
---
Jonathan Blandino | Jonathan completed DARTdrones In-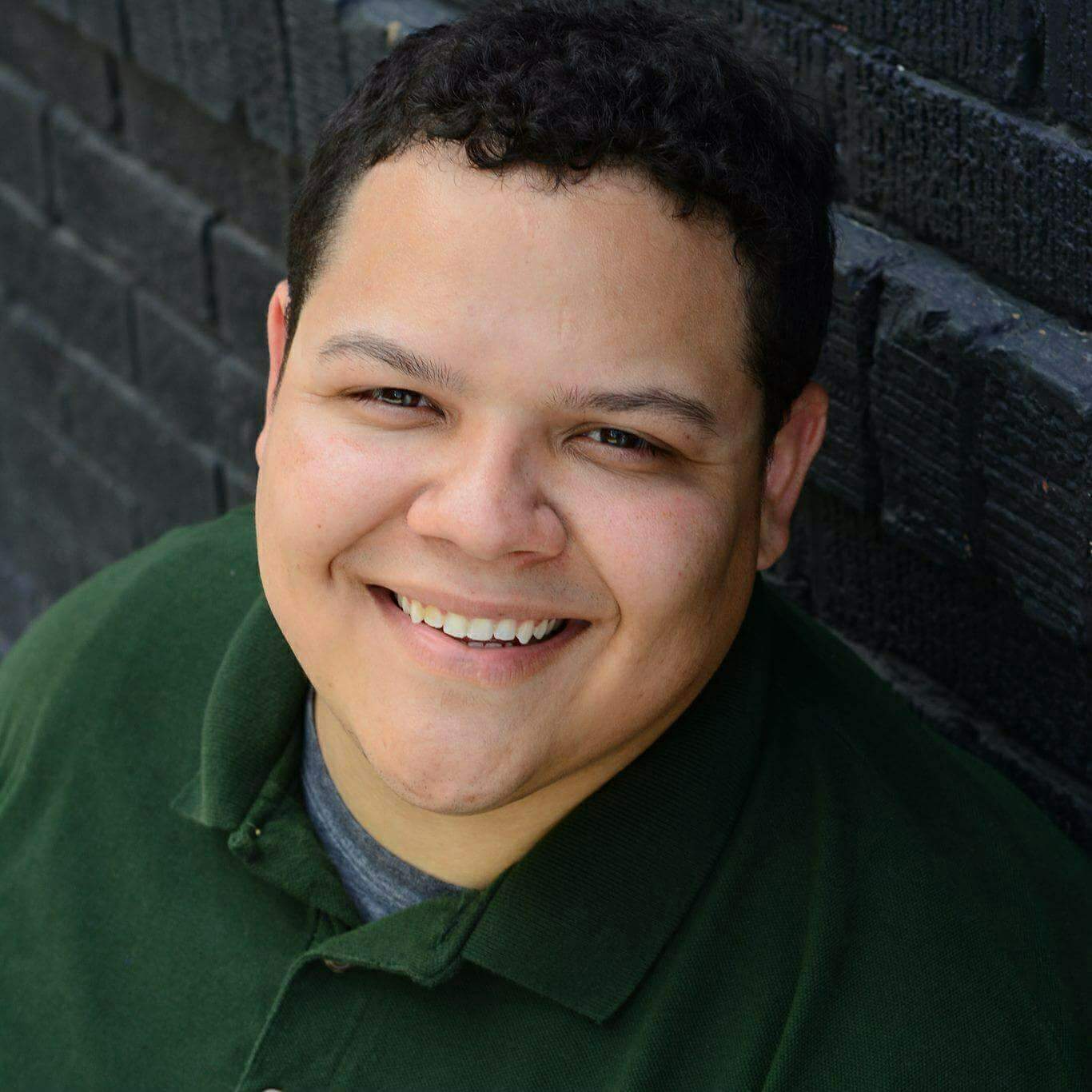 Person Part 107 Test Prep Course in the beginning of 2018. He successfully passed his FAA Part 107 Remote Pilot Exam just 6 days after the prep course. Jonathan is an insurance property adjuster and is currently using his certification for property inspections.
---
Where Does DARTdrones Fit In?
DARTdrones Flight Instructors, Curriculum Developers, Executive Team, and other staff members work together to offer their 8,000+ students a solid and buildable foundation to enter the sUAS industry in a safe and manageable way. DARTdrones offers Part 107 Test Prep, Hands-On Flight Training, a comprehensive Wings Program, Aerial Roof Inspections Workshop, Mapping and Modeling Workshop, public safety specific training, private on-site training, consultation services and more. The DARTdrones Team continuously works on new curriculum with the future possibilities in mind.
Questions? Call our team of experts at 800-264-3907 or email us at [email protected].