DARTdrones Announcements
DARTdrones and Global Aerospace Announce a Co-Hosted Drone Training Workshop to Commemorate Their Partnership
In 2017, DARTdrones and Global Aerospace announced their new partnership where DARTdrones was named a Global Aerospace SM4 Aviation Safety Program Training Partner. In just one year, the two industry leaders worked together on multiple projects to provide the sUAS community with webinars, white papers, newsletters, discounts, training and more to increase overall drone operator safety.
With 2019 quickly approaching, DARTdrones is excited to recognize the partnership for a year of success as well as an advanced drone training workshop to be co-hosted by the industry leader in aerospace insurance and risk management solutions, Global Aerospace.
The Success of a Strong Partnership
One year ago, DARTdrones and Global Aerospace secured a partnership which was built off of the SM4 Aviation Safety Program. The Global Aerospace SM4 Program was developed on the concept of integrating four critical safety components: planning, prevention, response, and recovery. Its mission is to meet the needs of the aviation and aerospace industries by providing access to cutting edge safety services, enhanced training efforts, monthly aviation safety newsletters, as well as SM4 website resources targeted to this sector.
Throughout the first year of DARTdrones being a SM4 Safety Program Training Partner, the two companies worked together to create various resources, a few being:
"Drone operators insured by Global Aerospace all over the country have benefitted from the safety services DARTdrones have been able to deliver. Their expertise has helped elevate safety within the whole industry." Commented Chris Proudlove, senior vice president and and head of UAS at Global Aerospace.
Throughout this partnership, DARTdrones has been pleased to offer Global Aerospace clients with exclusive offers such as a 20% discount on all DARTdrones Open Enrollment and Online drone training courses, a 10% discount on all on-site custom drone training and consulting services as well as multiple exclusive resources including webinars, an Expanded Flight Checklist, and a Program Manager's Guide.
Aerial Roof Inspections Workshop Co-Hosted by Global Aerospace
The DARTdrones Team travels to numerous cities across the United States to teach advanced, mission specific workshops such as the Aerial Roof Inspections Workshop. DARTdrones and Global Aerospace have recently come together to bring this workshop to the Dallas, TX area in 2019.
When: March 7th, 2019 @ 8:30AM – 5:00PM and March 8th, 2019 @ 8:30AM – 5:00PM
Where: Dallas, TX
Course Topics: The Aerial Roof Inspections Workshop is a 2-day intensive drone training course that requires all students to have their FAA Part 107 Certificate as well as 5+ hours of flight time. The workshop schedule is as follows: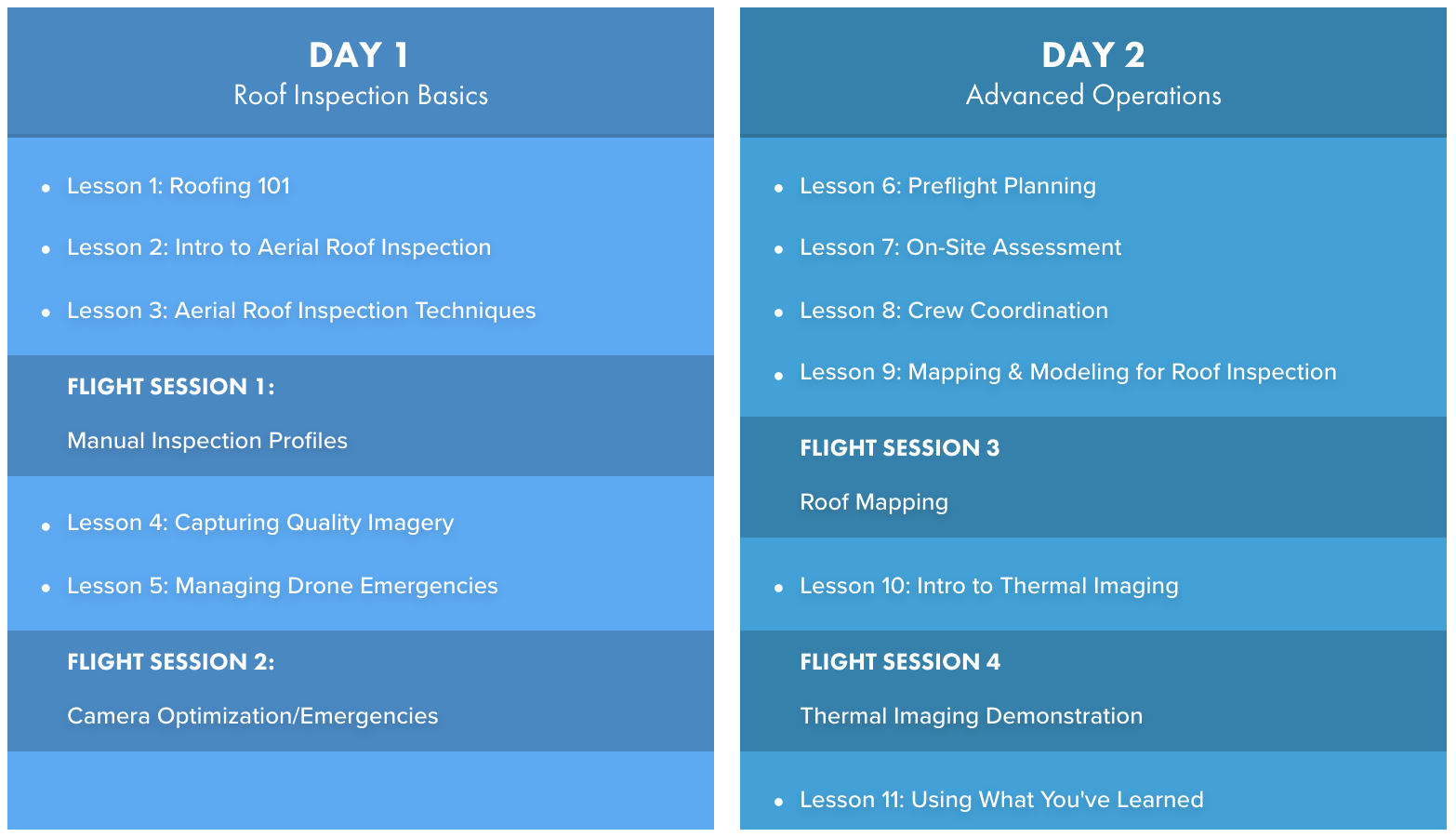 Pricing: $1,490/student
How to Register: Interested students can register here.
All students will be welcomed by a DARTdrones Flight Instructor as well as Patrick Quinn, Underwriter at Global Aerospace. Patrick will kick off the 2-day workshop with quick tips for obtaining drone insurance, best practices for drone pilots, common mistakes and more.
For any questions on DARTdrones Aerial Roof Inspections Workshop Co-Hosted by Global Aerospace, please call 800-264-3907 to speak with an expert.