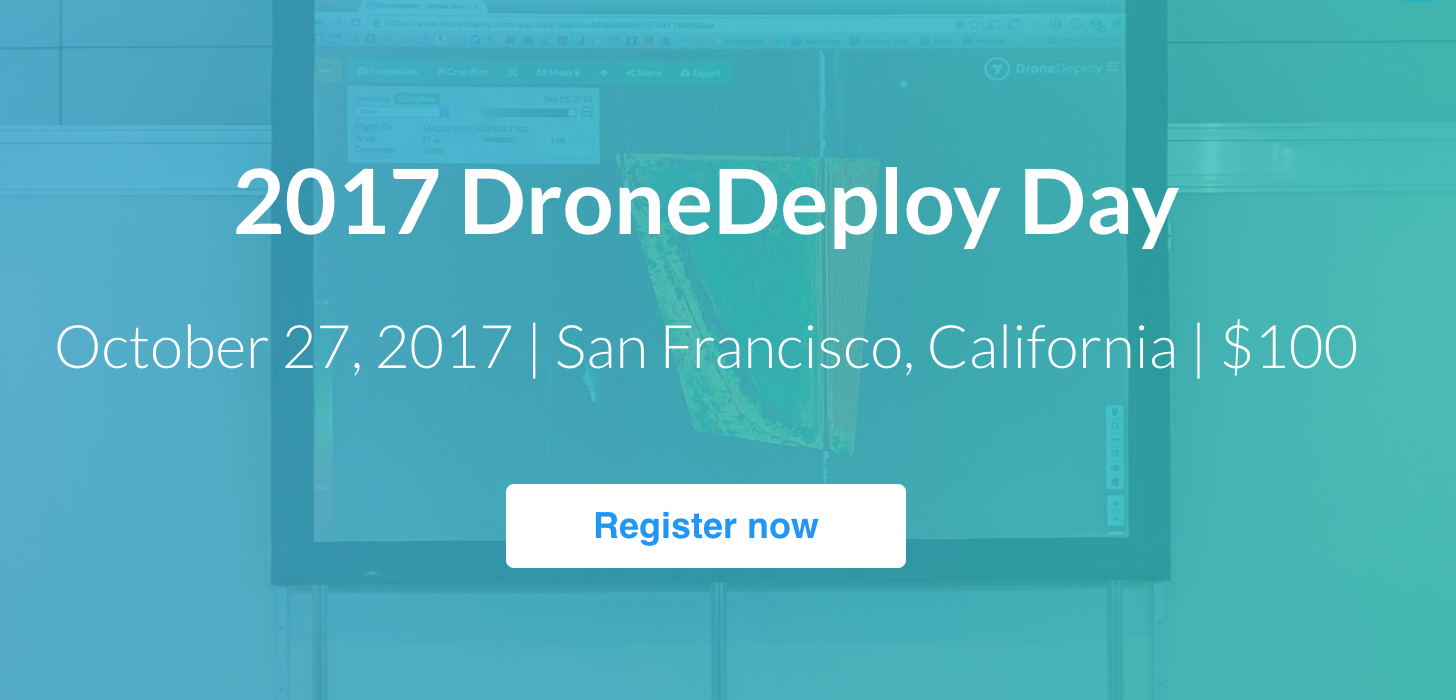 DARTdrones Announcements
Drone Industry Leaders Give Away Free Drone Training & Education Event in San Francisco
We cannot be more excited to partner with DroneDeploy to provide commercial businesses with a weekend of professional drone training and drone education events to fast track commercial drone adoption. Don't miss out on the most anticipated drone day of the year!
A Weekend of Education & Professional UAV Training
Drone operators are invited to join DroneDeploy and DARTdrones in San Francisco for a weekend of drone education to enable drone adoption at your organization. Set your team up for success with hands-on training and knowledge on how drones are revolutionizing workflows from leaders across industries such as construction, agriculture, surveying, mining, insurance, and inspection.
DARTdrones, the industry leader in drone training and consulting, and DroneDeploy, the leading cloud software platform for commercial drones, first announced their partnership in July, 2017. The companies established a partnership with the goal of training the next generation of drone mapping pilots. Now, drone operators will get their chance to learn and benefit from the new partnership at its upcoming event in San Francisco, California.
"We're bringing together top leaders in the industry who have successfully launched drone programs for a day of education and training about the benefits drones deliver to commercial businesses," said Mike Winn, CEO and co-founder of DroneDeploy. "We welcome business leaders who are considering drone adoption or seeking to scale existing operations in 2017 and beyond."

What is DroneDeploy Day?
This event, which is a full-day of drone education for businesses looking to scale their drone operations, will be held on October 27, 2017 at the company's headquarters in San Francisco, CA. With a variety of peer-to-peer learning opportunities, inspiring keynotes, and guest speakers, you'll leave with new ideas on how to enable your team and integrate drones and drone mapping into your daily operations. The event will include insights from company founders and industry leaders as well as industry meet-ups and networking events. Tickets for DroneDeploy Day are $100 and participants are encouraged to arrive on Oct. 26 for the Welcome Reception from 7 p.m. – 9:30 p.m. Breakfast, lunch, and a BBQ dinner will be included with the initial ticket purchase.
All DroneDeploy customers will receive 15% off DARTdrones classes and workshops. Customers will receive a discount code which will expire Oct. 15, 2017.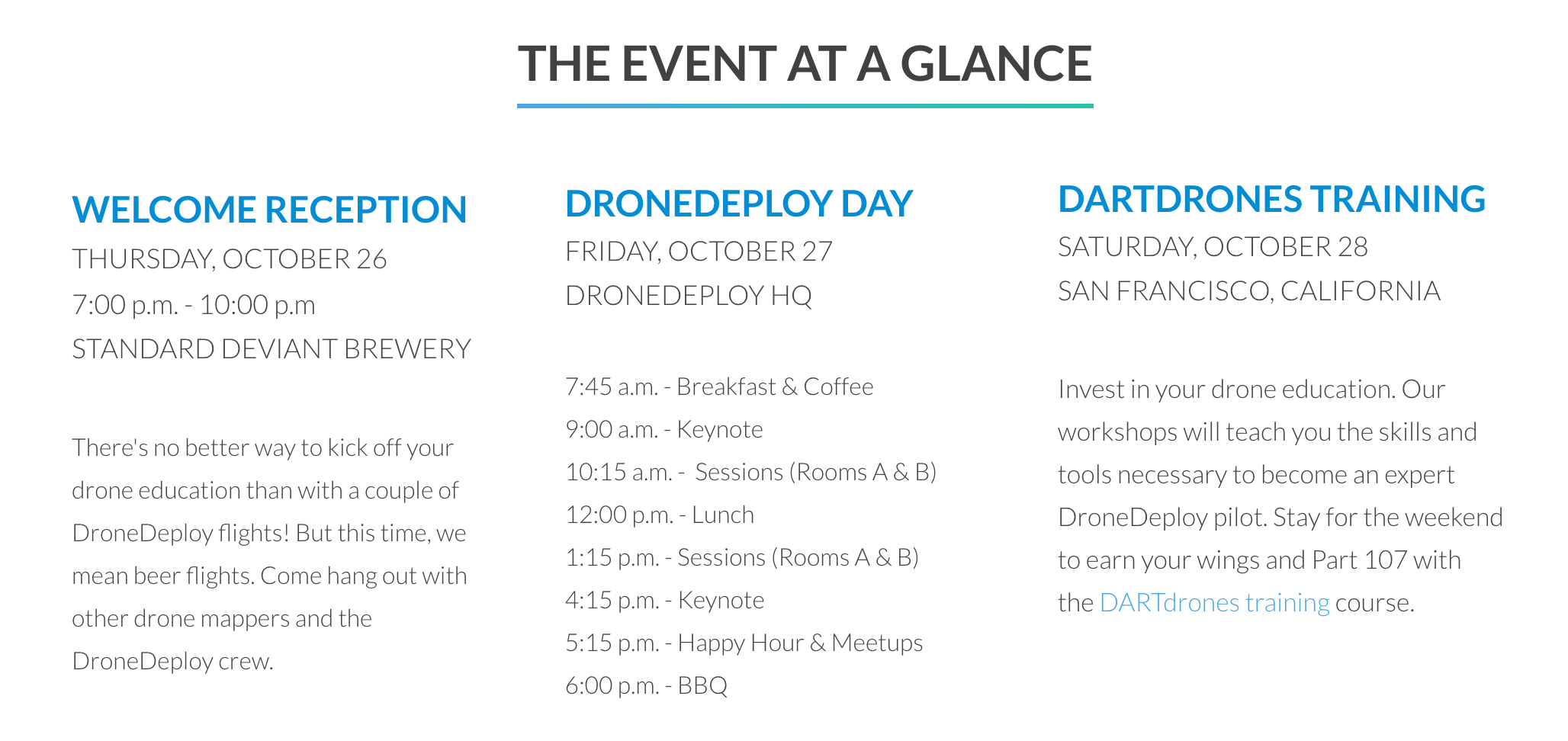 Advanced Drone Training Workshop
Those interested in professional UAV training are encouraged to attend DARTdrones' training course following DroneDeploy Day. Aerial Mapping and Modeling with DroneDeploy Workshop will be held on October 28-29, 2017. The workshop is designed to teach drone pilots how to collect, analyze, and export high-quality drone mapping and modeling data. Topics include: aerial mapping use cases, fundamentals of drone image capture, techniques for capturing aerial data for mapping, use of the DroneDeploy platform, and ways to improve map accuracy. The workshop will be held 8:30 a.m. – 5:00 p.m. at the Courtyard Hotel, Freemont/Silicon Valley. DARTdrones aerial mapping workshop is not included in the $100 ticket price for DroneDeploy Day.
How To Sign Up
If you are interested in attending DroneDeploy Day or learning more about the event, contact [email protected]. To learn more or register for the DARTdrones Aerial Mapping and Modeling Workshop with DroneDeploy, please contact Justin at 800.264.3907 or [email protected]. Visit dronedeploy.com or www.dartdrones.com to learn more about drone software and professional UAV training opportunities.
Win a Free Spot!
DARTdrones and DroneDeploy have partnered to give away a free mapping & modeling workshop plus a seat at DroneDeploy Day. Enter for a chance to win your free spot here.