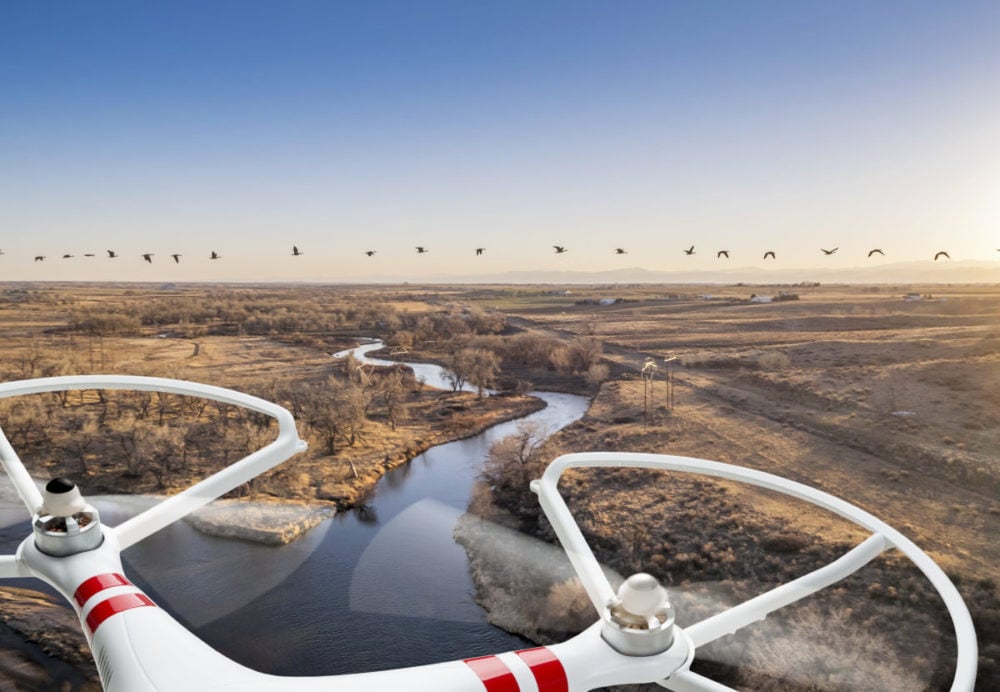 Broadcasting
Drone Journalism Q&A with Industry Pilot Devon Dewey
Drone journalism is becoming increasingly popular with newsrooms and media outlets. The benefits they provide to the broadcast media industry is enormous. We spoke to an industry professional to get his take on the new journalism tool.
Devon Dewey, the Deputy Managing Editor and Chief Drone Pilot for KSL.com in Salt Lake City, Utah, spoke with us about the positive benefits that drones have for journalists, as well as some of the mistakes journalist make when operating their drone
At KSL, Dewey is in charge of selecting which stories go online, editing pieces, and operates a drone to gather aerial videos/images to accompany online stories.
How did you get involved in drone journalism?
I flew drones as a hobbyist for a while before the Part 107 certification came out. Once that came out –  I jumped on the opportunity in order to better tell stories and give viewers a bird's eye view for stories we cover. 

What about adding a drone to your work has helped you the most?
The ease of being able to deploy a drone. The cost is nowhere near the cost of a news helicopter and it doesn't take an expensive crew to operate. Many are small enough to fit in a small case and allow you to get amazing shots and views of stories that you are covering
What other benefits do drones bring to the journalism industry?
Drones help journalists in the field to get a better view of the story they are covering. Drones do not make sense for every story, but a lot of stories benefit from a better perspective of what is being talked about. For example, we covered a story about 40 homes in a neighborhood that were slowly sinking. It helped to fly high above the neighborhood to show what a large number of homes that really was. Drones also give journalists a better idea of what is going on when police corner off streets, allowing them to see a crime scene and start putting together the pieces of the puzzle. We have also used drones to highlight some of the beauty of our local state parks as well as showcasing a hike from our Hike of the Week articles.
What is the biggest mistake new drone journalists make?
Not knowing how to handle various situations when they arise out in the field. I was able to practice on my own to learn what to do if my drone begins to act erratically, when I lose connection when I accidentally lose sight of it, etc. So if problems arise when I'm flying for a story – I'll know how to correct it before crashing.

How important is proper drone training for journalists?
Incredibly important. There is already a lot of distrust of the media and a lot of bad press about drones that make the combination of the two a scary thing for the public. If journalist drone pilots aren't trained and are crashing and flying recklessly, it affects both the drone and journalism industry, which neither industry needs. Journalist drone pilots need to know their stuff while out covering stories to make sure each flight is a safe, successful flight.
Are journalists who are not using drones falling behind?
I think so – unless they have a helicopter. Many stories benefit from aerial video/photos and if other news organizations in your market are using them and you aren't, that will show.
Should journalists get involved in drone journalism?
Yes, but they should know what they are getting into. Drone journalism isn't for everyone. "One-man-band" journalists should not attempt to go live and talk about what is going on all while flying the drone by themselves. They need to know safety and ethical guidelines before taking to the skies. If they can incorporate flying a drone into their routine of covering the news, then it will be a great asset in bringing more engaging visuals into their story.
Interested in drone journalism?
DARTdrones new Drone Journalism Workshop was designed with journalists needs in mind. This Workshop will teach you how to safely and effectively maneuver your aircraft to gather news data. Also, students will learn how to obtain the necessary waivers through the FAA to avoid costly penalties and fines.
DARTdrones is here to help! Whether you need Part 107 Test Prep, In-Person Flight Training, or Drone Consultation Services to ensure your flight operations are properly organized and run smoothly, our expert team of sUAS professionals are ready to help launch your organization's drone program. Check out www.dartdrones.com or call 800.264.3907 to learn more information.