FAA Part 107 Drone Pilot License
Quick Guide to Passing the FAA Part 107 Recurrent Test
Back in August 2016, the first of many drone operators passed the Federal Aviation Administration's (FAA) Aeronautical Knowledge Exam and were licensed to legally launch commercial drone flights into the National Airspace System (NAS) under a set of rules published in Part 107 of the Federal Aviation Regulations (FARs). Aside from these regulations carving out a safe pathway for drone pilots to operate within the NAS, they also state that all pilots flying under Part 107 are required to go through a recurrent knowledge testing process every two years in order to maintain and secure their Remote Pilot Certificate, or "license," for another two years.
Here are the updated recertification details the FAA has posted for all commercial drone pilots looking to maintain their FAA credentials. Here's what you need to know about the FAA Part 107 recurrent knowledge test:
Part 107 Recurrent Test Process
Find a FAA Part 107 test center near you
Call and schedule your recurrent test (when contacting a Part 107 test center to register for a test, be ready to select a test date, choose a testing center, and make financial arrangements for test payment. You may register several weeks in advance, and you may cancel in accordance with the testing center's cancellation policy.)
Important Note: The recurrent test must be completed every 2 years, by the last day of the month

 of the "Issue Date" on your plastic license. If your issue date is October 6th, and you don't take the test before October 31st, then you're not allowed to fly for commercial/professional purposes until you've completed the recurrent test. 

Part 107 recurrent test cost is $150
Must be at least 16 years of age
Must demonstrate the ability to read, write, speak, and understand the English language. (FAA may make an exception if the person is unable to meet one of these requirements due to medical reasons, ex. hearing impairment.)
Must bring current Remote Pilot Certificate with an sUAS rating to the airman knowledge testing center's registration employee, or the airman knowledge testing center's test proctor
Must bring a photo ID that contains the applicant's photograph, signature, date of birth; and permanent mailing address (usually a driver's license, passport, ID card)
Complete the computer delivered exam, consisting of 40 multiple-choice questions according to recent FAA announcements
You will have up to 1 hour and 30 minutes to complete the test (this differs from the initial Knowledge Test which allows up to 2 hours to complete)
A score of 70% or higher is required to pass
Exam scorecard is immediately printed
Once the recurrent test is passed, you don't get a new plastic card. The Remote Pilot must maintain their Aeronautical Knowledge Test Report (AKTR) as proof of completing the biannual review requirement.
Part 107 Recurrent Test Topics
Although the Part 107 recertification topics are similar to the initial Part 107 exam, there are a few components that differ, which means the Part 107 recurrent test questions will slightly differ. Here's a chart on the initial vs recurrent Part 107 exam topics: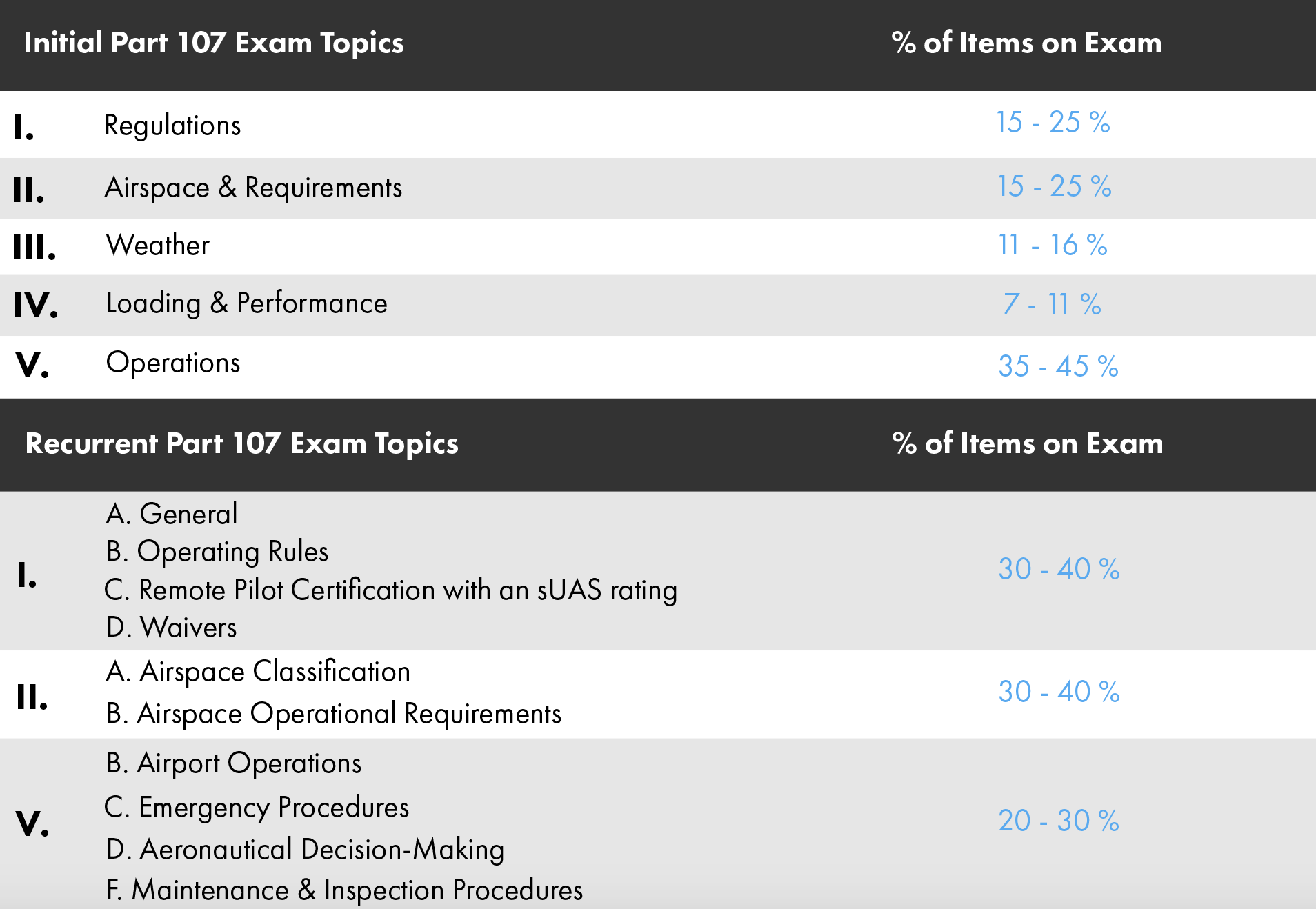 Exam Topics Removed for the Recurrent Test
As shown in the above chart, areas III (Weather) and IV (Loading and Performance) have been removed and will not be tested on in the recurrent Part 107 exam. In section V. of the recurrent test, V. A (Radio Communications) and V.E (Physiology) have also been removed.

How to Prepare for the Recurrent Knowledge Test
Making sure your Part 107 certification stays current means studying and practicing just as you did for the initial Airman Knowledge Exam. If you need to brush up on your sUAS knowledge in order to pass the recurrent test, take a look at our Part 107 Test Prep options:
Get Access to Part 107 Test Prep
Upload your expiring Part 107 Certificate and we'll email you a coupon code for $370 off in-person, $150 off online, or your 60 days free access! *Part 107 Certificate must be expiring within 4 months.
Download a Free Part 107 Guide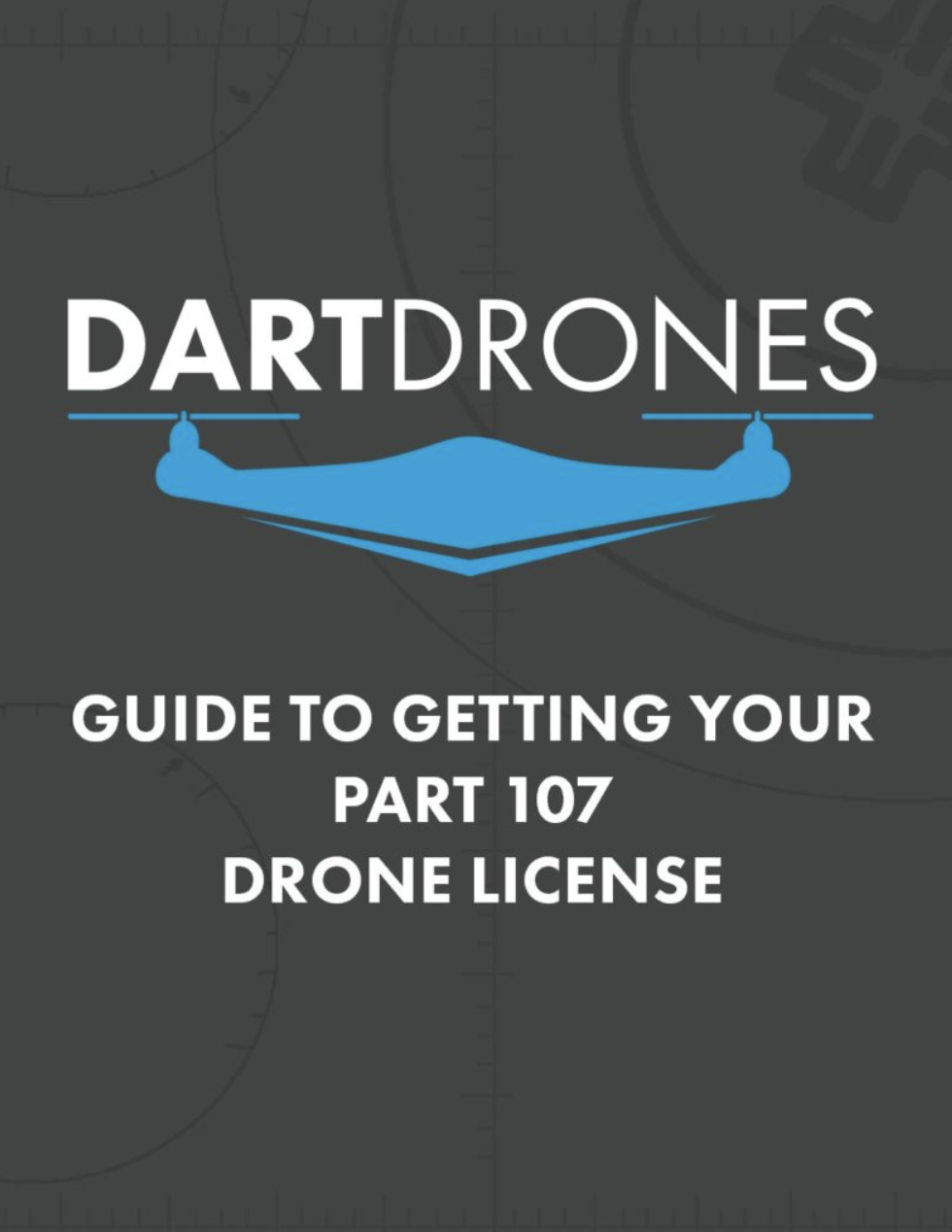 Learn everything you need to know about Part 107 with our Guide to Getting Your Part 107 Drone License.