Guide to Getting Your Part 107 Drone License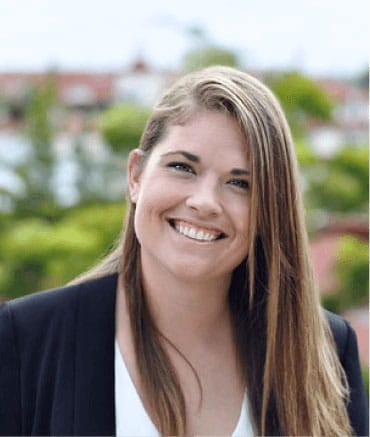 By
Amelia Owre
Published July 1, 2017
Last Updated April 29, 2021
The Part 107 Remote Pilot Certificate with an sUAS Rating
To legally fly a drone for commercial use, the pilot of the aircraft must have a remote pilot certificate with a small UAS rating. To obtain a remote pilot certificate, a drone pilot must pass the FAA's Airman Knowledge Exam. The Federal Aviation Administration needs to make sure that all commercial drone pilots have the ability to act responsibly, coordinate with Air Traffic Control in case of an emergency, read aeronautical maps, and abide by all regulations pertaining to UAV regulations and also general aviation regulations.
DARTdrones has trained thousands of pilots to pass their Part 107 Exam with both our In-Person Part 107 Test Prep Course and Online Part 107 Test Prep Course.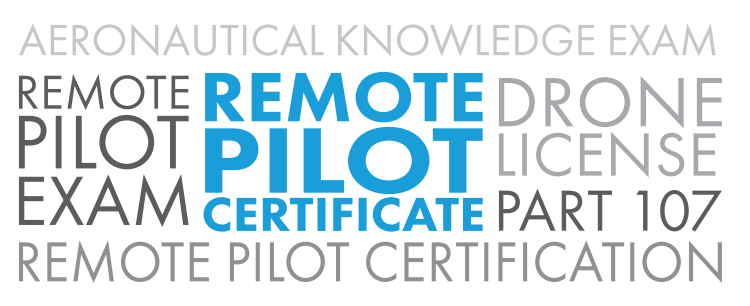 The remote pilot certificate is sometimes referred to as:
Drone License
Remote Pilot Exam
Aeronautical Knowledge Exam
Part 107
Remote Pilot Certification
Operational Requirements Under Part 107
Flights must be conducted within 400 feet of the ground or 400 feet from the top of a structure, provided the sUA remains within 400 feet of the structure itself.
Flights within Classes of Controlled Airspace require a specific Airspace Authorization or Waiver issued via the FAA using an online submittal system.
The unmanned aircraft must remain within the unaided visual line of site of the pilot and/or a visual observer with a direct line of communication to the pilot.
The unmanned aircraft cannot be flown directly above any non-participants or members of the public.
All aircraft utilized must weigh less than 55 lbs on takeoff, including everything onboard (cameras, lights, etc.) in order to qualify as a sUAS under Part 107.
All sUAS pilots for Part 107 operations must possess an FAA issued Remote Pilot Certificate with an sUAS Rating.
What Drone Pilots Say About the Exam:
The Airman Knowledge Test was harder than expected! No messing around. DARTdrones helped prepare me with a great foundation! Must know your stuff in order to pass!

Sean DesCombes
Definition of "Commercial Use"
Who Does Not Need to Take the Part 107 Exam?
Recreational Users: Recreational users are not required to take the Part 107 exam.
Part 61 Pilots: Instead of taking the Part 107 Remote Pilot Exam, Part 61 certificate holders who have completed a flight review within the past 24 months and have an active medical certificate can elect instead to complete an online training on www.faasafety.gov called "Part 107 small Unmanned Aircraft Systems (sUAS) ALC-451" and subsequently apply for a rating by filling out an FAA form called "8710-13." Once both requirements have been completed, Part 61 pilots can legally operate a UAV for commercial purposes.
Under 16: Sixteen is the minimum age to obtain a Part 107 Remote Pilot Certificate
Expectations for Taking the Drone Pilot License Exam
Test-takers have two hours to answer 60 multiple choice questions. A 70% or higher is considered a passing grade. To pass the FAA Airman Knowledge Exam, a remote pilot must fully understand twelve different aeronautical knowledge topics including:
Regulations Under Part 107
Airspace Classifications
Flight Restrictions
Aeronautical Charts
Airport Operations for Drone Pilots
Radio Communications for sUAS Pilots
Aviation Weather for Drone Pilots
Maintenance and Preflight Procedures
Crew Resource Management and Aeronautical Decision Making
sUAS Loading and Performance
Hazards to Flight and Emergency Procedures
Physiology for Drone Pilots Under Part 107
Study Time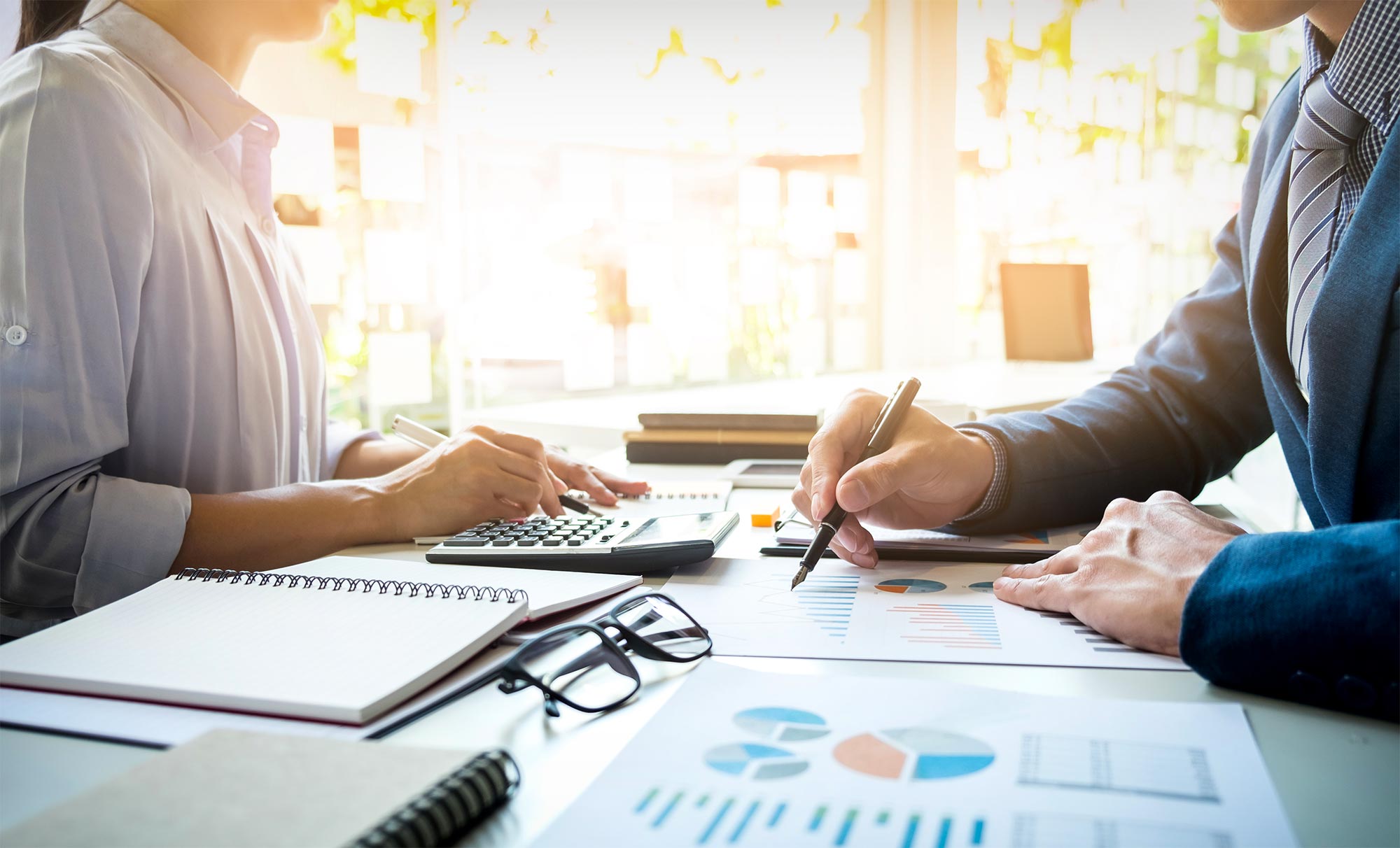 Sample Question: Question 10 of our 300+ Practice Test Questions
What are the cloud clearances required to operate a sUAS in the NAS?
A. 400' below / 1000' horizontal
B. 500' below / 2000' horizontal
C. 500' below / 1000' horizontal
The exam costs $150 for every attempt. If a test-taker fails the exam, they must wait 14 days before taking the exam again. DARTdrones students have achieved a 99% pass rate. Students who complete our course should not expect to pay for the exam multiple times.
Registering for the Drone Certification Exam
The Airman Knowledge Exam must be taken at an FAA approved Airman Knowledge Testing Center. There are over 670 testing centers across the country. Students are typically able to find a testing center with availability near their home. Each testing center has a proctor and a few computer stations for the electronic exam. Test-takers can pre-register and pay for the exam on www.catstest.com, but will not be able to choose a test date. Within a few days, a representative from a CATS Testing Center will call to reserve a time slot. Test-takers can also call the CATS facility directly to book an exam time at 800-947-4228.
Timeline After Taking the Drone License Exam
Test-takers will receive their score from the exam immediately upon completing the test. After passing the exam, remote pilots need to submit their test score on IACRA. Within one week, a temporary certificate is typically made available on the IACRA site. Remote pilots can then fly legally with the temporary certificate. Within 1 to 3 months, a permanent Remote Pilot Certificate arrives in the mail.
What Our Students Are Saying:
The class was GREAT!! My instructor did a fantastic job explaining the many different areas for preparing to take the Part 107 exam. She made it interesting with many demos/examples to explain the topics. The questions at the end of each module was a great way to test our understanding and to give an idea of what the exam might look like.

Ed Gysler,

Bald Eagle Aerial Imaging
Drone License Exam Topics
Part 107 Definitions
Registration Requirements
Conditions for Safe Operations
PIC Responsibilities
Visual Observers
Visual Line of Sight
Hazardous Operations
Daylight Operations
See and Avoid of Other Aircraft
Operating Restrictions
Eligibility Requirements
Accident Reporting
Waiver Policy
Air Traffic Control
Clearances and Permissions
Operations in Uncontrolled Airspace
Operations in Controlled Airspace
Prohibited and Restricted Areas
Temporary Flight Restrictions
Filing NOTAMS
Special Use Airspace
Military Training Routes
VFR versus IFR Flight Rules
Aeronautical Charts
Reading Sectional Charts
Chart Legend
Navigation Basics
Chart Interpretation
Difficult Chart Test Questions
Reading Operating Near Towered and Non-Towered Airports
Traffic Patterns
Runway Markings and Signage
Heliports
Controlled Tower Communication Procedures
ATIS (Airport Terminal Information Service)
Standard Communications
Self-Announce Procedures
Common Traffic Advisory Frequency
UNICOM/ MULTICOM
Traffic Pattern Communications
Phonetic Alphabet
Atmospheric Basics
Types of Weather
Stages of a Thunderstorm
Types Cloud Formations
Micrometeorology
Weather Planning
Weather Briefings
Aviation Forecasts (TAFs)
Weather Factors and Their Effect on sUAS
Scheduled Maintenance
Unscheduled Maintenance
Preflight Inspection
Record Keeping
FAA Inspection and Testing
Hazards and Risks
Decision Making
Risk Management for Drone Pilots
Crew Resource Management
Crew Coordination
Hazardous Attitudes
Situational Awareness
Effective Communication
Basic Aerodynamics
Aircraft Loading
Weight and Balance
Stability and Control
Center of Gravity
Longitudinal Stability
Performance Data
Common Flight Hazards
Accident Factors
Reporting In-Flight Emergencies
Emergency Communications
Lost Link / Fly Away Procedures
Low Battery Procedures
Lithium Battery Hazards
System Malfunction
Fail Safe Procedures
Airborne Inspections
Wildlife Hazards
Stress
Fatigue
Dehydration
Heat Stroke
Hyperventilation
Vision Impairment
Impacts of Drugs and Alcohol
Determining Fitness for Flight
Physiological Considerations
What Our Students Say About Our Drone Training Class
"Comprehensive and informative! Well worth the time. The instructor ensured that students understood the concepts as they were presented. "
"Team thought Mark was great. Super informative. Worked really well with the limited time we had. Mark did a great job of identifying the important information not only needed for the test, but for practical flying. Prep material and study guide are amazing. Highly recommended using you and DARTdrones."
"Once again Colin knocked it out of the park. His knowledge and professionalism exemplifies his passion to teach new pilots key and important issues concerns and updates about the drone industry."
"The class was jam packed and interactive which helped to understand Part 107 for those of us that are new to the aviation world. The flight class was invaluable for me! I have never even touched a drone prior to the class and left with some confidence that I can fly either the Phantom or Inspire without destroying my investment in equipment on the first flight."
"Excellent courses. The instructor made things interesting and informative for both the novice and experienced pilot. No matter your level of experience flying drones, you will take away valuable knowledge and skills."
"I absolutely loved my two day course with DARTdrones! I was excited before I got there but got even more excited about flying drones commercially after attending class! Karl was an exceptional instructor and made the class fun as well as informative!"
"The instructor was great! He used his real world experiences in the field to tie in the industry material. I would highly suggest this training to anyone looking to gain knowledge in the sUAS field."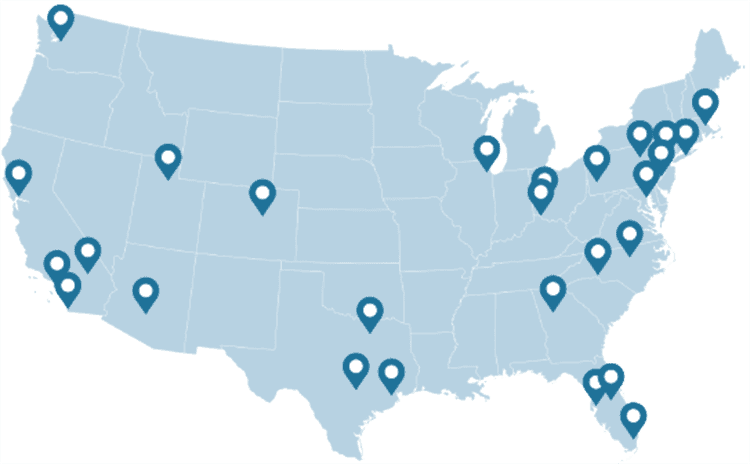 As seen on ABC's "Shark Tank"
WHY DARTDRONES? We have a proven track record for training pilots in dozens of industries.
22
QUALIFIED
INSTRUCTORS
Our instructors have manned aviation experience flying airplanes and helicopters and have gained the highest drone piloting recognitions in the industry. Many own successful UAS businesses themselves.
10+
CITIES
NATIONWIDE
As featured on ABC's Shark Tank, we are the nation's leading drone training company with an extensive network of alumni and partners throughout the country.
150+
HOURS OF
MATERIAL
Created and refined by UAS training experts, our curriculum is the best in the industry and has been tried and tested by clients in dozens of industries.
25K+
PILOTS
TRAINED
With a community of over 65,000 drone enthusiasts across the US and internationally, DARTdrones is at the forefront of UAS technology.
Expert Instructors
Our students absolutely love our instructors! Our classes are engaging, fun, and extremely informative.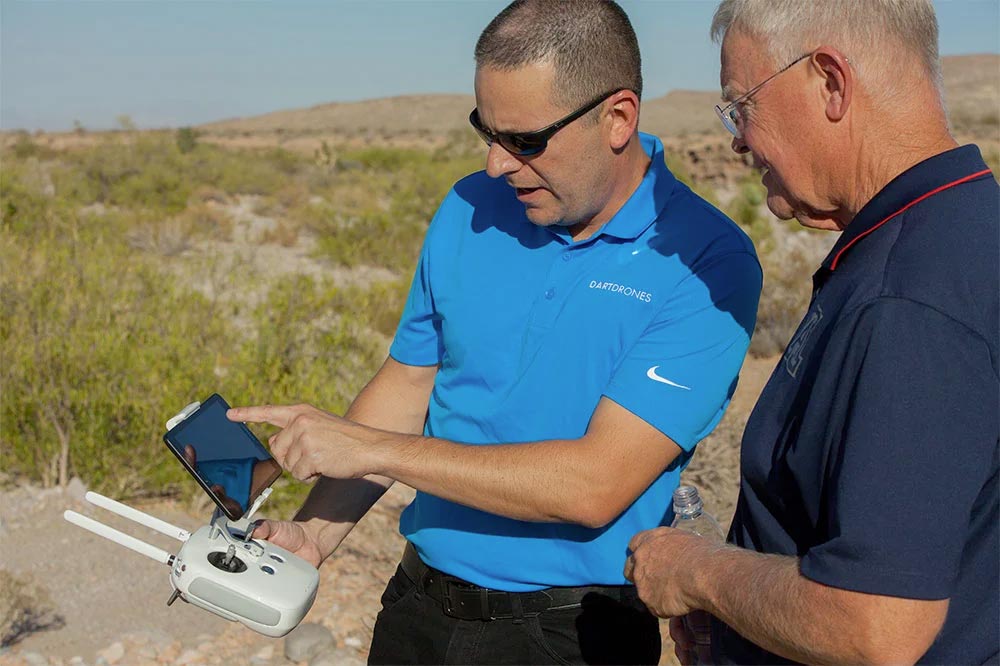 Advanced Training Courses
We don't just train our students on the basics. We have extensive advanced training courses to help our alumni succeed in mapping, inspections, disaster response, aerial photography, night operations, and search and rescue.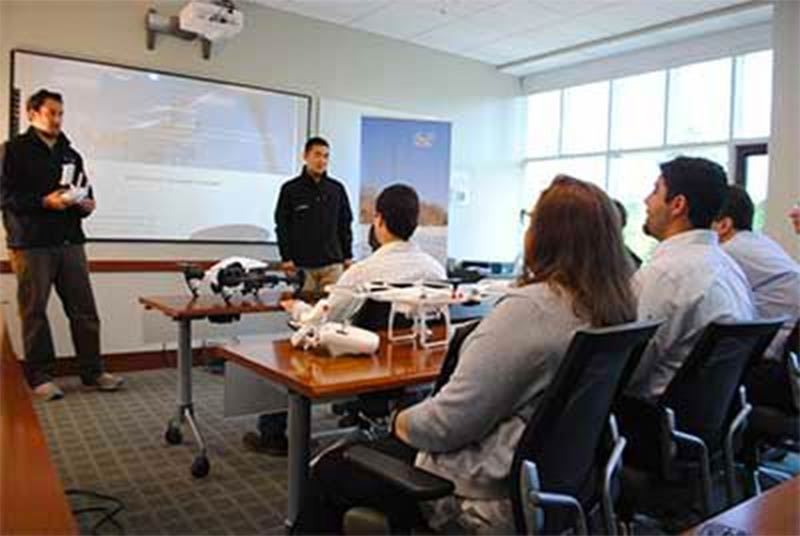 Industry Certified and Vetted Curriculum
Our curriculum has been vetted and certified by AUVSI, the leading UAS industry association, to ensure professional quality.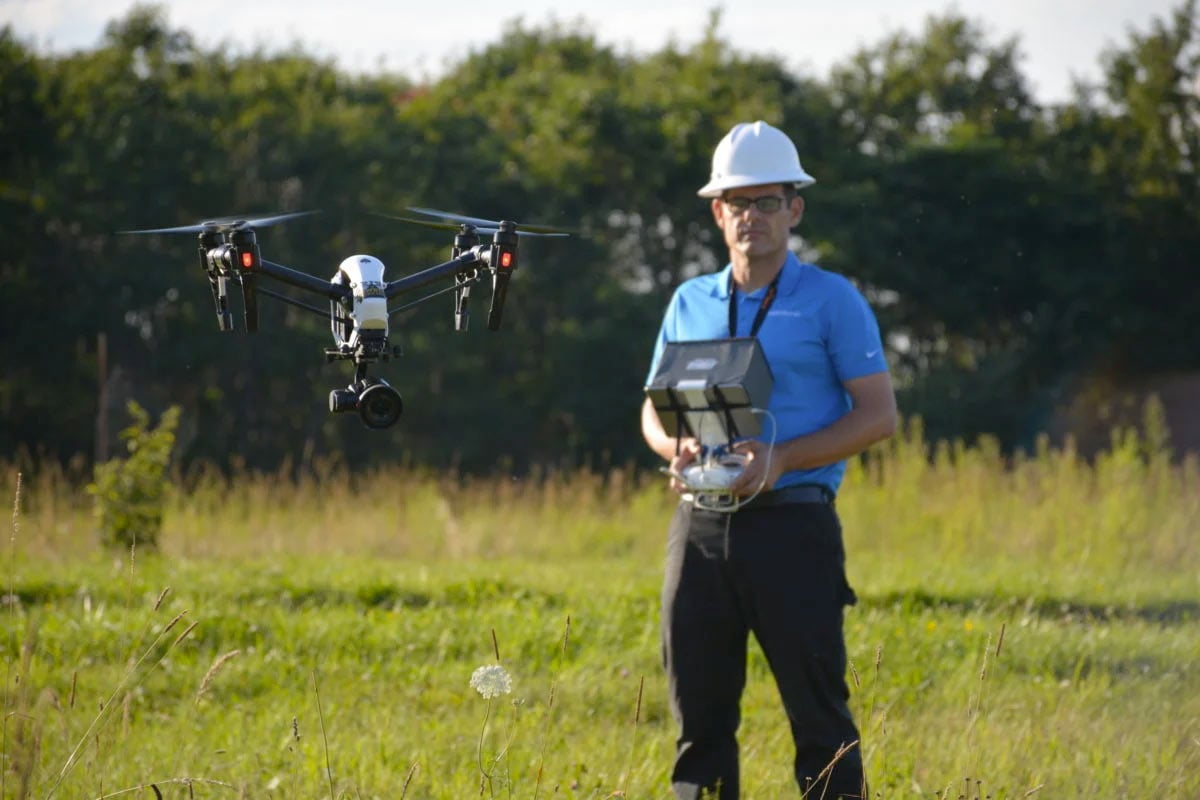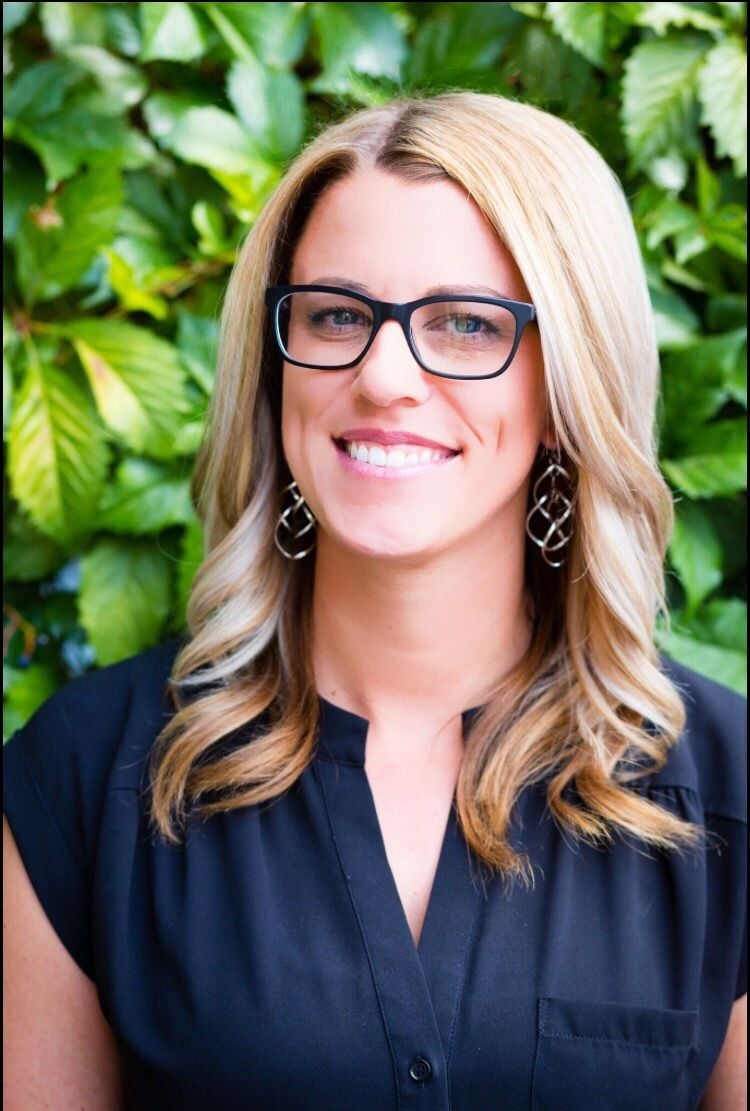 Alex is happy to help