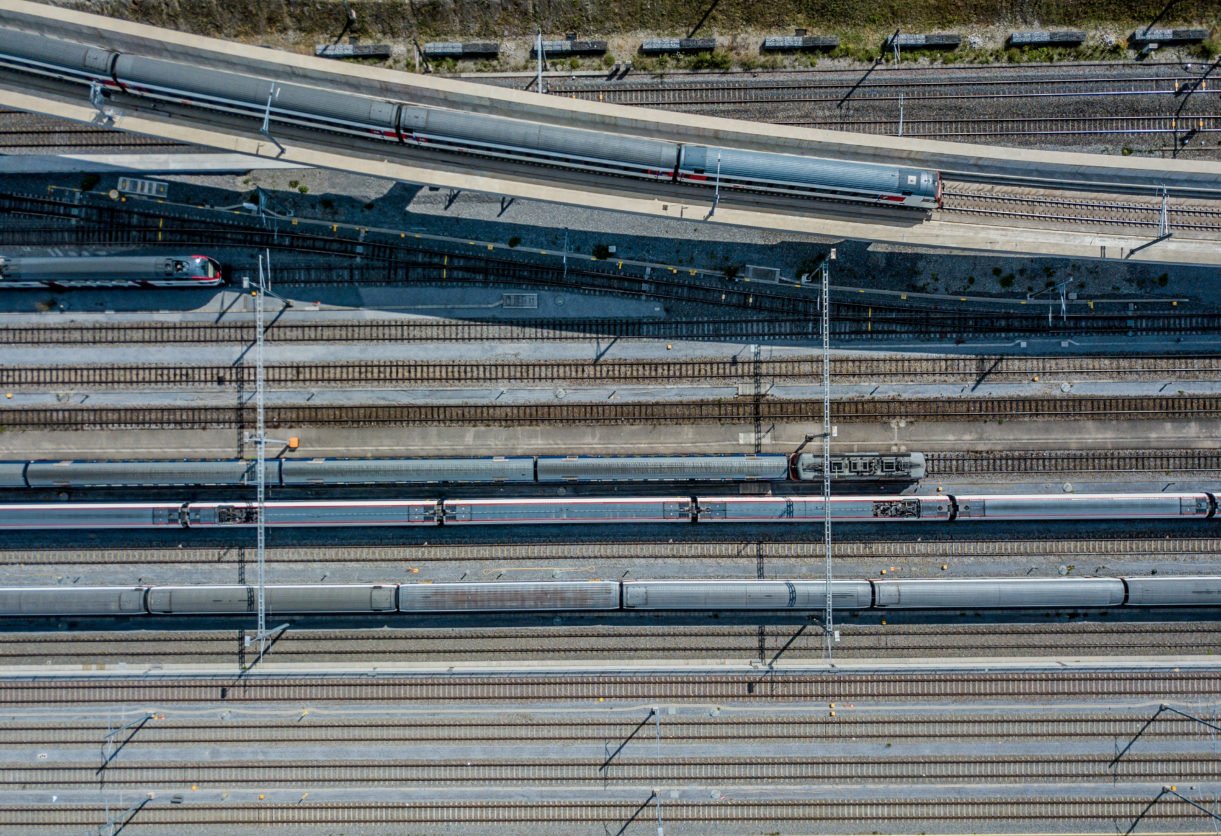 Drones for Railways: Real-World Benefits, Use Cases and ROI
Drones for Railways
In this article, you'll learn how railway drones are being used, the major benefits railroad companies are seeing with drones, return on investment and more.
To help you learn about drones in the railroad industry, we've put together an easy-to-use table of contents. Click each link to jump to different sections.

Introduction

Citing the 2017 Infrastructure Report Card produced by the American Society of Civil Engineers, the United States is comprised of almost 140,000 miles of railroad tracks, responsible for carrying one third of U.S. exports, delivering five million tons of freight, and just under one hundred thousand passengers daily.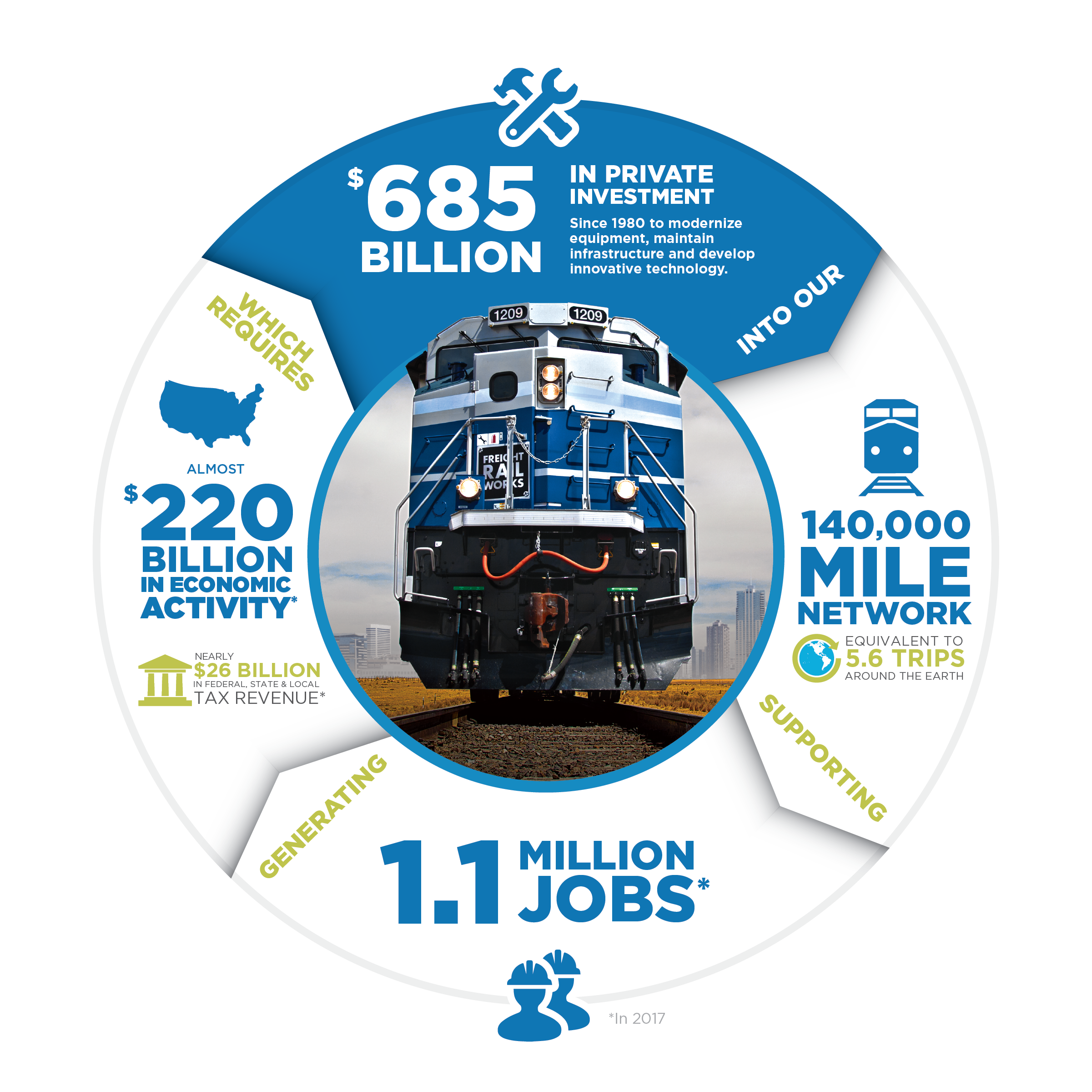 Freight railroads are broken up into three categories; Class I, Class II, and Class III, based upon the distance served and earnings. In the U.S., there are seven large (Class I) railroads, twenty-one regional (Class II), and five hundred forty-seven short line (Class III) railroads. These numbers have nearly doubled since 1980, and as cited within this article, federal forecasts predict an almost forty percent increase in U.S. freight shipments, including by rail, by 2040.
It is the responsibility of the freight railroad owners to ensure the good working condition (maintenance, replacement, and upgrade) of most of the nation's track, bridges, and connections at ports and intermodal facilities.
Amtrak operates a twenty-one-thousand mile network of rail line in over five hundred communities, serving over thirty million passengers (2016 data). The passenger system is comprised of the Northeast Corridor (NEC) and the "national network" of fifteen interstate routes. More than ninety percent of Amtrak's network, and almost all the "national network" run on tracks that are owned by freight railroads. As the report states, much of the NEC's infrastructure (while safe to operate) is beyond its useful life. This in turn causes an ever-increasing cost to maintenance and reliability with an average age of major NEC backlog projects of 111 years.
Due to the incredible magnitude of railroad infrastructure within the United States, the task of inspecting and maintaining tracks has not kept up with technology. Companies like Ardenna have created business cases for performing track inspections and have developed new techniques to enable autonomous and artificial intelligence systems to assist in situations where previously impossible. Past roadblocks to track inspection always required track occupancy, meaning the inspection equipment was required occupy or be "on the track". This is cumbersome due to train scheduling, safety, and logistics where special vehicle equipment and certifications are required, providing a significant cost factor. In addition to track occupancy, the track inspections were limited to "single track" inspections, even though many tracks lay side-by-side.
The main difficulty in the inspection process has been the lack of automation, scalability, and repeatability resulting in a complete delay in customer reporting, sometimes taking months with very limited actionable information. Ardenna has found that drones for railways do not require track occupancy; having the ability to inspect multiple tracks at the same time with a wide range of automated detection abilities capable of delivering actionable results in hours.

While companies like Ardenna are working to provide the "Holy Grail" of solutions for railroads, we will explore how even a basic consumer level drone can provide actionable data to customers in local communities using very beneficial state-of-the art techniques.
Use Cases for Railway Drones

Basic Track Componentry Inspection
Track Ballast
Rail Sleeper (railroad ties, railway ties or crossties)
Rail Fish Plate (fish bolt, rail joint bar, splice bar)
Rail Fasteners,
Spikes
Complex Track Componentry Inspection
Points (Points Blades)
Frog (Common Crossing)
Guard Rail (Check Rail)
Switch Motor
Points Lever
Point Machine Conversion
Facing Point Lock
Joints
Straight and Curved Switches
Point Indicators
Railway Switch

Slip Switches (Double Slip, Single Slip, Outside Slip)
Crossover
Stub Switch
Plate Switch
Three-way Switch
Off-railer
Interlaced turnout
Wye Switch
Run-off points (derailers)
Dual guage switches
Rack railway switches
Switch diamond
Single-point switch

Expansion Joints

Benefits of Using Drones in the Railroad Industry


1. Safety
Utilizing drones for railway inspections has numerous benefits that can quickly become cost multipliers for any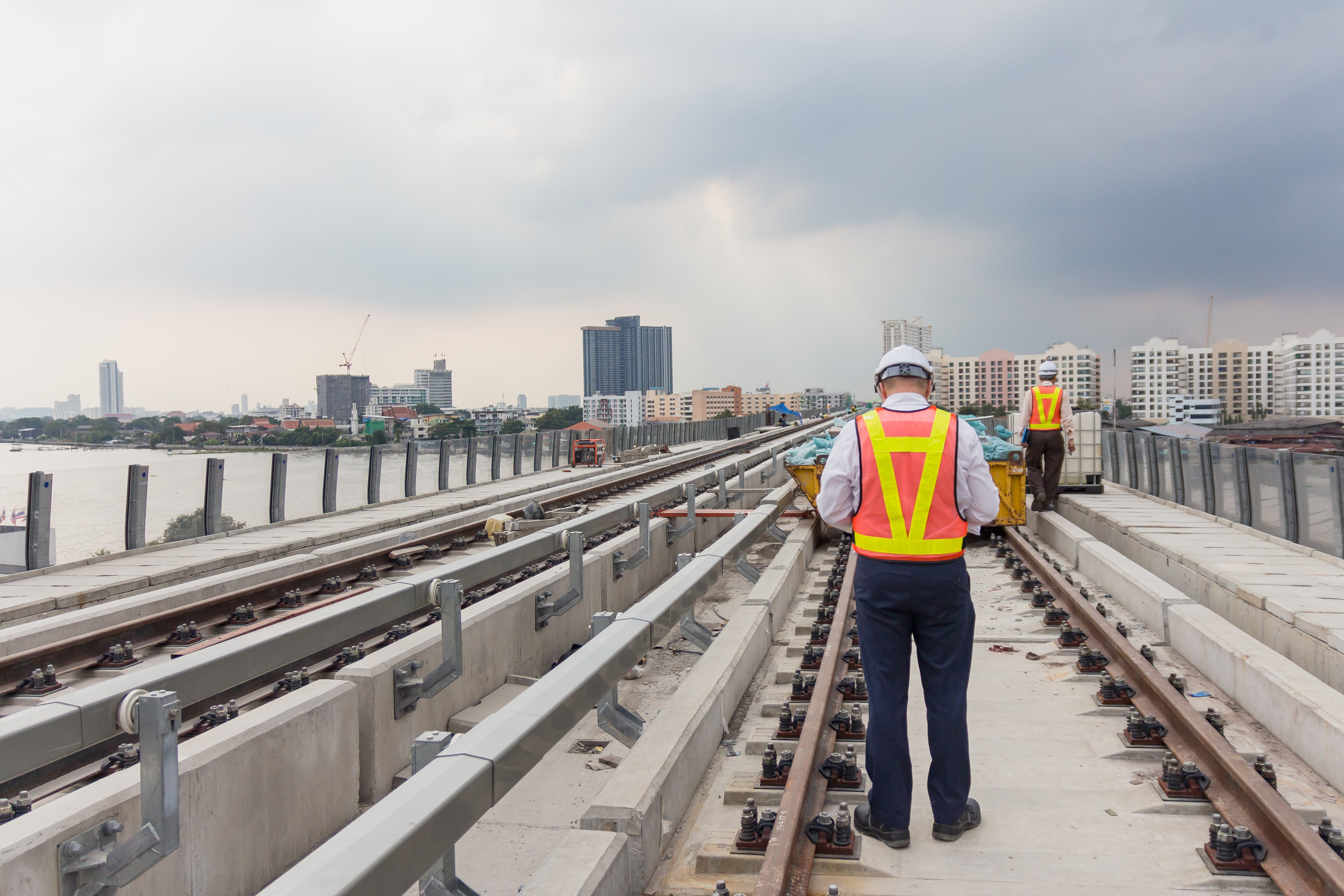 organization. One of the most important benefits realized is safety. Because trains are scheduled daily along most railways, placing a human on the track in a specially equipped vehicle can be as dangerous as playing Russian Roulette. The precautions necessary to ensure safety can be mitigated by using drones, as they are not occupying the same space as trains and stay well above vital activity for almost all railway inspection use cases.
2. Time Savings
The ability of flying drones over railways is also a savings to the overall effort in terms of time, as the drone can collect more than one railway at once, performing the task fully autonomously without human intervention. And as the drone ascends to higher altitudes, multiple tracks (up to three or four at a time) can be easily collected simultaneously. This scenario creates a portable, repeatable, and efficient method for data collection.
3. High-resolution Data
Drones for railways can also provide high-resolution data in a very timely manner. For example, the Hummingbird Elite 48MP (35mm) Sensor System developed by Visual Intelligence, LLC., can collect a 15 x 11-meter swath (50 x 37 feet) at an altitude of 21m (70 feet) with 90% overlap while maintaining a speed of five m/s (11 mph – translating to a capture rate of four frames per second).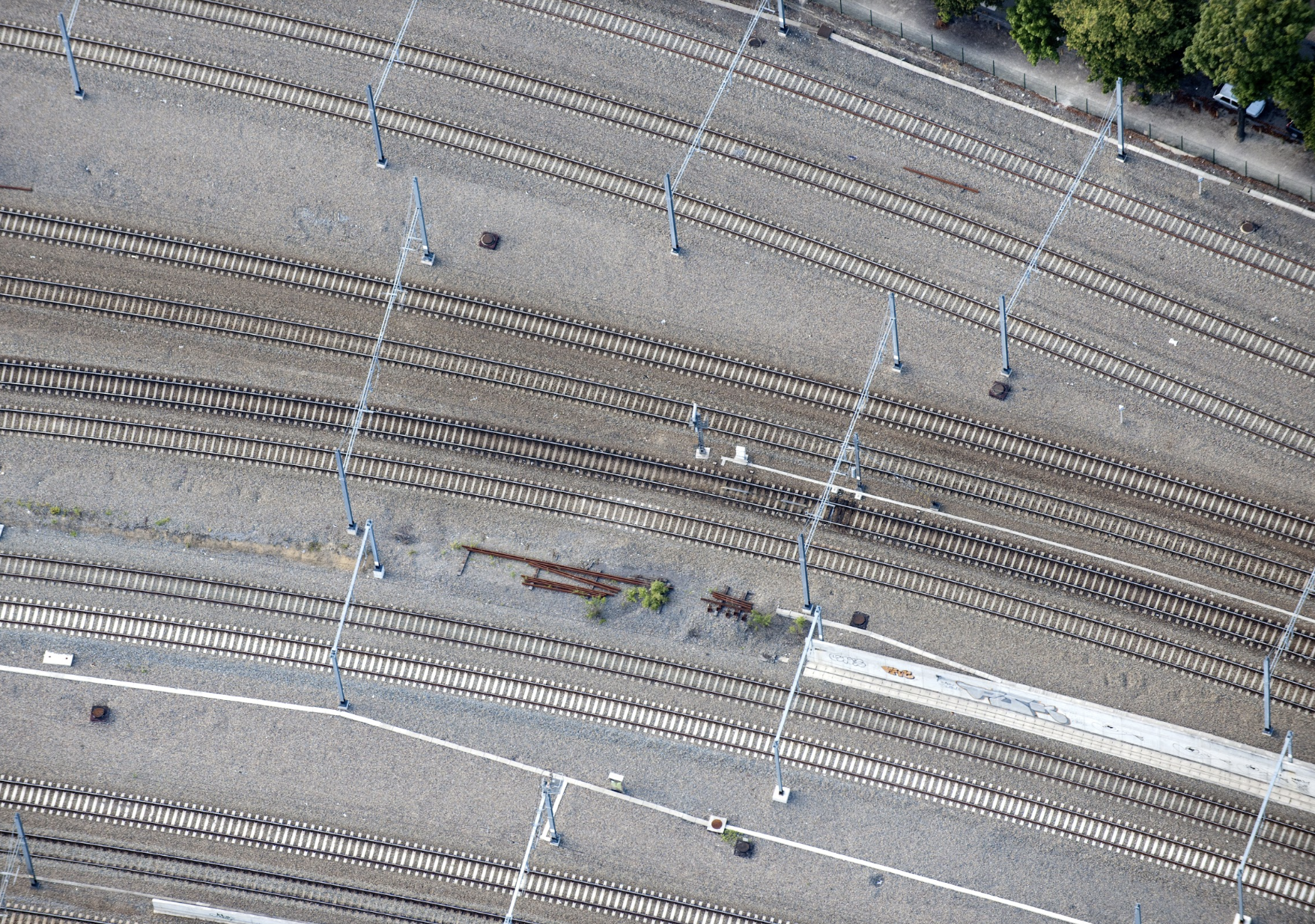 The end-product using these collection parameters produces a fully modeled (3D) product that maintains a GSD (Ground Sample Distance) of 2.13 mm (0.007 ft) with a relative accuracy of around 4mm (slightly more than 1/8"). Once the drone data is modeled, other techniques can be applied to detect anomalies using change detection or in some cases even artificial intelligence.
Consider the following factors using the Hummingbird Elite 48MP (35mm) System as stated above (11mph @ 4fps with 90% overlap @ 70ft alt):
140,000 miles of total railway track to inspect
On average 100 Good Collection Days Per Year
22 Miles (or two hours) of collection per day / per drone team
Given the above scenario, it would take 64 drone teams one year to inspect all the tracks with a total raw collection of over 17.5 Petabytes.
Return on Investment

The return on investment for rail inspections can be measured in many ways. Two elements that are important to consider are:
Cost of accidents directly related to the deterioration of railways (derailments or other railroad accidents resulting in injury/death).

Current cost incurred for inspections of railways using the old/antiquated inspection techniques.
The question that must be asked is this; How many people are currently required/employed to support the overall inspection process for the entire rail system? And further, what kind of human error can be removed/eliminated with the advanced analytics (AI and Change Detection) by using drones?
We will be in a position to quantify and explore the tangible benefits of using drones once we answer the previous kinds of questions.
In the scenario we have built, using 64 drone teams [pilot with observer/helper] as specified in the benefits section, the pure acquisition costs can be broken down as follows:
Drone / Sensor Costs: $3.5M upfront investment (70 systems @ 50k/ea.)
Equipment Yearly Operating Costs: $700K (20% Total Sensor Costs)
Drone Teams (64) Total: $10.6M Yearly

Wages: $100k / team
Per Diem: $54k / team
Vehicle: $13k / team
If the drone/sensor system costs are spread across a 3-year period, the average cost per year for data acquisition is $12.5M/yr. This cost is highly beneficial to the railroads with more consideration to the post acquisition costs needed to sustain the data acquisition rate. One derailment or other mishap can easily cost more than the conservative estimate necessary for the data acquisition alone.
Leaders in the Industry

In order for drones to positively impact the railroad community, companies like Ardenna, 360 Rail Service, Datawing and Visual Intelligence must continue working on strategies that will provide beneficial solutions to the railroad community.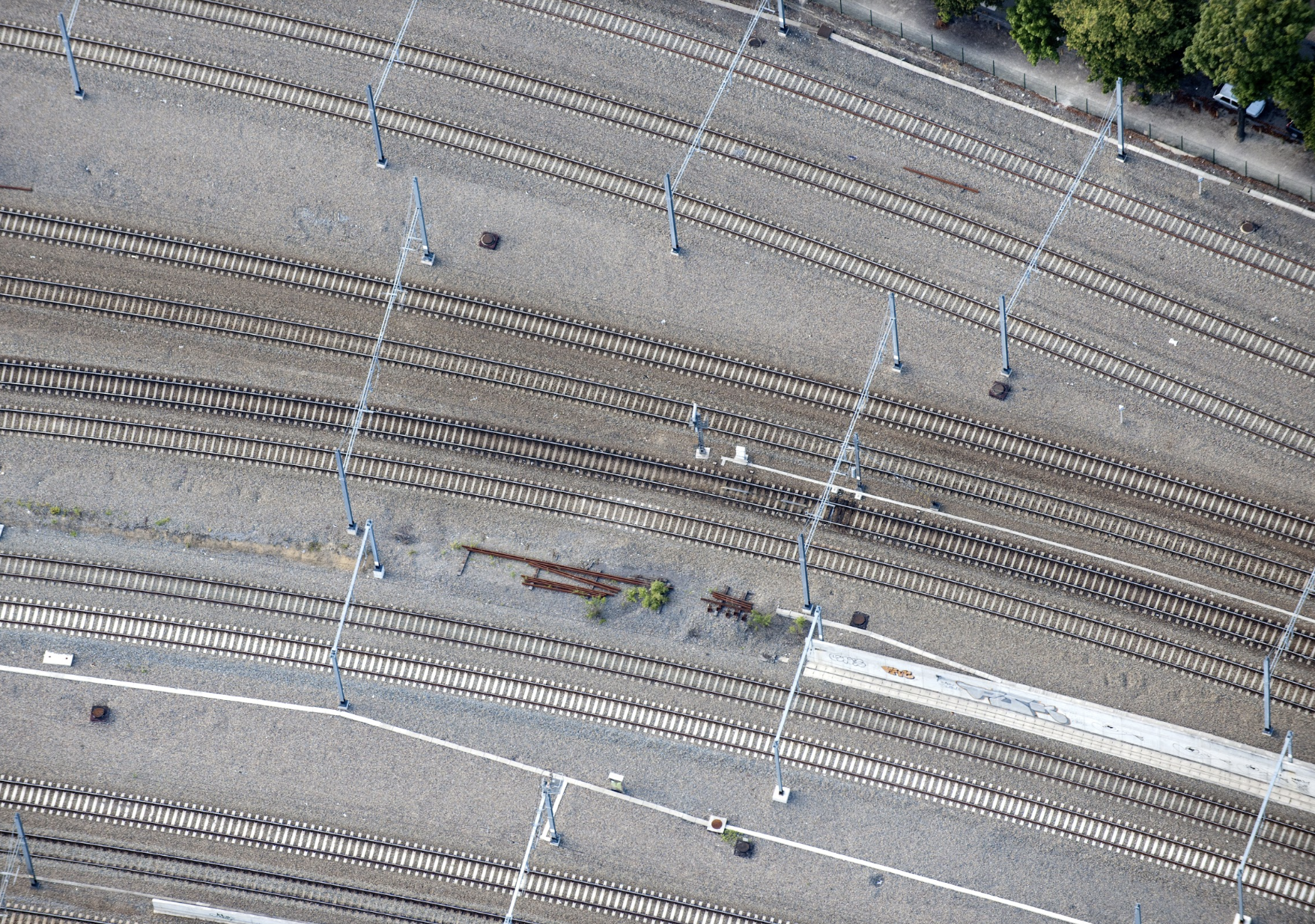 Ardenna is currently working on automating the image review process by eliminating the need for "human reviewers" with techniques such as computer vision and machine learning algorithms. They have employed a system called RailVision™ (a computer-vision based software solution) that is designed to automatically process terabytes of imagery being collected by drone during inspection flights.
360 Rail Service specializes in industrial, shortline/class 1, and transit clients providing engineering, construction, maintenance and operations service solutions.
Engineering services include:
bridges and structures
surveying
critical infrastructure
passenger / freight facilities
program management
locomotive maint and repair
yard track/roadbed design.
Construction services include:
New Track Construction
Track rehabilitation
Inspections
Surfacing and tie production
Grade crossing and warning
Device installation
Emergency Response / repair
Traffic Control
Maintenance services include:
Track Inspection
Preventative Maintenance
Railcar Repair
Derail Repairs
Track Remediation
Operations services include:
Rail car loading/unloading
Transloading
Rail car inspections
Yard operations
Switching
Datawing Global is a company comprised of aviation experts with extensive industry experience. They specialize in the use of powerful analytics with actionable reports that allow for 100% quality assurance of all UAS activities (managing compliance reporting), making use of rapid data acquisition techniques while collecting extreme amounts of information.
Visual Intelligence LLC. produces the end-to-end workflow of data acquisition from sensor to product. By producing scaleable sensor systems, customers can create custom configured, multi-sensor, and machine vision systems for their specific needs and goals utilizing the company's proprietary iOneSTKA™ workflow management system.
Together, companies like these are combining technology, knowledge, and computing resources to produce new and innovative solutions to the railroad community at an ever-increasing pace.
Relevant Part 107 Regulations For Flying Drones Over Railways

There are several regulations under Part 107 that come into play with railroad inspections such as weather minimums and keeping the drone in line of sight.
Please note: This is not a complete list of Part 107 Regulations. To obtain a Part 107 Remote Pilot Certificate, click here.
First and foremost, data collection at high rates of speed (IE 4 frames per second) requires ample light. In the scenario provided earlier, the altitude was 70 feet above ground (which is very close to the ground) and combined with the five meters-per-second speed, this can result in motion blur unless the weather is pristine (very bright with good visibility). For this reason, it is estimated there will only be one hundred days in a given year where collection conditions will be good enough, and in these cases, our part 107 minimums should be met with flying colors:
3 statute miles of visibility
Speed under 100 mph
Altitude below 400 feet
500 feet below/2,000 feet away from clouds
The FAA requires a visual line-of-sight (VLOS) with the drone. This is probably the most relevant Part 107 regulation imposed when inspecting railroads because we need to cover long distances at a time. Future regulations may provide leniency to this requirement but for now we must maintain line of site in a way that allows us to:
Know the unmanned aircraft's location
Determine the unmanned aircraft's attitude, altitude, and direction of flight
Observe the airspace for other air traffic or hazards
Determine that the unmanned aircraft does not endanger the life or property of another
Recent News

A relevant article recently written by Justin Franz is titled "BNSF takes to the sky with drones to inspect Montana main line; program may expand in 2019." This article was written on the 14th of November, 2018 to highlight the groundbreaking pilot program BNSF Railway had in expanding the use of drones to conduct track inspections along remote sections of its main line.
The article states the following; "Since 2015, the railroad has been using drones to take detailed photos of the tracks along three different subdivisions that can later be analyzed by computers to find defects, such as broken rails or ballast fouling. Todd Graetz, director of BNSF's drone program, tells Trains that the railroad will decide early in 2019 whether the program will be expanded, which he said is likely."
Click here to read the complete article.
About the Author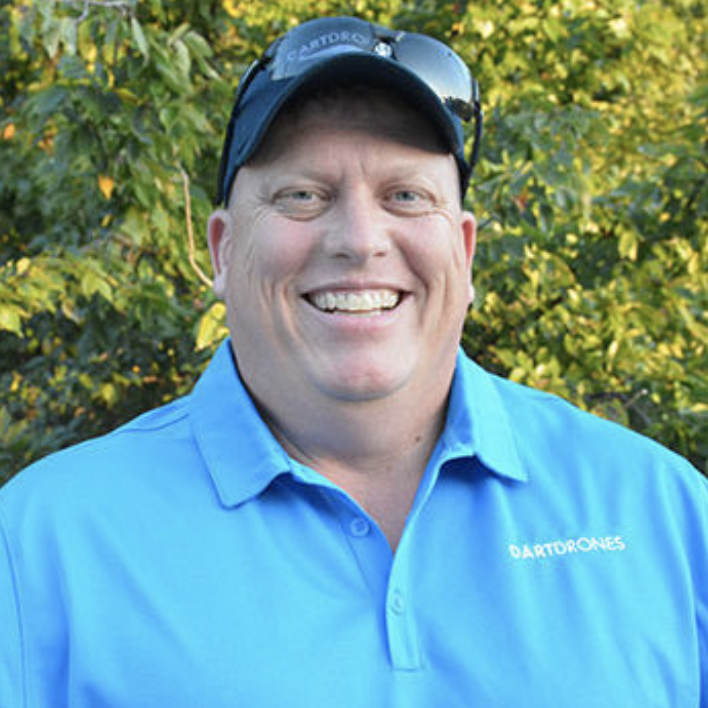 Karl Schwab is a DARTdrones Flight Instructor, an sUAS pilot focused on tower inspections, and a member of the National Tower Erector Association's UAS Committee. Karl is a US Marine and computer programmer who worked for many different Department of Defense contractors including BAE Systems, Raytheon, United Defense, and has accrued over 27 years of Software and Systems Engineering experience working on Weapon/Turret, Command and Control, Embedded Missile and other various types of systems. He is a commercially licensed pilot in both Multi and Single-Engine Airplanes with over 1,300 hours of flight time and has an instrument rating. He currently designs and implements multi-camera sensor systems for drone platforms and utilizes his Part 107 commercial privileges almost daily.
Read more about Karl Schwab.