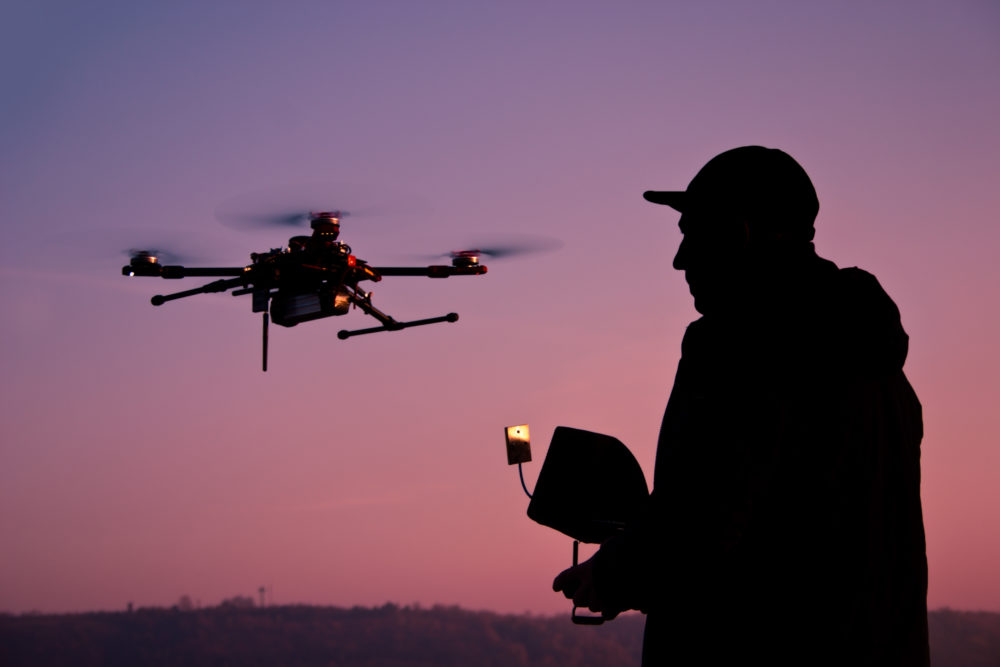 Drone Pilot License: How FAA Drone Regulations Affect the Use of Commercial Drones
What is a Drone Pilot License?
The Federal Aviation Administration (FAA) made UAV history when it launched the first drone pilot license in the United States on August 29, 2016. This commercial drone license is officially known as the "Part 107 Remote Pilot Certificate". The new certification for commercial drones gave average civilians the opportunity to take the federal Part 107 exam, and if successfully passed, they would be a legally licensed commercial drone pilot.
The term "Drone Pilot License" could be confusing since drone pilots are actually obtaining a certification, not a license. More specifically, a drone pilot license is a remote pilot certification with a small UAS rating intended for use by certified drone pilots flying commercial drones aka getting paid to fly their drones. It is also known as a Part 107 Remote Pilot Certificate. Part 107 refers to the rules that the Federal Aviation Administration has come up with to integrate the use of commercial drones into the National Airspace System (NAS). These FAA drone regulations, and others pertaining to use of the NAS, are published in what is known in pilot land as the Federal Aviation Regulations Aeronautical Information Manual (FAR AIM) or 14 Code of Federal Regulations (14 CFR) under Part 107. 
Similar to how a commercial pilot's license allows aviators to get paid to fly planes for a living, a commercial drone license allows a person to get paid for flying a drone. The purpose of the drone license is to ensure that a commercial drone pilot is familiar with and safely abides by the established drone rules of the sky.
A drone pilot license is also referred to as:
Drone license
Commercial drone license
UAV license
UAV pilot license
Commercial drone pilots now need to take and pass the FAA Part 107 exam which, if passed, they will receive their drone pilot license and will be able to legally fly commercial drones. Part 107 is the first regulation from the FAA regarding small unmanned aircraft systems (sUAS) and covers operational limitations, operator certificate, operator responsibilities, and aircraft requirements. The exam to obtain a commercial drone license is two hours long and contains sixty questions.
Step-by-Step Guide to Obtaining a UAV Pilot License
As a drone academy, we know it can be confusing on where to start in order to obtain a UAV pilot license and to legally fly commercial drones. Here are the steps to getting your UAV license:
1. Prepare for the Drone License Exam
In order to get your drone license, you must prepare to take the FAA Part 107 exam by studying. DARTdrones Drone Academy recommends studying for 15-20 hours.

2. Register for the Drone License Exam
Register for an account with the FAA's electronic application system, IACRA.
3. Choose a Testing Location
Find a local FAA approved testing center and register to take the Part 107 exam. There are 690 FAA testing centers across the country. Once you select a testing center, call to schedule a test date.
4. Take the Drone License Exam
Take and pass the FAA Part 107 exam to receive your commercial drone license. The FAA requires a passing score of 70% or higher.
5. Receive a Temporary Certificate

Upon passing the FAA exam, you will finalize your application and submit your Part 107 test score on IACRA. You can expect a temporary drone license within one week. Under FAA drone regulations, UAV pilots can legally fly commercial drones with their temporary drone license.
6. Receive a UAV Pilot License

Within 1 – 3 months, a permanent drone pilot license will come in the mail.
7. Two-Year Renewal

A biannual flight review must be passed every 2 years; however, the FAA has not yet released the official rules regarding how the biannual review will be passed.
Before considering obtaining a UAV pilot license, it's important to note the following:
Must be at least 16 years of age
Must pass the Aeronautical Knowledge Test (a.k.a Part 107 Exam, Airman Knowledge Exam, Remote Pilot Knowledge Exam)
Obtain an Unmanned Aircraft Operator Certificate with a sUAS rating (does not expire)
Aircraft must be registered with the FAA
Professional Drone License Training
DARTdrones is a nationwide drone academy that hosts UAV license and hands-on drone training courses in 40+ cities across the country. The UAV license course is designed to teach students the FAA drone regulations and how to take and pass the FAA Part 107 exam to fly commercial drones.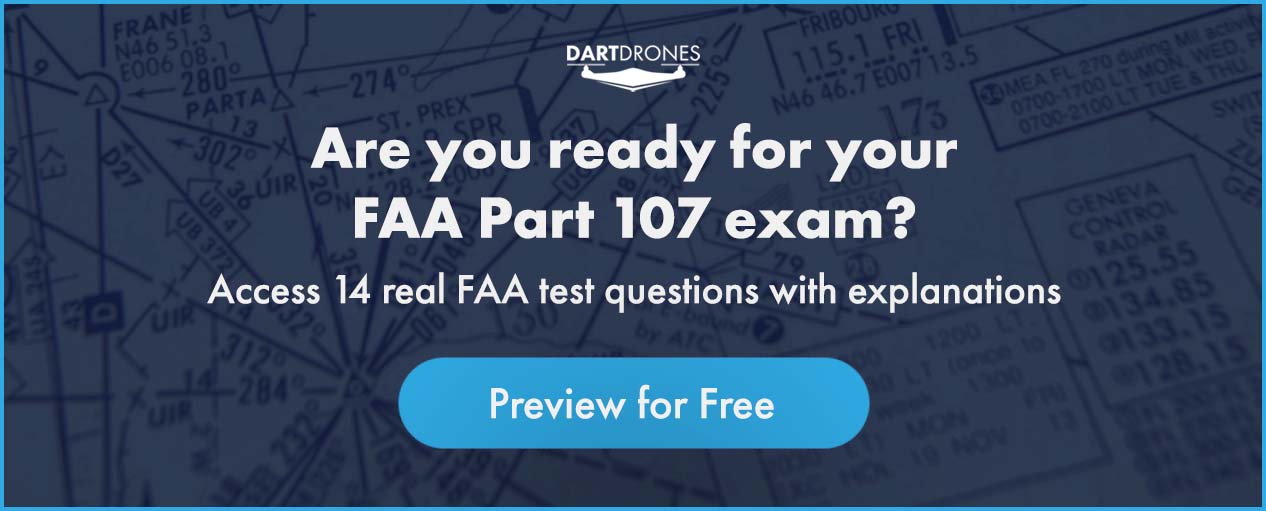 Our commercial drone license course, also known as Part 107 Test Prep, is available online or in-person and has a 99% pass rate. Our expert instructor will cover all topics that are needed to obtain a UAV license. These topics are covered in 13 comprehensive lessons. We provide a bank of 300+ FAA practice questions, a 50-page study guide, access to our Chief Pilot for questions, and more.
UAV Pilot License Uses for Commercial Drones
At DARTdrones Drone Academy, we get a lot of questions regarding what people can actually do with a UAV pilot license. After passing the FAA Part 107 exam and receiving a UAV license, there are many job opportunities to obtain a remote PIC position.
It is becoming a lot more common for large commercial businesses to either integrate their own drone program, or outsource for operators with a UAV pilot license. Whether a company is hiring a long-term drone pilot or someone to fly for a single job, they are being sure to verify the legitimacy of the proposed sUAS pilot. In order to obtain a drone within the drone industry, companies will verify the following:
Proof of proper credentials to conduct commercial sUAS flights, including a UAV pilot license, Section 333 Exemption, or another FAA issued Certificate of Authorization (COA)
Verifiable work experience in the form of imagery/data samples
Current UAV pilot license to be sure the prospective employee knows all FAA drone regulations and can legally fly commercial drones (a biannual flight review must be passed every 2 years)
Along with getting a commercial drone license, it is essential to obtain proper training in order to fly commercial drones for a company. If you are a professional who is already secured in a job and wants to advance your career, or if you are someone just beginning your career, our drone academy has various professional drone courses to fit your needs. Our UAV license and hands-on drone training courses will prepare you to get your drone pilot license and fly commercial drones. Our drone academy also offers advanced industry specific training in Aerial Mapping and Modeling and Aerial Roof Inspections.

UAV License Constraints and Waivers Under FAA Drone Regulations
In order to keep the National Airspace (NAS) safe, all UAV pilot license holders must abide by all FAA drone regulations. There are, however, a few FAA drone regulations that interfere with some commercial flights. For example, a public safety department may have to conduct a search and rescue mission at night. This particular commercial flight would not be allowed due to rule 107.29, Daylight Operations. This FAA drone regulation states that no person may operate a small unmanned aircraft during the night. Since this can affect the use of commercial drones in some instances, UAV pilots are able to request a waiver for this. So, in order to fly a commercial drone past civil twilight, the UAV pilot will need to obtain a night waiver from the FAA. Other constraints for commercial drones include:
Beyond Visual Line of Sight
ex. inspections, search and rescue missions
Night Operations
ex. search and rescue missions at night
55 Pounds and Heavier
ex. package delivery
Higher than 400ft and 400ft away from the object.
100 MPH and Faster
Operation Over Persons
ex. concerts, events, broadcast media, sports
Operations from a Moving Vehicle in non-sparsely populated areas.
As mentioned above, in order to fly a drone in a manner that exceeds the scope of the FAA drone regulations, pilots must get an approved FAA waiver allowing them to do so. In 2016, the 3 top waiver requests were night operations (65%), operations over people (35%), and beyond visual line of sight (19%). Here are a list of FAA drone regulations that commercial drone license holders can request waivers for:
107.25 Operation from a Moving Vehicle or Aircraft
107.29 Daylight Operations
107.31 Visual Line of Sight Aircraft Operations
107.33 Visual Observer
107.35 Operation of Multiple Small Aircraft
107.37 Operation near aircraft
107.39 Operating Over Human Beings
107.41 Operation in Certain Airspace
107.51 (a) Operating Limitations for Small Unmanned Aircraft: ground speed
107.51 (b) Operating Limitations for Small Unmanned Aircraft: altitude
107.51 (c) Operating Limitations for Small Unmanned Aircraft: minimum visibility
107.51 (d) Operating Limitations for Small Unmanned Aircraft: minimum distance from clouds

How to Apply for a FAA Waiver
All waivers for commercial drones must be requested and approved by the FAA. The FAA encourages applicants to submit their request at least 90 days prior to the start of the proposed operation. Here are the steps for requesting a waiver.
Decide what FAA drone regulations you want waived. Be sure you are only applying for the waivers you absolutely need. The more complex the request is, the longer it will take for the FAA to respond/approve.
A complete description of the proposed operation as well as justification that proves the operation can safely be conducted. You need to make sure you clearly state your objectives with the drone. The FAA data shows that 4.8% of waiver applicants are denied because of "insufficient safety cases," and 95.2% are denied due to "incomplete information."
Identify all possible hazards and risks with the proposed flight.
Provide information regarding the Responsible Person (official holder of the waiver) and the Remote Pilot in Command (who will operate under the waiver).
A complete description of where you will be flying.
Include proposed maximum flight altitude.
Include all information on your sUAS like manufacturer, model, and registration number.
Submit your waiver here.
Be prompt if the FAA reaches out for additional information. This will slow down the process if you do not respond quickly.