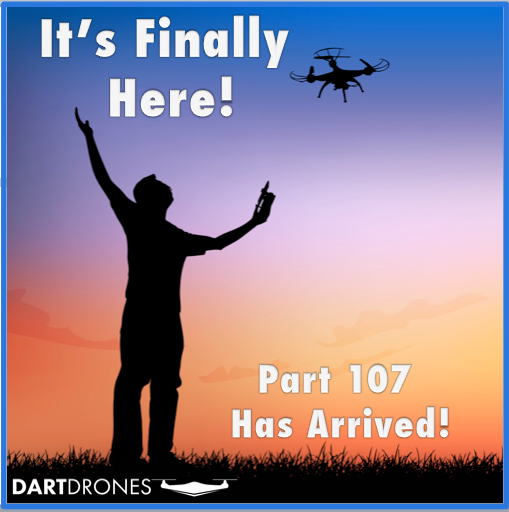 DARTdrones Announcements
The FAA Rule Change is Here!
The FAA Rule Change is Finally Here!
The FAA has changed the rules for the commercial use of drones under Part 107. Prospective commercial drone operators have been waiting for this rule change for over two years and are ecstatic to finally see some movement with the regulatory environment. Let's talk about what this means for you.
Watch Video:
New Rules (As of June 21, 2016)
Pass an Initial Aeronautical Knowledge Test at an FAA Knowledge Testing Center

FAA Knowledge Testing Center: These testing centers are all over the United States.

Find a full list here

.

Part 61 Certificate Holders (meaning currently a pilot) will take the test online instead of at an FAA Knowledge Testing Center

Every two years, you will need to pass a recurrent aeronautical test

Obtain an Unmanned Aircraft Operator Certificate with a sUAS rating (This never expires)

Operational Limits

Maximum Altitude: 400 feet

Aircraft Under 55lbs: A Phantom is only 2 pounds so this should not be a problem unless your drone is enormous.

Maintain Visual Line of Sight: You cannot fly when you cannot see your drone. These rules don't really help commercial drone pilots hoping to do delivery or large inspections.

Daylight Operations Only: No Night Flights

No flying over people who are not involved in the operation

Class B, C, D, and E Airspace requires permission from Air Traffic Control

Visual Observer is not required.

Aircraft must be registered with the FAA and have markings (i.e. your registration number tape onto the drone)

Pilot must be 16 years of age or older and be able to speak English
For the full details about the rules and regulations, read more here.
Old Regulations
From early 2015 to today, commercial drone pilots were kept under very strict rules by the FAA. If you were a realtor who wanted to fly a drone commercially, you needed to do the following:
333 Exemption: 

File with the FAA for a 333 Exemption. Many companies began offering this service in 2015. Commercial pilots paid anywhere from $500 –  $5000 to have a 333 Exemption filed for them. Filing an exemption is free, but the confusing nature of the paperwork led to most people hiring a company. 
Long Waiting Process: 

Because the FAA was so flooded with petitions for the 333 Exemption, most commercial drone pilots had to wait anywhere from four months to seven months to get their exemption granted. 

Pilot's License:

 Once you finally got your exemption, the only people that were allowed to fly the drone commercially, were pilots. Yes, an actual helicopter or airplane pilot. Many commercial drone operators ran out to get their pilot's license for around $5000. 
Obviously, these rules were extremely preventative for the average commercial drone pilot.
Terms:
FAA:

Federal Aviation Administration

NPRM:

Notice of Proposed Rulemaking

sUAS:

Small Unmanned Aerial System

VLOS:

Visual Line of Sight

ATC:

Air Traffic Control