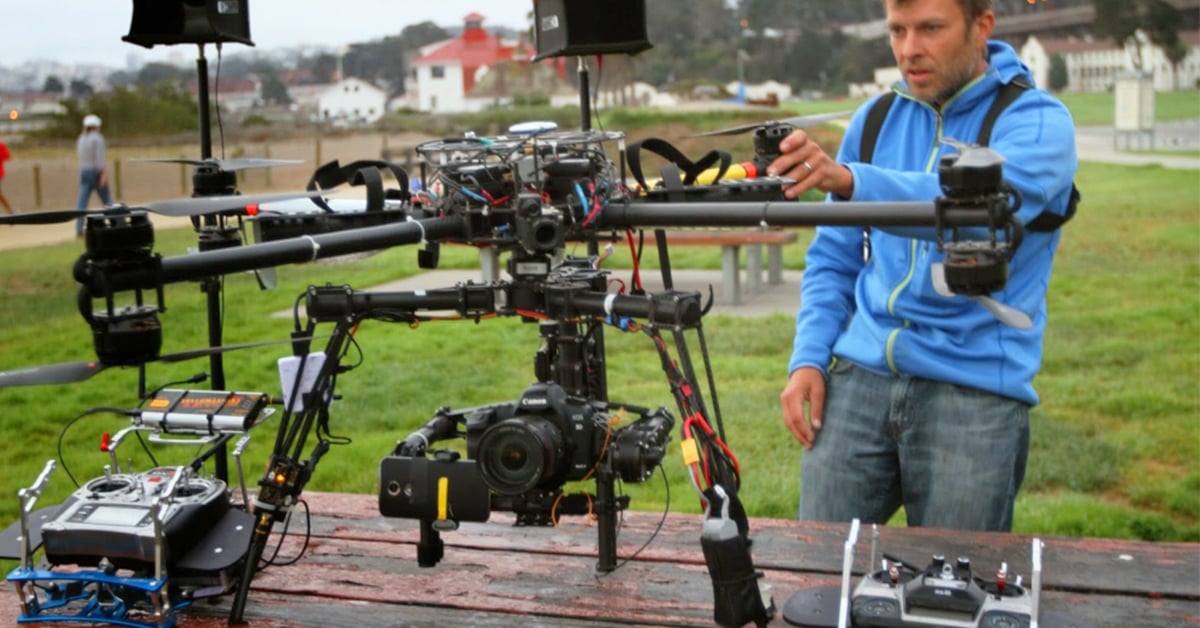 Photography & Film
Get Paid for Aerial Photography Drone Services
If you're looking to make extra money on the side, or want to launch a full-time business, using drones to sell aerial photography services is surprisingly cheap and easy! For professional photographers, purchasing a drone and getting certified to fly is a no brainer when it comes to expanding your skill set. Alternatively, hobby drone pilots are discovering how easy it is to monetize their flying abilities by learning basic drone photography and videography.
Until recently, aerial photography relied on manned aircraft, primarily helicopters and airplanes, to take dramatic photographs. Recent changes in guidelines for using drones for commercial businesses (aka FAA Part 107), make operating an aerial photography business using drones a much more economical and potentially profitable business proposition.
Putting a camera in the air will let you see and capture the world in an entirely new way.  So, sit down, buckle up, and get ready for a paradigm shift!  (Check out our drone aerial photography class, and you will be skyward in no time!)
Why Use Drones for Your Aerial Photography Business?
As a tool for photography, drones are simply unmatched.  Sure, each of us brings our own unique perspective into play when we snap that shutter, but some events and situations just "scream" for an aerial shot.
Consider wedding photography, the bread and butter of many photography studios.  Brides want stunning, beautiful imagery to capture the emotions of that day.  It is the photographer's job to narrate the couple's story in a way that's unique.  Increasingly, brides are turning to aerial photography services to make their wedding memorable and special.
What better way to capture the scenery and setting of the wedding venue than by shooting it with cinematic angles up to 400 feet?  Even the most popular studio simply has no way to match an aerial photographer equipped with a state-of-the-art camera drone.
Photographers are Turning to Drone Aerial Photography for Business Growth
For those of you who are already professional photographers, you first need to be open to shooting from different vantage points with moving cameras.  If photography is new to you, you can still capture great images with formal training.  No matter your experience level, practice without the camera attached to the drone, as you will likely crash a few times.
All drones are basically similar.  They consist of a gyroscope or accelerometer to measure roll, pitch and yaw. The latest generation of drones is easier to fly, features better cameras, and includes software that will control much of the flight for you.  Drones can also automatically adjust their individual motors and hover in place while you are setting up the shot.  (It's similar to cruise control in your car.)
If you have played a lot of video games, you will have an easier time adjusting to a drone's remote control.  Simply put, the stick on the left controls the throttle and yaw, while the one on the right controls the pitch and roll.  The controller is your radio transmitter and the antenna allows you to communicate with the drone.
If your drone includes smartphone or tablet navigation features, it will take a little more time to figure out.  But do not let that stop you from exploring aerial photography, because most drones that use smart devices are optimized to help the pilot.  You will first have to sync the controller to your smart device and use some form of app to effectively guide the drone (just follow the instructions).  First-person settings and return home features, very common with most drones today, will help you avoid obstacles and not lose track of your drone.
See! Aerial photography is really not intimidating at all.  Think of it as a subsystem of photography with new gear and methodology.
Story and Composition are Vital to Growing a Top-Notch Aerial Photography Business
Remember that, like your camera, a drone is just an extension of your arm. Basic photography principles of leading lines, symmetry, composition and patterns still apply. Effective drone photographers continue to make the images their own, with unique perspectives and editing.
Keep Drone Flight Times to a Minimum
On average, the batteries for most drones will allow around 20 minutes of flight before you need to recharge.  As with any other battery-operated device, the harder you use it the quicker you will blow through the charge.  So, when you are experimenting with aerial photography, consider the shot and the environment before you launch.
Opt for high-altitude photographs (but not too high)
Higher altitude photographs will be create very dramatic shots. Being too close to your subjects may endanger and annoy your subjects. But remember, the maximum allowable altitude for flying a commercial drones is 400 feet.
Shoot at an Angle
For instance, when taking an aerial photograph of guests enjoying the wedding reception, remember to shoot at an angle so you can see people's faces, not just the tops of their heads.  You also want to avoid flying drones too close to your subjects or directly overhead. Understanding safe operations and FAA regulations will avoid costly accidents and potential litigation. 
Selecting the Right Aerial Photography Drone for your Business
How do you select a drone that is reliable and delivers high-quality footage to take your skills to the next level?  Simple: Pick one you can grow into.  
For aerial photography, DARTdrones recommends the DJI Phantom 4. The Phantom 4 is great fun to fly, and the video footage is so jaw-droppingly beautiful that you will never tire of looking at it.  The drone is compact, lightweight and filled with features, including: GPS, live view, and obstacle avoidance.  To be able to pilot your Phantom 4, you will need to install the DJI GO app on your mobile device.  Once you do that, you will gain access to a really useful feature called "TapFly."  Using your touch-screen device, simply tap any point in the drone's field of view and the Phantom 4 will fly will toward it.  Another tap brings it back to you.  
The Phantom 4 features an improved CMOS sensor, allowing it to capture 4k video at 30 frames per second (1080p at 120fps for smooth slow motion) and 12 megapixel stills.  It also offers 4:3 and 16:9 image formats (4:3 offers 4000 x 3000 resolution, while 16:9 crops the top and bottom).  An advanced 3-axis gimbal removes unwanted vibration, so you can capture smooth and fluid footage even during complex maneuvers.
Check out our guide on which DJI Phantom drone model is best for you.
Marketing Your New Aerial Photography Drone Business
Once your company is set-up, you are ready to promote it.  A great concept to keep in mind for aerial photography marketing is "Ask customers what they want, but market what they need."  What your customers "want" are professional shots.  What they "need" are stress-free photography services they can trust.  Look for person-to-person marketing opportunities that highlight your confidence and personality.
We are in a new era of marketing, more about meaningful engagements than just "getting noticed."  Consider inbound marketing, which involves creating quality content to organically attract potential clients.  Create a YouTube channel to showcase your work.  Posting on Facebook, Snapchat and Twitter are also great social media options.  Design blogs and podcasts and distribute them.  Linking your website to industry leaders, like DARTdrones, can also help.  It will legitimize your aerial photography business as people seek more information about you.  Finally, explore and become active in drone photography communities and forums.  You will be surprised at how many people share your interests and concerns.
Once you get started in drone photography, you and your clients will be AMAZED at the stunning beauty and unique perspective hidden for all this time.
DARTdrones is the national leader in drone training, consultation and expert support for new drone pilots.  We're committed to helping the UAV community – drone beginners, more advanced pilots and search-and-rescue services.  Contact us for information and advice.  We'd love to hear from you!