DARTdrones Announcements
DARTdrones and DroneBase Partner to Offer Advanced UAV Training Workshop in 2019
DARTdrones is honored to be partnering with the largest global drone operations company, DroneBase, to offer an advanced UAV training workshop in May 2019. DroneBase, a Santa Monica, CA based company, provides businesses with aerial information to make better, real-time decisions about their most critical assets. The company works with enterprises across numerous industries such as commercial and residential real estate, insurance, construction, media, and telecom, and operates in all 50 states and over 70 countries.
DroneBase often works with clients to supply aerial imagery for roof inspections. Thanks to drones, this sector is seeing lower operational costs, increased safety and better data. With a heightened demand for drone pilots who are skilled in aerial inspections, DroneBase is co-hosting DARTdrones Aerial Roof Inspections Workshop.
"As drones become more integrated into businesses' operational workflows, we believe that there will be more opportunities for drone pilots and it will continue to be a sought-after skilled workforce," said Nick Osgood, Head of Operations, DroneBase. "We already provide commercial missions for the largest global Pilot Network, and we hope to turn your hobby into a career."
This UAV training workshop is a two-day intensive course, which prepares students for a career as an aerial inspector. Students will learn new skills such as quality image capturing, managing drone emergencies, camera optimization, pre-flight and on-site planning, crew coordination, thermal imaging, and more.
Aerial Roof Inspections Workshop Co-Hosted by DroneBase
When: May 18, 2019 @ 8:30AM – 5:00PM and May 19, 2019 @ 8:30AM – 5:00PM
Where: Santa Clarita, CA
Prerequisites: This UAV training workshop requires all students to have their FAA Part 107 Certificate as well as 5+ hours of flight time.
Course Topics: The Aerial Roof Inspections Workshop is a 2-day intensive UAV training course which covers the following: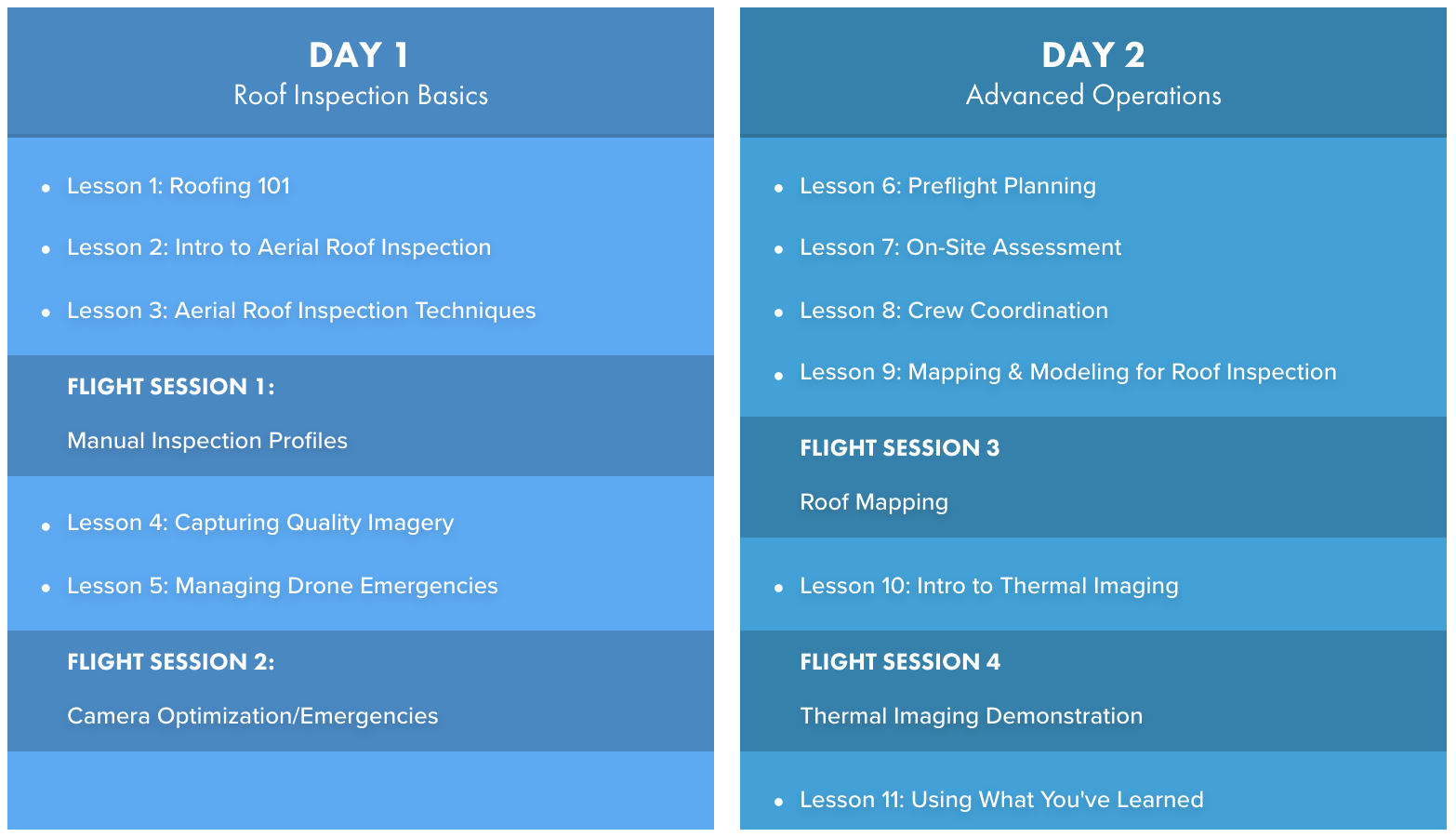 Pricing: $1,490/student
How to Register: Interested students can register here.
Welcome Reception with the DroneBase Team
All registrants of the UAV training workshop are invited to a welcome reception with the DroneBase Team on the evening prior to the training. The reception will include snacks and refreshments for all. The DroneBase Team will provide information on their company, how to work with DroneBase to secure drone jobs, insight into the industry and more.
When: Friday, May 17, 2019 @ 5:00pm PT
Where: DroneBase Headquarters (2800 Olympic Blvd, 2nd Floor, Santa Monica, CA 90404)
All students can RSVP to the welcome reception by emailing [email protected].
For any questions on DARTdrones Aerial Roof Inspections Workshop Co-Hosted by DroneBase, please call 800-264-3907.