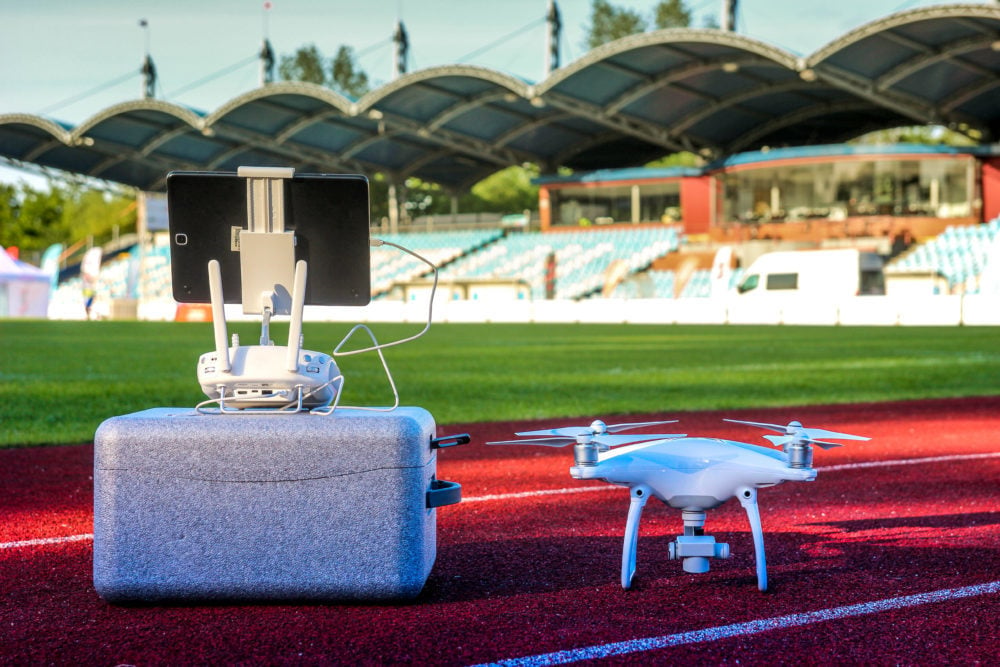 Drone Industry
Drone Racing: How to get in on this booming drone sport
I am asked the question almost any time I talk about drones: "Have you watched drone racing on TV?" For many of us, the only drones we've "raced" are our professionally built and store-bought quadcopters while cautiously, zipping around our backyards. We've never competed in an actual drone racing competition.
The ranks of drone racing enthusiasts continue to grow.  This past year, ESPN drew fans, who got caught up in the adrenaline rush of watching brightly lit drones compete – or crash – at elaborate race sites. It's easy to get hooked.
What is Drone Racing?
Drone racing is a competitive sport in which drone pilots fly in first person view (FPV) around and through course obstacles, at speeds faster than 80 mph.  Usually, pilots monitor video feeds from small cameras mounted on the front of their drones through a screen or a pair of FPV goggles. Drone races can occur anywhere: in the backyard, parks, or even in stadiums and deserted structures. Races can last as long as battery life allows, and with training from a quality drone school, almost anyone can become a racer.
Racing drones test the limit of machine and human interaction.  You might feel the need for speed, but maneuverability is the key.  Gates and obstacles appear quickly and require split-second reaction timing.

Is Drone Racing a Sport or Just a Fad?
Webster's Dictionary defines "sport" as "a particular activity as an athletic game [to be] engaged in."  So according to the Webster's, drone racing fits the bill.  Drone racing might be a heart-pumping sport, but it also fits the definition of a fad because of its meteoric rise in popularity. For now, the sport is hot and continues to grow at the local, national and worldwide levels.  World drone manufacturing leader, DJI, opened a drone arena in South Korea in August of 2016 that offers drone training and racing through its flight academy. With this kind of backing, and the hope that these arenas will expand beyond South Korea, fans think it can be a long-term sport throughout the world.
Consider this.  According to Nick Horbaczewski, founder and CEO of the Drone Racing League, about 40 million people watched recorded clips of a professional drone race at Hard Rock Stadium in Miami last year.  Forty million!
What Kind of Drones are Used for Racing?
Racing drones come in all sizes, typically measured in millimeters from motor to motor.  Racing drones are built to go forward fast. They're also usually built in an H shape,  as opposed to an X shape, (think Phantom 4). This gives them greater maneuverability, specifically for stable front, back and sideways movements. The most common size for racing is in the 250mm range.  For comparison, the Phantom 4 is 350mm motor to motor.
For those new to the sport and looking to buy a racing drone, you should know some terms:  ready to fly (RTF), bind-n-fly (BNF), and almost ready to fly (ARF), meaning some construction is required.  As the term suggests, ready to fly is exactly that, the kit comes with a drone and receiver.  Bind-n-fly is just the drone, you'll need to pair with your own compatible hobby grade receiver.  This will be an option if you're adding another drone to your racing collection.  Almost ready to fly can appeal to the most serious of hobbyists/pilots who like to customize their racers.
For the beginner, an inexpensive RTF option is the Hubsan X4 H107D.   As of this writing, the kit was available for around $84 on Amazon.
For those beyond the beginner stage, the Walkera Runner 250 Pro GPS racer just might do at around $400.
At the expert level, most drones are built from the frame up, using carbon fiber frames with total build out cost nearing $10,00 or more.  Not as difficult as you might think, but skills with a soldering iron are key. Watch the video below to see steps for building a racing drone by professional racer Carlos Puertolas, aka Charpu.

The intermediate to expert pilot should be aware of a few things. Obviously, as you move up with equipment the price points will rise. There may be a bit of a legal hoop to jump through with the FCC as opposed to the FAA. Flying the drone using your controller and line of sight requires no additional FCC licenses.  Depending on your equipment, if you add or change transmitters and receivers for FPV use, then a technician ham radio license might be required.
The issue is that most FPV systems do not have FCC certifications, (the radio transmitter will tell you via a sticker attached). The FCC will want to ensure that you, as the operator, understand the concepts of signal interference.
That means passing an exam.
Look on the back of your DJI controller and you'll see the FCC Part 15 compliance label. If you don't, check with the manufacturer to verify if a ham radio license is required before using it in the United States.
Those Drone Racing Goggles Sure Look Cool!
Most beginner to intermediate racers start with a small video screen that attaches to the remote controller with a mushroom antenna.  You can buy an inexpensive all-in-one, (including receiver),  4-inch screen online for less than $100.
Chances are, if you catch the drone racing bug in full force, you'll want to upgrade to a set of FPV goggles and get the full adrenaline pumping experience from "inside the cockpit." Fat Shark goggles are a popular choice among drone racers.  They are not cheap, running $300-400, and not including FPV antennae and any additional hardware or receivers required.  Other types can be found starting at around $100.  Each model makes its own fashion statement, so the choice mirrors your own taste and boldness level.
Ok, so I'm Hooked … How Do I Find Races?
Join a DUG, (Drone User Group) in your area.  I joined one and discovered that May 6 is International Drone Day, (internationaldroneday.com), along with a drone race in my area next month that I'll compete in.
The Drone Racing League, (DRL), is probably the most well known racing organization, thanks to ESPN exposure.  But there are others: The MultiGP-Drone Racing League, the Drone Sports Association, and the Aerial Sports League to name just a few.
If you've not been introduced to Drone Racing yet, this is a great informational video.

Are there Drone Rules?
Of course there are. This is the part where a UAV school can help with understanding the regulations.  The FAA requires registration for drones operated outdoors and weighing in excess of 0.55 pounds(250 grams).  No exceptions just because you want to go fast.  Flying indoors, however, the FAA does not regulate drone use. Flying just for fun, ("hobby or recreational purposes"), requires one registration for all your drones.
If you fly your drone for "work or business," then your drone must be registered individually. Let's say you're competing in a professional racing event for prize money, (and a British teenager won the $250,000 first prize in Dubai early last year), then that may be considered "work or business."  When in doubt, pay the $5.  Or consult your legal adviser and pay more. And as mentioned above, don't forget the added pressure of taking the FCC ham radio exam depending on your FPV equipment.
Does drone racing have a strong future?
Drones represent many things to many people.  It's a hobby that virtually everyone starts for the fun of flight and the pictures we can capture.  For some business minded individuals, commercial opportunities abound for mapping, videography or structural inspection.  And for a new generation of pilots, it's all about the thrill of competition.
Is Drone Racing the future of drones?  It is a PART of the future of drones, but it is not THE future of drones. Red Bull Air Racing is a correlation with manned flight. Like drone racing, exciting to watch, but a subset of something that is much bigger.  As an industry the future of drones is broad and growing by the day. Drone aviation allows anyone the ability to fly for pennies on the dollar compared to manned flight. Drone schools, such as DARTdrones, train many students new to aviation and many other students not so new but interested in this new field within aviation.
If drone racing is an entryway to this exciting field for many new enthusiasts, then I say bring 'em on!
Randy Eary is one of DARTdrones' drone instructors. He owns most of the DJI catalog and wrote this post about Drone Racing.