Drone Laws
Drone Laws: The History Of Drone Regulations and Laws
The Quick and Dirty Evolution of Drones and Drone Laws
In order to understand the history of drone laws, we first need to understand their evolution. The earliest drones were balloons, powered by gas or air, or radio-controlled biplanes (some experts debate whether balloons should be classified as drones). By modern definition, a drone is an unmanned fixed-wing or multi-rotor aircraft usually powered by fuel or batteries. They can be as small as a quarter, aka Nano Drones, or as large as a jet.

Hobbyists and militaries were using drones since at least the early 1900s, over 22 years before the FAA existed. Organizations such as the Academy of Model Aeronautics (AMA) first began developing flight training programs for drone pilots. That community-based training was eventually used as a model by the Federal Government, who saw a need to regulate drones once the technology became popular in the United States. Today, the FAA and the AMA officially work together to ensure drone pilots fly responsibly, without any risk to manned aircraft or to people and property on the ground.
Reginald Denny, an English actor who ran a model plane shop in Los Angeles, is generally credited with creating the first large-scale production of drones in the 1930s and 1940s. He sold drones to the military and hobbyists and was an extremely active drone pilot. The Dennymite, named after Denny, was the first mass-produced drone in the world. (Fun fact: Norma Jeane Dougherty, aka Marilyn Monroe, was an employee of Denny's and assembled drones during World War II.)
In the mid 2000s, Congress acknowledged the effectiveness of community-based training programs championed by hobbyists and trade organizations. The FAA agreed, but stated that it was illegal to operate drones for commercial purposes. The agency allowed non-commercial flights under 400 feet if drone pilots followed Advisory Circular 91-57, Model Aircraft Operating Standards, published in 1981. That circular outlined and encouraged voluntary compliance with safety standards for model aircraft operators (similar to the ones advocated by the AMA).
And that's officially the way it was for years.
Despite the FAA's commercial restrictions, drones were being used on occasion for commercial purposes. Inevitably, confrontations between the FAA and drone pilots started popping up. For example, EquuSearch, a Texas nonprofit organization that had used drones since 2006 to search for missing people, was aggressively pursued by the FAA. In 2014, the nonprofit finally had enough. It filed a petition for review with the U.S. Court of Appeals, claiming that EquuSearch's use of drones fell outside of FAA restrictions that stated model aircraft may not be operated "by persons or companies for business purposes."
When Drone Laws Began to Change
With some hobby drones capable of flying to very high altitudes, and drones gaining in popularity, it was really only a matter of time before the FAA got tough (cue dramatic music). After all, the FAA is supposed to be in charge of such things.
On September 16, 2005, the FAA issued guidelines on the domestic use of UAVs. The agency then released a policy document concerning the operation of drones on February 13, 2007. Between the two documents, the FAA's hesitation to institute the use of drones in the United States for non-recreational purposes becomes clear. Certificates of Waiver or Authorization (COAs) were required and granted to businesses with a public entity as a sponsor. For example, when British Petroleum used the Aeryon Scout drone to observe oil spills, BP needed a COA granted to the University of Alaska Fairbanks.

But COAs took time to grant, and the process wasn't always the most efficient. Sometime after 2007, while politicians were haggling with FAA officials about the use of drones, rich, important entities like Amazon, Google, and Hollywood began knocking on federal chamber doors. They wanted Congress to intervene.
Politicians, pursued by lobbyists and special interests, recognized the need to work with the drone community. The result was the FAA Modernization and Reform Act of 2012. In the bill, Congress encouraged a type of community regulation inspired by organizations like the AMA and, ultimately, monitored by the FAA. The bill formally prohibited the FAA from creating "any rule or regulation" to manage recreational use of drones. But what about the public's commercial interests?
The Reform Act of 2012 required the FAA to "develop a comprehensive plan to safely accelerate the integration of civil unmanned aircraft systems into the national airspace" and create uncomplicated drone laws for commercial use by 2015. Those edicts forced the FAA's hands. (But it wasn't until the advent of the agency's landmark Part 107 rules that the middle class could fly drones commercially – more on this later.)
In Section 333 of the Reform Act of 2012, Congress noted that the "Secretary of Transportation shall determine if certain unmanned aircraft systems may operate safely in the national airspace system before completion of the plan and rule making required by …." Section 333 allowed commercialized drone flights on a case-by-case base. Sure, it still took forever, longer than six months typically, to get a 333 exemption. But it was a simpler, slightly less restrictive process than prior COAs, and people could apply for commercial permits without the need for extremely stringent public sponsorship mandates.
The Section 333 exemption wasn't a complete victory, but it was a start. Think of it as a stop- gap while the FAA, under Section 332 of Reform Act of 2012, gathered more information and decided how to fully and safely integrate commercial drones into the national airspace.
You probably know the expression "In for a penny, in for a pound." Well, emboldened by the Section 333 exemption, entrepreneurs began to aggressively pursue their drone commercialization plans. As of 2013, commercial UAV licenses were indeed granted on a case-by-case basis, subject to approval by the FAA. In 2014, for example, the FAA approved at least ten applications from specific companies seeking commercial use of drones.
Today, under FAA scrutiny, commercial drone industries include: commercial video and photography; emergency response coordination; search and rescue services; EMS medical drone support; land and agriculture surveying; special events coverage (weddings, parades, sports, etc.); providing internet access to remote areas; and even food and retail deliveries.
How and Why Drone Laws Have Changed
So, what ultimately caused the multilateral pursuit of drone commercialization? It's a complex question with a decades-long answer. In truth, change in drone laws came about through a series of micro- and macro-processes converging at the right place and time.
After 2012, commercial uses for drones suddenly became the hot new business model. Everyone – from investors to entrepreneurs, Hollywood studios to real estate agents, Mr. Smith to Mrs. Smith (in fact the entire Smith family) – wanted change. Drones became part of our national conscious, and Pandora's Box became unhinged.
Remember, the FAA was already under pressure by Congress to establish commercial drone laws by 2015. The FAA simply was running out of time. With the added pressure by the public, the FAA had to act smartly and considerately. Think back to the movie The Shawshank Redemption when Red said: "That's all change is, really – pressure and time."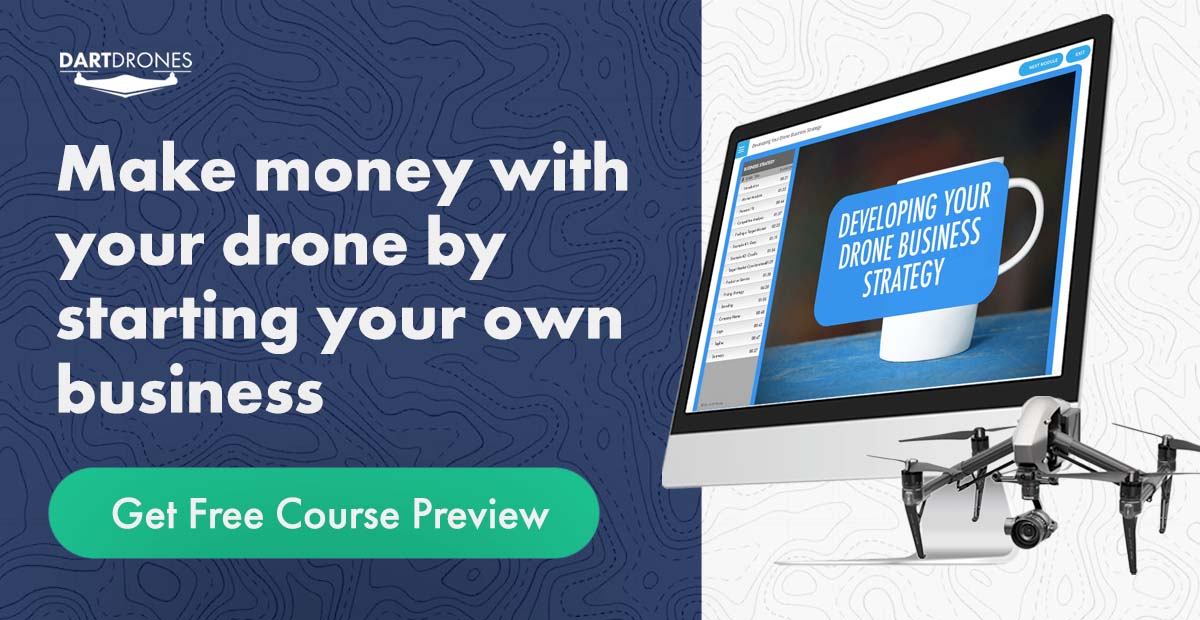 As businesses and politicians continued pushing for more reform, a thing called social media emerged, giving everyone a national podium. The FAA noticed that pilots were posting drone videos online and talking about flights on social media platforms. As is usually the case when federal entities are monitoring our actions, fines began and judges become involved.
Let's consider what was happening on YouTube. The FAA claimed that posting some drone flights on the video service was a commercial use, and thus an illegal use, of drones. (It was a claim that has serious First Amendment implications.) The FAA sent cease-and-desist orders to drone pilots, threatening people with fines for flying without FAA authorization. Of course, many of these cease-and-desist orders were later tossed out on appeal. Interestingly, the FAA eventually contradicted itself and began advising pilots to ignore the cease-and-desist orders.
Drones and their technologies are too intriguing for people, companies, agencies, investors and entrepreneurs to ignore. After all, drones are cheap and easy to fly. Quadcopters can take off and land in small areas, and their ability to hover offers endless possibilities.  Cash-strapped police departments are using drones for various purposes right now. The Grand Forks County Sheriff's Department in North Dakota, for example, owns at least four drones.
To try to understand the drone industry, the FAA and research groups conducted economic forecasts and research studies. The results unanimously showed future increases in the sales and uses of drones. The decision became clear; drone regulations needed to change to accommodate future growth. The technology was already in the hands of pilots. And they wanted more freedom, not less. Perhaps our political officials also conceded that they could acquire economic dividends, through taxes and administrative fees, from the booming drone industry if they encouraged growth rather than stifling it.
Another way to understand how and why drone laws have changed is to apply a little human empathy. The understaffed FAA had to come up with a solution that would appease Congress, special interests, and the public for a technology that was still emerging. Indeed, the FAA has very effectively come up with a potential solution: The Small Unmanned Aircraft Rule, FAA PART 107 for short.
The FAA Part 107 Drone Laws and Your Responsibilities as a Drone Pilot
The new commercial regulations are explained in a 624-page publication by the FAA, the Office of the Secretary of Transportation, and the Department of Transportation. Part 107 establishes drone laws for the commercial operation of drones in Class G airspace (under 400 feet), accommodating future growth and pursuant to a set of operational and safety requirements.
Those safety and operational requirements are basically the same drone laws that have been in place for hobbyists. PART 107 merely relaxes the more stringent rules of commercial drone flights and allows the FAA time to observe the safety and public impact of commercial drone deployment. Basically, under PART 107, commercial drone pilots are in a formal evaluation period. That's why pilots must operate under specific requirements, such as flying below 400 feet, not above people, only during the day, etc. Also, acquiring permission to fly under PART 107 is much simpler – you can do it online. It's a sort of experimental "let's try it and see" attitude by the FAA. It's up to commercial drone pilots to operate within the new regulations.
You can find more information about the PART 107 rules at DARTdrones, along with courses designed to help drone pilots, search-and-rescue operations and police departments. Because the PART 107 regulations are new and evolving, it's supremely important for drone pilots to completely understand and remain informed on what is permitted. The courses at DARTdrones, offered online and in-person, were designed by drone pilots for drone pilots. We also cover issues of insurance, emerging regulations, privacy, and registration (yes, you may have to register with the FAA) for drones.