Uncategorized
Drone Academy: Why Participate and What Do You Learn?
Have You Ever Considered Attending a Drone Academy?
There are several reasons why you should attend a drone academy. Perhaps you are an experienced drone pilot and need help preparing for the new Federal Aviation Administration (FAA) Part 107 knowledge test. Perhaps you received a drone as a gift and you want to gain the skills and knowledge required to confidently fly your new drone.  Maybe you want to use a drone for business purposes or want to learn about the advanced features of your drone. Whatever your reason for attending a drone academy, below is a list of topics you will learn at a drone school.
Prepare for the FAA Part 107 Knowledge Test
Can you describe a standing lenticular cloud? Do you know how to decode a METAR (aviation routine weather report)? Are you familiar with reading sectionals and other aeronautical charts? At first glance, these questions might not seem directly applicable to drone pilots, but those questions are just a few examples of the aviation knowledge required to pass the FAA's new aviation knowledge test under Part 107. The FAA's new rule for small unmanned aircraft systems (sUAS), commonly called drones, went into effect in late August of 2016.  This new rule, known as Part 107, requires you to obtain a remote pilot certificate to operate your drone for work or business purposes (unless you choose to operate under an existing Section 333 grant of exemption).  Drone pilots who fly their drone for fun, do not need a remote pilot certificate. However, it is a good idea to have at least a basic knowledge of FAA regulations and aeronautical knowledge.
Topics covered in Part 107 Prep Courses
If you don't already hold a current FAA pilot certificate for manned aircraft, you will have to pass a 60-question, multiple choice, aeronautical knowledge test to obtain your remote pilot certificate. The Part 107 test covers many areas of aeronautical knowledge including:
Applicable regulations to drone operations

Aviation weather

Crew resource management

Airspace classifications 

Emergency procedures
Reading aeronautical charts
Effects of drugs and alcohol
Special use airspace
Drone Maintenance
Do I Need to Have a Manned Aircraft License?
The questions on the aeronautical knowledge test can be challenging if you don't have an aviation background. In fact, many of the questions on the Part 107 knowledge test are very similar to the questions on the private pilot knowledge test, but most private pilots get hours and hours of ground school training to prepare for their knowledge test in addition to a minimum of 40 hours of flight time! Attending a drone academy can help you prepare for and pass your Part 107 knowledge test on the first try.
If you don't have a strong aviation background, a drone academy can help you understand or brush up on the aeronautical knowledge required to pass the test. DARTdrones offers drone courses specifically designed to help you understand and study the material on the Part 107 knowledge test. At DARTdrones, all of our drone instructors are experienced, FAA certified pilots of manned aircraft, as well as drone pilots, so you will receive expert instruction on the aeronautical knowledge required to pass your FAA Part 107 remote pilot knowledge test. All DARTdrones Part 107 test prep courses come with access to a 300-question bank of actual Part 107 questions to help you study for your Part 107 knowledge test.
Check out the FAA Test Prep section of DARTdrones.com to view our Part 107 test prep drone courses. In addition to in-person Part 107 test prep courses, available in over 25 cities in the U.S., DARTdrones also offers online Part 107 test prep courses. However, if you attend an in-person Part 107 test prep course through DARTdrones, you also receive access to the online Part 107 test prep content.
Drone Pilot Training for Recreational Pilots
What if you're a recreational drone pilot and not planning on taking the Part 107 knowledge test and getting your remote pilot certificate? Is there any value in attending a drone academy? Of course! Recreational drone pilots and commercial drone pilots, can take in-person drone training on DJI Phantom and Inspire drones. A typical full-day drone course at offers academic drone classes as well as two sessions of drone flight training.  
What's included in Drone Platform Training?
Rules and regulations for different types of drone pilots
Basic flight controls
Emergency procedures

How to navigate the DJI Go App

How the intelligent flight modes 

How to be sure your drone, remote controller, and batteries have the latest firmware

How to complete firmware updates
Build Your Drone Flying Confidence
The flight training sessions in a drone academy let you build your drone flying confidence in a safe environment with experienced instructors available to answer your questions.  Instructors will walk you through the flight experience from takeoff to landing, including navigating the features and menus of your DJI Go App. It is not very difficult for even inexperienced drone pilots to fly their drone a couple of hundred feet in the air, well clear of any trees or obstacles.  However, the most challenging environment for drone pilots is when they are maneuvering at lower altitudes, relatively close to obstacles, such as during a commercial photo shoot or when maneuvering for landing if you're flying recreationally.
Drone flying sessions incorporate a course that is specifically designed to improve your low altitude maneuvering skills and includes practice flying First Person View (FPV).  However, safety is a top priority, so you will be well clear of any obstacles or people when flying the drone course. The second flying session covers the Intelligent Navigation Features of the DJI drones. Drone flight training sessions also include the Point of Interest (POI) mode. This feature lets you select a point, and then the drone will automatically orbit the point at your desired radius and speed when you activate this mode. The drone camera always faces the point as it makes it orbit, so one typical use of the POI mode is to provide orbiting videos of a house for sale in the real estate market. You will learn how to activate the POI mode in your DJI Go App, change the mode settings (like radius and speed), and get practice flying the POI mode.
Bonus Benefits of Attending a Drone Academy
An added benefit of attending a drone academy, is the opportunity to develop a camaraderie with fellow students who are excited to be a part of the relatively new drone industry. If you are interested in starting a drone business or using your drone for other commercial purposes, you might even find a drone course to be an excellent networking opportunity!
If you think a drone academy is a good fit for you, check out our full list of drone course offerings at DARTdrones.com.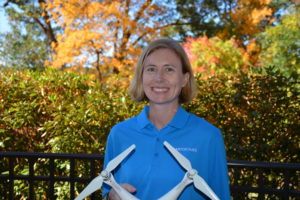 About the Author: Becky Hagner is an FAA certified commercial helicopter and fixed wing pilot and a DARTdrones Flight Instructor. She is a former military pilot and graduate of the United States Navy Test Pilot School. She enjoys traveling with her husband and two daughters and owns an aerial photography business.