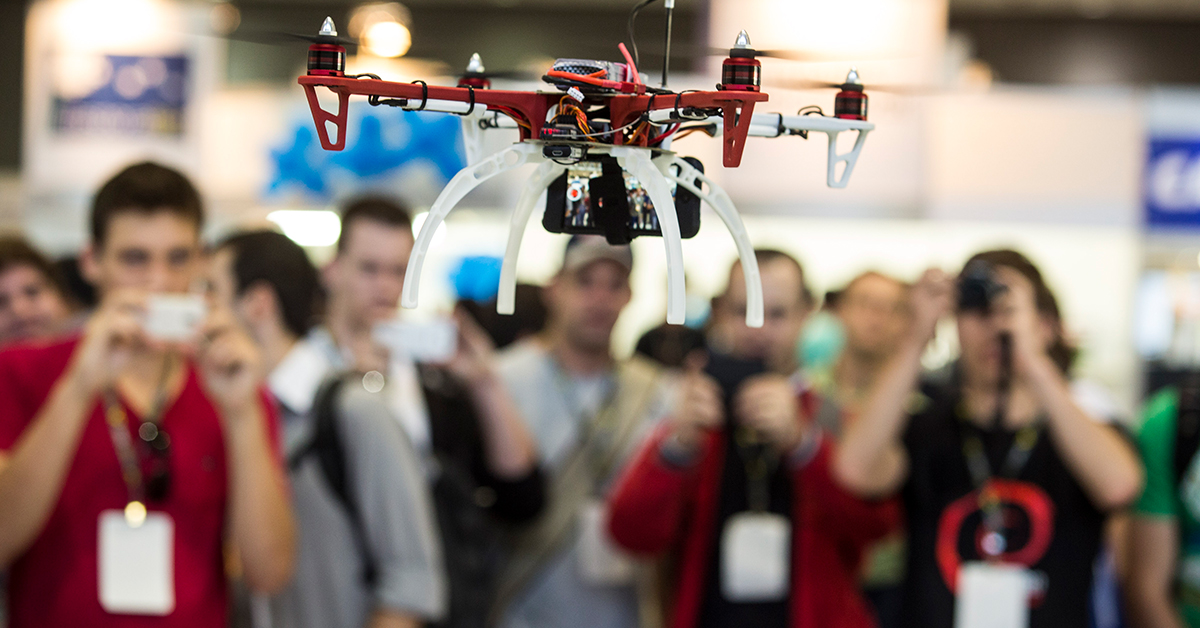 Drone Industry
Top Commercial Drone Conferences and Expos for 2017
If you are are looking to use drones for your business or organization, attending a top commercial drone conference or trade show is one of the best ways to keep your finger on the pulse of the rapidly evolving drone industry. As powerful as social and digital media can be, nothing can take the place of face-to-face networking when it comes to building valuable relationships and a cutting edge knowledge base.
Drone conferences often hold exclusive presentations on FAA drone laws,  emerging drone technology and commercial drone best practices. With the number of annual drone events growing each year, keeping up with what conferences matter most gets harder. We put together this handy list of best-in-class drone conferences for the year ahead.

Top commercial drone conferences in 2017:
January 5-8, 2017 – Las Vegas, Nevada
Any techie will be very familiar with CES; new technology and product launches are found on every corner! With marketplace sections such as Drones, 3D Printing, Beauty Tech, Kids & Technology, Fitness & Technology, Augmented Reality, and Sleep Tech to name a few, you'll be sure to find multiple sections that speaks to you. CES is enormous! If you are hoping to host your first commercial drone booth, you will likely get lost at CES. In 2016, passenger drones were introduced, and we cannot wait for what's in store this year!
February 24-26, 2017 – Secaucus, New Jersey
The AMA Expo East conference promises to be a great experience for experienced and new modelers, as well as anyone who loves aviation. The latest model aviation products, demonstrations, and interactive displays makes this an expo not to be missed! It's also rare to have a drone conference on the East Coast. East Coasters, save on travel and check out this unique experience.
Dates TBA – Daytona Beach, Florida
The FAA UAS Symposium is organized in conjunction with the Embry-Riddle Aeronautical University. It is a forum designed to allow key people in the aviation community to provide feedback to FAA administrators about UAS integration and/or rules and regulations related to UASs.
May 8-11, 2017 – Dallas, Texas
From our point of view, AUVSI's Xponential Conference is THE must attend commercial drone conference of the year. The conference covers not only drones, but all robotics including land, air, and sea. Xponential in 2016 seemed enormous compared to the other commercial drone conferences that the DARTdrones team attended. Xponential features speeches from key stakeholders in the drone industry, that come together to "inspire and strengthen the people who are shaping the future of our industry". The latest innovation in robotics and unmanned systems will be introduced. Tracks range from Policy, to Technology, and Business Solutions, but will be sure to focus on aviation and maritime regulations and how they are changing the future of unmanned systems.
June 13-16, 2017 – Miami, Florida
ICUAS or the International Conference on Unmanned Aircraft Systems includes a one day workshop/tutorial, followed by a three day technical conference. It attracts attendees from different international organizations, state agencies, the private sector, academia, and users from every field. This year's theme will focus on "networked unmanned systems", which includes how the government is working towards defining a roadmap for civilian use of drones and the implications of legal, policy, and ethics.
July 19-21, 2017 – Portland, Oregon
The ASCEND Conference & Expo is organized by Drone 360 Magazine, and promises to be the "Essential UAS Event for Commercial Drone Businesses". The mission of this conference is for attendees to go home with information they can use to start, build, and grow their commercial drone business. Anyone looking to start their own company focused on construction, insurance, photography, agriculture, real estate, security, or infrastructure is encouraged to attend.
September 6-8, 2017 – Las Vegas, Nevada
With over 3,500 attendees at the 2016 Interdrone Conference, this year is poised not to disappoint. Exhibitors, speakers, and media come from all over the world to this conference to listen to top executives like Tian Yu, the CEO of Yuneec and key representatives from the FAA. Attendees will see different product launches, new drone companies, and futuristic technology all in one location.
October 3-4, 2017 San Jose, California
This conference is one not to miss if you are looking for more information on the commercial applications of drones. The conference aims to provide drone entrepreneurs with real-world solutions to business, regulatory, and environmental challenges. Executives from the following commercial drone industries are encouraged to attend: imaging, photography, video and film, agriculture, construction, security, mapping and surveying, research, communications, delivery, and many more. 2016's conference saw a series of workshops hosted by Embry-Riddle Aeronautical University, MAPPS (Geospatial), and Esri (Drone2Map).
October 24-26, 2017 – Las Vegas, Nevada
The Commercial UAV Expo is perfect for drone professionals who are looking to keep up-to-date on trends and new developments for industrial drone applications. This year's conference focuses on "UAV/UAS integration and operation forlarge asset owners in industrial markets." Breakout sessions include but are not limited to workflow integration, data management, legal and regulatory considerations, safety and training issues, and systems selection – perfect for commercial drone aspiring entrepreneurs. In 2016, our CEO, Abby Speicher, and Chief Training Officer, Amelia Owre, gave a great speech about Launching a Commercial Drone Business. Check out their list of 25 Steps to Launching a Commercial Drone Business.
Dates TBA – San Diego, California
RoboUniverse is a global trade show for everything Robotics, Drones, and IoT. With shows in Tokyo, Seoul, Berlin, and Shanghai, you know only the latest and greatest exhibitors will be showcasing their newest innovations. Attend seminars and tutorials on the development, applications, and use of robotics to gain insight into this exploding industry.

Do you know of a drone conference we should have listed here? Let me know, email me at info [at] www.dartdrones.com. We hope to see you out and about this year! If you happen to see the DARTdrones booth, stop by to say 'hi'!
DARTdrones is a national flight school for drone pilots offering both online classes and in-person training throughout the United States.