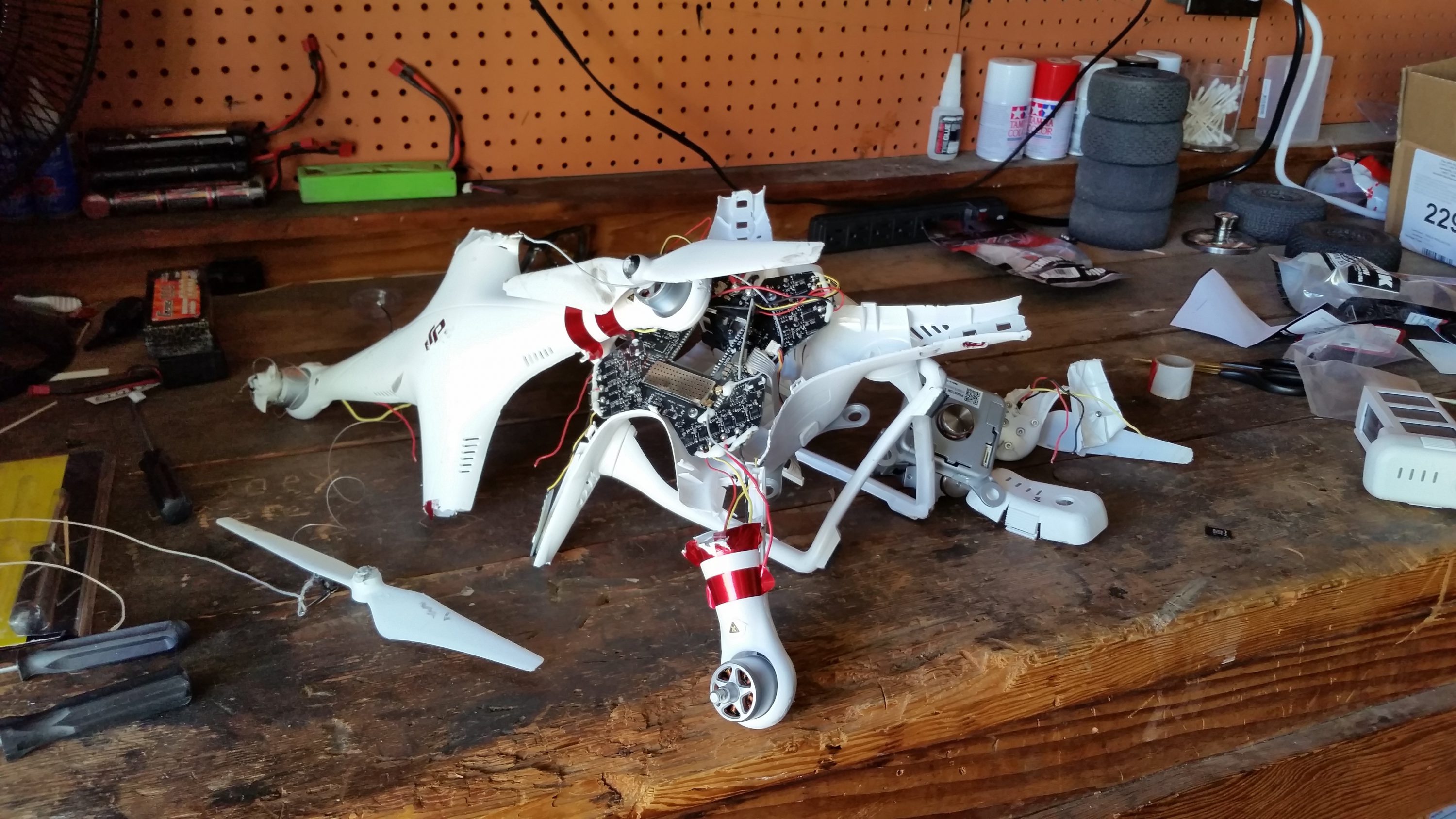 Expert Drone Advice
10 Epic Drone Crash Disasters and How to Prevent Them
There's no doubt that consumer drone popularity is growing rapidly. Unfortunately, so are the number of reported drone accidents. This holiday season, drone crash headlines spiked as stories of shiny new quadcopters ending in holiday disaster circulated the web (see Everyone crashed their new holiday drone on Mashable). But don't despair, new pilot, your beautiful new drone isn't pre-destined for catastrophe!
A chain of avoidable events is typically the drone crash culprit. Beginner drone pilots often get stumped as to why their drone crashed. Let's take a look at 10 epic drone fails, and how each of these crashes could have been prevented. By adopting the following basic precautions, you can avoid the overwhelming majority of drone accidents, including crashes similar to the ones listed here.
#10 Crashing on the First Flight
New drone pilots often crash before their drone fully lifts off into the air. Give yourself adequate time to train alongside someone experienced in flying drones before setting off on your own. A lessoned learned in the below crash video. This DJI Inspire drone suffers only minor damages, but a nearby neighbor's garage door was hit with quite a big dent. The house happened to be up for sale, and the novice drone owner was forced to pay a hefty fee for repairs.
Watch this Drone Accident on YouTube
How could this drone crash have been avoided?
The pilot could have learned to fly (or attend a drone school) before taking off.

Use the included flight simulator to practice before flying the actual drone.

When taking off for the first time, hover at about 6 feet off the ground.

Using small inputs when learning to control your hobby drone.

Practicing your first few flights in an open area free of structures. This area should be completely free from people and property.
#9 May the Drone Kiss the Bride
The most common cause for drone crashes is human error. In this wedding day drone fail, an amateur photographer uses a small camera drone to take pictures and videos of the bride and groom. Instead of flying slow and smooth to maintain control and precision during turns and angles, the pilot flies aggressively and loses control, crashing the quadcopter into the newlyweds at full speed. The catastrophe ruined the wedding day and remaining pictures, leaving the couple with facial bruises and cuts . Lack of proper drone training and drone certification are possible contributing factors on this crash.
Watch this Drone Accident on YouTube (jump to 1:25)
How could this drone crash have been avoided?
Fly the drone in accordance to the flight objective

Obtained UAS Certification (FAA Part 107) before flying drones for commercial purposes

Slow down the flight speed to avoid colliding with people or property

Always maintained a safe distance from people and property

Attended a drone pilot school 
#8 Frustrated Humans Buzzed By Drone
"Frustrated" is a theme we will revisit multiple times in this list of drone crash disasters. Here, the drone's loud, distracting buzz agitates a golfer being filmed. Unable to concentrate on her swing, the golfer resorts to attacking the drone with her golf club until the drone is totally obliterated.
How could this drone crash have been avoided?
Don't disturb others with your drone operations

The drone buzzing can be annoying 

Obtain permission prior to capturing images or videos 

Drone should be flown at a safe distance from people and property
#7 Frustrated Wild Animals
A drone pilot decides to capture a video of a wild ram. He gets too low and too close to the ram, and the ram knocks the drone down. After recovering the drone, the pilot was followed and knocked down by the "angry" ram. This crash had the potential to hurt wildlife and the drone pilot, plus damage the equipment.
Watch this Drone Accident on YouTube
How could this drone crash have been avoided?
Don't fly near or above wildlife!

Don't disturb animals with your drone

Maintain a safe distance from your subject
#6 Frustrated Birds
Our third drone crash involving "frustrated" actors happened when an eagle decided to take down a drone. The drone does not seem to be near anything, but all the sudden, an eagle attacks and the drone crashes. This "midair" likely hurt the eagle, which is a protected species in some locations. The crash doesn't seem to cause a total loss.
Watch this Drone Accident on YouTube
How could this crash have been avoided?
Don't flying near or above wild life

Be aware of birds and other aerial drones in the area

Maintaining proper aerial separation 
#5 Look Before Crossing the Street!
What happens when a drone flies right in the "jump path" of a motorcycle? They collide. This drone crash occurred in Brazil last year during a motorcycle practice run. This crash could have caused serious injury to the motorcyclist, but luckily he was okay.
Watch this Drone Accident on YouTube
How could this crash have been avoided?
Conduct a Pre-flight Check: Observe the terrain and define your flight area before taking off.

Stay away from moving vehicles (especially the direct path of moving vehicles).

Before taking videos of sporting events, obtain a FAA Part 107 drone pilot certification.
#4 In Hot Waters
On August 2, 2014, a drone pilot from the Netherlands was recording the Grand Prismatic Hot Springs at Yellowstone National Park. The drone pilot lost control, and his DJI Phantom crashed into the 160 feet deep hot spring. It remains lost and will likely never be recovered. The drone pilot paid a fine of $1,000 plus restitution fees of $2,200, in addition to losing his expensive drone. The main problem here is the potential environmental impact of this crash.
How could this crash have been avoided?
Don't fly in National Parks. It is illegal and you will be fined.
Understand the rules and regulations of FAA Part 107

Don't fly near or over National Monuments. Specifically speaking, Natural Monuments cannot be "repaired" if damaged by a drone. The plastic and heavy metals of the drone and its components can harm the sensitive environment.

Consider weather factors before flying including micrometeorology factors. 

Attend a drone school to learn the effects of micrometeorology.
#3 Drone Crashes After Loss of Control
Interference is probably the second most common cause of drone crashes. If control is lost due to interference, low transmitter power, or even by losing a propeller, a drone will crash. In this crash, the pilot is recording a video of a Chinese power plant. Due to severe interference, his very expensive drone gains speed sideways, loses control, and crashes. If the drone were to crash in the middle of the power plant, it could have caused thousands of dollars in damage.
Watch this Drone Accident on YouTube
How could this crash have been avoided?
Do not fly near power plants.

During your flight, check for the video downlink signal. This may be a sign of possible interference.

At first loss of signal or noticing interference, immediately land the drone and use the emergency shut down when on the ground to avoid an unwanted take off.
#2 Drone Crashes at Night in Times Square
A drone pilot decides to fly a drone at night in one of the busiest places in the world: Times Square, NYC. Once airborne, the flight lasts for about 30 seconds and ends with the drone crashing into one of the surrounding buildings. With one of the highest concentration of expensive outdoor screens and pedestrians, this crash had the potential for a lot of injury to both people and property.
Watch this Drone Accident on YouTube
How could this crash have been avoided?
Don't fly near or above large crowds.

Don't fly when surrounded by tall buildings, which can block the GPS signal.

Be aware of wind gusts. The wind is a lot stronger when funneled by buildings. These wind gusts can push the drone into a building .

Don't fly near large electronic systems or panels. It can cause interference and loss of control.

Don't fly at night. The FAA requires special waiver for night flying. 

Learn how to properly operate a drone by attending a drone school and earning a drone certification.
#1 Flying Too High
U.S. FAA Part 107 regulations requires drone pilots to fly no higher than 400 feet above ground level (AGL). While this regulation does not apply to drone pilots flying outside of the U.S., similar regulations now exist in different countries – but those rules did not stop this UK drone pilot from going way too high, well beyond the clouds. What happens next? Well, he miscalculated the battery life and lost power during the descent. It crashed into a park and his drone was lost for about a week. Out of all the crashes mentioned here, this one had the most potential for serious consequences due to the high altitude this drone was flying. This is dangerous for the commercial aviation. The drone easily could have a hit a person on it's fall from the clouds.
How could this crash have been avoided?
Don't fly above 400 feet AGL.

Don't fly in one direction for more than 35% of your battery. This means you will use at least 70% of your battery on the round trip, possibly more considering weather and/or wind conditions.

If you are flying at higher altitudes, keep in mind that the descent takes longer than ascending. You will need extra battery to return home if you are flying higher than you would if flying lower. Also, the wind is usually higher as altitude is increased.

Double check your flying distance prior to each flight.

Always maintain a safe distance where a "return home" can be achieved given the current battery level.
Please everyone fly safe and fly smart. We have a duty to the industry to maintain safe flight operations and keep those around us safe from our equipment. Many of these drone pilots clearly broke the rules or disregarded them all together.
DARTdrones is a national flight school for drone pilots offering online and in-person classes throughout the country. Learning how to properly operate and fly your drone in order to prevent your drone from crashing and harming others.