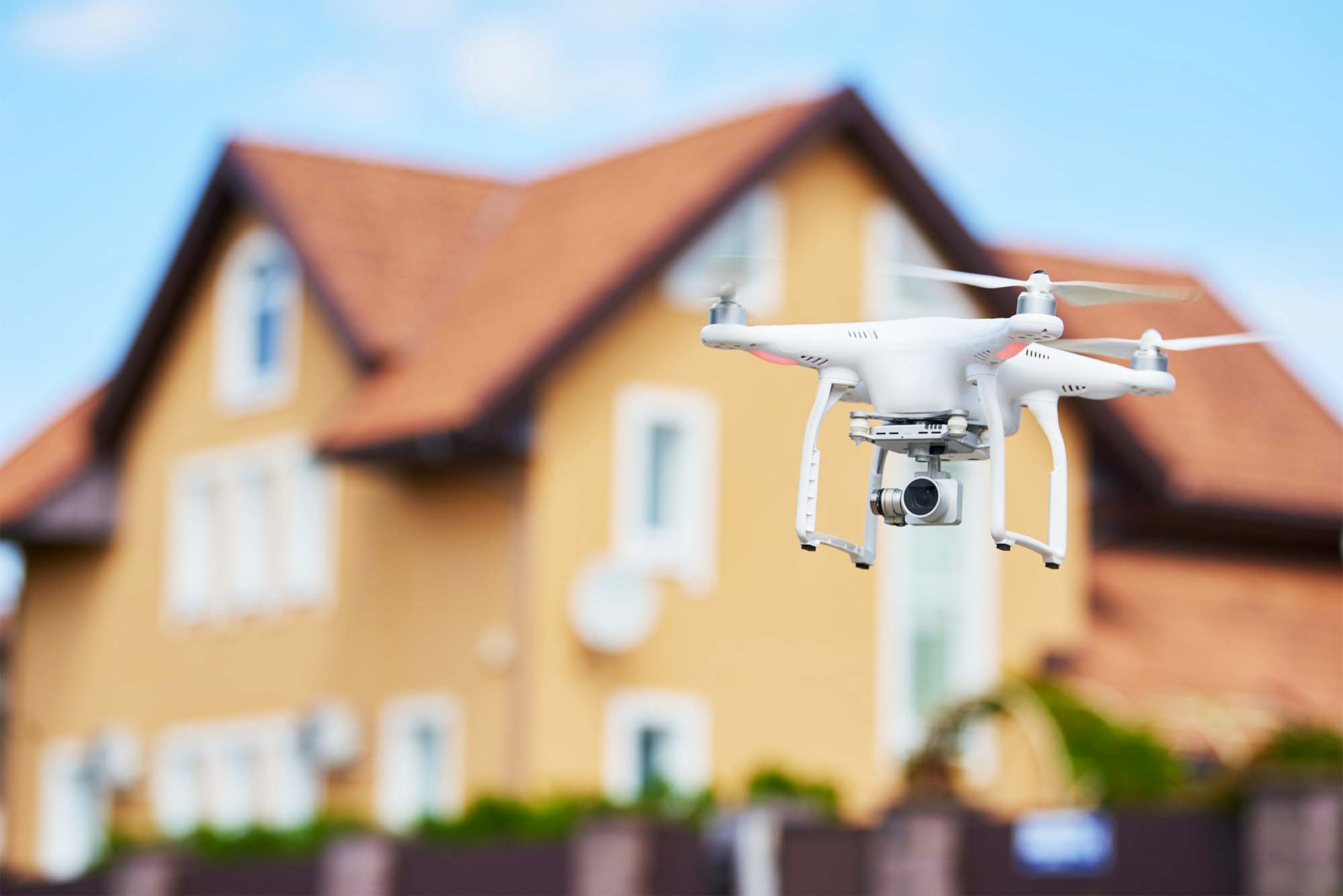 Using Drones for Roofing: Real-World Benefits, Use Cases and ROI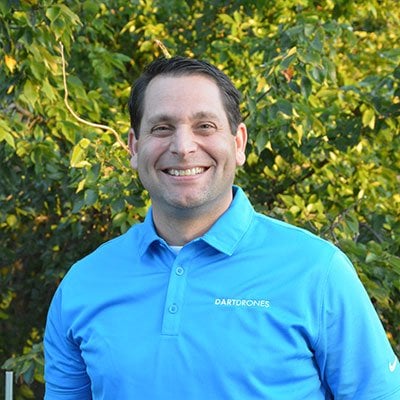 By
Jerry White
Published January 25, 2022
Last Updated February 24, 2022
This article will explain why and how companies are using drones for roofing inspections and other roofing services. Learn about relevant regulations, potential for return on investment, benefits of uses, and more through credible sources and real-world examples, along with pictures and videos.
Introduction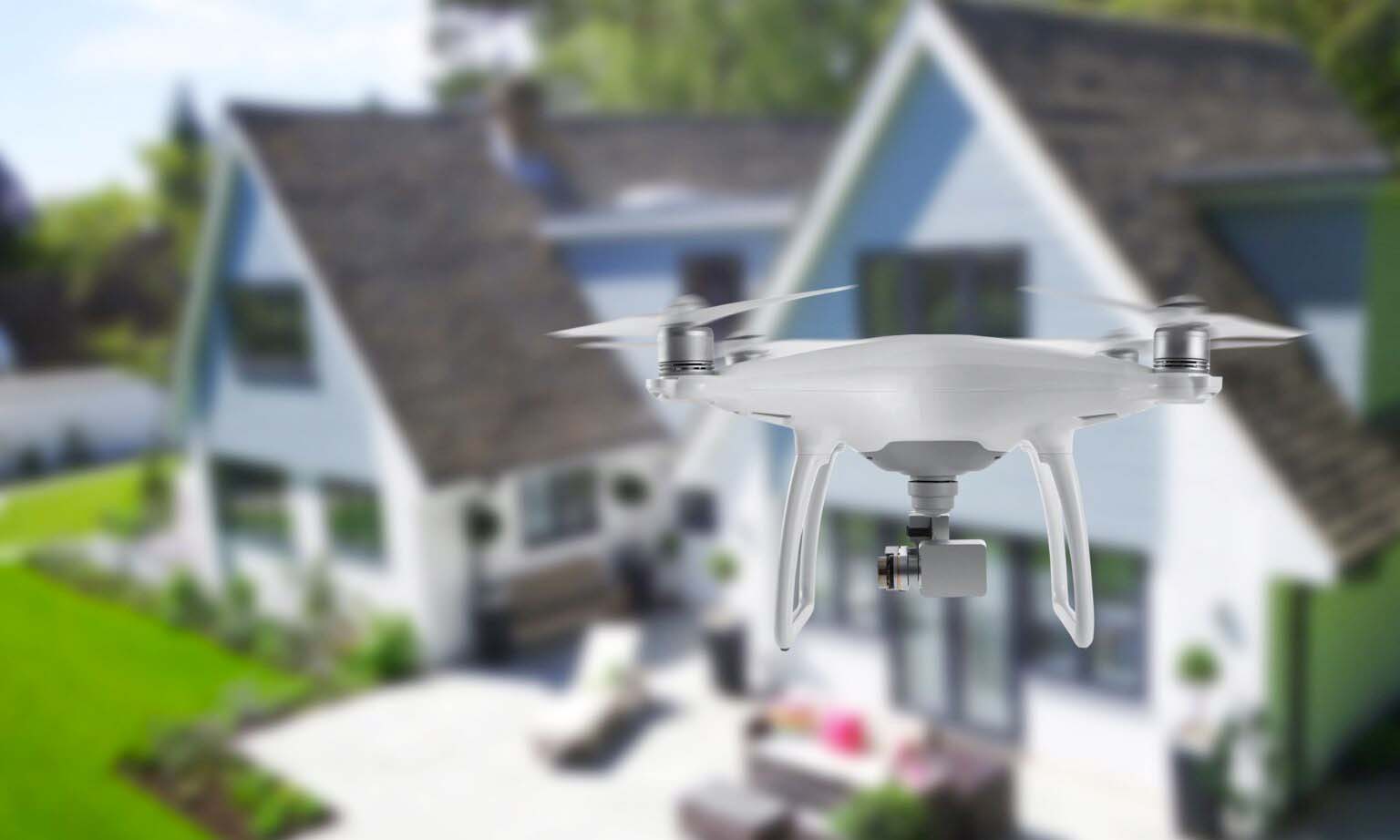 One of a drone's significant strengths is its ability to perform time-consuming and dangerous tasks more quickly and with less risk than traditional human-powered methods. In roofing occupations, that means drones for roofing can help companies, contractors, laborers, and inspectors perform roofing-related tasks more efficiently and quickly than ever before. For example, drones eliminate the need to scale buildings to perform inspections or walk steep roof pitches to assess damage.
Today, drones can help contractors find leaks, assess damage, detect problem areas, troubleshoot solar panels, perform inspections for insurance claims, conduct regulatory inspections, and more. While drones cannot perform every roofing-related task, they offer many benefits, including improved safety, substantial cost savings, and reduced labor hours.
Can I use a drone to inspect a roof?
Drone pilots use drones to inspect roofs in order to plan repairs or installations, identify problem areas, perform regulatory inspections, and gather information for insurance claims. However, drones for roof inspections require high-quality hardware and specialized software to provide accurate results.
How Drones for Roofing Collect Data
A drone captures hundreds of images during a roof inspection or takes high-definition video to collect a quality set of data. The data set allows in-depth viewing of the complete roof and most of its surface elements. Drones for roofing can also use thermal cameras, a powerful tool that can detect temperature variances and differentiate wet sections, which hold heat longer, from dry areas that cool faster.
Some of the advanced services drones for roofing provide include:
Geo-tagging
3D Modeling
High-resolution images
Orthomosaic photo sets
360° panoramic videos
Drone Roof Inspection Analysis
Images, videos, and models are not standalone elements when using drones for roofing. Data must be analyzed and turned into understandable information. Drone roof inspection software, like the iRoofing and Drone Deploy apps, turn data sets into actionable insights and provide convenience and portability when paired with iPhones, Android phones, iPads, and other tablets. In addition, drone roof inspection software can provide specific measurements like length, pitch, and surface area. This information makes sharing, collaboration, and problem-solving faster and more comprehensive than using traditional methods.
After collecting and analyzing a complete set of roofing data, the software can provide a full report of the roof, roofing elements, and condition. A proper report contains images, videos, and AutoCAD files for integration into CAD software.
Use Cases for Roofing
Investigating Claims
Warranties
Roof Measurements
Virtual Design
Inspect Damage After a Natural Disaster Prior to Roof Being Safe / Accessible
Accessing Hard to Reach Areas Such as Chimneys and Church Steeples
Create 3D Maps
Measure Pitch, Surface Area, and Slope
Capture Imagery for Solar Installers
Document the Initial State of Property
Thermal Inspections
Generate Accurate Progress Reports
Accessing Fire Damage
Identify Defects
Benefits of Using Drones for Roofing
1. Minimize work site mishaps:
Roof damage is difficult to assess, especially when the damage is extensive. Using a drone to inspect the area first allows inspectors to get a real-time look at the extent of the damage, identify potential risks, and gather appropriate safety gear before sending an inspector up. Drones are the only proven way to keep workers safe while accessing risky areas for visual inspections.
2. Decrease inspection time, increase company savings:
Drones are an efficient way to inspect and analyze roofs. By using a drone, professionals are able to quickly identify problems without the use of specialized crews of lifts, which allows companies to save a significant amount of time and manpower, avoid expensive and risky inspection activities, and streamline overall workflow. According to PricewaterhouseCoopers (PwC), drones could help the insurance industry save as much as $6.8 billion USD per year.
3. Win more clients
Offer lower costs and a faster workflow to your clients. Implementing drones will benefit clients with a faster service and faster solution, increasing overall customer experience. Drones also build credibility and show that your company is investing in efficiency-based technology.
4. Inspections accuracy up to 99%
Eliminate human error and obtain the data you need with up to 99% accuracy. By utilizing the capabilities drones have to offer, professionals will no longer have to return to an inspection site to father missed information. Having accurate data on the first attempt results in exceeding project goals, producing value for clients, and saving time and money.
5. Inspect difficult locations
Steeples inspections often require special climbing certifications, permits, and safety precautions. Drones can get an up-close view of potential damage, giving inspectors the information they need to determine whether it is necessary to have an inspector climb the steeple.
Using Drones for Roofing: Return on Investment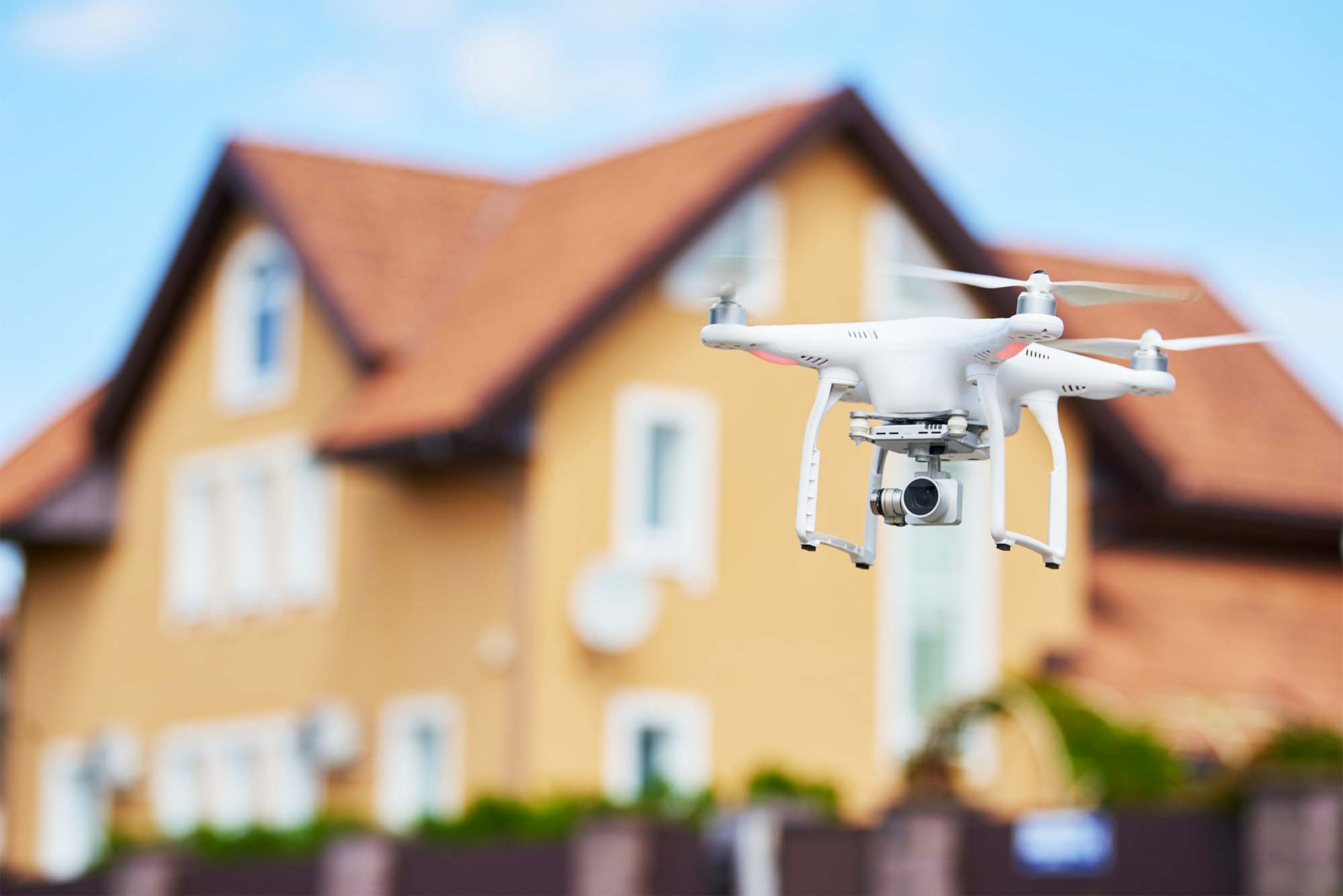 Drones have become more affordable and more accessible than ever before. While drones gained early popularity with hobbyists and photographers, they have rapidly evolved into valuable tools across a wide range of industries. And construction-related businesses have quickly embraced the technology for commercial applications, particularly drones for roofing inspections. Drones conduct roof inspections faster and at less cost than traditional methods. And drone-conducted checks eliminate the risk of accident or injury, which is unfortunately all too common in roofing professions.
Without a drone, inspecting a roof tends to be a slow, laborious process that puts workers at risk and, in some cases, may lead to further damage to roofing structures or materials. However, a drone can complete a detailed inspection in 5 to 20 minutes with no risk to the roof or personnel and at a reduced cost. All of this means investing in a drone for roofing will quickly pay for itself.
Here are some of the ways drones for roofing provide a solid return on investment:
Drones for Roofing are Efficient
Manual roof inspections are time-consuming. Just getting the ladder out and securing an OSHA-mandated harness to the roof could take more time than it would take a drone to complete the entire inspection. Once a person is safely up on the top, they will spend time walking the roof and snapping photos. Using drones for roofing allows companies to complete inspections three times faster than by using traditional methods. This time savings immediately translates into serious cost savings for companies. Inspectors who use drones can perform many more jobs in a day than they ever would be capable of when conducting manual inspections. And using drones also allows inspectors to offer premium services like more detailed reports and shorter response times.
Less Equipment is Needed
Roof inspections often require a whole crew of workers who come with a truck loaded with various equipment necessary for scaling a roof – ladders, harnesses, ropes, toe boards, scaffolding, measuring tapes, cameras, and other tools. On the other hand, a drone pilot requires only a drone and a tablet or smartphone. Eliminating expensive equipment and tools translates into substantial cost savings for roof inspectors.
Detailed Inspection Reports
The ROI of drones for roofing goes beyond cost and time savings. The information a drone gathers delivers a far more productive data set than what can be obtained manually. Where a human roof inspector would use a smartphone or digital camera to snap close-up photos of a roof, drones collect high-resolution images and video from many angles and perspectives, including panoramic views unattainable by a human with a camera. Drones can present much more detailed reports in advanced formats like 3D modeling and Google Earth-like orthophotos, along with specific measurements and careful analysis.
Drones Increase Safety
Walking a roof can be a dangerous proposition. Steep roof pitches, multi-story buildings, slippery roofing materials like slate or tile, weather conditions, wind speed, and many other factors contribute to the risk of walking across a roof. Although OSHA requires workers on roofs to wear a safety harness, not all people comply with that rule. And even when they do, a harness only minimizes risk; it doesn't remove it. On the other hand, using a drone eliminates the possibility of a person falling off a roof. Indiana company Cornett Roofing is just one of many companies that recognize the benefits of using a drone for inspection and measuring.
How Much Does Drone Roof Inspection Cost?
The average national rate for drone-driven roof inspections runs from $120 to $350 for a standard roof. Some roof inspectors charge a flat fee for drone-powered reviews, while others tailor their price according to a roof's specifications.
Drone Training for Roofing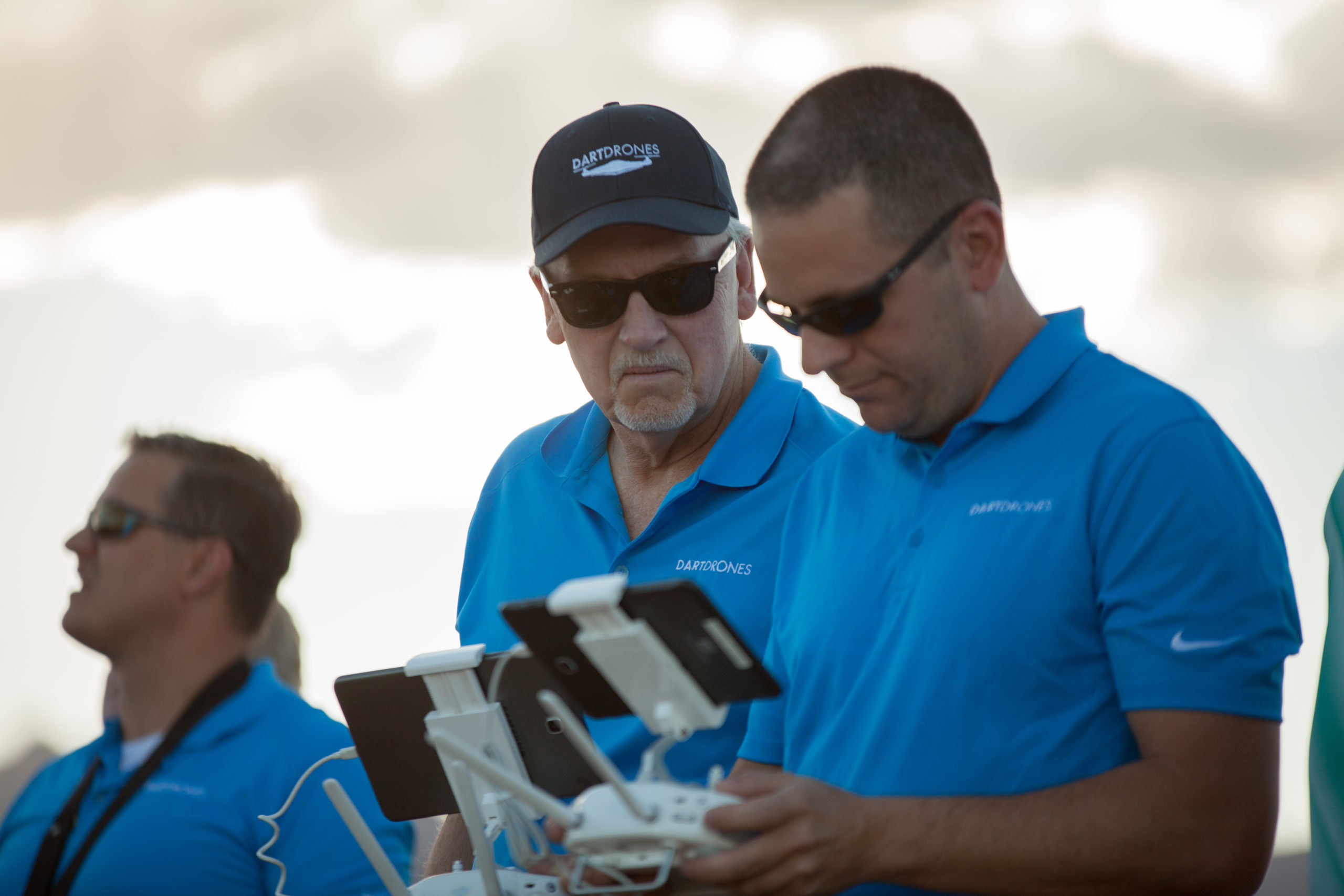 If you're new to the roofing industry or to drones, you'll want the appropriate training prior to launching potentially pricey drone technology for your organization or client. Below is a list of training courses our experts recommend to those interested in breaking into the roofing industry.
An excellent course for beginners or self-taught drone pilots. Master the fundamentals and principals of flying, autonomous flight, and how to fully utilize the settings and functions of your drone. This course is offered online, live/virtual, and in-person.
If you're interested in operating a drone commercially, you'll need to obtain your drone pilot license. The Federal Aviation Administration requires all individuals flying a drone for business, successfully pass this 60-question exam. This course ensures our students fully understand the complete concepts of aviation and are ready to ace their exam.
Our Aerial Drone Inspections course is a two-day workshop with multiple flight sessions geared to developing the skills you need to fly, gather, and analyze aerial inspections data. Course prerequisites include 5 + hours of flight time and a Part 107 Certificate.
Relevant Part 107 Regulations for Flying Drones for Roofing
The Federal Aviation Administration drafts detailed rules and regulations for drone operations in the United States. Drones used for commercial purposes must follow stricter rules than those used solely for entertainment.
When using drones for roofing, drone pilots must adhere to all FAA regulations, including the Part 107 rule. Part 107 details the following restrictions.
Drones Maximum Altitude – Civilian drones must remain below a 400 foot altitude at all times. For roof inspections, drone pilots may fly drones a maximum of 400 feet above roofs.
Line of Sight – Drone pilots must be able to see the drone clearly with the naked eye at all times.
Drone Registration – Owners must register drones for commercial use with the FAA. Drones can be registered here.
Pilot License – Pilots using drones for roofing must pass the Part 107 exam and obtain a UAS-rated pilot's license.
Liability Insurance – Commercial pilots must carry liability insurance to cover client property in case of accident or injury.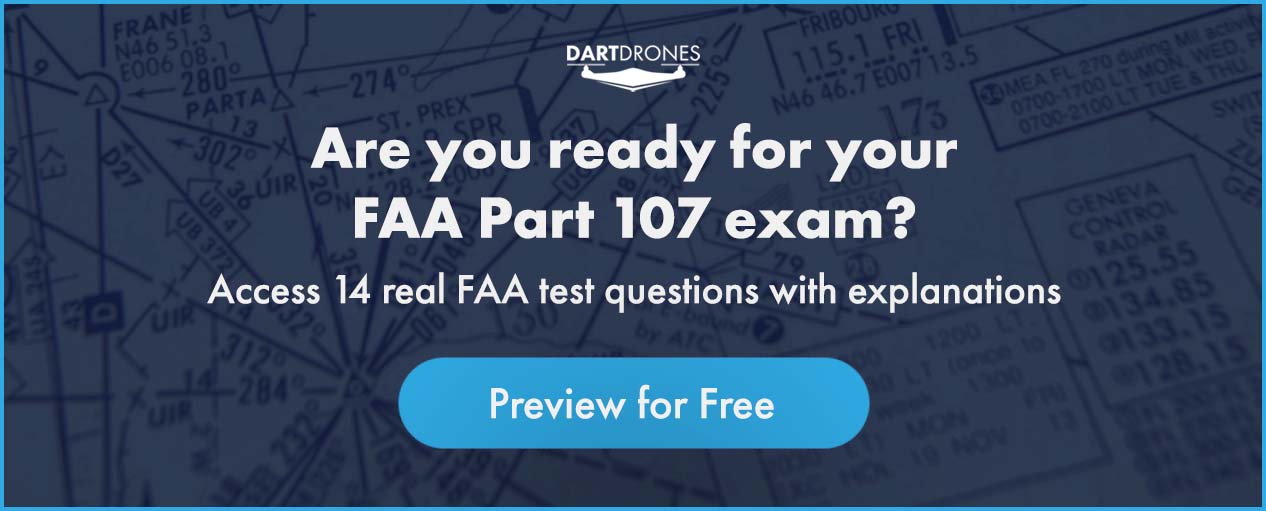 Roofing Consultations
If you are thinking about piloting drones for roofing, DARTdrones can help you decide where to start. Get a free comprehensive consultation from an experienced instructor so you can plan the best path for you. Call 1+435-252-1238 or email DARTdrones to schedule your free consultation today.
Starting a Drone Business for Roofing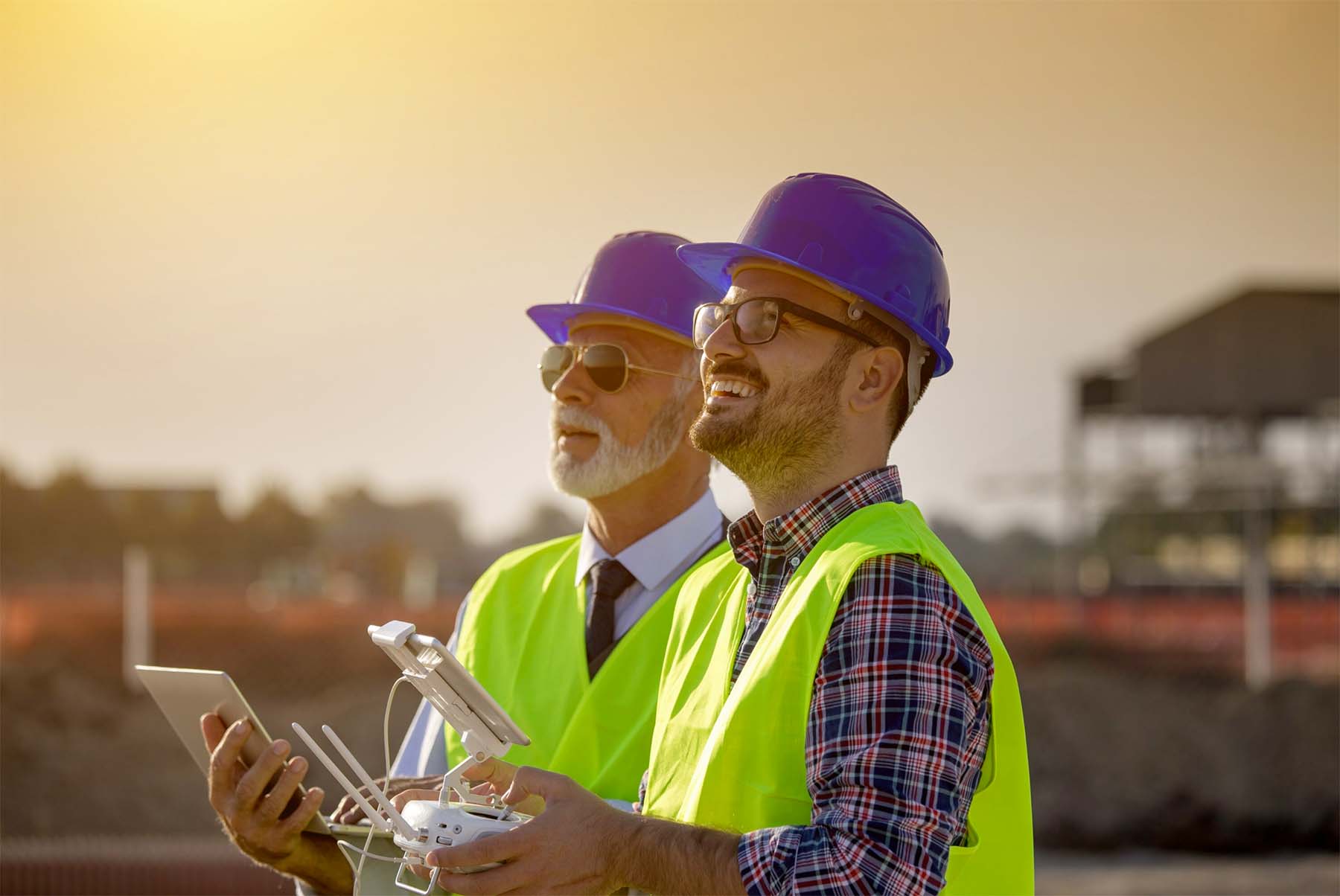 Starting a business using drones for roofing requires adept flying skills along with industry-specific software programs. After gaining drone flight proficiency and getting comfortable with the software program, the average drone-powered roof inspection should take 5 to 20 minutes to complete. As pilots hone their drone flight and software operation skills, they may want to offer various premium services. In the long term, expanding the scope of operation can provide even more accuracy and efficiency and boost profits for all parties.
Here are some basic elements you'll need to start a business flying drones for roofing.
Tools You Will Need to use for Drones for Roofing:
Drones for roofing are typically smaller than drones used in other industries like tower inspection or utilities. Look for something like the DJI Mini 2 to start.
Premium services in drones for roofing include thermal imaging to target wet areas. A drone explicitly designed for thermal imaging, like the Parrot Anafi Thermal drone, can provide accuracy and ease of use.
A drone for roofing should include a high-resolution camera with a minimum 12MP and 4K resolution.
A zoom lens can provide a telephoto capability for hard-to-reach roof areas and small spaces.
Roof inspection software is a must when using drones for roofing. Quickly provide measurements, layouts, dimensions, and roof mapping with Drone Deploy, iRoofing, or similar software.
A dedicated iPad or another tablet compatible with your software program will make it easy to process information and create presentations for clients. A smartphone will work, but a larger screen, more processing power, and better memory make everything a bit easier.
Aside from some essential equipment and flight certification, expert flight skills are the most important tool you'll need for starting a business flying drones for roofing. Whether you're just learning how to fly drones or you're an experienced hobbyist, taking a drone class or two can help you build the skills you'll need to start a successful business using drones.
You may want to learn more about building your own drone-based business. In that case, DARTdrones offers a FREE COURSE offering advice and insight from professionals who have created successful drone-based businesses. You'll get a step-by-step guide, video interviews, and answers to the most commonly asked questions about starting a drone business.
Conclusion
Drones are changing the game in industries across the board and building and construction-related industries are no exception. Drones for roofing make inspections, maintenance, and troubleshooting easier and faster than ever before; they are more efficient, safer, and require less equipment than manual inspections. And innovations in commercial-grade drones and cloud-based apps have made it possible for drones to conduct more detailed and accurate roof inspections than previously available by any other method. As more roofing inspectors and building contractors adopt drone use, drone pilots can embark on a lucrative career or side job using drones for roofing inspections and analysis.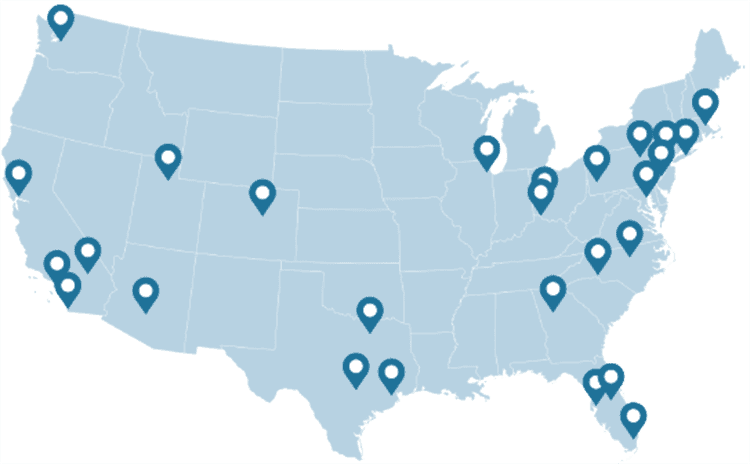 As seen on ABC's "Shark Tank"
WHY DARTDRONES? We have a proven track record for training pilots in dozens of industries.
22
QUALIFIED
INSTRUCTORS
Our instructors have manned aviation experience flying airplanes and helicopters and have gained the highest drone piloting recognitions in the industry. Many own successful UAS businesses themselves.
10+
CITIES
NATIONWIDE
As featured on ABC's Shark Tank, we are the nation's leading drone training company with an extensive network of alumni and partners throughout the country.
150+
HOURS OF
MATERIAL
Created and refined by UAS training experts, our curriculum is the best in the industry and has been tried and tested by clients in dozens of industries.
25K+
PILOTS
TRAINED
With a community of over 65,000 drone enthusiasts across the US and internationally, DARTdrones is at the forefront of UAS technology.
Expert Instructors
Our students absolutely love our instructors! Our classes are engaging, fun, and extremely informative.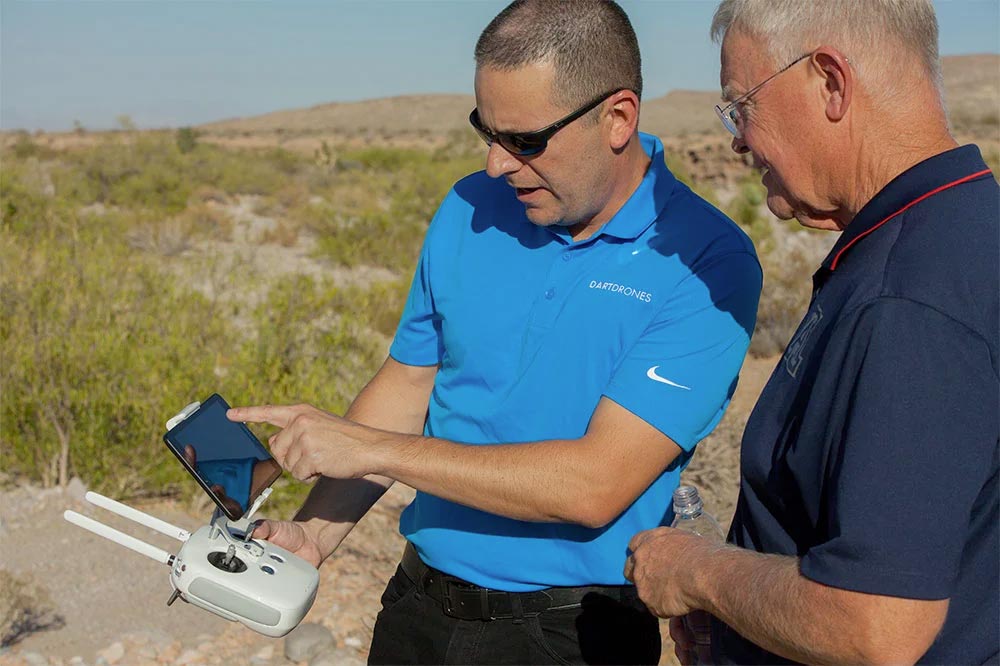 Advanced Training Courses
We don't just train our students on the basics. We have extensive advanced training courses to help our alumni succeed in mapping, inspections, disaster response, aerial photography, night operations, and search and rescue.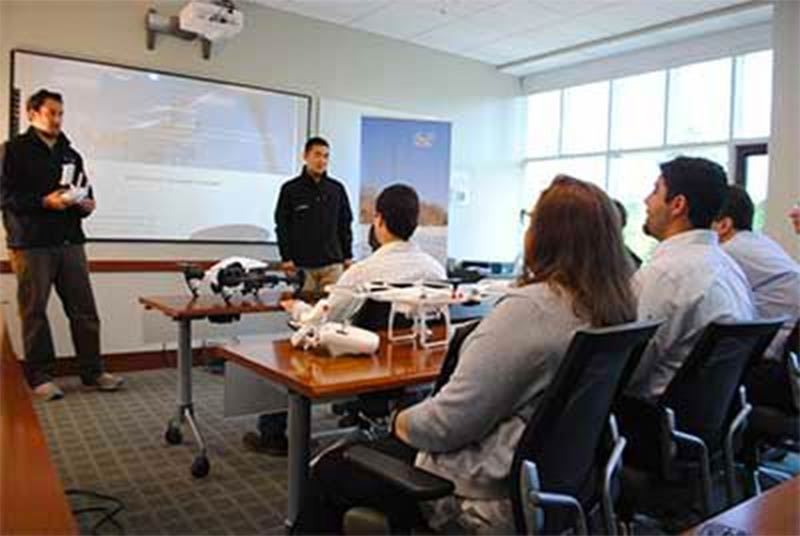 Industry Certified and Vetted Curriculum
Our curriculum has been vetted and certified by AUVSI, the leading UAS industry association, to ensure professional quality.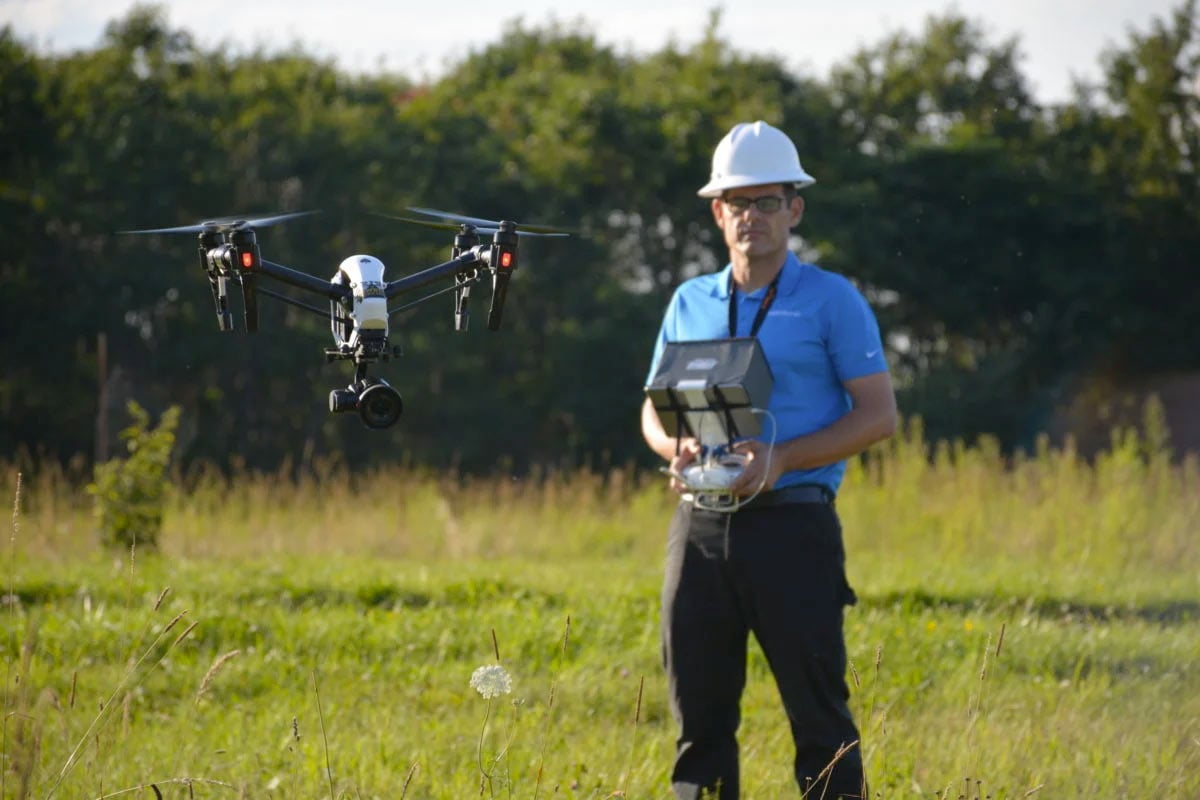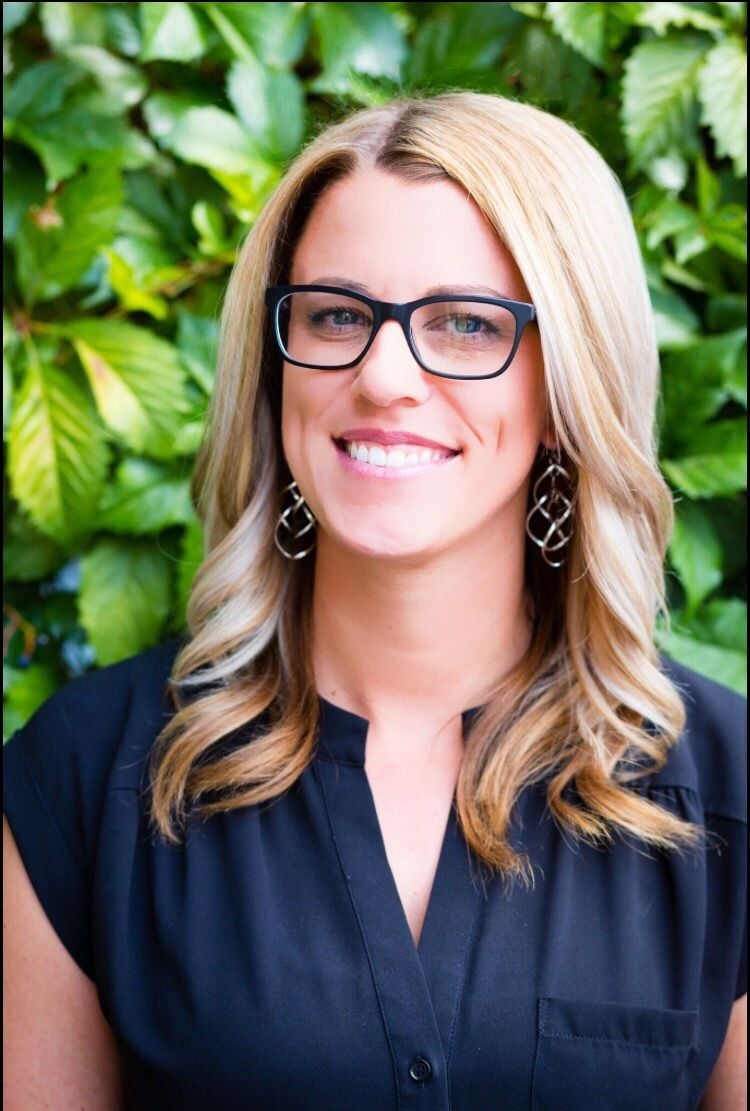 Learn More Today!
Alex is happy to help