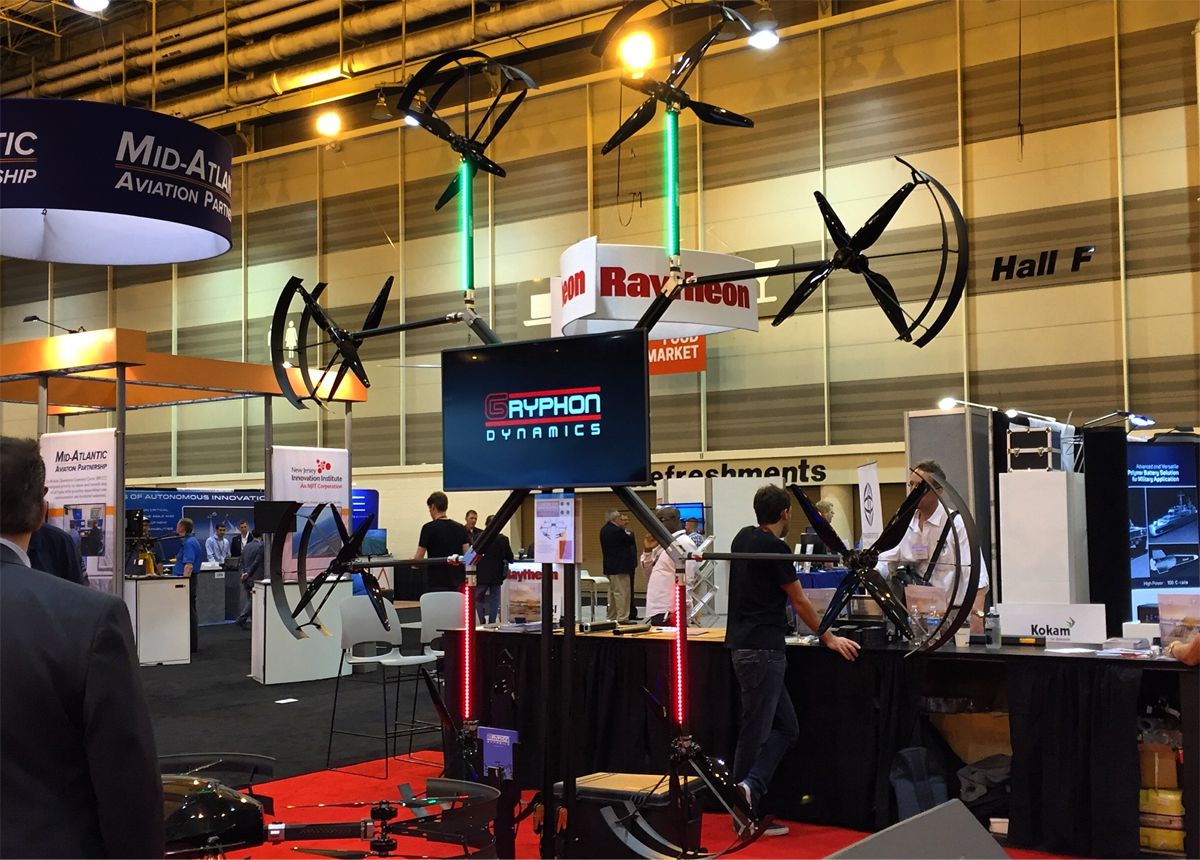 Drone Industry
UAS Industry Update – Xponential 2016
The AUVSI Xponential Conference was an incredible four day event held in New Orleans this past week. Not only were the biggest players in the Unmanned Aerial Systems (UAS) industry present, but also some of the most innovative systems and services that you could imagine. Check out our favorite UAS companies from the Xponential Conference and for a quick UAS industry update:
1. The X Star
Autel's X Star and X Star Premium may look like a DJI Phantom 3 dipped in orange paint, but this company is on a mission to give DJI a run for their money. Autel launched the X Star series only three weeks ago and is currently offering their products for sale online. The X Star retails for $699 and the X Star Premium for $899. The company prides itself on four major differences from DJI: the camera and gimbal are removable and replaceable, the system offers  a "Buddy Box" or setting for two controllers to be set up during training situations, better shielding from electromagnetic waves in the ground, and the controller's screen allows for flights without a smart phone or iPad. So, what do you say… Who is trading in their Phantoms for one of these? Visit their website here. 
2. The Elios
Flyability, a young and innovative company that started as a Ph.D. thesis project out of Switzerland, launched their break through product, Elios, on Tuesday at the Xponential Conference. Elios is small UAV (unmanned aerial vehicle) designed within a circular plastic cage that allows for indoor inspections in tight quarters. The Elios can bounce of walls, poles, and ceilings with no damage to the system. Equipped with thermal and optical cameras, the Elios retails for around $25,000. The coolest use case for the Elios so far was a mountain rescue team flying between huge glacial crevices to search for missing persons. 
3. States
Something that I hadn't expected was to see so many cities and states with booths to promote the UAS technologies and innovations happening in their states. Included in the running for the "Best UAS State" was Oklahoma, New Mexico, Ohio, North Dakota, New York, and Virginia. These states hosted huge teams at some of the biggest booths at the conference. We didn't see our home states of Massachusetts and Pennsylvania, but maybe next year!
4. Gryphon Dynamics
Not to be confused with Gryphon Sensors (it seems that many UAS companies are racing for their platform to be viewed as the mythological creature), Gryphon Dynamics had hands down the largest multi-copter on the showroom floor. This $100,000 beast can carry up to 150 pounds and is mainly used as a research project, but can also be used to hold enormous cameras for cinematography.
5. AirWare
AirWare is a software company that is definitely on to something with their software designed to make UAS services easier for businesses. Picture this: StateFarm needs to inspect a roof after a recent hail storm. A manager sitting at her desk at StateFarm's headquarters pulls up the AirWare software, plans and plots the mission and flight plan (including a geofence to block the UAV from venturing where it shouldn't), and selects a contracted drone operator to complete the flight. The operator gets his mission plan, pulls up with his UAS on site, checks for any potential safety issues, conducts a preflight checklist (all within the AirWare app) and presses go. The UAV will complete the entire mission autonomously and exactly as required by the StateFarm manager. Not only does this process substantially reduce the risk for a company like StateFarm, but it changes the game for the way big businesses will enter the UAS industry. 
6. WaterStrider
Ever crash your Phantom in a lake, river, pool, puddle? Ever wish that you could get that amazing aerial shot really close to the water, but too afraid to risk your Phantom so close to the water? The WaterStrider has you covered. For $159, you can velcro this floatation device designed after a water strider to get as close as you wish. Drone Rafts is planning to come out with a lot more accessories to help you get your Phantom to the next level. Check our their KickStarter campaign and/or their website: www.dronerafts.com.
7. FLIR
FLIR represented with a huge booth next to DJI. FLIR offers thermal cameras that have become very popular for police and fire departments to use on their drones. FLIR cameras have been used to find missing children, lost Alzheimer's patients, and show a safe path for rescue teams. As more and more police and fire departments join the UAS Industry, FLIR won't be able to make enough of these life saving cameras.
8. XIMEA
As the UAS industry starts to come together and companies partner up, companies like Ximea are going to build out a big piece of the market. Ximea creates a camera that is capable of identifying and assigning a color to particular materials. In the picture you can see the camera pointed at different types of materials and bringing a live feed with that material's color assignments. Imagine the enormous impact that this innovation will have on agriculture and environmental research. Can't wait!
9. xCRAFT
Many people were introduced to drones by this young UAS manufacturer who made a huge showing on Shark Tank Season 7. xCRAFT was the first company in Shark Tank history to receive a deal from all five sharks. The two drones available from xCRAFT seem to be designed for hobbyists. The PhoneDrone flies up with your phone to take a selfie. The X PlusOne can shift from a fixed-wing model to a quadcopter.
10. The FAA UAS Integration Office
The FAA made a few new announcements while at the conference, but their UAS Integration Office gave some great insight into the rules that we should expect to see this summer. More to come in our blog with updates that we heard from the FAA!
There were hundreds of companies at the conference including endless companies offering sensors, wires, simulators, UAVs of every shape and size, and 3D printing. The UAV Industry has made some serious strides over the past few months. Attending a conference is a great way to learn about and make contacts with the major players in the market. The next two big UAS Industry conferences coming up are InterDrone and Commercial UAV Expo.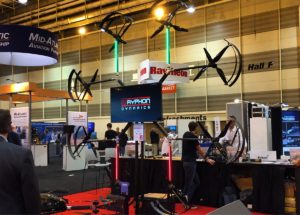 About the Author
Abby Speicher is the CEO and Co-Founder of DARTdrones, a national flight school for drone pilots.