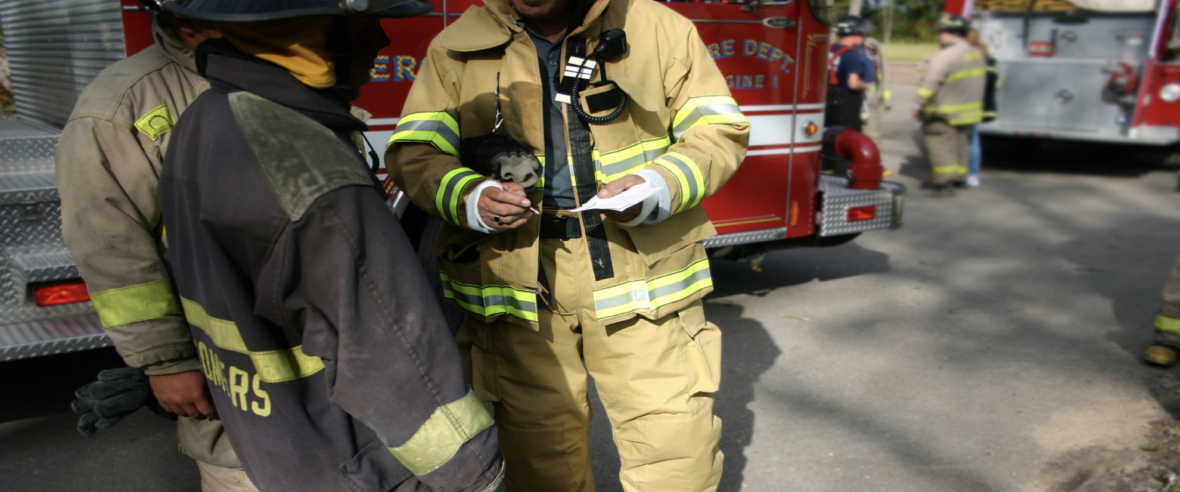 Public Safety
Understanding Public Safety Command Methods for Drone Operators
The public safety industry is integrating UAS technology at an ever-increasing rate. Some of these agencies are developing an in-house program with existing staff, while others have decided to contract UAS services to an outside company or volunteers. The trend of incorporating outside contractors and volunteers has brought many people into public safety operations that have little experience in dealing with emergency incidents.  
The hurricane season of 2017 showed the advantages of utilizing UAS for public safety missions during large scale events. A large number of volunteer drone operators deployed to Texas, Florida, and Puerto Rico to provide any assistance they could offer. The results were positive and demonstrated the benefits of utilizing UAS technology during a large scale event.
However, no matter the size of the incident, it is essential for drone operators to understand public safety command methods in order to be an effective role for a given mission. 
Incident Command System (ICS)
The Incident Command System (ICS) consists of a standard management hierarchy and procedures used during temporary incidents. Due to its scalability, incorporation of an ICS in incidents vary from a simple traffic crash to a major terrorist event. The concept of an ICS developed in 1968 to aid in combating wildfires in California and Arizona. Studies showed that before establishing an ICS, there were issues created by management such as communications deficiencies. This resulted in significant loss of property and lives even when enough resources were available.
The ICS was created to provide a regulated management framework and include a systemized aid response. When required, the ICS can apply to an incident of any size.
The ICS includes several key factors:
Unity of Command – Every participating individual only reports to one supervisor

Common Terminology – Reduces confusion resulting from different meanings used by separate agencies

Management by Objective – An Incident operation that is managed to reach a specific goal(s)

Flexible and Modular – Allows the system to be scalable and adaptable to fit specific needs

Span of Control – Limits the number of responsibilities and resources being managed by any individual
Anyone interested in flying Unmanned Aerial Vehicle (UAV) missions for public safety must be familiar with the principles of the ICS in order to safely integrate into incident operations and be efficient in their mission goals.
Introduction of the National Incident Management System (NIMS)
Utilizing the principles of the ICS, the National Incident Management System (NIMS) went into effect in February 2003 under Homeland Security Presidential Directive #5. The reason for creating this system was based on the reactions to the September 11th, 2001 event. The goal was to standardize incident management approaches for federal, state, local agencies, private industry, and critical infrastructure operators when responding to incidents of any size, place, or complexity.
Prior to the development of a NIMS, individual agencies created their own policies and procedures related to management and operations based upon the ICS. However, there were slight changes in the execution of the ICS that occurred from agency to agency. This resulted in a patchwork that made mutual aid difficult due to different management styles, training, and operational capabilities.
NIMS is based on the following five key components:
Command and management (ICS)

Preparedness

Resource management

Communications/information management

Ongoing management and maintenance
By having all participants in the incident familiar with the NIMS, drone pilots will have a better understanding of their role; which will result in more effective coordination with other resources and effective response.
Training
Your first step is to become familiar with both the ICS and NIMS by earning certifications issued by the Federal Emergency Management Agency (FEMA). The following courses are available to anyone online without a fee and can be completed on your own time:
IS-100.B: Introduction to Incident Command System

IS-200.B: ICS for Single Resources and Initial Action Incidents

IS-700.A: National Incident Management System, An Introduction

IS-800.B: National Response Framework, An Introduction
After successfully completing each of these courses you are awarded a certificate showing proof of your training. Once completed you will have a much greater understanding of how public safety incidents are effectively managed. 
For more specific training, DARTdrones offers an online disaster response drone training course which teaches drone operators how to be of assistance with a sUAS in a disaster or emergency while ensuring compliance with federal, state and local restrictions. The multi-section online course covers everything you need to know to properly deploy your sUAS in the aftermath of a natural or man-made disaster.
A Tale of Two Incidents
So how does this affect an independent drone operator? Here are two scenarios involving a small-scale incident and how understanding the ICS can make a critical difference in being helpful or a hazard.
Scenario 1: You are driving home and see a column of smoke rising from a local business district. You have your drone with you in the vehicle and wish to help by capturing aerial imagery of the incident. You park a certain distance from the scene and launch from the street. After takeoff, you fly over to the fire scene and begin capturing video and photographs. A firefighter notices your drone overhead and reports it to his lieutenant. The lieutenant becomes concerned, not knowing where the drone came from, its intentions, and having concerns about the safety of responding staff. The lieutenant notifies the incident commander of the drone. The incident commander now has a new factor to be concerned about during his planning and could request a police officer, who is trying to control traffic in the area, to attempt to find the pilot, utilizing yet another resource from the fire scene. After a short while, you return the drone to your landing area and retrieve the SD card, intending on providing it to the fire department afterward.
In this scenario, even the best of intentions can be misconstrued. The drone operators action caused an unnecessary distraction during a critical phase of operations and a reallocation of resources to respond outside of their most useful duties for the incident. The data collected could have been of significant value to the fire department, but could have been even more useful to the incident commander in real-time for fire operations planning as the incident was evolving.
Scenario 2: Again, you are driving home and see a column of smoke rising from the business district. You still have your drone in the car and wish to help, if able. You drive to the edge of the perimeter and make contact with a police officer handling traffic control. You tell him that you have a possible resource for the fire and would like to assist. The law enforcement officer relays your message to the incident commander who invites you to meet him at the command post. After a brief explanation of your capabilities, he advises you to set up a landing area a short distance away. He requests for you to give an overwatch of the building as his concern of the fire spread and the thick smoke is making visibility of the roof difficult. You launch your drone and fly to a place overhead. The incident commander is able to look over your shoulder and use the video displayed to make command decisions to help his fire crews working the fire while keeping your drone out of the immediate area of his crews for safety. The incident commander directs you to different vantage points as required to make planning decisions. After the fire, he asks if you could provide the video to the department for training purposes.
Although this scenario began the same way, the outcome is very different. Rather than being a distraction to the staff involved, you became a true asset that provided critical intelligence used in command decisions.
Knowledge is Power
Flying public safety missions can be dynamic, exciting, and very rewarding. However, it requires a significant amount of knowledge in order to be safe and effective. Having insight of the "hows" and "whys" when flying for these operations goes a long way to being seen as an asset and not a hazard.