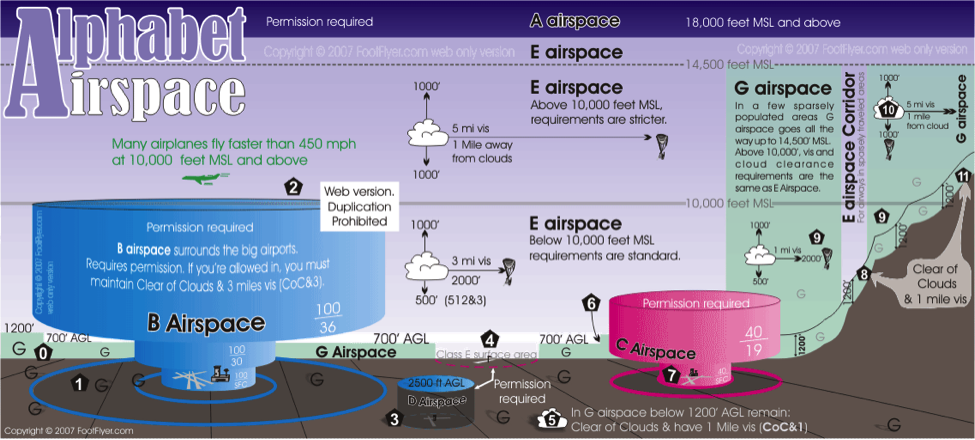 Expert Drone Advice
Protect Your Drone
Drone funerals are far too common in todays crowded skies. Drones are meeting their maker in pools, lakes, trees, car roofs, and every other surface imaginable. Drone pilots are so excited to take their "babies" out for a spin, but excitement often gets the best of them and takes them into dangerous or illegal territory. Protect your drone, yourself, and potentially your pilot certificate by adhering to all FAA rules and regulations. Follow these simple rules to protect your drone (and avoid fines with the Federal Aviation Administration)!
Know the Rules
The rules for drones are changing rapidly but can always be found at the FAA's website. Here are some rules to keep in mind before you fly your drone recreationally:
Fly below 400 feet and remain clear of surrounding obstacles
Keep the aircraft within visual line of sight at all times
Remain well clear of and do not interfere with manned aircraft operations
Don't fly within 5 miles of an airport unless you contact the airport and control tower before flying
Don't fly near people or stadiums
Don't fly an aircraft that weighs more than 55 lbs
Don't be careless or reckless with your unmanned aircraft – you could be fined for endangering people or other aircraft
Register Your Drone
If your drone is more than .55 pounds and less than 55 pounds, you must register your drone. Registering your drone is free until February 19th, 2016 if you purchased your drone before December 21st, 2015. After February 19th, it will cost $5 to register your drone. Registrations last three years. Register your drone at the following FAA website: http://www.faa.gov/uas/registration/
Know The Type of Airspace You Are Flying In
It is important to understand the type of airspace in your surrounding area before you take off. www.airmap.io is a great resource for identifying what airspace you are flying in. The interactive map will show you any no-fly zones in your area and the different airspaces in your flying area. Because the FAA has received dozens of reports of near misses with drones and manned aircraft, the organization is beginning to test sensor technology to help keep drones away from airports.
The following diagram will help you with the alphabet soup of airspace.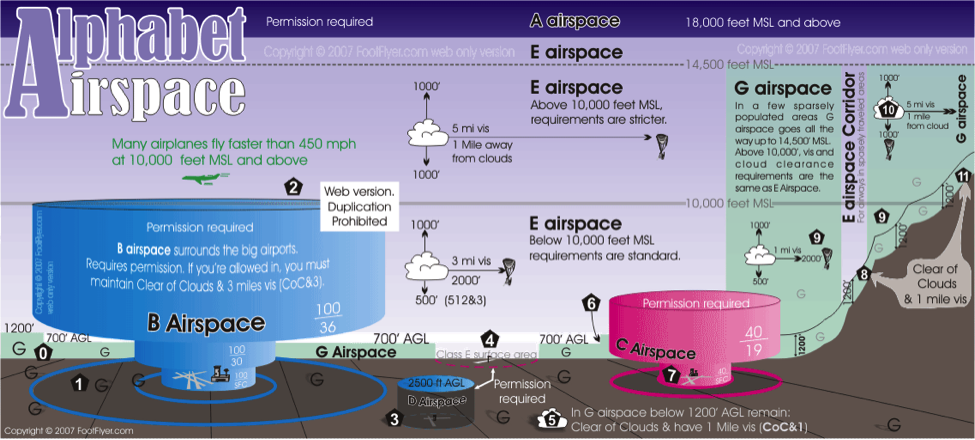 Image ©FootFlyer.com
Class A: Above 18,000'
Class B and Class C: Where large planes land
Class D: Airports with Control Towers
Class G: Uncontrolled Airspace
Class G Airspace is the best place for flying drones because it is more than five miles from an airport, you will not need to coordinate with a tower, and you will avoid flying in an important airspace.
     4. Plan Your Flight and Then Fly Your Plan
As a beginner, being conservative with your drone is imperative to ensuring that you have safe and hopefully uneventful flights. Too many new pilots get excited and push the boundaries far before they are ready. Many pilots get in the air and are having so much fun that they deviate from their original plan. Prior to your flight, create a flight path in your mind and then stick to it!
In order to fully understand these rules and protect your drone, we recommend you get certified with DARTdrones Flight School and our qualified flight captains. So many new pilots attend our courses and are astonished at how much there is to know. Only with proper training can our skies be safe from rogue drones. Don't be the one to give drones a bad name.
—
This article was written by Virginia DARTdrones Flight Captain – Larry Cross. Find out more about him here.