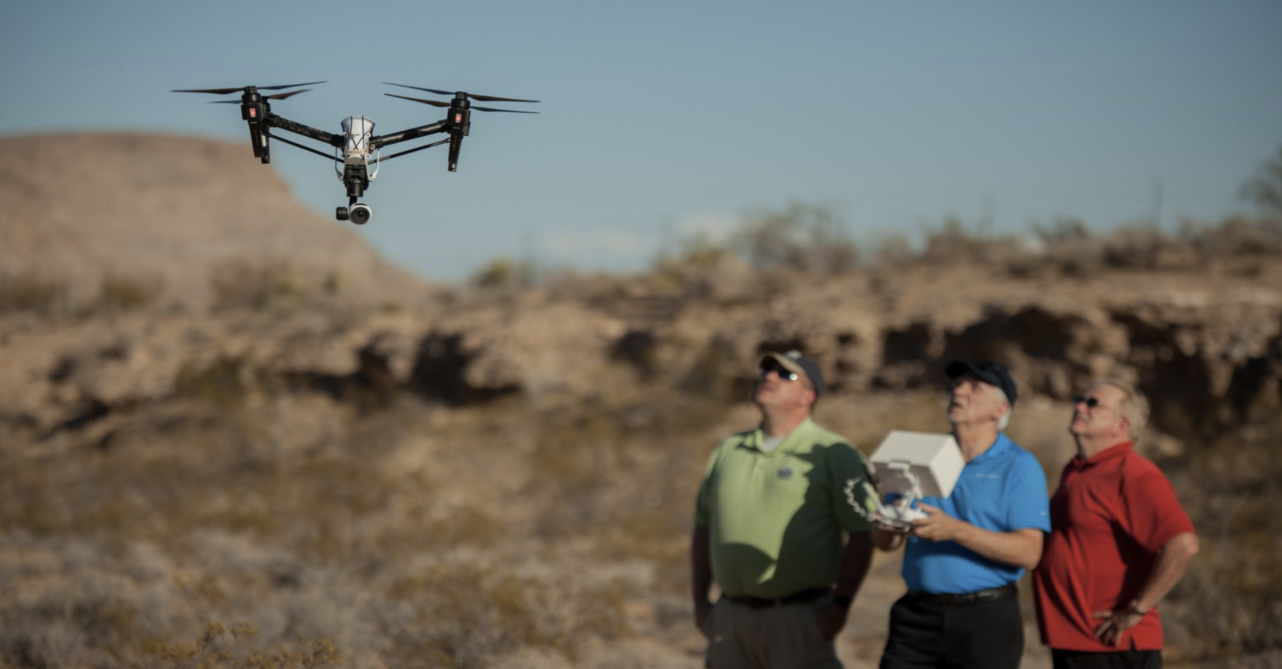 DARTdrones Announcements
DARTdrones Introduces In-Person Aerial Photography and Videography Course for UAS Pilots
UAS pilots can now gain in-person experience and maximize their aerial photography and videography skills with DARTdrones' new intensive one-day drone training course, In-Person Aerial Photography and Videography. 
The national leader in drone training, program development and consultation has announced the launch of their new In-Person Aerial Photography and Videography Course for UAS pilots. The nationwide drone school has designed this in-person course to offer UAS pilots the opportunity to add more value to any commercial photography and videography business by producing high-quality shots. The one-day course will be taught by DARTdrones Flight Instructor, Jerry White, an award winning UAS pilot with over 20 years of professional video and photography experience. The course will allow students to have a solid foundation in truly mastering photography and videography as well as new, fresh ideas in using a drone to capture memorable footage that will produce stand out work.
DARTdrones Flight Instructor, Jerry White, stated, "Drone pilots require two different skill sets, one being a competent and professional sUAS pilot who knows how to safely and skillfully fly their aircraft, and the other is how to master the camera, shot angles and movement of the drone as an extension of the camera itself.  This course is designed to not only build upon the skills a pilot has already developed, but to stretch you into becoming a director of drone photography allowing your work to stand out amongst a crowded drone market."
DARTdrones In-Person Aerial Photography and Videography Course
The In-Person Aerial Photography and Videography Course consists of six classroom style lessons as well as an outdoor flight demo led by the instructor (if weather permits). The course does not teach students how to fly a drone and therefore will not cover how to take off, how to land, etc. If students are interested in learning how to fly a drone, check out DARTdrones Hands-On Flight Training. Throughout the one-day course, students will develop knowledge in the following areas:
Lesson 1: Intro to Aerial Videography
Lesson Topics: Why use Drones?, Common Uses, Flight Process, FAA Considerations, Local Considerations, Crew Roles, Pilot Skills, Drones 101 Review
Lesson 2: Aircraft and Camera
Lesson Topics: Choosing Your Platform, Common DJI Platforms, Why DJI?, Inspire 1 & 2: Specs, Inspire 1 & 2: Pros & Cons, Phantom 4 Pro: Specs, Phantom 4 Pro: Pros & Cons, Mavic Pro: Specs, Mavic Pro: Pros & Cons, Cages and Propeller Guards, Mavic Air: Specs, Mavic Air: Pros and Cons, Scenarios, Camera Options, Choosing a Camera, Zenmuse Options, Micro Four Thirds, Zenmuse X5 Lens Options, 8MM Lens, 15MM Lens, 45MM Lens, Choosing Lens, Gimbal Balancing, Neutral Density (ND) Filters
Lesson 3: Aerial Photography Settings
Lesson Topics: Photo Settings, Types of Photos, Image Size (Aspect Ratio), Image Format, White Balance, Kelvin Scale, Style, Color, Understanding a Histogram, Adjusting Shutter Speed, EV (Exposure Value), Variable Aperture (IRIS), F-Stop, Depth of Field
Lesson 4: Aerial Videography Settings
Lesson Topics: Video Settings, Choosing Video Size, Frame Rates, Video Format, Video Standards, Color Settings, Normal VS D-Log, D-Log Post-Processing, Controller Settings, Gimbal Tuning, Gimbal Pitch Speed, Gimbal Pitch Smoothness, Gimbal Roll, Aircraft Response Settings, Aircraft Exp Settings, Sensitivity Settings, Gain Settings
Lesson 5: Standard Aerial Shots
Lesson Topics: Shot List, Rise and Reveal Flight Path, Descending Approach Flight Path, Rising Retreat Flight Path, Rising Retreat Example, Tracking Flight Path, Orbit/Half Orbit, Orbit Flight Path, Panning Flight Path, Tilt, Fly By, Sliding, Fly Over, Bird's Eye, Fly Through, JIB, Stationary, Common Mistakes, Scenarios & Examples, DJI Intelligent Flight Mode List
Lesson 6: Preparation and Post-Production
Lesson Topics: Preflight Planning, Airspace, Controlled Airspace In Airmap, Preflight Planning Items, sUAS Weather Limits, Other Online Sources, Preflight Planning Items, Site Evaluation, Area Layout, Preflight Planning Items, Submitting a Waiver, State/Local Regulations, Onsite Assessment, Weather, Hazards, Takeoff/Landing Points
In addition to the above curriculum, all registered students will receive instant access to DARTdrones Online Aerial Photography Course.
Pricing and Availability
DARTdrones is kicking off the In-Person Aerial Photography and Videography Course with three dates and locations. Students can register online or over the phone for the price of $375 USD.
For additional information, please contact the DARTdrones team at 800-264-3907 or email [email protected]