Real Estate
Drones for Real Estate
Drones for real estate have finally been approved by the FAA if the real estate company has filed for an exemption or permit. This year the FAA is expected to come out with new laws for the use of drones for commercial purposes.
One of the major industries that will benefit from this is the real estate industry. Using drones for real estate can help show potential buyers many things they cannot see from just looking at pictures of a house on the ground.
Aside from seeing the house from the air, the potential buyers can view the surrounding area and what the other neighborhoods around the area look like. Taking to the skies and using drones for real estate lets buyers see how far the walk to school would be for their kids or what the drive home would look like.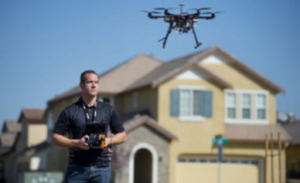 Image ©AZ Cash Deals
As a real estate agent, having a drone in your toolkit for selling houses is a must in the coming years as long as it is done within the bounds of the law. Drones have opened pretty much everyone and every industry to aerial footage that was only achievable before by helicopter.
Using footage of a house is extremely cost effective compared to the cost of renting a helicopter or small airplane to take footage of a house. A real estate agency could compile all the footage of their properties for sale into one video for potential buyers to look at. This is a much more interesting way for buyers to shop for houses.
Using drones for real estate helps buyers get a sense of the surrounding area especially for vacation homes placed in beautiful landscapes.
A skilled pilot could start flying the drone inside the house and move to the exterior, then high above to get a lay of the land. Drones for real estate can make the process of finding and purchasing the right house less stressful and more enjoyable.
Drones for real estate allow real estate agents to become better salesmen/saleswomen. Having drone footage and pictures of a property for sale makes the property much more interesting for buyers.

Image © Drone View Technologies
Check out one of our past DARTdrones interns, Giles Ober, has gone on to create a real estate drone training company. 
—
This article was written by Alex Martin. He is a junior at Texas Christian University studying Strategic Communication and a minor in Photography. He is from St. Louis, MO and loves playing hockey with his dad and water skiing at Lake Ariel. Alex is very interested in how the drone industry will expand in the coming years.