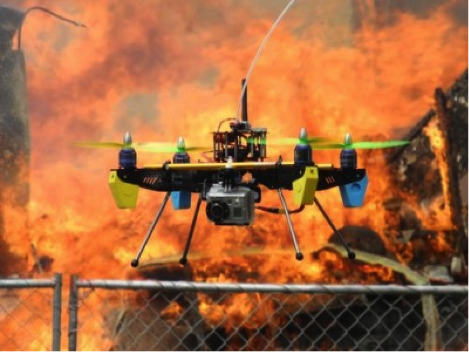 Public Safety
Drones for Emergency Services
Fire and rescue as well as police departments all across the United States utilize helicopters to help keep people safe and save lives. Helicopters are expensive and not known for their rapid response. Drones for emergency services can help with that.
A drone can provide an eye in the sky for times when helicopters are not available or necessary. Drones can aid in public safety and help to improve government services.
There is a story about a small firehouse in Wisconsin that received a drone as a donation. The firefighters believe that they will be able to use it to spot wildfires before they spread and it will assist in missing person's cases.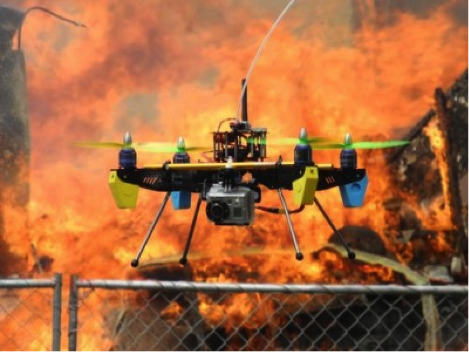 Image © Command Post
If drones are implemented into a fire station, it can be very useful in saving lives:
"Drones are to firefighters what bomb defusal robots are to SWAT teams: they are a way to take a quick look at an extremely dangerous situation without immediately throwing a      person into harm's way. Plus they can provide a aerial perspective of a burning building   or similar situation much faster and more cost effective than a traditional helicopter."
One other major factor firefighters have to think about when purchasing a drone is how easily it will melt. Because it will be flying so close to fires it pays off to have the right flight training so the pilot does not get too close to the blaze.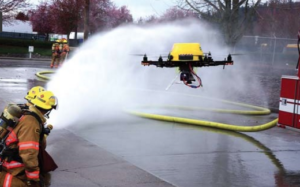 Image ©Eye on Drones
A drone equipped with a thermal camera can also assist firefighters in determining whether or not a fire has been completely put out, which is especially useful for larger buildings.
Drones can be used by police departments to aid in investigations and crime prevention. They can add a new tool to their toolkit that is fairly inexpensive and quiet.
The military has been using drones for years to aid in their operations; however, there is no reason why police departments can't utilize the same technology to prevent crime.
North Dakota was the first state to allow drones to issue non-lethal force to criminals. This is a very progressive use of a drone and can reach a criminal much faster than an officer on foot.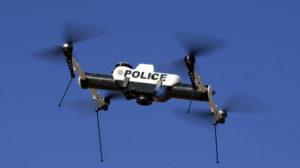 Image © InfoWars
Equipping drones with non-lethal weapons would help take police officers out of harms way. For example, if there is a standoff situation where someone is shooting from a building at officers, a drone can fly up and temporarily stun the gunman while officers can move in.
Drones for emergency services can also help save lives after natural disasters and major storms. Flying a drone equipped with a thermal camera over a neighborhood that has been destroyed by a tornado can help pinpoint where people are trapped and need to be rescued.
Larger drones can also assist the coast guard in finding illegal boaters or missing people lost at sea. Helicopters are expensive to keep in the air and are not equipped with the best equipment for searches. A drone that is armed with high-tech cameras can stay in the air longer and search more effectively.
Using drones for emergency services can take firefighters and police officers out of dangerous situations and help save lives. With the advancement of drone technology there is no doubt that drones in the recent future will help to keep us safe.