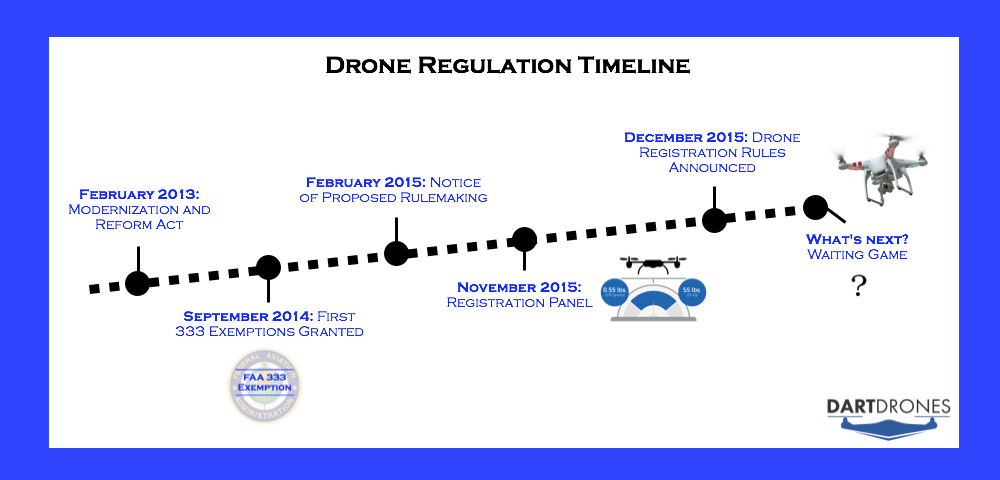 Drone Laws
Drone Regulations in the United States
**The FAA Regulations have been updated as of August 29, 2016. Check out our most recent blog posts for updated information.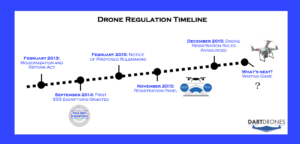 There is so much going on in the UAV (Unmanned Aerial Vehicle) Industry that many new users are struggling to keep up with current Federal Aviation Administration (FAA) drone regulations. Where did all of these regulations come from and how have we gotten to where we are today?
February 2012: Modernization and Reform Act
The Federal Aviation Administration re-authorization legislation (the Federal Modernization and Reform Act –also known as the FMRA), authorized appropriations to the FAA from Fiscal Year 2012 through Fiscal Year 2015. The legislation sought to improve aviation safety and capacity of the national airspace system (NAS), provide a framework for integrating new technology safely into our airspace, provide a stable funding system, and advance the implementation of the Next Generation Air Transportation System (NextGen).  One of the new technologies addressed in the FMRA included new regulations for UAVs (Unmanned Aerial Vehicles).  Unmanned Aircraft Systems sections 331 to 335 specifically applied to unmanned aircraft systems (UAS).  Section 336 applied to model aircraft.
September 2014: First 333 Exemptions Granted
The FAA provided a pathway to commercial flight through the 333 Exemption policy. They also created a pathway to flight for government agencies through the Certificate of Authorization process. In September of 2014, the FAA approved the first six 333 Exemptions to video production companies.  Both pathways only allowed licensed pilots to operate the aircraft. For example, if a photographer wanted to become a professional aerial photographer, he would need to apply for a 333 Exemption and wait for 120 days to see a decision from the FAA. Once the FAA grants him the 333 Exemption, the only way to fly legally is with a licensed pilot (sport pilots license or higher). Each commercial flight requires a Notice to Airmen (NOTAM), an aircraft with a registered n-number, and a monthly report to the FAA.
 February 2015: Notice of Proposed Rule making
On February 15, 2015, the FAA released the Notice of Proposed Rulemaking (NPRM) that would address sUAS that are under 55 lbs to be able to operate in the NAS commercially.  The NPRM would also address how an operator would be certified and be able to operate the aircraft.  Current drone regulations under the 333 Exemption only allow for licensed pilots to operate the aircraft. The NPRM suggests a new type of pilot's license specific for commercial sUAS pilots. The document suggests to that to become a commercial sUAS pilot, a candidate would need to pass a 2.5 hour exam covering relevant topics from the aviation ground school, be vetted by TSA, and continue to be tested every two years.
September 2015: FAA Missed the Deadline
The FAA failed to develop drone regulations by the mandated deadline of September 2015.
November 2015: Registration Panel
Due to the proliferation of hobbyist drones and to address an ever-increasing number of sightings in controlled airspace, the FAA created a panel to determine the best way to register hobbyist aircraft.  It is expected that by registering their aircraft that operators will be more likely fly safely.  This panel met in November and provided their recommendations to the FAA on 21 Nov 15.
December 2015: Drone Registration Rules Announced
The FAA has determined that drone operators over the age of 13 must register their drone through an FAA web based system at www.faa.gov/uas/registration. Each drone will need to be marked with an N-number registered to the operator.
What's Next: A Waiting Game
We are currently waiting for the final rules to be determined for the commercial use of small unmanned aerial systems. It is a guessing game where the FAA will go from here, but we hope that soon we will see the commercial UAV license from the NPRM become available. Industry leaders are guessing at the timeframe for these new drone regulations. Some are saying within the next few months. Others are saying that we will wait as many as three years.