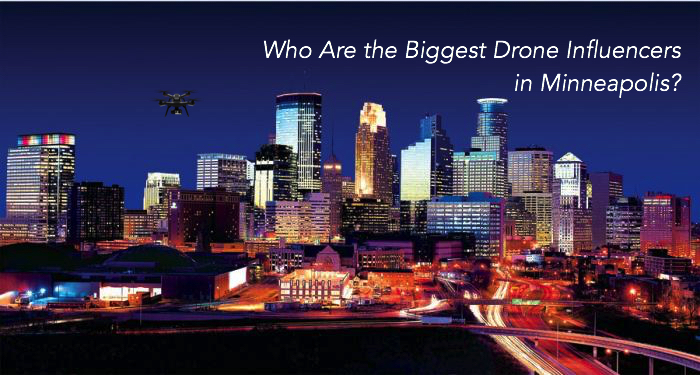 Resources
The Biggest Drone Influencers in Minneapolis Part I
Most drone pilots are inspired to aviation by events earlier in their lives. Two drone influencers in Minneapolis, our flight instructors Christina Martinez and Craig Trammell, have very different memories. Christina remembers "watching the small planes land  in one direction and the jets in the other" where she lived in the suburbs of Chicago.
Craig's first memory is a little different. As he recalls, "Growing up in Iowa City in the 1970's, a liberal, anti-war town, there was an old F-86L loaned by USAF that the city mounted at the entrance to the municipal airport. This created much consternation with the local populace, and I remember the back-and-forth that went on between those who wanted to scrap the plane as a symbol of war, and those who wanted to honor it by placing it at the entrance of our local airport. That battle and the subsequent and eventual victory by pro-display supporters ("Old Jet" remains in place today) first drew my attention to aviation, and a life-long respect and love for all things that fly."
Although both flight instructors have had fairly different careers in aviation, it brought them to Minneapolis, Minnesota, where they reside and are drone pilot instructors for DARTdrones Flight School. They will take us through some of their favorite local places to fly and buy drone gear, as well as the most active drone groups in town in this first part of a series on the Most Influential Drone Pilots in Minneapolis, Minnesota. 
Where to buy drone gear in Minneapolis
If you are looking for a great place to find drone equipment and accessories, look no further than Maverick Drone Systems, in Savage, Minnesota. It sells a full range of drones and accessories, with brands ranging from DJI, Autel, and FLIR. Plus, they have accessories that include cases, drone parts, and camera equipment. Christina purchases most of her gear from Maverick and says it has been a tremendous help!
Where to practice and fly your drone in Minneapolis
With its lush forests and breath-taking views, Minneapolis is no doubt the ideal place for flying drones. One student comments, "[I fly my drone] over the river with a view of the skyline, and of course over the wealth of gorgeous forests…north of the cities." It is, however, illegal to fly your drone over state parks without obtaining proper permission, so please make sure to find out where you can and cannot fly. A Minnesota man faced $55K in Government fines in 2016 for flying his drone to take pictures of Cecil the Lion for his friend's event. According to airmap.io, recreational flyers can fly around Champlin, Minnesota and Ramsey, Minnesota, North West of Minneapolis. One notable place to fly your drone in Champlin is around the Champlin Mill Pond, where you can find many people fishing off the pier. It is also a great picnic spot in the summertime. Please note, however, that it is important to check for temporary flight restrictions around your area before you take off for every flight.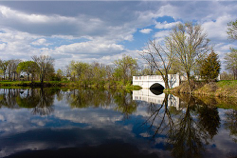 Craig enjoys flying his drone near Casey Lake Park in St Paul. The Minnesota Autonomous Vehicle Meetup Group meets there regularly, in addition to the other numerous events they put on year-round. (See Meet up groups for additional information) Craig also flies his drone at AMA-affiliated fields, including the 10 within 25 miles of the Twin Cities. Some AMA fields you can try out include:
– St.Paul RC Club located 15 miles north of St.Paul
– Grassfield RC in Brooklyn Park
– Anoka County Radio Control
Drone Meet-Up groups in Minneapolis
If you are looking to find like-minded people to fly your drone and share tips with in the Minneapolis area, the Minnesota Autonomous Vehicle Meetup group is perfect for you. This group is organized by our friend, Aaron Sykes, and has over 650 members. Events occur every couple months and range from Fly Days, to educational and fundraising events. Memberships are free, and they list their events very far in advance so you'll be able to attend and get flying in no time! They are focused on spreading sUAS education, safety, and conducting community outreach. Both Craig and Christina are members of the meet-up group, and regularly attend events with the other drone enthusiasts in the area.
To be featured in our next article on the Minneapolis drone market, email [email protected].
About DARTdrones Flight School
DARTdrones is the national leader in drone training with the best flight instructors in the industry. We offer classes both online and in-person throughout the country. All of our flight instructors are manned aircraft pilots and certified drone pilots. Our team of experts include FAA Certified Flight Instructors, military veterans, Blackhawk helicopter pilots, commercial airline pilots, and a curriculum developer of one of the Navy's drone programs. Our classes include:
Part 107 Test Prep – Learn to pass the FAA's Part 107 Airman Knowledge Exam with our in-person or online Part 107 Test Prep Course.

Drone Pilot Training – Learn to fly your DJI Phantom or Inspire in this hands on flight training class.

Launching a Drone Business Under Part 107 –  Learn the ins and outs of starting your own drone business including Developing Your Drone Business Strategy, Finding Customers, Business Operations, Legal Considerations and Liabilities, and Drone Insurance.

Custom Training – Our expert can come to your group for custom training. We train corporate groups, small team, police departments, fire departments, and government entities.
Subscribe to Our YouTube channel: https://www.youtube.com/channel/UCoM7P689zFLAcGqgKbEdqHQ