DARTdrones Announcements
DARTdrones Partners with Droners.io
DARTdrones is proud to announce our new partnership with Droners.io!
Droners.io and DARTdrones will be training pilots that want to learn more about the drone industry and also want to work for Droners.io. This is great because not all pilots know the specific rules from the FAA regarding drones, this is where DARTdrones comes in. Our classes are geared towards new pilots as well as advanced pilots that want to learn more about the FAA and the rules specifically for drones.
Droners.io aims to connect licensed drone pilots with people in need of photography/videography for special events. For example, if you are having a wedding or major event that you would like documented in a unique and different way, Droners.io can help you out.
Image © DRONERS.IO
How it works:
The customer in need of a drone pilot posts on Droners.io much like a "wanted" craigslist ad. They outline their specific need for the drone pilot: there are 11 categories to choose from along with an "other" option if you have a very specific need. Droners.io then allows pilots to contact the customer with bids. Each pilot can describe their experience with the situation or the location. "Read reviews, compare prices and hire the pilot that best fits your needs and budget"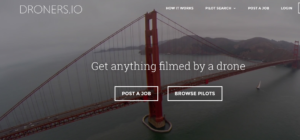 Image © DRONERS.IO
Are they qualified?
Droners.io has a FAA 333 Exemption; therefore, each pilot must have a pilot's license in order to be compensated for their drone work. Currently, Droners.io has over 2,000 drone pilots in their community and that number is growing by about 100 each week. Their website has a very easy to use pilot search tool to help you find pilots closest to you that would fit your individual situation.
For most people, flying a drone is a daunting task. Droners.io gives access to people who need drone services for a reasonable price. It really promotes drones, and shows how useful and wonderful the video and photographs are that they produce.