Learn to fly, gather, and analyze aerial inspection data
Develop the skills you need to fly drones for inspections missions in our Aerial Drone Inspections Live Virtual Workshop.
January 24 - February 14

4 weeks | Wednesday Evenings
7:00 - 9:30 pm ET

Live Online

Enroll Now
Trusted by Top Organizations Across the Nation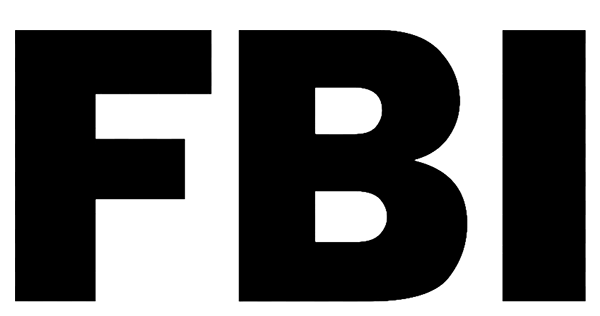 Corporations spend billions of dollars inspecting their high value infrastructures and assets every year and drones have been proven to make inspections safer and more cost effective. During a DARTdrones Aerial Inspections Workshop you will learn from veteran professionals experienced in:
Commercial and Residential Roof Assessments
Radio and Cellular Tower Inspections
Oil and Gas Facilities Operations
Solar Infrastructure Assessments
Wind Turbine Inspections
Insurance Assessments
Property Management Support
Thermographic Inspections
Why does a new aerial inspections pilot need this course? When it comes to demonstrating a solid return on investment (ROI) for unmanned aircraft, their use for inspection purposes is one of the best examples available. Drones can save money in so many ways that companies of all sizes are investigating how to incorporate them into their daily operations. Assessments are completed faster with sUAS, human resources remain in safe locations out of harm's way, and direct costs are a drop in the proverbial bucket compared to traditional aerial inspection operations conducted with airplanes and helicopters. So what do you need to know to be successful?
While the number of opportunities for qualified sUAS pilots to conduct inspection operations is very high, companies are still struggling to find pilots that provide high quality, actionable information.
Set yourself apart from the competition by learning directly from expert sUAS professionals with years of experience and the ability to teach you the skills you need to deliver what clients in multiple industries require.
Many drone services providers would like more drone work.
Jobs for inspections services are out there, but you need to know where to look and how to make yourself known to potential clients. Our course will introduce you to multiple sUAS job resources and marketing strategies.
With so many industries beginning to look to drones for inspection purposes, it's hard to decide where to focus your efforts as a service provider.
Get a comprehensive overview of multiple sUAS inspection use cases during the 4-week workshop and gain additional insight into the specific industries in need of drone services that also interest you.
Many types of aerial inspection operations entail numerous hazards and a range of risks that must be properly identified and managed by the Remote PIC.
Learn the critical steps involved with the Preflight Planning and Onsite Assessment phases of successful sUAS inspection operations.
Case studies have proven that many sUAS accidents can be prevented by putting in place mitigations before the drone ever leaves the ground.
Our class teaches you how to mitigate the risk in your flights.
Drone pilots need to be prepared for specific emergency situations that are most commonly encountered when conducting inspection flights with sUAS.
Our course teaches you to both recognize and respond successfully to ensure safe and successful flights.
New techniques for aerial inspection data collection are being developed all the time and professional drone pilots need to stay informed.
Examine the use of thermal imaging as well as photogrammetric orthomosaic products for improved aerial inspection operations.
Drone service providers need to be able to speak with a client and understand their specific needs.
Our course teaches you to ask the right questions and understand the industry lingo necessary to land the job and provide your clients with quality, actionable, aerial intelligence.
Karl and Colin were great instructors! The course provided an open forum to discuss not only roof inspecting but other aspects of drone flying for commercial use. The flying portion gave us freedom to test out different techniques all while having fun in a relaxed atmosphere.
Kevin Show,
Aircraft Owners and Pilots Association (AOPA)
See More Reviews →
Curriculum designed to turn you into an Aerial Inspections pro
Post natural disaster
Scheduled commercial construction inspections and monitoring
Insurance inspections
Home and roof inspections
Chimney and steeple inspections
Utility inspections
Water system inspections
Solar farm inspections
Wind farm inspections
Railroad inspections
Bridge inspections
Getting Involved
Platform Considerations
Payload Considerations
Types of Imagery Products
Areas of Focus
Manual Flight Profiles
Common Manual Shots
Determining the Shot List
Sample Shot Lists
Environmental Impacts
Image Framing
Common Camera Settings
Specialty Camera Setting
Flight Hazards Around Structures
Common Drone Emergencies
Recommended Emergency Responses
Utilizing Preflight Checklists
Determining Airspace Requirements
Evaluating Forecast Weather
Performing a Site Evaluation
Verifying Waiver Requirements
Checking State & Local Regulations
On-Site Assessment Checklist
Evaluating Current Weather
Identifying Hazards
Determining Takeoff/Landing Points
Adjusting the Flight Profile
Updating Lost Link Settings
Determining Appropriate Crew Composition
Camera Operator Responsibilities
Visual Observer Responsibilities
Visual Observer Placement
Communication Methods
Crew Briefing
Fundamentals of Mapping & Modeling
Mapping Software Overview
Utilizing Mapping Software for Aerial Drone Inspections
Thermal Imaging Fundamentals
Types of Thermal Payloads
Thermal Inspections
What to Bring on a Job
Sample Workflow
Interacting with the Public
Drone Job Resources
Independent "Hands-On" Aerial Inspection Projects
Students will be given both aerial inspections data collection assignments to gather with their sUAS and upload for processing between classes. The instructor will process the datasets of images gathered by each student and provide feedback on the orthomosaic products generated during the following virtual classroom session.
Schedule Overview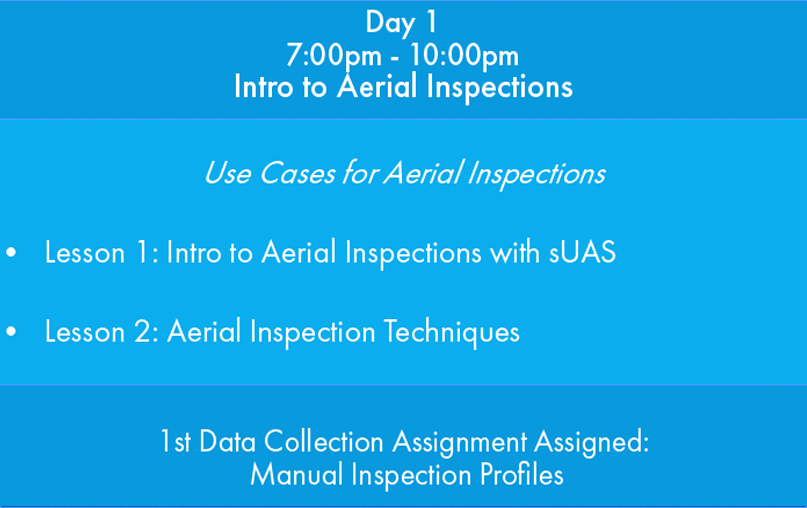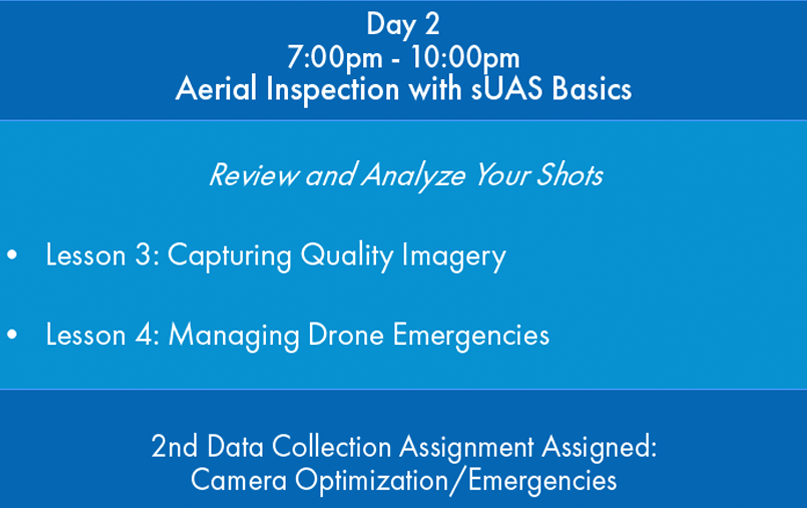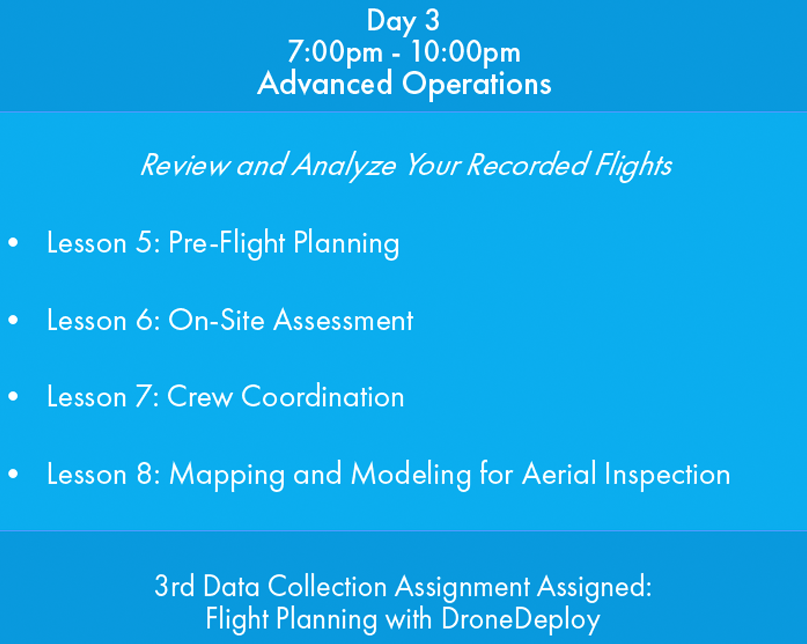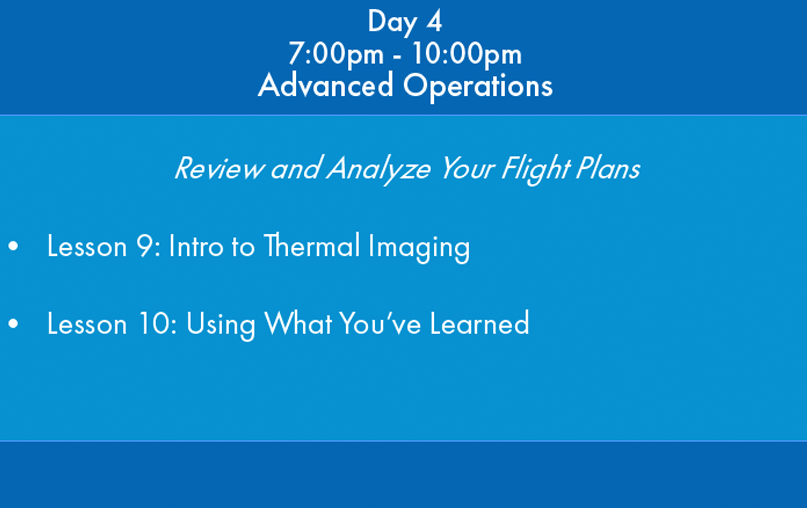 Prerequisites
To get the most out of this class, we recommend that you have:
What You Get:
12 hours of live virtual training

Virtual inspections data collection assignments

Live analysis of data collected

Live access to expert instructor

Recordings of the training
Upcoming Virtual Aerial Inspections Dates
Aerial Drone Inspections Workshop

January 24th, 31st, February 7th & 14th
4 weeks | Wednesday Evenings
7:00 - 9:30 pm ET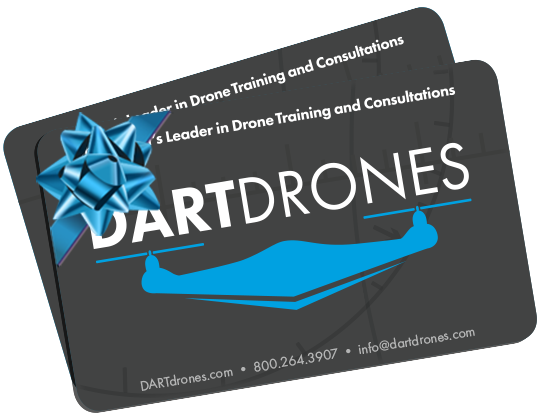 Our curriculum was designed by drone experts to make you successful
You'll walk away feeling confident on your equipment.
Why complete the Aerial Inspections training with Dartdrones?
Learn the Art of Inspections
Having the ability to collect high quality data in any situation is not easy. Learn from those who have done it before.
Get More High Paying Jobs
Drone inspection jobs are some the highest paying in the industry. Invest in differentiating yourself with a new highly specialized skill.
Be Confident in Your Skills
Confidently explain to potential clients whether or not a drone can accurately collect the data needed.
Live Access to Inspections Instructor
The training is live with one of our expert instructors. You can ask questions just like in a real classroom.
Comfort of Your Home
Complete comprehensive aerial inspections training from the comfort of your own home.
Save on Travel
Many students travel to our in-person training courses. Save on travel expenses by completing this course from home.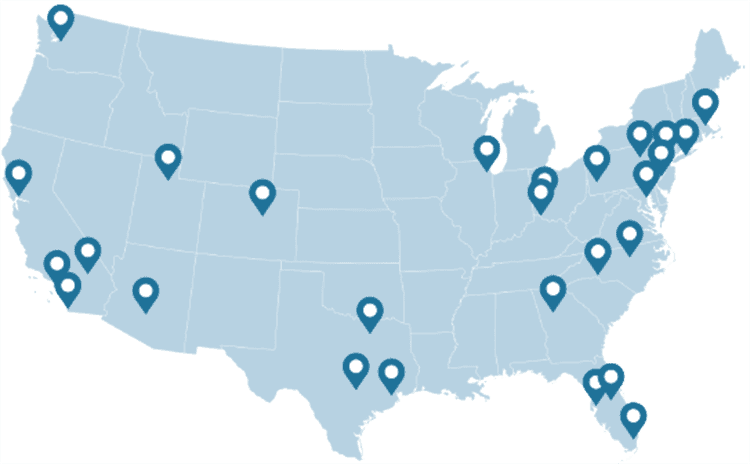 As seen on ABC's "Shark Tank"
WHY DARTDRONES? We have a proven track record for training pilots in dozens of industries.
22
QUALIFIED
INSTRUCTORS
Our instructors have manned aviation experience flying airplanes and helicopters and have gained the highest drone piloting recognitions in the industry. Many own successful UAS businesses themselves.
10+
CITIES
NATIONWIDE
As featured on ABC's Shark Tank, we are the nation's leading drone training company with an extensive network of alumni and partners throughout the country.
150+
HOURS OF
MATERIAL
Created and refined by UAS training experts, our curriculum is the best in the industry and has been tried and tested by clients in dozens of industries.
25K+
PILOTS
TRAINED
With a community of over 65,000 drone enthusiasts across the US and internationally, DARTdrones is at the forefront of UAS technology.
Expert Instructors
Learn from our specialized team of instructors, comprised of manned pilots and drone business owners. Our classes are engaging, dynamic, and extremely informative.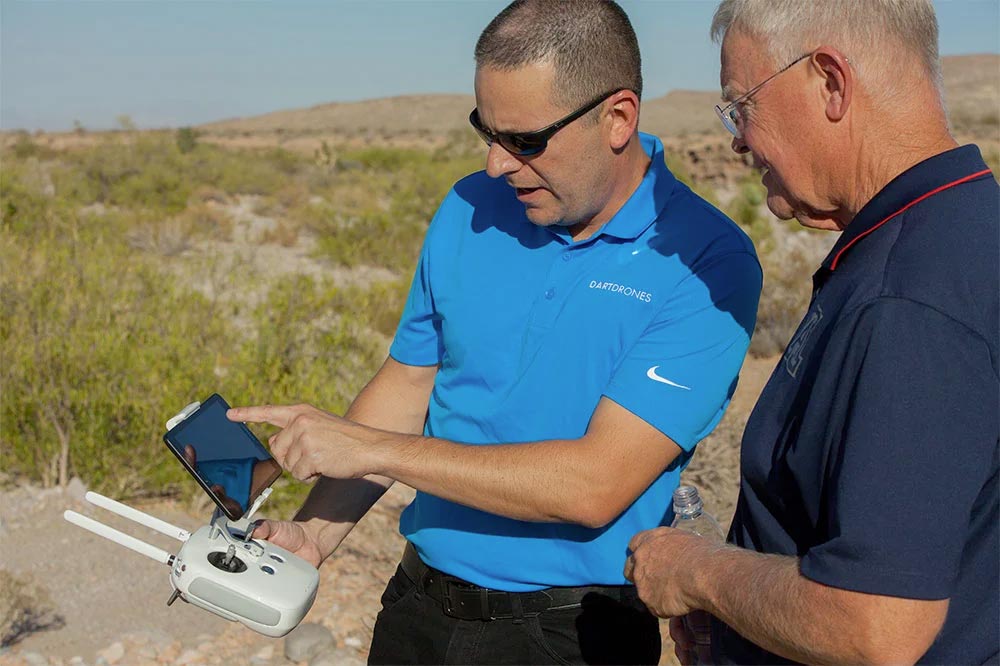 Advanced Training Courses
We don't just train our students on the basics. We also offer extensive advanced training courses to help our alumni succeed in mapping, inspections, disaster response, aerial photography, night operations, search and rescue, and more.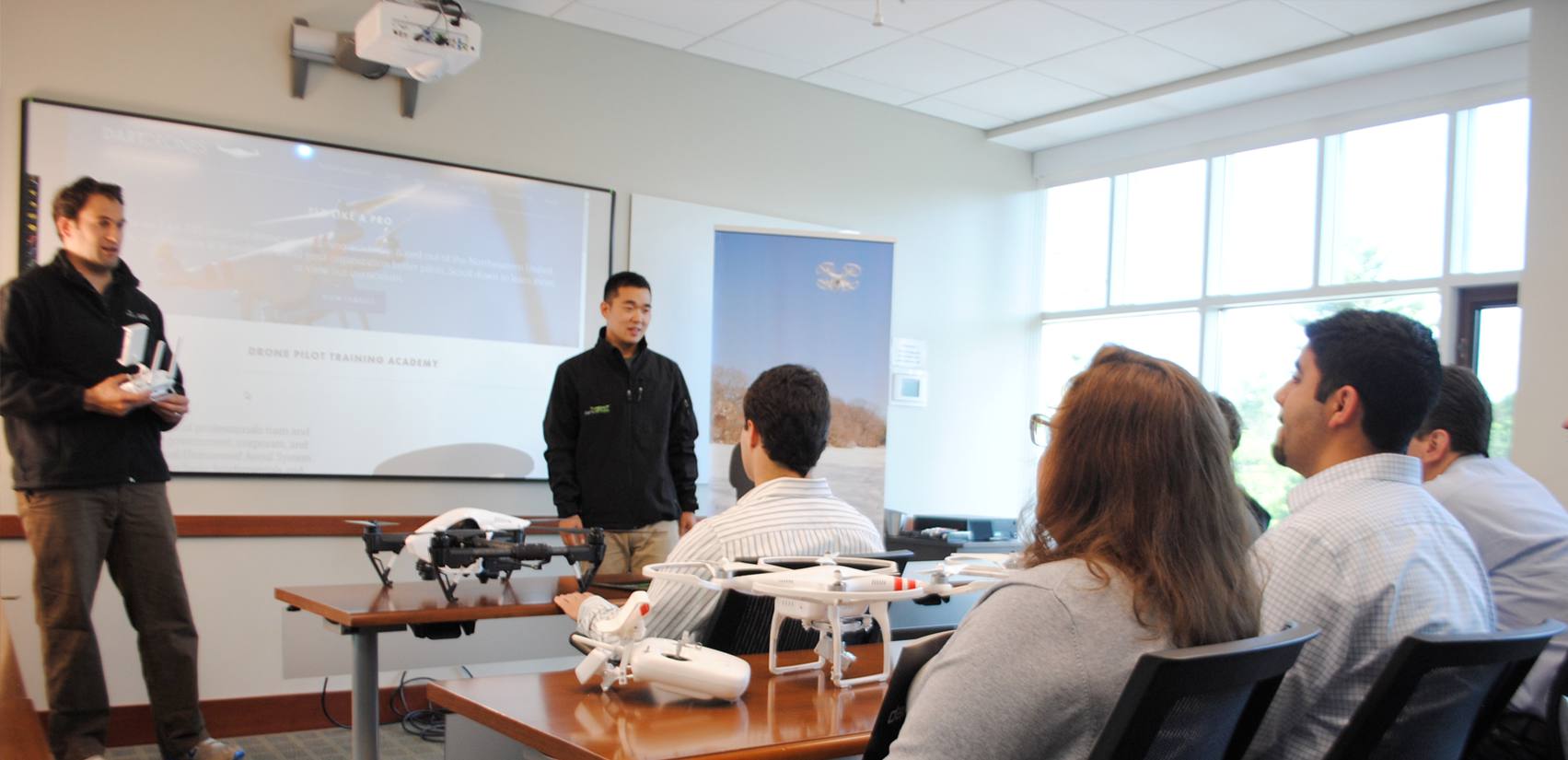 Industry Certified and Vetted Curriculum
DARTdrones' curriculum is vetted and certified by AUVSI, the leading UAS industry association, to ensure professional quality.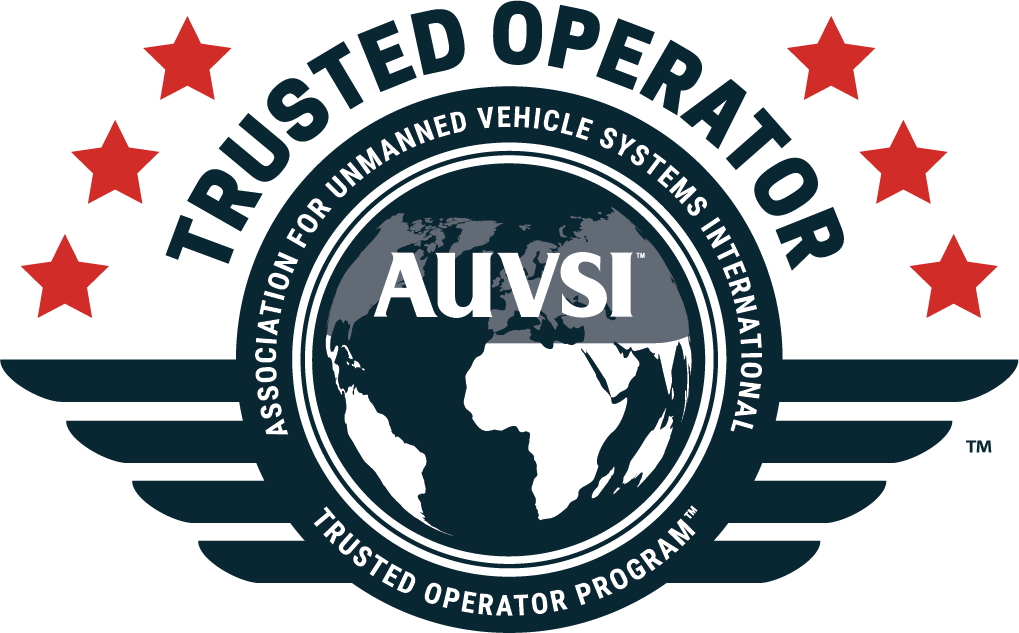 FAQs
The Aerial Drone Inspections Live Virtual Workshop is an advanced training course. To attend the Workshop, we recommend students already understand how to fly a drone safely and to have already acquired a Part 107 Certificate. The class does not teach about how to fly a drone. If you have not flown before and have not passed the Part 107 exam, we recommend that you take our Drone Pilot Training course and/or Part 107 Test Prep course at least 4 weeks prior to attending the Workshop.
Between course sessions, our instructors will assign you flights to complete before the next session Although these flights aren't required, you will get the most out of the class if you complete the flight sessions. We recommend a GPS enabled, multirotor drone for inspections work.
If you have an interest in getting aerial drone inspection jobs, the Aerial Drone Inspections Live Virtual Workshop is a great way to get started. The class covers a lot of very specific information that you will need to understand to perform an aerial mapping mission. This course is designed to get you started. We will also point you in the right direction of companies hiring aerial drone inspectors.
The Aerial Drone Inspections Live Virtual Workshop is great for someone new to inspections and also someone with inspection experience looking to get into aerial drone inspections.
You don't have to own a drone to attend this virtual class, but the instructor will assign projects for you to work on outside of the classroom hours. To get the most out of the class, we recommend that you complete those projects, but it's not a requirement.
The Aerial Drone Inspections Live Virtual Workshop is an advanced training course. To attend the Workshop, we require students to understand how to fly a drone safely and to have already acquired a Part 107 Certificate. The class does not teach about how to fly a drone. If you have not flown before and have not passed the Part 107 exam, we recommend that you take our Drone Pilot Training course and/or Part 107 Test Prep course at least 4 weeks prior to attending the Workshop.