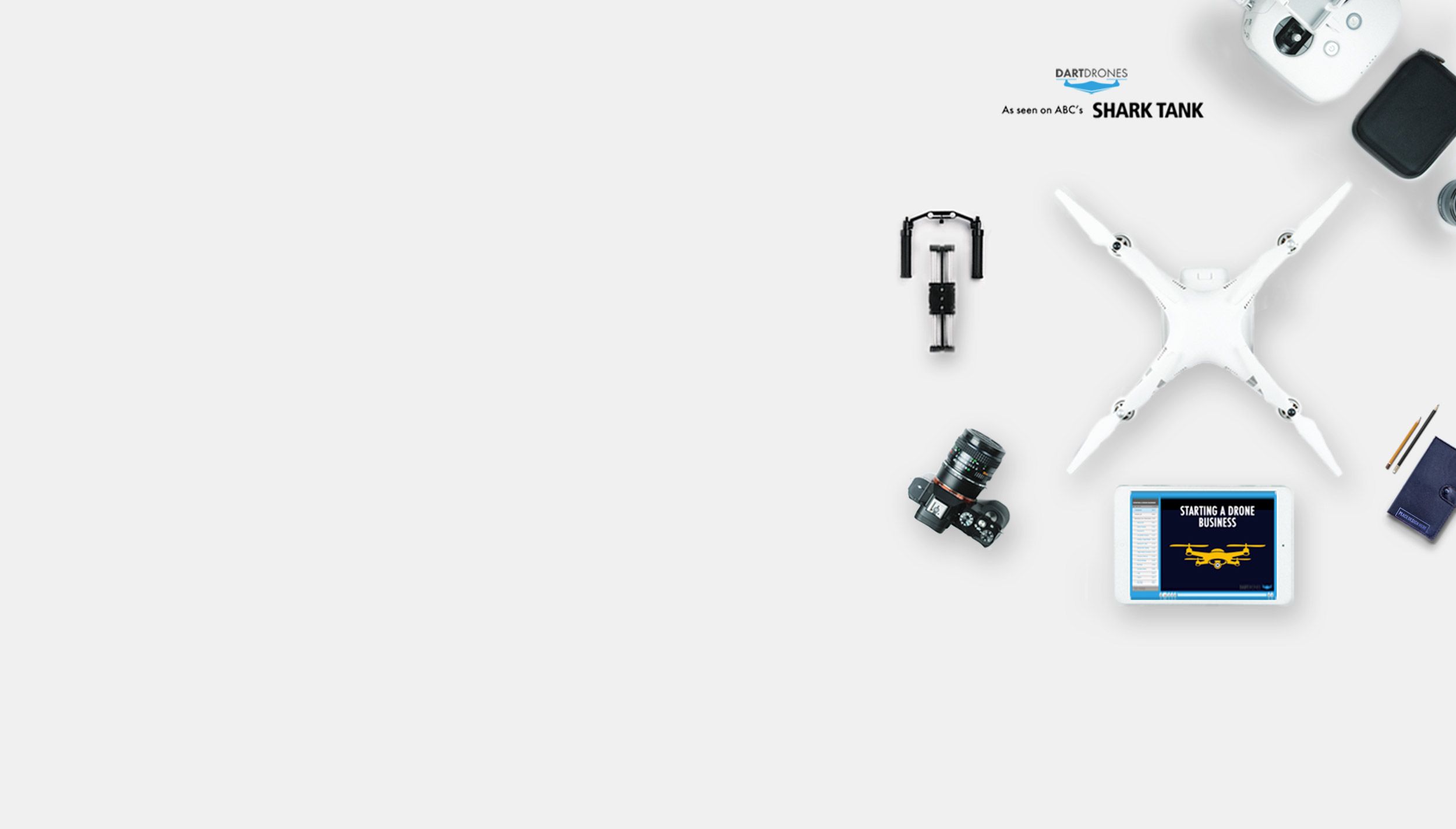 Ready to start your own drone business?
Our ultimate package provides you everything you need to plan, launch, and scale a profitable drone business
Go from no experience to starting a commercial drone business with our Ultimate Starting a Drone Business Package.
Learn to fly
Earn your FAA drone license
Master advanced mission-specific flights
Learn how to start and run a drone business
Upcoming training near you in:
Upcoming Classes
In Boston, MA
Dec 9 - 10, 2023 | 8:30am - 5pm

Residence Inn by Marriott - Needham/Boston

3 seats left

Reserve My Seat
The Ultimate Program for Launching a New Drone Business
The DARTdrones training and curriculum is designed to set you up for success whether that means becoming a part-time drone pilot in your free time, running a fully functioning business, or acquiring the qualifications to be hired full-time. Our training program features:
Flexible in-person training on the weekends
Online classes at your own pace
Live sessions with experts in the drone industry
"Gave me the confidence to pursue my dream of being a small-business owner"
DARTdrones offered me a great training foundation for my UAS piloting career. As a first-time flyer the hands-on experience of the training gave me the confidence to pursue my dream of being a small-business owner. The response to any and all questions that I had about the training reassured me that I was making a great choice in choosing DARTdrones for my training. And I passed my Part 107 training the first time, with ease.
See More Reviews →
Your guide to drone success:
Meet our Boston instructor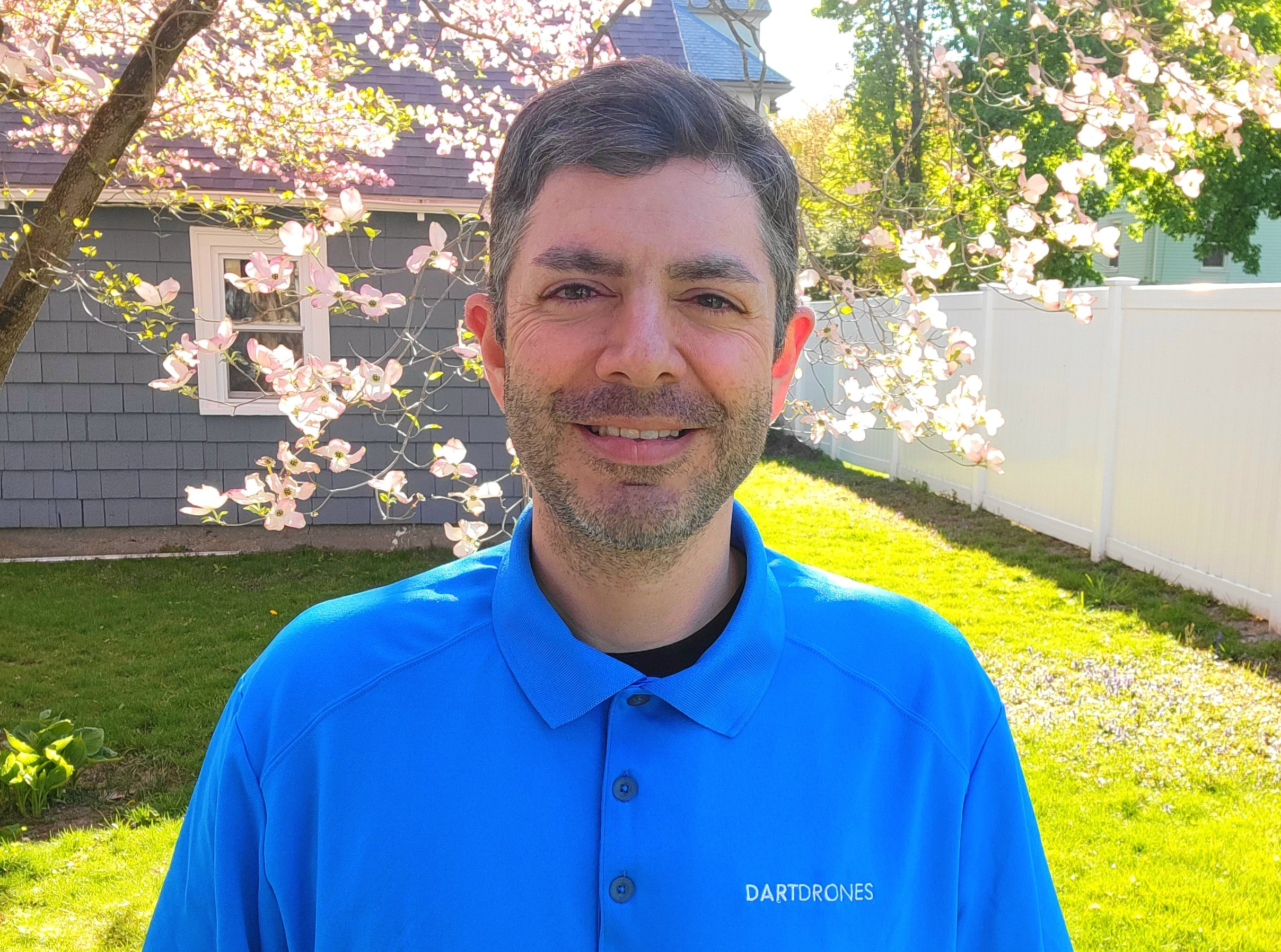 Josh Haddad
Helicopter Pilot and CFII
Aviation Experience
15 years
Expertise
Rotorcraft aerodynamics, Aviation weather
Pilot Rating
CFII Helicopter, 12 years
Josh is a helicopter CFII and one of the first instructors with DARTdrones. He holds a B.S in aviation from Bridgewater State University. Josh has flown and provided instruction in helicopters since 2010 in the Pacific Northwest, Mid-Atlantic and New England areas. He started his UAS journey with DARTdrones in 2015. Josh is a Boston native, avid outdoorsman and powersports enthusiast. With over 20 years in corporate sales and service management experience he brings a detailed, engaging and fun experience to his classroom.  
8 best selling courses to help you successfully start your drone business
Film, Photography, and Videography
Infrastructure
Inspections
Emergency Services
Mapping and Surveying
Precision Agriculture
Drones 101 Review
Types of Drones
DJI Overview
Phantom / Inspire / Mavic Specs
Standard DJI Systems
Power System
Propulsion and Maneuvering System
Command and Control System
Positioning and Navigation System
Imaging Payload
Downloading the App
Connecting your Device
Performing Firmware Updates
System Status / Flight Mode
GPS / Link Quality / Battery Level
Camera Settings
Map / Flight Telemetry Data
Verifying System Settings and Status
Performing a Compass Calibration
Startup and Takeoff
In-Flight Stick Commands
Landing and Shutdown
Flight Logging
Multiple Flight Modes
Beginner Mode
Return to Home Altitude
Maximum Flight Altitude
Aerial Photography and Film
Structural Inspection
Aerial Mapping
Loss of Control Link
Fly Aways
Disorientation
Low Battery
DJI GEO System
Battery Management
DJI Academy and Flight Simulator
Flight Records
Pilot In Command
Registration Requirements
Eligibility Requirements
Conditions for Safe Operations
Waiver Policy
National Airspace System
Air Traffic Control
Clearances and Permissions
Uncontrolled Airspace
Controlled Airspace
Restricted Areas
Filing NOTAMS
Special Use Airspace
Military Training Routes
VFR versus IFR Flight Rules
Reading Sectional Charts
Chart Legend
Navigation Basics
Chart Interpretation
Difficult Chart Test Questions
Operating Near an Airport
Traffic Patterns
Heliports
Towered and Non-Towered Airports
Runaway Markings and Signage
Controlled Tower Communication Procedures
Phonetic Alphabet
Airport Terminal Information Service
Self-Announce Procedures
UNICOM/ MULTICOM
Internet Weather Briefings
Micrometeorology
Reading METARS
Stages of a Thunderstorm
Types of Cloud Formations
Scheduled Maintenance
Unscheduled Maintenance
Preflight Inspection
Record Keeping
FAA Inspection and Testing
Requirements of Pilot In Command
Situational Awareness
Hazardous Attitudes
Effective Communication
Risk Management for Drone Pilots
Basic Aerodynamics
Aircraft Loading
Weight and Balance
Center of Gravity
Reporting In-Flight Emergencies
Fail Safe Procedures
Airborne Inspections
Wildlife Hazards
Lithium Battery Hazards
Impacts of Drugs and Alcohol
Vision Impairments
Determining Fitness for Flight
Physiological Considerations
Part 107 Regulations Requirements
Registering for Airman Knowledge Test
300+ FAA Test Questions
Best Study Practices
Applying IACRA
Applying for the Remote Pilot Certificate
UAS Code of Conduct
Remote Pilot Responsibilities
Privacy
Mitigating Risks
FAA 'Dirty Dozen'
Communication
Risk Management
Hazard Identification
Historical Data
Risk Matrix
Likelihood of Risk
Severity of Risk
Risk Mitigation
Pilot Considerations
Customer Expectations
Considerations
Customizations
Implementation
Flight Planning
Preflight
Crew Briefing
Flight Execution
Emergency Procedures
Post Flight
Maintenance
Hazard Identification
Satellite Imagery
Flight Planning
Manmade Structures
Terrain Variations
Natural Obstructions
Low-Level Turbulence
Interference
Forecast Sources
METARs
TAFs
Visibility, Clouds
Sky Condition
Precipitation
Wind
Temperature
Part 107 Requirements
Go/No-Go Decision Making
Airspace Classifications
Controlled Airspace
Uncontrolled Airspace
Prohibited and Restricted Areas
TFRs
LAANC Authorizations
Part 107 Requirements
Roles
Responsibilities
Positioning
Crew Management
Crew Briefing
Communication Methods
Communication Procedures
Aerodynamics
Aircraft Axes
Angle of Attack
Turbulent Air
Weight and Balance
Prevention
Disorientation Responses
Practice Maneuvers
Close Range Line of Sight
Medium/Long Range Line of Sight
First Person View
Prevention
Emergency Responses
GPS Signal Loss
Datalink Interference
Compass Errors
Flyaways
Hardware and Software Failures
Battery Issues
Collisions
Types of Communications
CTAFs
Scanners
Transceivers
Standard Format
Common Conventions
Traffic Patterns
Aircraft Position
Manufacturer Recommendations
Preflight Inspections
Post Flight Inspections
Flight Logs
Aircraft Logs
Patterns of Wear and Tear
Maintenance Protocols
Battery Types
Capacity
Specifications
Charge Cycle
Discharging
Maintenance
Damage
Disposal
Storage
Flight Regulations
Registration Requirements
Responsibility of Remote PIC
Daylight Operations
Hazardous Operations
Crew Regulations
Operating Limitations
Types of Mapping Data
Types of Mapping Products
Platform and Payload Considerations
Mapping for Construction
Mapping for Agricultural Uses
Mapping for Engineering and Architecture
Principles of Photogrammetry
Photogrammetric Geometry
Aerial Triangulation
Photogrammetric Procedures
Common Coverage Errors
Georeferencing
Spatial Reference Systems
DroneDeploy Account Levels
Autonomous Flight Planning
Waypoints
Collecting Nadir Imagery for 2D Mapping
Collecting Oblique Imagery for 3D Modeling
Orbit at End of Mission
DJI Point of Interest
Manual Collection
Map Engine Processing Options
Map Engine Data Requirements
Uploading Datasets
Accessing the Final Product
Common Issues in Low Quality Maps
Layers of a DroneDeploy Map
Analyzing Evaluation Data
Performing Volumetric Calculations
Cut, Fill, and Volumetric Measurement Calculation
Lowest Point and Best Fit Base Planes
Adjusting Histogram to Change Elevation Values
Relative vs. Absolute Accuracy
Project Accuracy Requirements
Survey-Grade Accuracy
DroneDeploy Accuracy Levels
Factors that Improve Map Accuracy
Techniques to Improve Map Accuracy
Creating GCPs
Placing GCPs
Utilizing the GCP Checklist
Submitting GCPs in DroneDeploy
Export Options in DroneDeploy
Static Layer Export Procedures
Custom Layer Export Procedures
Sharing Your Map
App Market for Enhanced DroneDeploy Capabilities
AirMap App
Linear Mapping App
Overlap Optimizer App
PDF Annotation Report
EZRoof App
Quick Map Overlays App
Tensor Flight App
GCP Volume Analysis
KML & SHP Import
Thimble App
AirData UAV Sync App
Post natural disaster
Scheduled commercial construction inspections and monitoring
Insurance inspections
Home and roof inspections
Chimney and steeple inspections
Utility inspections
Water system inspections
Solar farm inspections
Wind farm inspections
Railroad inspections
Bridge inspections
Getting Involved
Platform Considerations
Payload Considerations
Types of Imagery Products
Areas of Focus
Manual Flight Profiles
Common Manual Shots
Determining the Shot List
Sample Shot Lists
Environmental Impacts
Image Framing
Common Camera Settings
Specialty Camera Settings
Flight Hazards Around Structures
Common Drone Emergencies
Recommended Emergency Responses
Utilizing Preflight Checklists
Determining Airspace Requirements
Evaluating Forecast Weather
Performing a Site Evaluation
Verifying Waiver Requirements
Checking State & Local Regulations
On-Site Assessment Checklist
Evaluating Current Weather
Identifying Hazards
Determining Takeoff/Landing Points
Adjusting the Flight Profile
Updating Lost Link Settings
Determining Appropriate Crew Composition
Camera Operator Responsibilities
Visual Observer Responsibilities
Visual Observer Placement
Communication Methods
Crew Briefing
Fundamentals of Mapping & Modeling
Mapping Software Overview
Utilizing Mapping Software for Aerial Drone Inspections
Thermal Imaging Fundamentals
Types of Thermal Payloads
Thermal Inspections
What to Bring on a Job
Sample Workflow
Interacting with the Public
Drone Job Resources
Why Use Drones?
Commercial Operations
Equipment Options
Pros and Cons of Inspire 1 & 2
Pros and Cons of Phantom
Pros and Cons of Mavic Pro 2 & Mavic Air
Camera Options
Lens Options
Gimbal Balancing
DJI GO Settings
Photo Types
Aspect Ratio
Image Format
White Balance
Image Style
Color Settings
Foundations of Photography
Shutter Speed
Aperture
ND Filters
ISO Value
Image Exposure
Histograms
Exposure Value
Camera Modes
Rule of Thirds
Fundamental Shots
Drone Shots
Camera Angles
Video Size
Frame Rate
Video Format
Video Standards
Color Settings
Controller Settings
Gimbal Tuning
Aircraft Response Settings
Rise and Reveal
Descending Approach
Rising Retreat
Tracking Shot
Orbit Shot
Panning Shot
Tilt Shot
Fly By Shot
Sliding Shot
Flyover Shot
Bird's Eye View
Fly Through Shot
Jib Shot
Stationary Shot
Expert Tips
Post Production Basics
Software Options
Editing Tools
Drone Market Analysis
Personal Fit
Competitive Analysis
Identifying a Target Market
Target Market Pros and Cons
Service Offerings
Pricing Strategy
Branding
Choosing a Company Name
Designing a Logo
Developing a Tagline
Digital Marketing
Content Marketing
Search Engine Marketing
Pay Per Click Strategy
Creating Your First AdWords Campaign
Display Ads
Search Engine Optimization
Identifying Keywords
SEO Best Practices and Strategy
Social Media Marketing
Creating a Facebook Ad
Advertising in Newspapers and Magazines
Public Relations Strategy
Building to Scale
Establishing Your Website
Website Hosting
Web Development Tools
External Phone System
Setting Up Business Emails
Hiring Strategically
Developing a Org Chart
CRM Systems
Project Management Systems
Tools for Internal Communication
Liability for Drone Pilots
Types of Business Organizations
Sole Proprietorships
Partnerships
Limited Liability Companies
Employment Contracts
Copyright Law
Trademarks
Privacy Considerations
UAV Insurance
Insurance vs. Warranty
How Much Insurance Coverage Do You Need?
Why Buy Drone Insurance?
Factors Affecting Coverage
Best Practices
Insurance Options
Warranties
Risk Mitigation
How to Prepare for Disaster Response Missions
Understanding Weather
Manmade Hazards
Travel Preparations
Equipment and Backups
Communicating with Incident Command
Personal Health and Safety
UAV Pilot Safety Tips
Type and magnitude of a disaster
Emergency management efforts
Phases of the emergency response process
Roles of local, state, and federal governments
Process for disaster declaration
Structure of incident command system
Effective UAV utilization for each phase
Types of Disasters
Sudden Events and Expected Events
First Hours on Scene
UAS Pilot Response
Case Study: Hurricane Irma
A Helicopter's Perspective
Importance of Communication
Pre-Disaster Applications
Disaster Response Applications
Recovery Applications
Earthquakes
Fires
Floods
Manmade Disasters
Hurricanes
Weather Events
Assistance in Emergencies and Disasters
Training to Build Capabilities
Preparation Plan
Real-World Disaster Response UAV Operations
Case Study: Mapping for Inspections Following Hurricane Irma
Case Study: Search and Rescue Operations During Hurricane Matthew
Lessons Learned and Key Takeaways
Advantages and Disadvantages of Multi-Rotor Aircraft
Advantages and Disadvantages of Fixed Wing Aircraft
Advantages and Disadvantages of Helicopters
Advantages and Disadvantages of Hybrid Aircraft
EO Sensors
FLIR Sensors
Chemical Detectors
Other Payloads
Volunteering to Build Skills
Building Relationships
Volunteering for County and State Agencies
Volunteering Internationally
Best Practices while Volunteering
Requirements for Contracting with FEMA
Finding Contracts Based on Emergency Management Phase
Other Organizations involved in Disaster Response Efforts
Importance of NIMS Training
Useful Waivers during Disaster Response
How to Work with Agencies, Organizations, and Corporations
Coordinating with Incident Command
Checking-In at an Incident
Incident Supervisor and Initial Briefing
Incident Command Post
Check-out and Demobilization
FAA TFR Memo after Hurricane Irma
FEMA's Remote PIC Position ICS Training Requirements
Data Requirements Impact on Flight Profiles and Altitude
Organization Data Privacy and Security Policies
Flight Profiles
FAA Weather Minimums
Weather Assessment
Sources of Weather Information
Site Assessment
Hazards and Conditions Unique to Emergency and Disaster Areas
Roles and Responsibilities of Crew Members
Crew Management
Stressors
Ways to Prevent Stress among Crew Members
What You Get
2 days of hands-on in-person training

50+ hours of online and virtual training

Advanced training on mapping, inspections, night operations, disaster response, and aerial photography

Access to a proven program for drone entrepreneurs
Select a weekend that works for you in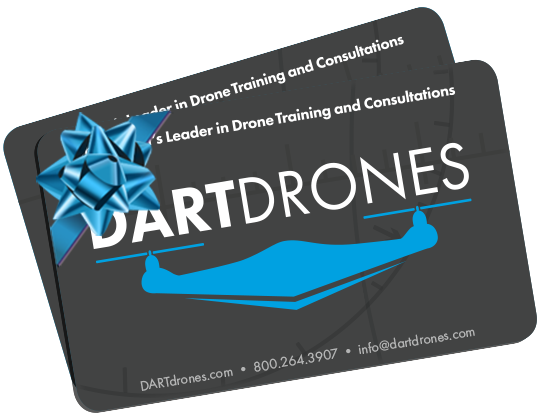 Dec 9 - 10, 2023

MA , Boston
8:30am - 5:00pm EST
Residence Inn by Marriott - Needham/Boston
+ lifetime online access to Real World Flight Planning and Execution
Why Complete the Ultimate Starting a Drone Business Package?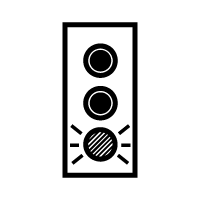 Perfect for all level of pilots
This training program is designed to aid you in launching your own drone business, even if you have no previous experience with drones.
Learn from successful drone entrepreneurs
Learn and network with our instructors, many accomplished drone business owners. Visit our about us page to learn more.
Fly advanced missions
Drone pilots and business owners are more lucrative when able to execute mapping and industrial inspections missions.

Proven program
We've trained hundreds of drone entrepreneurs. Our unique program is proven to work.
Comprehensive training
The Starting a Drone Business Package equips you with everything you need to successfully launch in the drone industry.
Access to our extensive alumni network
We have thousands of alumni across the country and train some of the largest organizations in the world. Learn from and connect with the DARTdrones network.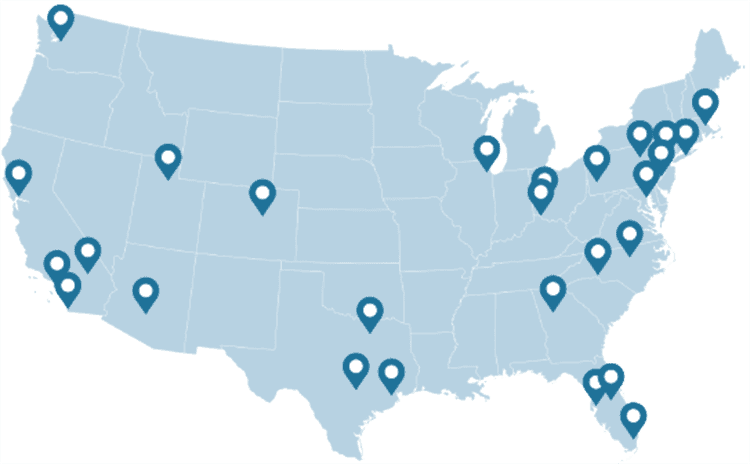 As seen on ABC's "Shark Tank"
WHY DARTDRONES? We have a proven track record for training pilots in dozens of industries.
22
QUALIFIED
INSTRUCTORS
Our instructors have manned aviation experience flying airplanes and helicopters and have gained the highest drone piloting recognitions in the industry. Many own successful UAS businesses themselves.
10+
CITIES
NATIONWIDE
As featured on ABC's Shark Tank, we are the nation's leading drone training company with an extensive network of alumni and partners throughout the country.
150+
HOURS OF
MATERIAL
Created and refined by UAS training experts, our curriculum is the best in the industry and has been tried and tested by clients in dozens of industries.
25K+
PILOTS
TRAINED
With a community of over 65,000 drone enthusiasts across the US and internationally, DARTdrones is at the forefront of UAS technology.
Expert Instructors
Learn from our specialized team of instructors, comprised of manned pilots and drone business owners. Our classes are engaging, dynamic, and extremely informative.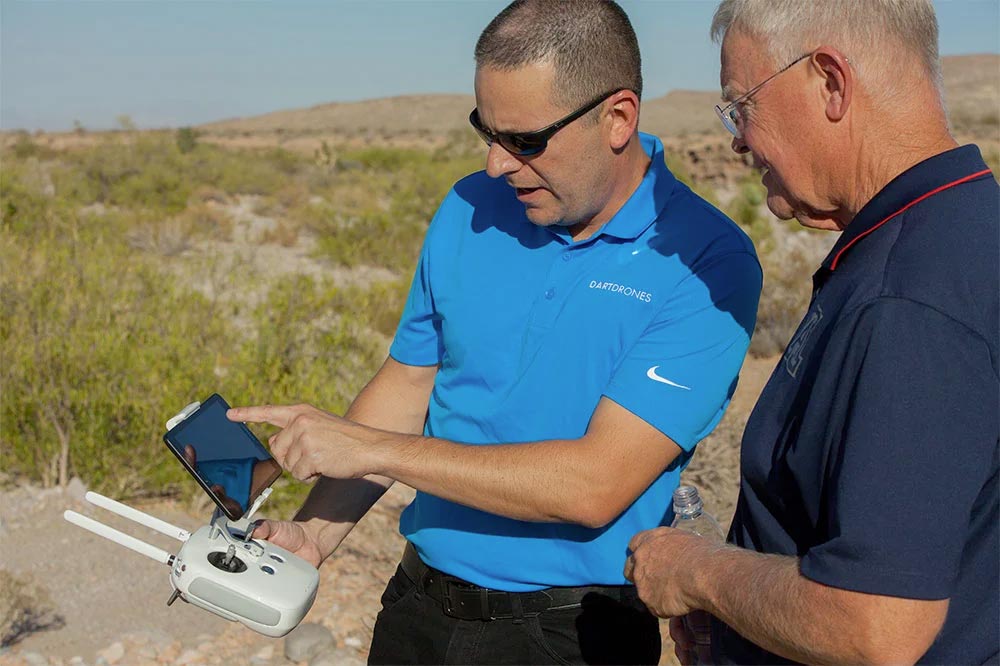 Advanced Training Courses
We don't just train our students on the basics. We also offer extensive advanced training courses to help our alumni succeed in mapping, inspections, disaster response, aerial photography, night operations, search and rescue, and more.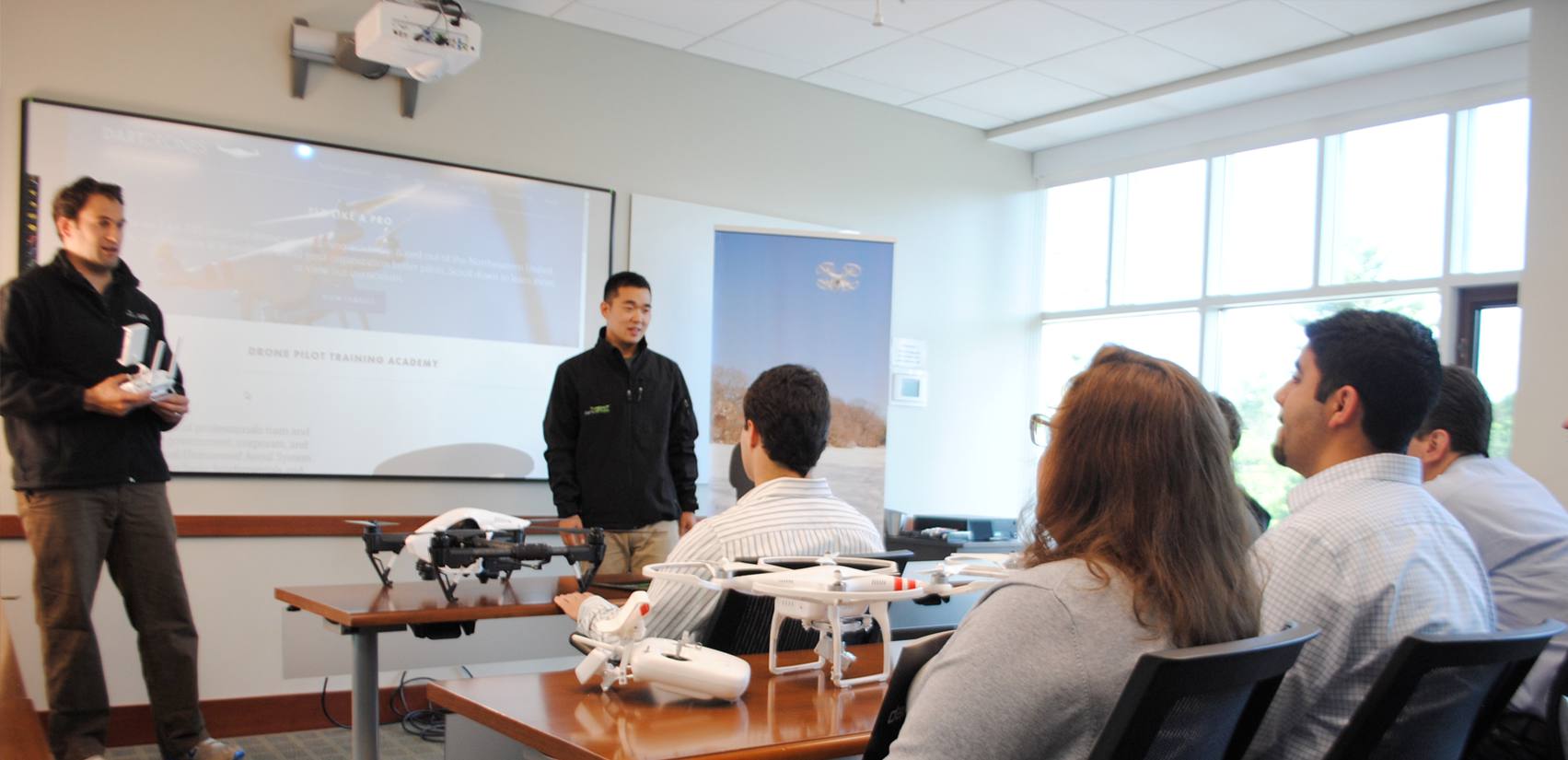 Industry Certified and Vetted Curriculum
DARTdrones' curriculum is vetted and certified by AUVSI, the leading UAS industry association, to ensure professional quality.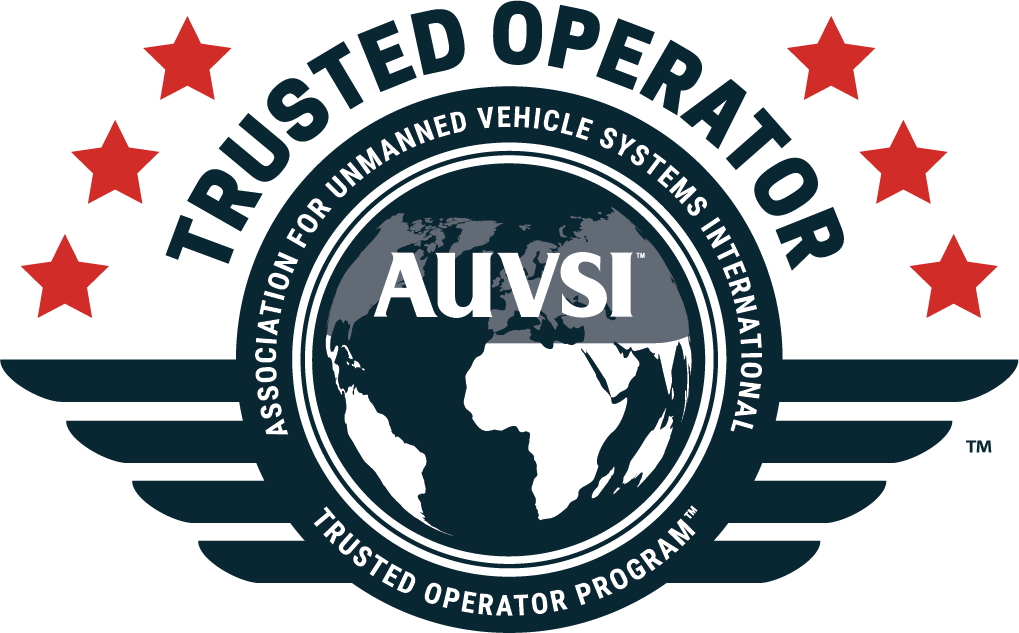 FAQs
We're not going to sugar-coat this: starting a drone business takes time, energy, and motivation, but this effort is going to lead to you building something real and rewarding. The good news is that by researching training, you're already taking the first steps toward achieving your goals and making money doing what you love.
DARTdrones is committed to supporting you and helping you succeed. The Starting a Drone Business Package, including the connected Drone Entrepreneur Webinars and alumni benefits, are designed to make the process transparent and give you the tools you need. Call our Enrollment Specialists at 1-800-264-3907 to talk about the package in more detail.
DARTdrones wants its trainees to achieve their goals and be as successful as possible. We work diligently to provide the tools you need to take advantage of the tremendous opportunities in the drone industry, both when you are a student and as an alumnus. When we ask our alumni about success and ROI, they tell us that ROI timelines depended on their motivation and diligence in applying course recommendations. Because the drone industry has grown so much in the past several years, there are many lucrative opportunities for drone contractors to sell UAS services.
Our instructor provides a drone in the course, typically a DJI Phantom Series sUAS. For insurance and liability purposes, students CANNOT fly their own equipment during the course unless they provide proof of liability insurance with DARTdrones LLC named as an additional insured prior to the course. Although our class covers the Mavic and Inspire, our instructors usually only have a Phantom which is sufficient for this level of training.
Any insurance company that offers coverage for sUAS flight is sufficient for this course. Many students have used Verifly as their provider. Verifly is available in most states and allows for coverage to be purchased by the hour.
Yes! The Drone Pilot Training course rotates from indoor to outdoor training. Learn in the comfort of a classroom and then head outside to fly in 3 one hour flight sessions. The Part 107 Test Prep course is completely inside.
Although the specifics of marketing your business and finding clients will be different for each entrepreneur and the industries you plan to target, the Starting a Drone Business online class provides specific recommendations for networking and marketing.
In August of 2016, the FAA launched new rules for commercial drone pilots under the FAA regulations called Part 107. The new rules allow people interested in flying their drones for profit or commercial use to gain a license from the FAA to fly their drone for commercial purposes after passing a 60 question, two hour exam offered at an FAA testing center. (The old rules used to require a 333 exemption and a manned aircraft pilot's license. This is no longer necessary.) Someone new to aviation could commit 15-20 hours of study time and be ready to pass their exam. The cost to take the exam is $150, paid to the testing center. DARTdrones does not offer locations to take the exam, but it's really easy to book it at one of the FAA's 690 testing centers across the country. Once you pass the exam, you get your certificate within a few weeks and are able to fly commercially.
Although we cover all of the content that you will need to study for the test, many students want to spend study time with our online Part 107 Test Prep course, especially the practice tests. We recommend not booking your exam until after you complete our class and feel ready.
We keep our courses small and limit the Drone Pilot Training course to eight students and the Part 107 In-Person Training to about 10 students.