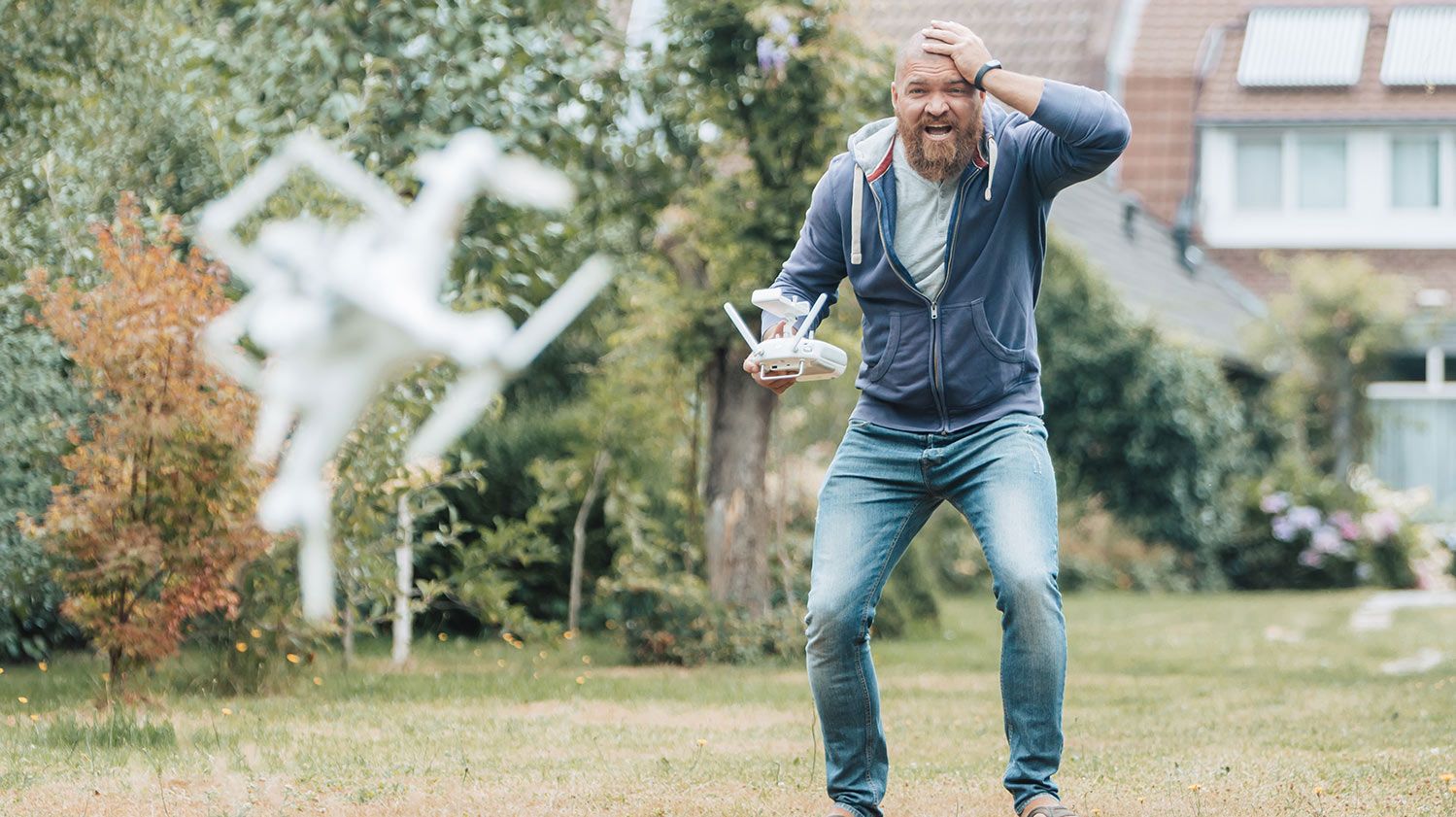 10 Reasons Why Drone Programs Fail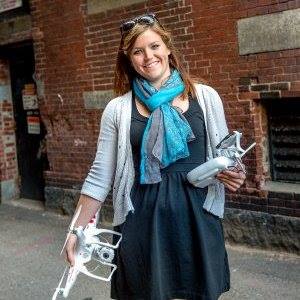 By
Abby Speicher
Published December 15, 2020
Last Updated January 21, 2021
What We've Learned from Helping Start 500 Drone Programs
DARTdrones has helped hundreds of organizations get started in drones. Over the years, we have heard of many stories of drone programs crashing and burning because of many different reasons. We don't want that to happen to your program or any of the programs that we work with. It's in our best interest to help launch successful drone programs that prove amazing ROI.
1. Lack of Goal Setting at the Outset
Common Problem
Drone program managers who are new to the industry often only consider one or two potential use cases for an sUAS, and don't fully understand the wider applications. The more ways in which a drone can be used, the greater the likelihood of long term program success.
Solution
A drone program should be based on an organization's longer-term goals, not just a few use cases. Will the drone save time, money, and/or lives? Involving all stakeholders in a goal-setting meeting will highlight everyone's expectations and identify specific goals. It will also provide an opportunity to prevent the propagation of unrealistic expectations.
2. Intended Applications and FAA Regulations are Misaligned
Common Problem
It's quite easy to overlook gaps between current FAA regulations and intended use cases. It is very likely that you will meet FAA resistance if your intended flight is located in a public area, in restricted airspace, in bad weather conditions, or required over a large area.
Solution
It is often possible to overcome the regulatory roadblocks by becoming better acquainted with current regulations, soliciting the advice of experts, and ultimately, modifying operating procedures in a way that will allow an sUAS program to proceed uninhibited.
3. Rushing to Purchase Equipment
Common Problem
Too often teams arrive at a conclusion after an sUAS has been acquired that the equipment does not meet their needs. As an unfortunate result, the entire program fails due to budget limitations, and the organization is left with buyer's remorse and unusable equipment.
Solution
sUAS choice is most dependent upon the data collection requirements (i.e. payload possibilities), and the operating environment of the sUAS. However, with so many equipment options and minor variances in sUAS capabilities, smaller details associated with the intended applications must also be assessed to ensure that any model selected is truly the optimum choice.
4. Lack of Buy-In From All Parties (Particularly Legal)
Common Problem
As illustrated above, the lack of buy-in from all involved parties can essentially terminate any new sUAS program. Ideally, before any final decisions about the future of a drone program are made, all impacted individuals and divisions would be consulted. Unfortunately, this is often not the case.
Solution
Ensuring that all relevant parties are aware of efforts to integrate sUAS into company operations will allow you the opportunity to identify and address the concerns of non-supporters. Proper education can often alleviate individual concerns, clearing the path for a successful program launch. Be sure to involve your legal department or your organization's attorney during the early stages of program planning to ensure that you are appropriately addressing all legal and liability-related issues. You don't want to allocate resources toward a program that is destined to be grounded.
5. One Person at the Helm
Common Problem
Grassroots efforts to form an sUAS program within an organization are often spearheaded by a single individual. If this person leaves, it is almost assured that the program will suffer or even completely fall apart.
Solution
While it is often necessary for smaller organizations to use a single individual to build and launch a drone program, it is important that program buy-in is sought from all internal groups that will be utilizing the equipment. Each department that operates sUAS, should appoint a specific individual to regularly liaise with the overall sUAS program manager. In the event, the organization's initial sUAS program manager leaves their responsibilities can be easily transitioned to one of the departmental liaisons. Additionally, all of the information that is gathered by the individual at the helm should be documented into what we like to call a "Program Manager's Guide" and shared with all relevant parties. In this way, a successor can hit the ground running in the wake of the original manager's departure.
6. Lack of Training Leading to Crashes
Common Problem
Modern sUAS are designed for easy operation, making these tools valuable assets within many industries. However, even the most advanced systems can crash or fail due to human error. It should be noted that launching, flying, and recovering the sUAS is only part of the equation. Another key element is the quality of the imagery or data collected. Proper operator training is vital to ensuring that data collected with an sUAS is useable and consistent.
Solution
Any individual tasked with operating an sUAS for professional purposes should receive training on basic system operation and data/imagery collection procedures. In fact, many organizational insurance providers now require documented operator training in addition to FAA Certification, in order to ensure company-wide sUAS operations. The completion of a comprehensive sUAS training program mitigates the risk associated with placing expensive drone equipment in the hands of novice drone pilots.
7. Bad Pilot Candidate Choices
Common Problem
Not everyone is suited to operate a drone. Even with the most advanced autonomous systems, drones must still be constantly monitored while, and operators must be able to ensure that the data collected is usable before leaving the site.
Solution
Professional sUAS operators must be detail-oriented individuals who are comfortable with the process of risk assessment and mitigation. Skilled remote pilots are able to remain focused attentive for extended periods of time and can multitask without losing focus on critical elements of a flight operation. Check out our article 11 qualities of a great drone pilot to learn more. 
8. Lack of Formal Policies
Common Problem
A lack of standard procedures shared by all operators virtually guarantees a higher rate of sUAS safety incidents and data collection that is inconsistent and often unusable. This can ultimately result in an sUAS program that is unable to meet its established goals and is viewed in an unfavorable light by management. This in turn greatly increases the likelihood the entire program will be abandoned.
Solution
9. Pilot Tracking System
Common Problem
As the number of remote pilots within an organization begins to rise it will become difficult, but all the more necessary, to track their credentials. FAA Certificates must be re-validated every 2 years, and the acquisition of new sUAS and/or payloads will necessitate further operator training. Additionally, the frequency at which pilots fly and the time since their last flight impacts the level of risk associated with a mission, further requiring the utilization of a suitable tracking solution.
Solution
While the number of Flight Operations Management software solutions continues to grow, very few tracking solutions focus on operator currency and continuing education. The DARTdrones PilotHub is designed specifically for this purpose and will help ensure that your pilots are current and prepared for the flight operations they are tasked to complete.
10. Setting Success Metrics / Anticipated ROI
Common Problem
On many occasions, decision-makers within an organization are reluctant to move forward with new programs without having clear data that supports a positive ROI for their efforts. Locating or collecting this ROI data can be challenging within this new and evolving industry.
Solution
Our consultants can create clear measurement objectives for each of your identified goals, as well as provide anonymized case study information derived from past clients' experiences to justify ROI predictions for your sUAS.
Drone programs are most likely to succeed when a strong team lead is designated, short and long-term needs are clearly identified and addressed, sound budgeting is implemented and effective communication is used among all stakeholders.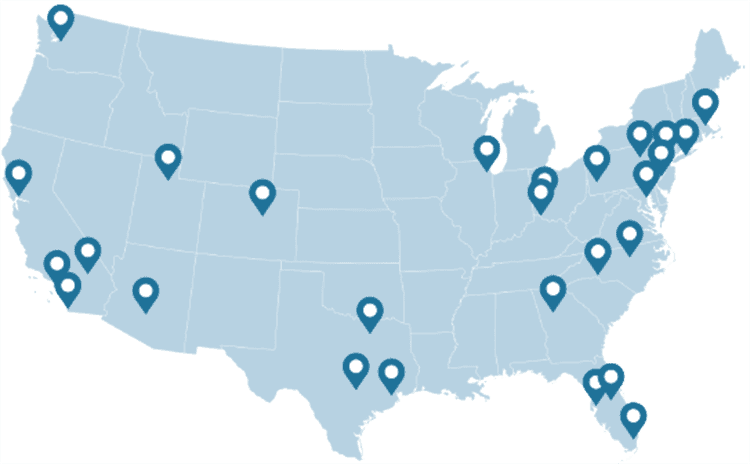 As seen on ABC's "Shark Tank"
WHY DARTDRONES? We have a proven track record for training pilots in dozens of industries.
22
QUALIFIED
INSTRUCTORS
Our instructors have manned aviation experience flying airplanes and helicopters and have gained the highest drone piloting recognitions in the industry. Many own successful UAS businesses themselves.
10+
CITIES
NATIONWIDE
As featured on ABC's Shark Tank, we are the nation's leading drone training company with an extensive network of alumni and partners throughout the country.
150+
HOURS OF
MATERIAL
Created and refined by UAS training experts, our curriculum is the best in the industry and has been tried and tested by clients in dozens of industries.
25K+
PILOTS
TRAINED
With a community of over 65,000 drone enthusiasts across the US and internationally, DARTdrones is at the forefront of UAS technology.
Expert Instructors
Our students absolutely love our instructors! Our classes are engaging, fun, and extremely informative.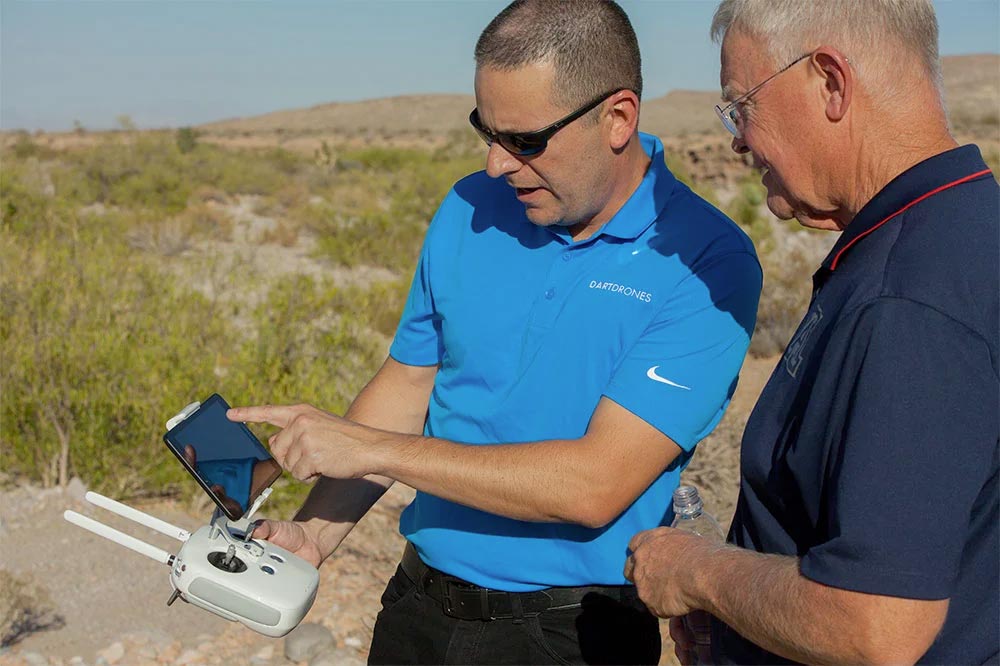 Advanced Training Courses
We don't just train our students on the basics. We have extensive advanced training courses to help our alumni succeed in mapping, inspections, disaster response, aerial photography, night operations, and search and rescue.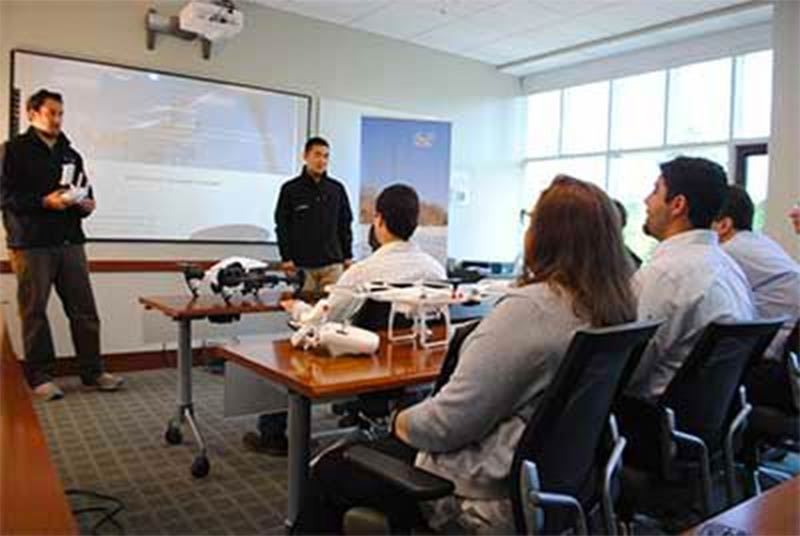 Industry Certified and Vetted Curriculum
Our curriculum has been vetted and certified by AUVSI, the leading UAS industry association, to ensure professional quality.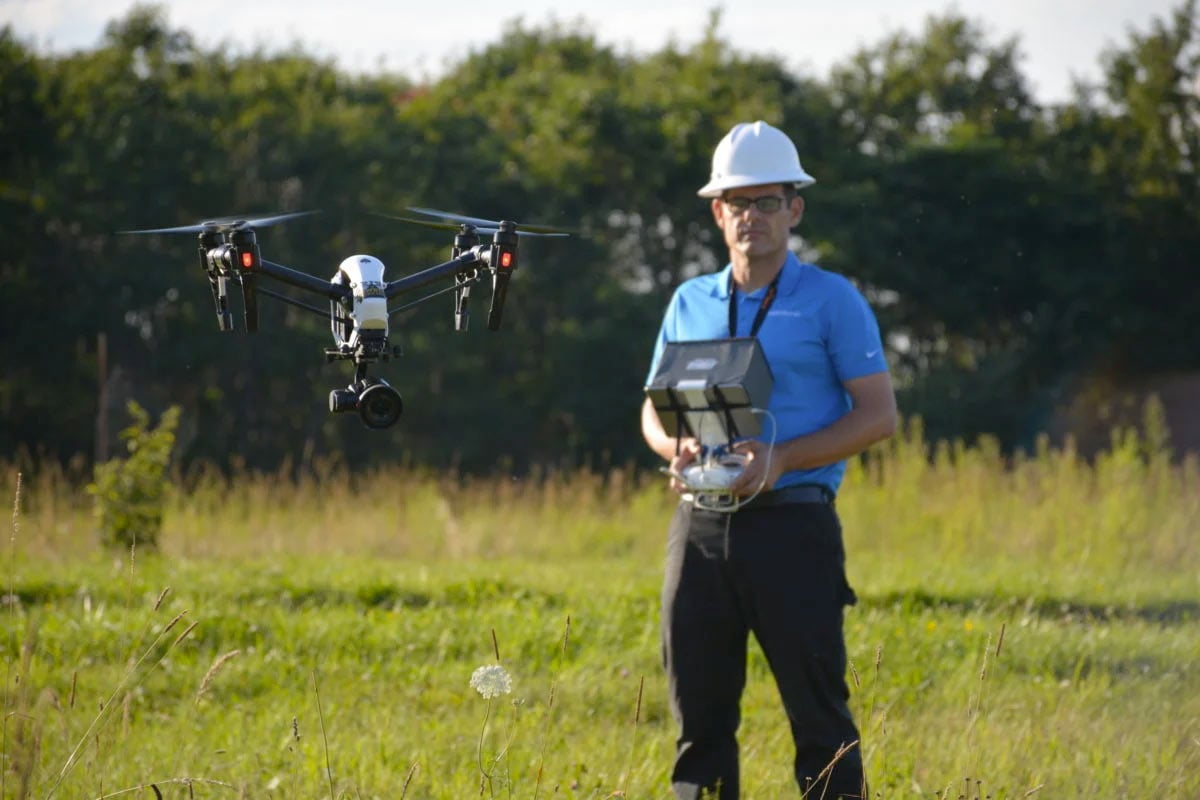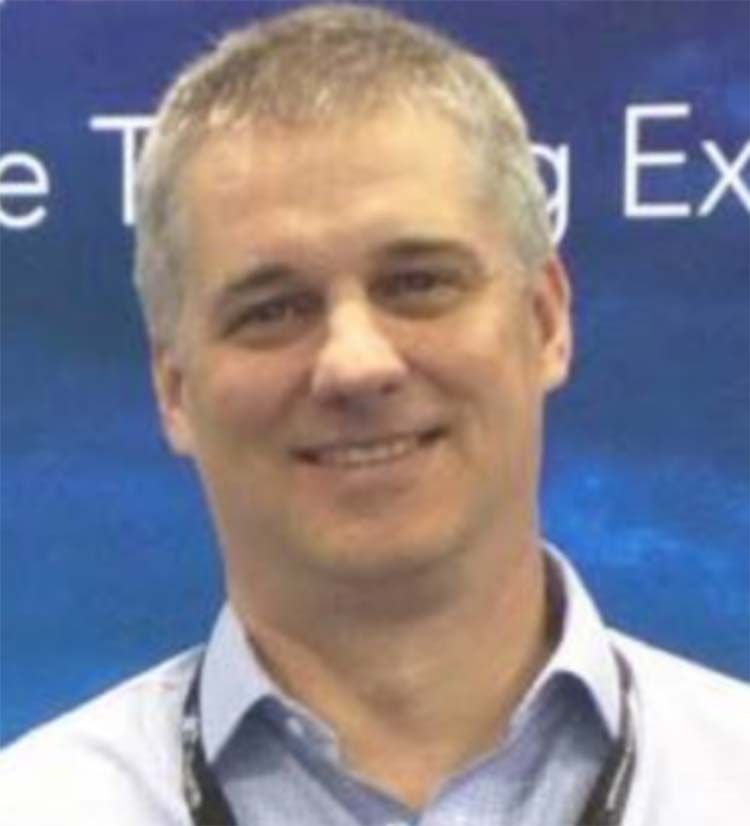 Michael is happy to help