Drone Roof Inspections
Develop the skills you need to safely conduct thorough aerial roof and structural drone inspections.
Trusted by organizations such as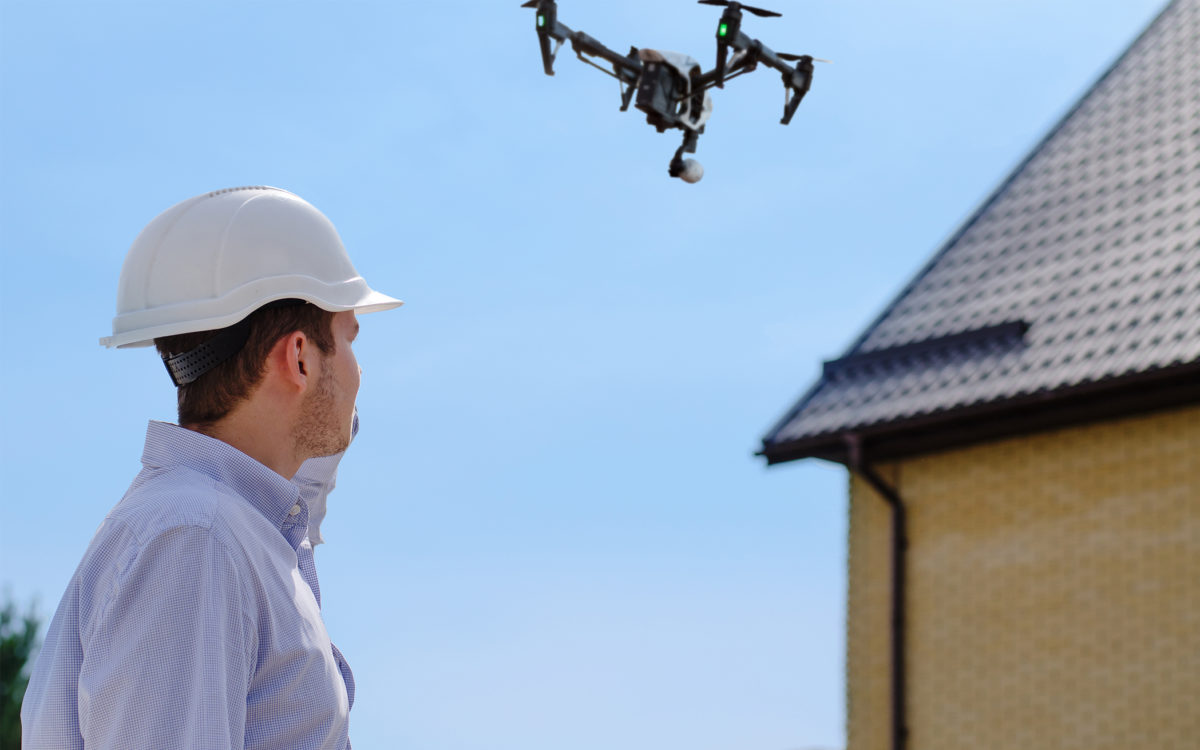 Lose the Ladder
There are over 160,000 ladder-related emergency room incidents every year. However, quadcopter drones are changing the nature of the inspections industry. Companies across the country are implementing sUAS into their operations thanks to their cost and safety benefits. Home inspectors, insurance adjusters, and other industry professionals can now safely perform thorough inspections from the ground.  Explore our drone inspections packages and select the perfect UAS training courses for you and your business.
Building a Foundation

Specialization

Reach New Heights
Building a Foundation
Specialization
Reach New Heights

Click on each ⓘ to get more info about its class

Gain the skills, knowledge, and certifications needed to conduct commercial drone flights.
Take it to the next level and learn to complete aerial roof inspections with thermal cameras.
Take on any aerial inspection job with the industry's most advanced private drone training.
Drones for Beginners Online Course ⓘ

More Info

If you are new to the drone industry, this online video-based course will answer the most common questions asked by new pilots. Learn how to register your drone and dive into FAA rules, regulations, and industry trends.

Available

Part 107 Test Prep Online Course ⓘ

More Info

Learn at your own pace with our online Part 107 Test Prep course. This course will teach you everything you need to know in order to pass the FAA exam and become a certified commercial drone pilot. Gain access to 300 FAA Part 107 test questions, a 50-page study guide, and the ability to ask our Chief Pilot any questions you may have! (Get this course for free when combined with the in-person Part 107 Test Prep course).

Available

Basic Flight Training In-Person Course ⓘ

More Info

Our full day in-person Basic Flight Training course will equip you with the knowledge and skills you need to become an expert drone pilot. This course offers a combination of classroom training and hands-on flight sessions with one of our expert flight instructors. Limited class sizes guarantee that you will get adequate flight time and leave feeling confident in your abilities to fly.

Available

Part 107 Test Prep In-Person Course ⓘ

More Info

The Part 107 Test Prep course will teach you everything you need to know in order to pass the FAA exam. Our in-person course is an 8-hour classroom learning experience with one of our expert drone instructors. We offer a money back guarantee if you fail the exam, but we are proud to say our students have a 99% pass rate!

Available

Aerial Drone Inspections Workshop ⓘ

More Info

This in-person two-day intensive workshop will teach you how to safely and effectively maneuver your aircraft to gather and analyze the data necessary for a successful roof or structural inspection. You must currently hold a Part 107 certification to enroll in this workshop.

Available

Aerial Mapping and Modeling Workshop ⓘ

More Info

Enhance your capabilities with our Aerial Mapping and Modeling Workshop. We partnered with DroneDeploy – a leading drone mapping software company – to help you develop the skills needed to effectively gather, analyze and export mapping data. This in-person two-day workshop requires that you already hold a Part 107 certification.

Available

Standard Operating Procedures Manual ⓘ

More Info

Developing a thorough customized Standard Operating Procedures Manual takes time. Our Chief Flight Instructor will work with you and your team to create a unique document that covers UAS operations, FAA requirements and regulations, administrative considerations, mission specific protocols, pre-flight checklists, crew briefing, aircraft inspections, in-flight procedures, data collection procedures, emergency procedures, and more.

Available

DJI Matrice 200 Series Flight Training In-Person Course ⓘ

More Info

Develop the skills you need to successfully fly the most advanced UAV platform for commercial and industrial applications. Our in-person full day DJI Matrice 200 series training course offers a combination of hands-on flight training and classroom preparation led by our expert instructors.

Available

See Schedule
and Pricing
See Schedule
and Pricing
Contact Us
Mobile arrow left
Mobile arrow right
Free resources to get you started!
Still exploring the industry? Great! Download our free resources and understand what it takes to become a certified commercial drone pilot. From our Part 107 preparation guide to our free flight checklist, you will be able to gauge the basics of drone operations. Curious about how roof inspections will play a role? Download a preview of our aerial roof inspections course for more information. If you would like to learn more about our classes, please give us a call at 800-264-3907.
The instructors for this class were outstanding. Each offered something different and deferred from one another to provide the best information possible. This was yet another interaction with DARTdrones that was a huge value-add to our UAS program here at Comcast.
Wesley Decker
Senior Manager of Security and Business Continuity, Comcast Cable
I needed to get up to speed rapidly as my Information Security company is expanding into commercial inspection work for critical infrastructure. The instructors were AMAZING with plenty of practical, real-world guidance. It was worth every penny!
Elliot Murphy
The Roof Inspections workshop was great! The information provided was very useful and informative. I would absolutely recommend to a friend. Great class!
Serenna Robinson
Oops! We could not locate your form.
Why Train with DARTdrones?
45

Flight Instructors

40+

Cities Nationwide

11,000+

UAS Instruction Hours

10,500+

Pilots Trained!
Learn from Aerial Inspections Professionals
At DARTdrones, we pride ourselves on our friendly and knowledgable instructors as well as our expertly constructed curriculum. Our training is designed using a proven curriculum development method with content gained from industry professionals. With over 1,700 combined hours of UAV flight instruction, our three lead roof inspection instructors understand the ins and outs of conducting thorough inspections, gathering appropriate data, and working with a variety of clients to create a quality product. Our "Building a Foundation" bundle package will allow you to commercially operate your drone for aerial inspections missions in no time.
St. Claire Williams
Sniper Team Lead for Atlanta Police
Sergio Gemoets
Private Pilot and Photographer
Roger Hall
Retired Firefighter
Bob Warfel
Commercial and ATP Rated Pilot
Nick Davis
R.C. and Manned Aircraft Pilot
Mark Garza
United States Navy Veteran
Mark Fronrath
Owner/Chief Pilot for NC Drone Pro
Larry Cross
U.S. Air Force Instructor and Pilot
Ryan Walker
Marine Combat Instructor and Pilot
Kevin Coughlin
Pulitzer Prize Photojournalist
Juan Jimenez
Multi-Engine Instrument Rated Pilot
Josh Haddad
Helicopter Pilot and CFI
Jimmy Burkhart
Helicopter Pilot and CFI
Colin Romberger
Embry Riddle Masters in UAS
Chris Grazioso
FEMA Search and Rescue Team
Christina Martinez
CFII and Commercial Pilot
Bob Wess
Commercial Pilot and CFI
Matt Bettencourt
UAS Instructor for U.S. Navy
Marcus Head
Police Officer & Helicopter CFI
Keith Phillips
Blackhawk Helicopter Pilot and FAA CFII
Robert Patterson
CFI and Mission Pilot for Civil Air Patrol
Robert Beck
Experimental Aircraft Pilot and Engineer
Tod Strickland
Navy Nuclear Weapons Technician
Frank Gutierrez
Corporate Pilot and sUAS Instructor
Kent Chivers
Navy Veteran
Craig Trammell
CFI / CFII & ATP Rated Aviator
Becky Hagner
Former Military Pilot
Mark Kurzinski
Retired Navy Pilot
Michael Bush
CFI & Lifelong Educator
Michael Martin
Avid drone photographer
Joel Martin
CFII and Aviation Instructor
Rick Mills
U.S. Military Academy Professor
Michael Uleski
Sergeant Daytona Beach Police
Jim O'Keefe
Sergeant Milford Police Department
Paul Matheson
Commercial Helicopter Pilot
Eduardo Voloch
Army National Guard Signal Officer
Jason Miller
Instrument Rated Pilot
Kevin Gillespie
Pilot & Entrepreneur
Sean Pagliari
Private Pilot and Patent Holder
Jack McIntosh
Private Pilot and Business Owner
Randy Eary
Private Pilot, AGI & IGI
Karl Schwab
Software and Systems Engineer
Alex Abatie
sUAS Photographer & Design Director
Jerry White
Airline Pilot & Business Owner
Heather Hasper
AAAE's UAS Committee member
Louis Morales
Thermal Drone Pilot
WE LOVE QUESTIONS!
Let's Talk