UAV Training for Aerial Broadcast and Media
Develop the skills needed to use UAV technology safely and produce amazing stories.
Trusted by organizations such as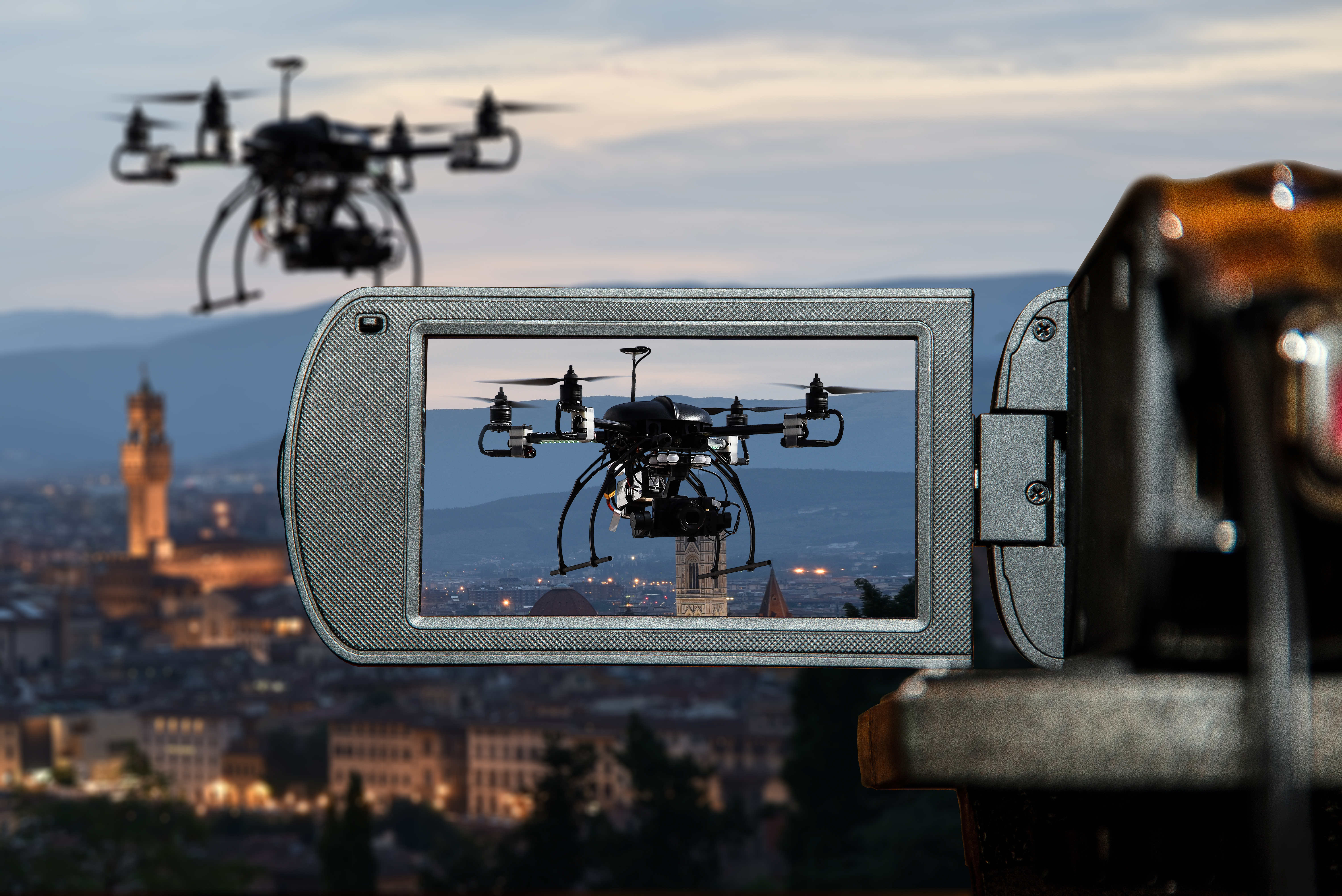 Tell Your Story
Journalists and broadcast teams are always seeking innovative ways to cover a news story. Freelancers and news stations across the country are turning to drones to provide their audience with an entirely new perspective. Drones provide stations of any size with an inexpensive and effective way to gather high-quality news imagery that was previously only accessible by helicopter. Before taking to the sky, drone journalists must fully understand the laws and legal repercussions of operating a UAV in the National Airspace System. Our sUAS training courses teach journalists and media teams how to use an Unmanned Aerial Vehicle safely within FAA regulations. Explore our drone training packages and enhance your news coverage capabilities today.
Freelancer

Exclusive Coverage

Custom Training
Freelancer
Exclusive Coverage
Custom Training

Click on each ⓘ to get more info about its class

New to the industry? Become a certified drone pilot and build your foundation.
Gain the skills, knowledge, and certifications needed to operate a UAV for media coverage.
Work with our experts and build a training package that meets your team's specific needs.
Drones for Beginners Online Course ⓘ

More Info

If you are new to the drone industry, this online video-based course will answer the most common questions asked by new pilots. Learn how to register your drone and dive into FAA rules, regulations, and industry trends.

Available

Aerial Photography Online Course ⓘ

More Info

Learn how to use your drone's multiple camera features and capture seamless aerial photos and videos. This online video-based course will show you how to position your UAV and use the weather to your advantage. Our aerial photography checklist is a proven tool to make sure your clients are always happy with what you create and shoot.

Available

Basic Flight Training In-Person Course ⓘ

More Info

Our full day in-person Basic Flight Training course will equip you with the knowledge and skills you need to become an expert drone pilot. This course offers a combination of classroom training and hands-on flight sessions with one of our expert flight instructors. Limited class sizes guarantee that you will get adequate flight time and leave feeling confident in your abilities to fly!

Available

Part 107 Test Prep Online Course ⓘ

More Info

Learn at your own pace with our online Part 107 Test Prep course. This course will teach you everything you need to know in order to pass the FAA exam and become a certified commercial drone pilot. Gain access to 300 FAA Part 107 test questions, a 50-page study guide, and the ability to ask our Chief Pilot any questions you may have! (Get this course for free when combined with the in-person Part 107 Test Prep course).

Available

Part 107 Test Prep In-Person Course ⓘ

More Info

The Part 107 Test Prep course will teach you everything you need to knowing in order to pass the FAA exam. Our in-person course is an 8-hour classroom learning experience with one of our expert drone instructors. We offer a money back guarantee if you fail the exam, but we are proud to say our students have a 99% pass rate!

Available

Aerial Broadcast Media Mission Specific Training ⓘ

More Info

This summer, DARTdrones will offer an Aerial Broadcast and Media two day workshop for private trainings. Learn how to operate your UAV specifically for media coverage. For more information, call our team at 800-264-3907.

Available

Night Operations Training ⓘ

More Info

Learn to use your department's UAV to gather critical information after sunset. This extensive one-day course covers Thermal Imaging/FLIR and Night Operations. From regulatory considerations to equipment operation, this course will prepare your department to successfully handle a nighttime operation.

 

Available

Standard Operating Procedures Development ⓘ

More Info

Developing a thorough customized Standard Operating Procedures Manual takes time. Our Chief Flight Instructor will work with you and your team to create a unique document that covers UAS operations, FAA requirements and regulations, administrative considerations, mission specific protocols, pre-flight checklists, crew briefing, aircraft inspections, in-flight procedures, data collection procedures, emergency procedures, and more.

Available

Airspace Authorizations and Waiver Submissions ⓘ

More Info

The FAA has laid out all of the regulations and limitations under which commercial sUAS pilots can operate. For some companies, the need may arise to conduct missions outside of these guidelines. To fly in controlled airspace, drone pilots need to apply for an Airspace Authorization Waiver from the FAA. To go beyond the FAA Regulations under Part 107 such as night flights, an application for a Waiver must be made to the FAA and additional training may be required. Our team can help you navigate this process.

Available

Custom Training to Fit Your Unique Needs ⓘ

More Info

Need something more advanced or specific to your team? Not a problem. Work with our expert curriculum team to modify an existing training course or customize new training to fit your department's specific needs.

Available

See Schedule
and Pricing
See Schedule
and Pricing
Contact Us
Mobile arrow left
Mobile arrow right
Free resources to get you started!
Still exploring the industry? Great! Download our free resources and understand what it takes to become a certified commercial drone pilot. From our Part 107 preparation guide to our free flight checklist, you will be able to gauge the basics of drone operations. Want to learn more about our courses? Give us a call at 800-264-3907.
The instructor went above and beyond to help me. She was extremely knowledgeable in this field. Having an instructor with the amount of experience as Heather was extremely valuable.

Kenneth Lopes
News Operations Manager, KNTV NBC
The instructor was very knowledgeable, personable, and easy to learn from. I was very impressed with the professional quality of the course and the company.
Jesse Akozbek
Media Director, Eldenbridge Institute
I don't know how anyone could prep for the Part 107 test without the prep course that DARTdrones provides. I enjoyed the ability to interact with the instructor and ask questions as we went through the information. It felt like an interactive and intelligent way to learn.
Richard Lopez
Media Producer,
Oops! We could not locate your form.
Why Train with DARTdrones?
45

Flight Instructors

40+

Cities Nationwide

11,000+

UAS Instruction Hours

10,500+

Pilots Trained!
Build Your Aerial Unit
Training with DARTdrones is more than simply learning to fly. We work side-by-side with media teams in all facets of building a successful UAV program. Our custom training programs are tailored to meet the specific needs of your team, including FAA Part 107 test preparation, hands-on flight training, Standard Operating Procedures (SOP), equipment procurement, night operations training, waiver applications, FAA regulations, local and state legislation, and more.
St. Claire Williams
Sniper Team Lead for Atlanta Police
Sergio Gemoets
Private Pilot and Photographer
Roger Hall
Retired Firefighter
Bob Warfel
Commercial and ATP Rated Pilot
Nick Davis
R.C. and Manned Aircraft Pilot
Mark Garza
United States Navy Veteran
Mark Fronrath
Owner/Chief Pilot for NC Drone Pro
Larry Cross
U.S. Air Force Instructor and Pilot
Ryan Walker
Marine Combat Instructor and Pilot
Kevin Coughlin
Pulitzer Prize Photojournalist
Juan Jimenez
Multi-Engine Instrument Rated Pilot
Josh Haddad
Helicopter Pilot and CFI
Jimmy Burkhart
Helicopter Pilot and CFI
Colin Romberger
Embry Riddle Masters in UAS
Chris Grazioso
FEMA Search and Rescue Team
Christina Martinez
CFII and Commercial Pilot
Bob Wess
Commercial Pilot and CFI
Matt Bettencourt
UAS Instructor for U.S. Navy
Marcus Head
Police Officer & Helicopter CFI
Keith Phillips
Blackhawk Helicopter Pilot and FAA CFII
Robert Patterson
CFI and Mission Pilot for Civil Air Patrol
Robert Beck
Experimental Aircraft Pilot and Engineer
Tod Strickland
Navy Nuclear Weapons Technician
Frank Gutierrez
Corporate Pilot and sUAS Instructor
Kent Chivers
Navy Veteran
Craig Trammell
CFI / CFII & ATP Rated Aviator
Becky Hagner
Former Military Pilot
Mark Kurzinski
Retired Navy Pilot
Michael Bush
CFI & Lifelong Educator
Michael Martin
Avid drone photographer
Joel Martin
CFII and Aviation Instructor
Rick Mills
U.S. Military Academy Professor
Michael Uleski
Sergeant Daytona Beach Police
Jim O'Keefe
Sergeant Milford Police Department
Paul Matheson
Commercial Helicopter Pilot
Eduardo Voloch
Army National Guard Signal Officer
Jason Miller
Instrument Rated Pilot
Kevin Gillespie
Pilot & Entrepreneur
Sean Pagliari
Private Pilot and Patent Holder
Jack McIntosh
Private Pilot and Business Owner
Randy Eary
Private Pilot, AGI & IGI
Karl Schwab
Software and Systems Engineer
Alex Abatie
sUAS Photographer & Design Director
Jerry White
Airline Pilot & Business Owner
Heather Hasper
AAAE's UAS Committee member
Louis Morales
Thermal Drone Pilot
WE LOVE QUESTIONS!
Let's Talk